Fluvius
Comfort Plus Class Boat
The MS Fluvius is Comfort Plus class ship and can accommodate 36 guests. There are a total of 19 cabins (approx. 10 ft² = 108 square feet) with a shower and toilet, 2 low beds, air-conditioning, and individual adjustable ventilation system. 3 of these cabins are situated on the upper deck (at an additional supplement) in which beds are perpendicular, and 16 cabins are on the lower deck, 2 of which are single cabins. All cabins have a window. All cabins have fixed windows that cannot be opened due to government regulations.
On the lower deck, there are three cabins in which the beds can be pushed together to form a double bed.
*NEW FOR 2018* 4 premium upper deck cabins will be added to the Fluvius. More details and pictures will be available soon.
The salon with a bar is a large room for common use and has a semi-separate restaurant area. On the large, and partially roofed sun deck of the 70-meter long ship are comfortable tables and chairs along with a storage room for the bikes. The ship sails under the Dutch flag and has been sailing in Holland and Germany for many years.
The interior of the ship is a no-smoking zone: smoking is only allowed on the sun deck. As a safety measure, a statutory smoking ban applies in all cabins.
There are a few hair dryers available on board, but not every cabin has one. WiFi is available in the Netherlands but can't be guaranteed.
*Note
​Special dietary needs may be subject to a supplement of €50 depending on request.
Fluvius
Photos
Bruges to Amsterdam Belgium, Netherlands 4.7/5 (62 ratings)2017 Dates:On the Comfort plus class boats:Elodie: … A bike and barge tour beginning in Bruges and ending in Amsterdam is intimate, nostalgic, inspiring, and exciting. The motto in Bruges is 'feel the past …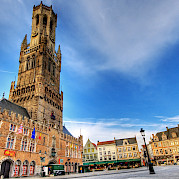 Amsterdam to Bruges Belgium, Netherlands 4.8/5 (54 ratings)2017 DatesOn the Comfort Plus class boats:Elodie: … From Holland's intriguing capital to Belgium's artistic gem, this bike and boat tour follows meandering rivers and canals from Amsterdam to Bruges.The Golden …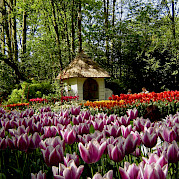 Tulip Tour - 5 day Netherlands 4.8/5 (16 ratings)2017Comfort Plus boats: Fluvius: April 1, April 5, … This five day Holland bike and boat tour in peak Tulip season goes through some of the most beautiful areas of the "Garden of Amsterdam." The tulips blossoming …
---