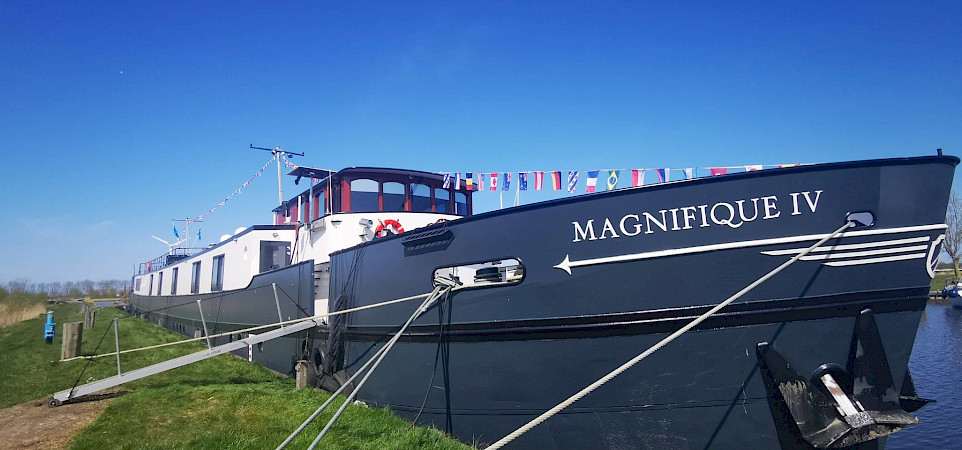 Magnifique IV
Deluxe Class Barge
Following the overwhelming success of the premium barges Princesse Royal, Magnifique II (2016), and Magnifique III (2018), we are proud to now offer a new addition, the Magnifique IV.
Overview

Master shipbuilder Walter van Berkum has done it again! Having already converted several former cargo ships into luxury passenger barges, he is now the proud owner of the Magnifique IV and is dedicated to ensuring this beautiful ship meets the highest standards of quality and comfort for bike and barge tours and cultural cruises.

The Magnifique IV sails under the Dutch flag and will host several tours in the Netherlands and Belgium. Accommodating no more than 36 passengers plus crew, the vessel is designed to create a welcoming atmosphere and a personal experience for everyone on board.

Overview

Capacity: 36 passengers plus crew
Dimensions: Length: 67 meters; Breadth: 7.2 meters; Height: 5.9 meters; Depth: 1.5 m
Electricity: 220 V
Languages: English
Launch date: Spring 2020

Decks & Cabin Layout

Upper deck: 10 suites 16 m ² (172 ft ²)
Suite 9 and 10 are wheelchair-friendly. Access to the lower deck and restaurant, however, is not possible.

Double bed, cozy sitting area, french balcony with floor to ceiling glass doors

Lower deck: 8 twin bed cabins 12 m ² (129 ft ²)

Two single beds and fixed portholes

Cabin Amenities

En-suite bathrooms with shower (soap and shampoo provided)
Individually controlled air conditioning
Flat-screen satellite TV
Mini safe
Hairdryer
Wifi

Boat Amenities

Upper deck: tastefully decorated salon with bar and lounge area

Large panoramic windows
Widescreen TV
Information screens showing the boat's location

Lower deck: comfortable and inviting restaurant and sun deck

The dining area is separated from the kitchen by a glass wall (you can see the chefs in action)
Sun deck is partially covered and furnished with tables and chairs

Top Deck:

Currency accepted on board: Cash (Euros), credit, debit
No laundry services available onboard

Food & Beverages

As always, food is a highlight on all of our bike and boat tours. Coffee, tea, and water are always available. You can order other beverages including alcoholic from the fully stocked bar.

Special Diet Requests: We cater to Gluten, lactose, and vegetarian diets. Vegan diets are not possible. Vegetarian diets have no surcharge, other diets cost € 50- to be paid on board.
Water on board is drinkable

Photos

Tours

Tours sailing on Magnifique IV — 1 to 4 of 4

---

Bicycles

Hybrid Unisex City Bike by Azor (or similar)

Unisex city bike with a low-entry
Lightweight aluminum frame
Equipped with handbrakes
Shimano 7-speed nexus drive
Selle-Royal adjustable gel saddle
Easy to use lock which is fixed on frame
Schwalbe Marathon anti-puncture tires
Pannier bag
Helmets are available and free of charge
Water bottle

Bicycle rental is included in tour pricing but is optional. Guests are also allowed to bring their own bicycles (discount will apply). However, the crew or tour operators are NOT responsible for any damage, loss or theft of such.

Other bikes (e.g. bikes with back-pedal brakes, children's bikes, "slip streamers", tandems, etc.) and rear child seats may be possible upon request and are in very limited numbers.

In the Netherlands and Belgium, cyclists are not obligated by law to wear a bike helmet.