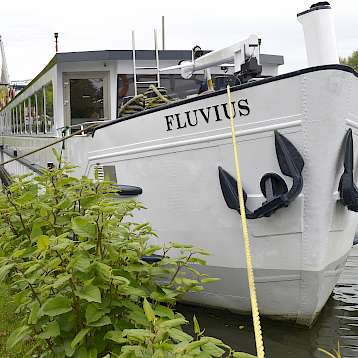 Fluvius
Premium Class Boat for Bike Tours
The MS Fluvius accommodates 44 guests. The salon with a bar is a large room for common use and has a semi-separate restaurant area. On the large, and partially roofed sun deck of the 70-meter long ship are comfortable tables and chairs along with a storage room for the bikes. The ship sails under the Dutch flag and has been sailing in Holland and Germany for many years.
Overview
Capacity: 44 (max)
Crew: 7
Decks & Cabin Layout
Cabins: 22
Upper deck:

3 standard twin cabins with two separte single beds and fixed windows
4 double cabins with double bed and large panoramic window

Lower deck:

14 standard twin bed cabins and 1 smaller twin bed cabin, all with separate beds and fixed windows

NOTE: There will be no single bed cabins available, only twin bed cabins for single use on both decks on request. The first single request will be booked in the smaller twin cabin which is priced accordingly. This is non negotiable as the larger twin cabins must be kept open for twin bookings.
Cabin Amenities
On prior request a child's cot can be placed in two of the standard twin bed cabins
Hairdryers available
Air conditioned
Boat Features & Amenities
Large lounge area with TV, bar and semi-restaurant
Wifi available
Sun deck
The salon with a bar is a large room for common use and has a semi-separate restaurant area. The interior of the ship is a no-smoking zone: smoking is only allowed on the sun deck. As a safety measure, a statutory smoking ban applies in all cabins.
Food & Beverages
​Special Diet Requests: Special dietary needs may be subject to a supplement of €50 depending on request. Vegan diet requests cannot be accommodated.
Bicycles
Hybrid touring bicycles:
Unisex Bikkel touring or trekking bicycles
Normal mount (ladies model)
7 gears
Hand and pedal brake (some bikes are equipped with only hand brakes)
Pannier bag
Electric bikes
Bikkel ibee t2 with Nexus 7 gears
3 support levels
Hand brakes only
(or a comparable brand/model).
Other bikes, children's bikes, "slip streamers", and child seats (rear) are available but only upon prior request. Bike rent is optional. Guests are permitted to bring their own bicycles. Discount will apply. However, the crew or tour operators are not responsible for any damage, loss, or theft of such bicycles.
In the Netherlands and Belgium cyclists are not obligated by law to wear a bike helmet. However, you are advised to do so. Helmets are in limited supply, on request only, and will incur a supplement. See pricing on corresponding tour pages and be sure to request upon booking.
Fluvius
Photos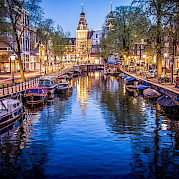 Amsterdam to Bruges Netherlands, Belgium 4.8/5 (148 ratings)2019 On the Comfort Plus class boats: Magnifique: … From Holland's intriguing capital to Belgium's artistic gem, this bike and boat tour follows meandering rivers and canals from Amsterdam to Bruges. The Golden …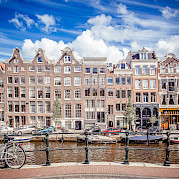 Bruges to Amsterdam Belgium, Netherlands 4.8/5 (162 ratings)2019 On the Comfort plus class boats: Magnifique: … A bike and barge tour beginning in Bruges and ending in Amsterdam showcases the best of both Belgium and Holland. The motto in Bruges is 'feel the past under …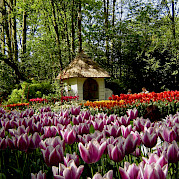 Tulip Tour - 5 day Netherlands 4.7/5 (29 ratings)2019 Deluxe Class Boats:  Magnifique III:  Monday, … This five day Holland bike and boat tour in peak Tulip season goes through some of the most beautiful areas of the "Garden of Amsterdam." The tulips blooming …
---