4.6

/

5

(

5

ratings)
Brussels To Bruges Bike and Boat Tour
Belgium Bike + Barge Tours
Enjoy the most beautiful cities of Flanders
With three official languages (Flemish, French and German) and a perfect location at the heart of Europe, Belgium is a culturally diverse country with a rich and varied history and an understated sophistication which makes it a charming country to visit.
It boasts a wealth of spectacular architecture, with many of its oldest buildings listed as UNESCO world heritage sites. The renowned grand squares of Brussels and Bruges, with hundreds of museums, parks, restaurants, and bars will not fail to impress you.
Belgium also has a proud tradition of fine art and the works of many well-known artists, from medieval masters such as Van Eyck to modern surrealists like Magritte.
For lovers of the outdoors, Belgium's beautiful countryside offers a range of things to do.
Most of all, Belgians know how to enjoy life to the full - their world-famous beers, chocolates, waffles, mussels, fries, and fine cuisine are a testament to this. It's never difficult to find a great place to eat or drink in any Belgian town or city.
Be sure to check out all of our Bike and Barge tours in Belgium.
Tour
Dates
2017 Dates
Magnifique:
Brussels to Bruges: August 12, 2017
Magnifique II:
Brussels to Bruges:  September 2, 2017
Bruges to Brussels: August 26, 2017
Quo Vadis:
Brussels to Bruges:  May 13, May 27, June 10, June 24, July 8, July 22, August 5, August 19, September 2, 2017
Bruges to Brussels:  May 6, May 20, June 3, June 17, July 1, July 15, July 29, 2017
Where
You'll Stay
Aboard the Comfort class boat, the Gandalf or the Comfort Plus boats, the Magnifique, the Magnifique II, or the Quo Vadis.
What's
Included
Accommodations for 7 nights on board
Breakfast, picnic lunches during bike tours, and three-course dinners
7-speed hybrid bicycle with pannier bag
Daily cleaning of cabins
Welcoming drink on first evening
Guide support (please see note below)
Printed instructions and detailed maps
Daily coffee and tea until 4 pm
*Please note: these tours are not fully guided bike tours but rather supported by a guide who ensures the safety of riders and takes care of mechanical issues. The guide is cycling the route and can be reached by cell phone for quick assistance
What's
Not Included
Transfers to/from docking area
1 x dinner in Antwerp
Ferry fares en route
Entrance fees for museums/ ferry fees
Drinks on board other than mentioned
Helmets aboard Magnifique and Magnifique II - available on request, reserve at time of booking
Gratuities
Bicycle protection
Trip insurance
Skill
Level
This is an easy, guided bike and boat tour with average daily distances between 24 and 33 miles (40 and 55 km).
Tour
Boats
Day-To-Day
Itinerary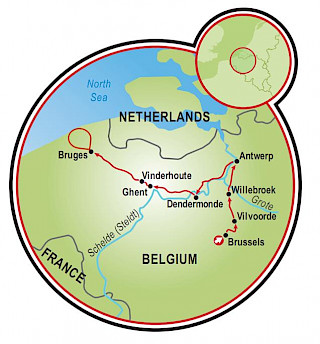 ABOARD THE MAGNIFIQUE, MAGNIFIQUE II, AND QUO VADIS
Day 1: Arrival in Brussels
Day 2: Brussels - Vilvoorde - Mechelen - Willebroek, 24 miles (40 km)
Day 3: Willebroek - Antwerp, 27 miles (45 km)
Day 4: Antwerp - St Amands/Dendermonde, 30 miles (50 km)
Day 5: Dendermonde - Ghent, 24 miles (40 km)
Day 6: Ghent - Vinderhoute - Bruges, 27 miles (45 km)
Day 7: Bruges and the North Sea, 32 miles (50 km) 
Day 8: Bruges 
Day 1: Arrival Brussels
Check in on board begins at 3 PM but you are free to drop off your luggage beginning at 11 AM. After arrival on board, there will be time to explore this beautiful capital of Belgium. Apart from its famous chocolates and beers, Brussels has many other attractions. It is a center of European culture, officially nicknamed 'the European Village', with almost 90 museums, beautiful parks, fascinating walks, and trendy restaurants and bars.
Day 2: Brussels – Vilvoorde – Mechelen – Willebroek, 24 miles (40 km)
During breakfast, the barge will sail to Vilvoord where the bike tour will begin. Along the way, you will visit Mechelen with its remarkable historical buildings; almost 300 of them! Continuing on through the green, softly rolling countryside, picturesque villages and large country estates will pass by. The barge will meet you at the day's destination of Willebroek.
Day 3: Willebroek – Antwerp, 27 miles (45 km)
From Willebroek, you will head to Antwerp. This harbor city on the river Schelde is one of the world's major diamond towns and has many highlights: the City Hall was one of the several majestic buildings constructed during the Renaissance, the historical City Square, Grote Market, the Onze-Lieve-Vrouwe cathedral, and the medieval Steen Castle. 
Day 4: Antwerp – Dendermonde, 30 miles (50 km)
Today's tour leads upstream on the Schelde to Hemiksem and after a short ascent, on to Repelmonde. Here, the Rupel flows into the Schelde and you will follow it for a few miles until the village of Niel, next to the nature reserve of Walenhoek. Between Niel and Boom is a historical area where bricks have been manufactured since the Middle Ages. From here, you will cross the canal Brussels-Rupel to the water tower of St. Amands further along the Schelde, till you reach the beautiful city Dendermonde. After the day's cycling ends, you will have time to relax and enjoy the bustling Flemish market square of Grote.
Day 5: Dendermonde – Ghent, 29 miles (48 km)
The Magnifique will be moored in Merelbeke, a suburb of the beautiful city of Ghent. The architectural richness in the historical center of the city of Ghent has been maintained well. Under the watchful eye of Gravensteen Castle or Castle of the Counts, the city boasts an Opera House, 18 museums, 100 churches, and over 400 historical buildings. The most visited site in Ghent is the famous painting "The Adoration of the Mystic Lamb", painted by the brothers Jan and Hubert van Eyck in 1432. It still hangs in its original location, the St. Bavo Cathedral.
Day 6: Ghent – Vinderhoute – Bruges, 24 miles (40 km)
After breakfast, the cycle will begin to Vinderhoute. Part of today's tour follows along the Ghent Canal to Oostende through the stretched Flemish landscape until Bruges. Also known as the "Venice of the North", Bruges is well known for its historical art and museums. The city center, with its winding canals, has been listed as a World Cultural Heritage Site of UNESCO. 
Day 7: Bruges and the North Sea, 32 miles (50 km)
The last bike tour of this vacation takes you first to a quiet canal along which are situated lots of poplars trees, polder landscapes, and quaint farmhouses. Via the small city of Damme, you will enter the fashionable and exclusive seaside resort of Knokke on the North Sea coast. It is home to a 12 km long sandy beach, numerous cafes, and the attractive dune landscape of the nature reserve of Het Zwin. The route continues through Sluis, a small Dutch village and back to Bruges riding along a small canal. 
Day 8: Bruges
Disembarkation after breakfast. 
Bruges to Brussels 
Day 1: Arrival in Bruges
Day 2: Bruges and the North Sea, 32 miles (50 km)
Day 3: Bruges - Moerebrugge - Ghent, 24 miles (40 km)
Day 4: Ghent - Dendermonde, 29 miles (48 km) and perhaps to St. Amands for overnight
Day 5: Dendermonde - St. Amands - Temse - Antwerp, 25 miles (42 km)
Day 6: Antwerp - Lier - Willebroek, 27 miles (45 km)
Day 7: Willebroek - Mechelen - Vilvoorde, 24 miles (40 km)
Day 8: Brussels 
*ALL ITINERARIES ARE SUBJECT TO CHANGE DUE TO CHANGING WIND AND WEATHER CONDITIONS AND OTHER UNFORSEEN CIRCUMSTANCES HAVING TO DO WITH MOORING REQUIREMENTS, ETC. DISTANCES ARE APPROXIMATE.
Looking for more?  View all of our featured bike and boat tours, or our full list of bike trips.
Email or Call 800-951-4384 +1 570-965-2064
---
Brussels To Bruges Bike and Boat Tour
Boats + Barges