4.4

/

5

(

10

ratings)
Champagne Tour
France Bike + Barge Tours
Paris to Épernay or Épernay to Paris
"Remember gentlemen, it's not just France we are fighting for, it's Champagne!" Winston Churchill

During this bike and boat tour in France, you will pedal through the beautiful Marne River valley and the world famous Champagne region, either beginning in Paris, city of light, or ending there depending on your tour date.

In 2015, UNESCO granted the Champagne area world heritage status! The vineyards, wine cellars, and sale houses where the grapes are grown, stored, and produced are all culturally significant. In fact, there are many sparkling wines but only the wine produced in this region of France with its chalky soil and perfect climatic conditions can be called Champagne.

You will have the opportunity to cycle to boutique wineries, sample a variety of champagnes, taste delicious Brie cheese and generally discover everything that the Champagne UNESCO world heritage region has to offer.

But more than just visiting the Champagne region, you will also have the opportunity to explore Paris, one of Europe's most beautiful and beloved cities on a full day guided excursion.

Highlights include:

City of Meaux, well known for its Brie cheeses
Château-Thierry, the scene of major battles in World War I
Scenery and endless vineyards on the rolling banks of the Marne River
Epernay
Reims

Watch a preview of the tour!

Looking for more? Be sure to view all of our bike and barge tours in France.



Zwaantje

Twin cabin: £ 1057 $ 1,824 € 1189 NOK 11097 kr 10244 $ 1,332 *Twin cabin/single use: £ 1412 $ 2,438 € 1589 NOK 14831 kr 13690 $ 1,780 *Limited number available

extra

options

Zwaantje

Electric bicycle: £ 84 $ 146 € 95 NOK 887 kr 818 $ 106

Gluten free or dairy free meals, payable on board: £ 44 $ 77 € 50 NOK 467 kr 431 $ 56

Helmets: available on request

If you would like information on arrival and departure transfers, please ask.

please

note

In France, it is not mandatory to wear a helmet. It is always best to bring your own helmet for proper fit and safety.  There will be a limited number available on board. They
should be booked in advance (approx. £ 9 $ 15 € 10 NOK 93 kr 86 $ 11 to be paid in cash on site).  

Rates are based on double occupancy.

Information to read before you book.

We recommend purchasing bike trip insurance.

† Currency exchange rate set 90 days before travel.
Tour
Dates
2017 Dates
Aboard the Zwaantje
Paris to Epernay: May 20, June 3, June 17, and July 1, 2017
Epernay to Paris: June 10, June 24, and July 8, 2017
2018 Dates
Aboard the Elodie
Paris to Epernay: September 9, 2018*
Epernay to Paris: September 16, 2018*
*Available for charter only. Please contact us for prices. 
Skill
Level
This is a moderate level tour that is at times challenging with hilly terrain and varied country roads. It is for experienced bikers in good physical condition. The tour is fully guided and every day you will cycle along small country roads (short distances on dirt or semi-paved roads and tracks) that go up and down the hills adjacent to the river valley and through Champagne vineyards. Cycling distances vary from 30–50 km (19–31 miles) per day. You can also cycle self-guided for short stretches if you prefer.
Where
You'll Stay
On the comfort plus boats, the Zwaantje or the Elodie
What's
Included
Aboard the Zwaantje
Accommodations on board for 7 nights
All meals, 7 x breakfast, 6 x picnic lunch during cycling itinerary, and 7 x 3 course dinners
Multi-lingual tour guide for fully guided cycling tours and daily briefings of the bike tours
Full day guided tour of Paris
Brie tasting
Half day guided tour of Epernay including champagne tasting
Printed instructions and maps for daily bike rides (one set per cabin)
Coffee and tea on board until 4 pm
Daily cleaning service
21 speed hybrid bicycle with hand brakes, pannier bag, and water bottle
What's
Not Included
Aboard the Zwaantje
Transfer to/from docking locations in Paris and Epernay
Ticket for public transport in Paris to Lagny-sur-Marne
Admittance fees to museums, attractions etc
Drinks other than those mentioned
Gratuities (at your discretion)
Bicycle protection
Helmets (adult) available upon request. French law now mandates that children under the age of 12 must wear helmets! Child helmets are NOT available on board.
Trip insurance
Extra
Stay
Extra nights recommended
Day-To-Day
Itinerary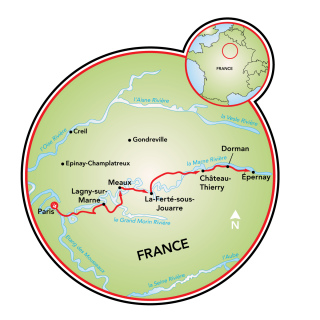 ABOARD THE ZWAANTJE

Paris to Epernay
Day 1: Arrival in Paris
Day 2: Full day excursion in Paris, transfer by regional train to the barge in Lagny-sur-Marne
Day 3: Lagny-sur-Marne - Meaux, 21 miles (35 km)
Day 4: Meaux – La Ferté-sous-jouarre, 22 to 25 miles (35 to 40 km)
Day 5: La-Ferté-sous-Jouarre – Château-Thierry, 32 miles (50 km)
Day 6: Château-Thierry – Dormans – Epernay, 19 to 35 miles (30 to 50 km)
Day 7: Epernay round tour, 16 miles (25 km); visit Epernay and Champagne houses
Day 8: Departure from Epernay
*All distances are "approximate distances" of recommended bike tours. If you do not feel like cycling one or more days, you can always relax on board while cruising to the next town. Program and details barring changes, a.o. as a result of nautical, technical or meteorological reasons.
Day 1: Arrival in Paris
Embarkation and check-in between 5:00 and 6:00 PM at the Quai de Bercy on the Seine in Paris. It is possible to bring your luggage on board at 1 pm. Once on board, the captain, crew, and tour leader will graciously welcome you. Following dinner on board, you'll be briefed about the barge, bicycles, and tour program.
Day 2: Full day excursion in Paris
After breakfast, you will leave the boat and enjoy a full day guided excursion of Paris. Visit some of the many highlights that the "City of Light" has to offer such as the Eifel Tower, the Sacré-Coeur Basilica in Montmartre, the Notre Dame cathedral, the Louvre museum, the Arc de Triomphe, the Centre Pompidou, and the Musée d'Orsay. Your tour guide will take you by public transportation (day ticket not included) from the barge to the center of Paris and on some walking tours. For safety reasons, no cycling tour in Paris is planned. Return in 30 minutes by regional train (at your own expense) to the barge in Lagny-sur-Marne.
Day 3: Lagny-sur-Marne- Meaux, 21 miles (35 km)
In Lagny-sur-Marne, you can take your bicycle for a first ride, mainly along the Marne river and its parallel canal. First challenge is the hill near Chalifert. The barge will take the tunnel through the hill but cyclists can test their fitness and muscles for the first time by climbing and crossing the hill by bicycle. Today's destination is the city of Meaux, famous for its "Brie de Meaux" cheeses and the magnificent Cathedral St.-Etienne. You will overnight in Meaux.
Day 4: Meaux – La Ferté-sous-jouarre, 22 or 25 miles (35 to 40 km)
After breakfast you will start your cycling tour through the center of Meaux, leading over the hills and slopes of the Marne valley and through forests and small villages on the southern and northern banks of the river. On the way, you may visit the Château de Montceau, construction of which was started by Catherine de Médicis in the 16th century. During the day you will enjoy a tasting of the famous Brie de Meaux and Brie Noir cheese. The boat will moor for the night in La-Ferté-sous-Jouarre or one of the villages nearby.
Day 5: La-Ferté-sous-Jouarre – Château-Thierry, 32 miles (50 km)
Today is a somewhat challenging bike tour from La-Ferté-sous-Jouarre to Château-Thierry. The first segment leads along the Marne River.  After a few miles, you will take a side valley and follow country roads along the small Ru de Bouillons River through various small villages and hamlets. Continuing uphill, you finally reach the plateau above the northern part of the Marne valley. Follow the valley of the small river Clignon. En route , there is opportunity to visit the large WWI American War Cemetery and Monument near Belleau which covers 130.5 acres, and is the final rest for the largest number of US military dead in Europe, a total of 14,246. Most of those buried here lost their lives during the Meuse-Argonne Offensive of World War I.  A lovely descent  then follows to Château-Thierry. Overnight in Château-Thierry.
Day 6: Château-Thierry – Dormans – Epernay, 19 to 35 miles (30 to 50 km)
Château-Thierrry owes its name to the castle that once was situated on the slopes above the Marne where remnants still remain.  Château-Thierry is also known as the native town of the world-famous writer of fables Jean de la Fontaine. You will have the option to choose between a longer or shorter bike ride as you enter the official Champagne area. Cycle along the Marne river or cruise to Dormans, a quiet village on the Marne with a castle and chapel in memory of the battle of the Marne. During World War I, this area was the scene of  intense battles. You will see the Château de Boursault, a large castle built in 1848 by the widow of Mr. Cliquot, who gave her name (Veuve Cliquot) to a famous Champagne wine. A ride up the northern valley slope to the village of Châtillon-sur-Marne rewards the cyclist with a stunning panoramic view over the Marne valley and the Champagne vineyards. Dinner on board and overnight in Epernay.
Day 7: Epernay round tour 16 miles (25 km) | afternoon: visit Epernay and Champagne houses
The last bike ride of this tour takes you along the quiet canal parallel to the Marne River to Ay and Mareuil-sur-Ay. Via Dizy as you return to Epenay, there is opportunity to visit Hautvillers. After a somewhat challenging ascent, you will reach this picturesque village of Champagne wine growers on the southern slopes of the Montagne de Reims. A highlight is a visit of the chapel with the tomb of the monk Dom Pérignon. According to tradition, Dom Pérignon (1638-1715), who was in charge of the wine cellars of the abbey of Benedictine monks, was the first to succeed in blending various kinds of wine into a wine of superb quality. Double fermentation, a method for the making of champagne, was also introduced by him. Reportedly, upon tasting his creation, he said, "Come quickly, I am tasting the stars." Once back in Epernay,  after lunch, there is time to visit the center. Together with Reims, Epernay is a major wine center of the Champagne region. Three extensive wine regions meet here: the Montagne the Reims, the Côte des Blancs, and the Vallée de la Marne. Epernay has many town houses in the neo-renaissance style or classical style dating from the 19th century, especially around the beautiful Avenue of the Champagne where prestigious champagne houses such as Moët & Chandon are situated. The day ends with champagne tasting and a tour in one of the major Champagne houses.
Day 8: Departure from Epernay
Disembarkation after breakfast until 9:30 AM.
Epernay to Paris
Day 1: Arrival in Epernay. Boarding time between 5 and 6PM.
Day 2: Epernay round tour, visit Epernay and Champagne houses, 16 miles (25 km)
Day 3: Epernay - Dormans - Château-Thierry, 19 to 35 miles (30 to 50 km)
Day 4: Château-Thierry - La-Ferté-sous-Jouarre, 32 miles (50 km)
Day 5: La-Ferté-sous-Jouarre – Meaux,  22 to 25 miles (35 to 40 km)
Day 6: Meaux - Lagny-sur-Marne, 21 miles (35 km) 
Day 7: Paris, full day excursion
Day 8: Departure from Paris
ABOARD THE ELODIE
Please contact us!
If France isn't your thing, be sure to check out our full like of bike and barge tours or our entire catalogue of bike trips.
Email or Call 800-951-4384 +1 570-965-2064
---
Champagne Tour
Boats + Barges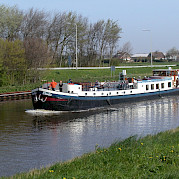 Elodie Netherlands, Belgium, France Comfort Plus Class Boat The Elodie was built in 1931 and has been completely refurnished into a luxury holiday ship. The ship has a saloon and sundeck and all of its cabins come with air-conditioning. The saloon of the Elodie is furnished in ship-style by using various types of wood in the finishing.
Zwaantje France Comfort Plus Class Boat The MPS Zwaantje, which means "Little Swaan", is a unique and cozy Dutch passenger barge. The boat has 10 cabins with twin beds and 2 cabins with double beds. These cabins also have a bunk bed but cannot be used as a triple. Each cabin has private facilities.