5

/

5

(

12

reviews)
Frankfurt to Bamberg or Bamberg to Frankfurt
Germany Bike + Barge Tours
Bike the Main River Cycle path through Germany
Cycle your way from Frankfurt, the most international city in Germany, to medieval Bamberg, once the city of enlightenment. Explore each town and village and return to the Merlijn, your luxurious accommodations for the week, to relax and enjoy delicious gourmet meals each evening. This is an active vacation along the banks of the Main River in which culture abounds. You could drive the distance in about two hours but who would want to? You would miss the opportunity to meander the cobblestone streets of charming villages such as Steinheim, Klingenberg, and Marktbreit, among others, and cycle through the gorgeous vineyards of the surrounding areas.

Highlights:

The metropolis of Frankfurt
The quaintness of Aschaffenburg
Ancient and well preserved Miltenberg
River path cycling
Lovely accommodations
Good food and great company!

Looking for more, check out all of our Bike and Barge tours in Germany.

2020

Twin/double:  $ 2799 £ 1379 $ 2,417 € 1525 $ 2882 kr 17014 $ 1,712

2021

Twin/double: $ 3001 £ 1479 $ 2,591 € 1635 $ 3090 kr 18241 $ 1,835

Single supplement limited and on request.

extra

options

2020 electric bicycle (price per day): $ 55 £ 27 $ 48 € 30 $ 57 kr 335 $ 34

2021 electric bicycle (price per day): $ 55 £ 27 $ 48 € 30 $ 57 kr 335 $ 34

please

note

Rates are per person based on double occupancy.

A non-refundable admin fee of 20 Euros per person is included in the deposit amount.

Information to read before you book.

We recommend purchasing bike trip insurance.

† Currency exchange rate set 90 days before travel.

Travel

Fly to Frankfurt International Airport (FRA).

Local Travel

Frankfurt Airport is well connected by public transportation. Frankfurt Airport Train Station, located next to Terminal 1, offers connections to popular German cities via Deutsche Bahn, the national railway company of Germany. There are local S-bahn lines (lines S8 and S9) that take travelers into central Frankfurt in about 10-15 minutes. To Bamberg, from the airport, it is about a 3 hour train ride, with one transfer, generally in Würzburg. From Bamberg, back to Frankfurt airport by train is approximately 1.5 hrs, cost approximately €35/person. Train from Frankfurt city center to Frankfurt airport takes approximately 15 mins and costs approximately €13. The German rail site, bahn.de, is good resource when researching train travel in Germany.

Climate

Check local conditions prior to departure. A good website to use to research regional weather including average high/low temperatures, average rainfall, and more weather-related facts is weatherbase.com.

Remarks

Electric bikes are available for a per diem rate of €30 (2020 and 2021). Advanced reservation required and payment on board.

Documents

Before you travel, please check your country's passport and visa requirements and the passport and visa requirements of the country/countries you plan to visit. For US citizens, the US Department of State website is a good source of information. The Country Information tab in the International Travel section provides details about passport validity, blank passport pages required, etc. For our other international clients, please be sure that you research your own country's travel requirements. It is each traveler's responsibility to ensure proper documentation.

*Important note: Beginning July 1, 2021, additional documentation from the European Travel Information and Authorization System (ETIAS) will be required to visit any of the 26 Schengen-member countries for tourism, business, medical, or transit. This is an additional check on security rather than a visa.

---
Where
You'll Stay
You will be accommodated onboard the Deluxe class vessel, the Merlijn
What's
Included
Accommodation for 7 nights
Daily cabin cleaning service
Welcome drink
7 breakfast buffets, 6 packed lunches, and 6 three-course dinners
Coffee, tea, hot chocolate, and water on board
27-speed hybrid bike of the brand Sensa, a Dutch company. Bikes come equipped with hydraulic disc brakes, waterproof pannier, water bottle, towel, and universal helmet
Daily tour briefing
Tour Guide
Canal, bridge, and harbor fees
Guided tour at Residence Wurzburg
Brewery tour and beer tasting in Miltenberg
†Wifi
†Important to note, due to steel construction of the ship, cruising locations, and other factors, Wifi signal speed and strength may not be what you are accustomed to and may not meet your expectations. If you are dependent on a constant, strong, fast, and reliable signal at all times, please consider a personal hot spot. See our FAQ page.
What's
Not Included
1 dinner
Drinks other than those mentioned
Organized city tours
Entrance fees and excursions other than those mentioned
City maps
Bike maps
Gratuities
Tour
Dates
2020
Bamberg to Frankfurt
August 29, 2020
2021
Frankfurt to Bamberg:
August 28, 2021

 
Skill
Level
This is an easy, guided bike and boat tour with average daily distances ranging from 35 to 55 km.
Tour
Boats
Day-To-Day
Itinerary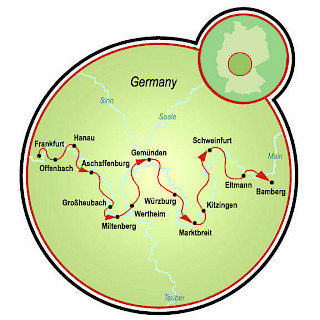 Day 1: Arrival in Frankfurt, 22 mi. (35 km)
Day 2: Offenbach - Aschaffenburg, 28 mi. (45 km)
Day 3: Aschaffenburg - Miltenberg, 25 mi. (40 km)
Day 4: Miltenberg - Gemünden, 31 mi. (50 km)
Day 5: Gemünden - Marktbreit, 28 mi. (45 km)
Day 6: Marktbreit - Schweinfurt, 34 mi. (55 km)
Day 7: Schweinfurt - Bamberg, 22 mi. (35 km)
Day 8: Departure from Bamberg 
*All distances are approximate. The itinerary is subject to change due to changing wind and weather conditions and other unforeseen circumstances having to do with mooring requirements, etc.
Day 1: Arrival in Frankfurt, 22 mi. (35 km)
Check-in officially begins at 3:30 pm.  You can bring your luggage on board at 10 am and explore Frankfurt at your leisure. You are greeted on board the Merlijn with a welcome cocktail and while you enjoy, you will be introduced to the crew, hear about your tour, the boat, the bikes, and safety.  At 4:30 pm, the boat will navigate to Offenbach.
Day 2: Offenbach - Aschaffenburg, 28 mi. (45 km)
Today's tour leads you to Bürgel, Mühlheim and Hanau, the town where the famous Grimm brothers were born. Via Steinheim, with its charming historic center, and Klein-Krotzenburg, you bike along the Main River to the small and romantic city Seligenstadt with its meandering alleys, half-timber houses and the basilica. After crossing the Main River on a small ferry, you continue to today's destination, Aschaffenburg. In the evening there will be an opportunity for you a stroll through the old city center to see the churches and of course the castle that is situated at the riverbank.
Day 3: Aschaffenburg - Miltenberg, 25 mi. (40 km)
Following the river, you pass lovely small towns and villages, such as Obernberg, and further on Klingenberg and Groszheubach, both famous for their fine red wines. The day ends in Miltenberg, a charming village with meandering streets and alleys, old restored half-timber houses, and the historic market square. You may want to go for a drink in the oldest pub in Germany. Tonight you will enjoy a brewery tour and beer tasting.
Day 4: Miltenberg - Gemünden, 31 mi. (50 km)
While you enjoy your sailing breakfast, the Merlijn takes you from Miltenberg to Wertheim, situated right there where the rivers Main and Tauber meet. It is a town that invites you to come and visit its historic center and the mountain ruins.
From here you will bike to Gemünden, passing the half-timber castle Homburg, biking through the varying landscape with both wine mountains and forested mountain slopes with bizarre rocks and historic monuments, like the Triefenstein monastery. Further on, there is Lohr am Main and its Gothic and Baroque buildings. In Gemünden am Main is the confluence of three rivers: Sinn, Saale, and Main.
Day 5: Gemünden - Marktbreit, 28 mi. (45 km)
Today the bike tour will lead you further on along the river Main passing Karlstadt, Zellingen, and Erlabrunn. Afterwards, you will reach Würzburg, the Baroque town on the river Main. Take the opportunity to explore this beautiful city and hike to the fortress that offers a magnificent view on the historic center of Würzburg with its many towers.
After your visit of Würzburg, you will board the Merlijn and cruise to the charming village of Marktbreit. Along the way, passing vineyards and hills full of vines and charming wine villages like Sommerhausen, Eibelstadt, and Ochsenfurt.
Day 6: Marktbreit - Schweinfurt, 34 mi. (55 km)
The day begins with a morning cruise, passing Kitzingen, famous for its leaning tower. The story goes that it is leaning because the builders mixed mortar with wine instead of water (due to a water shortage), and also enjoyed too much wine in the process! Begin biking in Wipfeld, close to Schwarzach, further along, the bike path, pass villages such as Sommerach, Nordheim, and Volkach - where the Main eddies. These villages are all very well known to wine connoisseurs. Here you can admire a cultural highlight: the pilgrimage church, 'Maria im Weingarten', and the famous 'Madonna im Rosenkranz' by Tilmann Riemenschneider. The boat docks in the city of Schweinfurt, with its old center full of cozy little spots, the town hall, the tower and the market place, the museums and galleries and much more. This evening you can enjoy your dinner in a local restaurant at your own expense. Overnight stay on the barge as usual.
Day 7: Schweinfurt - Hassfurt - Bamberg, 22 mi. (35 km)
The day begins with breakfast as the boat cruises to Hassfurt. Here you can explore the famous late gothic Ritter chapel and the late gothic church at the market square with its valuable paintings, John the Baptist and Maria with child, by Tilmann Riemenschneider. From here, cycle to the town of Eltmann and further on the Main river, passing the famous pilgrimage church, Maria Limbach. You reach Bamberg, a very charming historic bishops town with Villa Concordia, the historic lock 100, the water castle, the baroque house on the bridge, and the former fishing settling Small Venice all emphasizing the tight connection between town and river.
Day 8: Departure from Bamberg
Individual departure after breakfast.
BAMBERG TO FRANKFURT
Day 1: Arrival in Bamberg
Day 2: Bamberg - Schweinfurt, 22 mi. (35 km)
Day 3: Schweinfurt - Marktbreit, 35 mi. (56 km)
Day 4: Marktbreit - Gemünden - Lohr, 28 mi. (45 km)
Day 5: Lohr - Miltenberg, 31 mi. (50 km)
Day 6: Miltenberg - Aschaffenburg, (40 km)
Day 7: Aschaffenburg - Frankfurt, 28 mi. (45 km)
Day 8: Departure from Frankfurt 
Looking for more?  View all of our featured bike and boat tours, or our full list of bike trips.
Email or Call 800-951-4384 +1 570-965-2064
---
Frankfurt to Bamberg or Bamberg to Frankfurt
Boats + Barges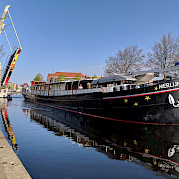 Merlijn Germany, Netherlands Deluxe Class Boat "The Divine Miss M" as we lovingly call the Merlijn is a diva, for sure. What can we say? Is it the luxurious cabins with most comfortable beds you have ever slept in? Is it the lovely dining area with the large windows and skylight that let the air, light, and sun pour in? Or perhaps it is the sun deck, where you can relax with newfound friends, sharing good wine and good conversation. We think you will find it is the entire divine package! Step onboard and discover for yourself!