5

/

5

(

1

rating)
Kvarner Bay Plus
Croatia Bike + Barge Tours
Bike and Boat Croatia!
Discover the charm of Kvarner Bay in the northern Adriatic Sea aboard the brand new deluxe boat, the Andela Lora. The tour explores countless islands with crystal clear water, deeply fissured cliffs, picturesque beaches and numerous small bays. Each island you will discover is different with its own unique history.
Be sure to check out our full list of bike and boat tours in Croatia.
Skill
Level
This tour requires a basic level of fitness acquired from steady cycling. The tours will traverse heights of between 200 and 500 m with daily distances ranging between 20 to 45 km through mountainous terrain. Tours can be completed without any time constraints. Participants will need to master long and steep climbs which present no problem with the use of the E bikes. Streets are mostly asphalted with little traffic. You can chose each day to cycle on your own with the maps and information provided or join the guided tour.
Where
You'll Stay
On board the brand new, comfort plus boat, the Andela Lora.
What's
Included
8 days/7 nights on a motor yacht with a 4 person crew
4 x full board and 3 x half board
Bed linens and towels
English speaking tour guide
7 guided cycling tours
Electric bicycle with 8 gear hub shifting equipped with pannier
21 speed hybrid bicycle also available for this tour (discount available, see pricing) equipped with pannier
Overview maps for the daily tours
Two kayaks and one stand up paddle board available for use
For 2017: Collective transfer from/to Zagreb on day of embarkation/disembarkation (11:30 am from Zagreb Center / 12:15 pm from Zagreb Airport only / return transfer from Omisalj to Zagreb Airport starts at 8 am (reservation required - flight details at booking)
What's
Not Included
Entrance fees to museums and National Parks
Drinks on board
Gratuities for crew and tour guide
Taxi transfer from airport of Rijeka to the ship in Omišalj (Journey to Omisalj/Krk Island)
Visitor's tax, local charges, and unlimited water on board and during cycling: €40 (€20 for children 16 and under) to be paid on board
2 or 3-day Extension tours (see Extra Options, under Pricing)
Tour
Dates
June 26, July 3, July 10, July 17, July 31, August 7, August 14, August 21, August 28, September 18, September 25, and October 2, 2016
2017 DATES
June 11, June 18, August 27, September 17, September 24, October 1, 2017.
Tour
Boats
Day-To-Day
Itinerary
Day 1: Arrival in Omišalj, sailing to Cres
Day 2: Islands of Cres and Lošinj, 14 mi. (23 km)
Day 3: Islands of Lošinj and Molat, 12 + 6 mi. (20 + 10 km)
Day 4: Islands of Dugi Otok - Zadar 26 mi. (42 km)
Day 5: Island of Pag - Rab, 12 mi. (20 km)
Day 6: Island of Rab, 15 mi. (25 km)
Day 7: Island of Krk, 28 mi. (45 km)
Day 8: Omišalj, end of tour after breakfast
*All distances are approximate. The above planned itinerary is subject to change due to changing wind and weather conditions and other unforeseen circumstances having to do with mooring requirements, etc.
Day 1: Arrival in Omišalj, sailing to Cres
Individual arrival in Omišalj, a nice little harbor village on the island of Krk. Check-in on board is between 2:00 pm and 2:30 pm. It is important to be on time because at 3 pm the ship takes you to the island of Cres, a 4 hour sailing adventure!  On Cres, you can take a walk through the Venetian old town in the evening.
Day 2: Islands of Cres and Lošinj, 14 mi. (23 km)
In the morning, the ship takes us to Martinšćica. From there, cycle on the east side of the island among pine, fig, and laurel trees to Osor, an artist town, where you can enjoy lunch on the ship. Enjoy a refreshing swim in the bay with its crystal clear water. In the afternoon, the boat takes you to the island of Lošinj. After a comfortable cruise and a stop for a refreshing swim, the ship brings you into the large harbor of Mali Lošinj. The clear climate of this wellness retreat with its colorful captain's houses and an abundance of cafés will welcome you for a relaxing evening.
Day 3: Islands of Lošinj and Molat, 12 + 6 mi. (20 + 10 km)
Today's route leads along the seaside promenade to the south of Lošinj and you can visit the picturesque small harbor town of Veli Lošinj before meeting the ship for lunch. In the afternoon, cross over to the island of Molat for another short cycling tour. The day ends in a quiet harbor of Molat Island.
Day 4: Islands of Dugi Otok - Zadar 26 mi. (42 km)
During breakfast the ship leaves Molat passing many small islands to the "spice island" of Dugi Otok. Today's bike tour starts in the bay of Božava, which is surrounded by pine woods, agaves, and tamarisk trees. Enjoy cycling along the island's "Road in the Sky" that leads to Sali, where the boat awaits you to sail to Zadar. For centuries, it was the political, cultural, and spiritual center of Dalmatia. Over 3000 years of history have left an imprint on the character of this town and there are many things to be admired. Among them is the mighty fortified walls with their bastion and the early Romanesque St. Donatus Basilica. In the evening, your tour guide takes you on an extensive walk through the lively city center.
Day 5: Island of Pag - Rab, 12 mi. (20 km)
After a long crossing in the morning, the ship reaches the island of Pag. In the harsh but delightful landscape of the island you come across many fig and olive trees. Over the centuries the inhabitants have built numerous stone walls for protection against the wind. Starting from Novalja, you cycle on the narrow peninsula until reaching the sea from where the ship sails to Rab. The island of Rab is one of the sunniest places in Europe. The town of Rab, the fortified capital of the island, was built in the Middle Ages on a wedge shaped headland and marks one of the highlights of the trip. The four famous bell towers are the symbol of the adorned beauty of the town. After dinner explore the narrow alleys with numerous cozy cafés.
Day 6: Island of Rab, 15 mi. (25 km)
Get to know the charming island of Rab on a lovely ride around the island. At lunchtime, the ship awaits in the harbor directly in front of the old town of Rab. From here, you cruise to Jablanac near the picturesque Zavratnica fjord. Later on the ship takes us over to the neighboring island of Krk where you spend the evening in the historical town of Krk.
Day 7: Island of Krk, 28 mi. (45 km)
Cycle over the ridge of the island which is covered by fragrant macchia to a valley of vineyards and then onwards to the small museum town of Vrbnik in the northeast. The town built on a 50-meter-high cliff and surrounded by vineyards is the home of the famous white wine, Zlahtina. Another peculiarity that Vrbnik has to offer is the second narrowest alley in the world. The route leads across the island through old villages and rich vegetation to Omišalj. On the way you will not want to miss the opportunity to swim in the bay of Soline. The last evening on board includes a communal dinner and a last get-together with the crew and tour guides.
Day 8: Omišalj, end of tour after breakfast
After breakfast disembarkation until 9 am and individual trip home or extended stay in Croatia.
You can view all of our bike and boat tours or look at our featured bike trips, specials, and news.
Email or Call 800-951-4384 +1 570-965-2064
---
Kvarner Bay Plus
Boats + Barges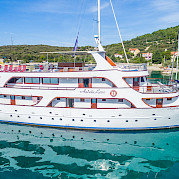 Andela Lora Croatia Comfort Plus Class Boat At 40 x 8.5 m the motor yacht Anđela Lora was launched in June 2012 and is an elegant addition to our comfort plus category. She is one of the biggest boats of the Croatian fleet with 17 spacious guest cabins – plenty of them available as three or four bed cabins – with air conditioning, shower cabins and WC. A bathing platform is available at the stern off ering easy access into the sea. For a special experience, a salt water pool and numerous sun mats are available on the sundeck. The friendly crew will always make sure that you enjoy a recuperative stay on board.