4.7

/

5

(

17

reviews)
Kvarner Bay E-Bike and Boat
Croatia Bike + Barge Tours
Explore Croatia & the Adriatic Sea on this electric bike tour
Discover the charm of Kvarner Bay on this electric bike tour in the northern Adriatic Sea on this amazing journey amid the islands. Guarded by the towering Velebit mountain range in the east and hugged by the Istria Peninsula in the northwest, the Kvarner Islands offer quiet coves of crystal clear water and dramatic landscapes. Green hills and rocky moon landscapes give way to small harbor towns rich in history and culture.

Highlights:

Unique accommodation on board a deluxe ship
The picturesque small harbor town of Veli Lošinj
Spice island of Dugi Otok
Zadar
Sunny island of Rab
Island of Krk

If you prefer a challenge, you can request a touring bike instead of an electric bike. Please read the Difficulty Details section carefully. We also offer Kvarner Bay on which most participants will be riding regular touring bikes.

Be sure to check out our full list of bike and boat tours in Croatia.

Season 1:
April 12: $ 2511 £ 1252 $ 2,165 € 1390 $ 2591 kr 15517 $ 1,544 Season 2:
May 3, May 10, and October 11: $ 2691 £ 1342 $ 2,321 € 1490 $ 2777 kr 16634 $ 1,656 Season 3:
May 17, May 24, June 7, June 14, June 21, June 28, July 12, July 19, July 26, August 2, August 9, August 16, August 23,  and October 4: $ 2872 £ 1432 $ 2,476 € 1590 $ 2963 kr 17750 $ 1,767 Season 4:
August 30, September 6, September 13, and September 27: $ 3053 £ 1522 $ 2,632 € 1690 $ 3150 kr 18866 $ 1,878  

All Seasons
Surcharge for main/upper deck: $ 271 £ 135 $ 234 € 150 $ 280 kr 1675 $ 167 Single supplement for cabin below deck (on request): $ 903 £ 450 $ 779 € 500 $ 932 kr 5582 $ 556 Single supplement for main/upper deck cabin (on request): $ 1264 £ 630 $ 1,090 € 700 $ 1305 kr 7814 $ 778

Season 1:
May 2, May 9 & October 10: $ 2691 £ 1342 $ 2,321 € 1490 $ 2777 kr 16634 $ 1,656 Season 2:
May 16 to August 29 & October 3, 2021: $ 2872 £ 1432 $ 2,476 € 1590 $ 2963 kr 17750 $ 1,767 Season 3:
September 5, September 12 & September 19, 2021: $ 3053 £ 1522 $ 2,632 € 1690 $ 3150 kr 18866 $ 1,878

All Seasons
Surcharge for main/upper deck: $ 271 £ 135 $ 234 € 150 $ 280 kr 1675 $ 167 Single supplement for cabin below deck (on request): $ 903 £ 450 $ 779 € 500 $ 932 kr 5582 $ 556 Single supplement for main/upper deck cabin (on request): $ 1264 £ 630 $ 1,090 € 700 $ 1305 kr 7814 $ 778

 

extra

options

Discount for 21-gear Hybrid Bike: $ 181 £ 90 $ 156 € 100 $ 186 kr 1116 $ 111

Individual Transfers (advanced reservation required):

*Zagreb city center/airport to boat in Omisalj: $ 54 £ 27 $ 47 € 30 $ 56 kr 335 $ 33 (11:30 am from Zagreb Center or 12:15 pm from Zagreb Airport )

*Boat in Omisalj to Zagreb airport/city center: $ 54 £ 27 $ 47 € 30 $ 56 kr 335 $ 33 Transfers start  at 8 am

*Rijeka train station transfer each way:  $ 36 £ 18 $ 31 € 20 $ 37 kr 223 $ 22

*Rijeka airport  transfer (embarkation/ disembarkation day) each way:  $ 27 £ 14 $ 23 € 15 $ 28 kr 167 $ 17

*All quoted transfers only available on embarkation and disembarkation days. 

 All other transfers on request.

2-Day pre-tour extension module, Zagreb

3-star double room: $ 560 £ 279 $ 483 € 310 $ 578 kr 3461 $ 344

Single room: $ 614 £ 306 $ 530 € 340 $ 634 kr 3796 $ 378

4-star double room: $ 650 £ 324 $ 561 € 360 $ 671 kr 4019 $ 400

Single room: $ 759 £ 378 $ 654 € 420 $ 783 kr 4689 $ 467

Discount for 21-gear Hybrid Bike: $ 181 £ 90 $ 156 € 100 $ 186 kr 1116 $ 111

Individual Transfers (only available on embarkation/disembarkation days, advanced reservation required):

Zagreb city center/airport to boat in Omisalj: $ 54 £ 27 $ 47 € 30 $ 56 kr 335 $ 33 (11:30 am from Zagreb Center or 12:15 pm from Zagreb Airport )

Boat in Omisalj to Zagreb airport/city center (starting at 8 am): $ 54 £ 27 $ 47 € 30 $ 56 kr 335 $ 33

Rijeka train station transfer each way:  $ 36 £ 18 $ 31 € 20 $ 37 kr 223 $ 22

Rijeka airport  transfer (embarkation/ disembarkation day) each way:  $ 27 £ 14 $ 23 € 15 $ 28 kr 167 $ 17

 All other transfers on request.

2-Day pre-tour extension module, Zagreb

3-star double room: $ 560 £ 279 $ 483 € 310 $ 578 kr 3461 $ 344

Single room: $ 614 £ 306 $ 530 € 340 $ 634 kr 3796 $ 378

4-star double room: $ 650 £ 324 $ 561 € 360 $ 671 kr 4019 $ 400

Single room: $ 759 £ 378 $ 654 € 420 $ 783 kr 4689 $ 467

 

please

note

Reduction per person in combination with another Island Hopping trip: $ 90 £ 45 $ 78 € 50 $ 93 kr 558 $ 56   Reduction for 3rd person sharing a triple cabin, regardless of age (from basic tour price): 50%
(Above deck surcharge will not apply to third person. Triple cabins consist of one double and one single bed.)
Reduction for children up to age 16 (from basic tour price): 25%*
*not combinable with the 50% discount

Rates are per person based on double occupancy.

A non-refundable admin fee of 20 Euros per person is included in the deposit amount.

Information to read before you book.

We recommend purchasing bike trip insurance.

† Currency exchange rate set 90 days before travel.

Travel

The closest airport to mooring location is Rijeka, on the Island of Krk, the same island as embarkation. However, as the flight connections to Rijeka are limited, we recommend that you book flights to Zagreb Airport and take part in the group transfers to Omisalj, point of embarkation. See below for more details and pricing section for prices.

Local Travel

Zagreb
If arriving to Zagreb airport, It is advised that you book the available collective group transfer to/from the port, available on embarkation and disembarkation day only. Transfers from the airport are at 12:15 pm. Transfers on the last day from Omisalj back to Zagreb airport start at 8 am. Do not book your return flight before 12 noon!
You may also request this transfer from Zagreb main station if you have arrived earlier and are already in Zagreb. This will be at 11:30 am. Transfers take approx. 2 hours. To be confirmed for these transfers, flight details are needed.


Rijeka
From the Rijeka airport, it is a short taxi ride to the ship or you take advantage of the transfer that is offered, on the day of embarkation and disembarkation. See pricing.

Climate

Croatia's coast and islands from Istria and Kvarner in the north through Dalmatia are governed by a Mediterranean climate. Check local conditions prior to departure. A good website to explore regional weather, including average high/low temperatures, average rainfall, and more is weatherbase.com.

Recommended

Helmet use is mandatory on all bike rides. You are strongly encouraged to bring your own well-fitted helmet. Rental helmets are available on board in limited number (reservation requested). First come, first served.

Remarks

We believe that only children in a good physical condition and of a minimum age of 10 and previous bicycle tour experience are able to master the bike tours on their own strength. Please note that the minimum height for a rental bike is 1,20 m (4 ft.). In Croatia there is a obligatory helmet use for all children and adults.

DOCUMENTS

Before you travel, please check your country's passport and visa requirements and the passport and visa requirements of the country/countries you plan to visit. For US citizens, the US Department of State website is a good source of information. The Country Information tab in the International Travel section provides details about passport validity, blank passport pages required, etc. For our other international clients, please be sure that you research your own country's travel requirements. It is each traveler's responsibility to ensure proper documentation.

*Important note: Beginning July 1, 2021, additional documentation from the European Travel Information and Authorization System (ETIAS) will be required to visit any of the 26 Schengen-member countries for tourism, business, medical, or transit. This is an additional check on security rather than a visa.

---
Tour
Dates
Sunday departures: April 12, April 19, May 3, May 10, May 17, May 24, June 7, June 14, June 21, June 28, July 12, July 19, July 26, August 2, August 9, August 16, August 23, August 30, September 6, September 13, September 27, October 4, and October 11, 2020
Sundays, May 2, May 9, May 16, May 23, June 6, June 13, June 20, June 27, July 11, July 18, July 25, August 1, August 8, August 15, August 22, August 29, September 5, September 12, September 19, October 3 & October 20, 2021
On many dates the bike and boat tour Kvarner Bay is operated parallel on the ship Linda. Offered as well, is a mountain bike itinerary. Check it out and we will be happy to send you the mountain bike itinerary on request.
Skill
Level
This is always the most difficult thing to do, rate a tour. This electric bike tour is offered on one of the ships in the Croatian fleet designed to accommodate as many electric bikes as passenger capacity. The majority of participants will be using an e-bike. For them, this tour could be easy, moderate, or difficult, depending on level of assistance they utilize! For those who will be riding a hybrid touring bike, you will work harder to keep up with the group on electric bikes. You will most likely find this tour moderate to difficult depending on your fitness level. Do note for every participant, this tour assumes that you are a cyclist and that you ride often. You will traverse heights of between 200 and 500 m with daily distances ranging between 20 to 45 km through mountainous terrain. Tours can be completed without any time constraints. Participants will need to master long and steep climbs which present little to no problem with the use of electric bikes. Streets are mostly asphalted with little traffic. At times, with your guides approval, you may be able to ride self-guided but there are no guarantees.
Where
You'll Stay
On the deluxe boat, the Andela Lora
What's
Included
7 nights accommodation
Breakfast
On four days you will receive all meals, breakfast, lunch and dinner. On three days you will receive breakfast and one hot meal, which may be served mid-day or in the evening
English speaking tour guide (on most tour dates, tours are conducted bilingually, in English and German
Guided cycling tours as described in the itinerary
Electric bicycle with 8 gear hub shifting equipped with pannier
21-24- speed hybrid bicycle also available for this tour (discount available, see pricing) equipped with pannier
What's
Not Included
Entrance fees to museums and National Parks
Drinks on board
Gratuities for crew and tour guide
Transfers
Visitor's tax, local charges, and unlimited water on board and during cycling: 2019: €40 (€20 for children 16 and under). 2020 €50 (€25 for children 16 and under) to be paid on board
2 or 3-Day Pre-Tour Extension (see Extra Stay below, see pricing)
Extra
Stay
2-DAY PRE-TOUR EXTENSION in Zagreb
Saturday
A private transfer collects you at the Zagreb airport and brings you to the doorstep of your hotel. You will have time to freshen up after your journey. In the late afternoon your guide will meet you in the lobby of your hotel to take you on an interesting and inspiring walk through the Croatian capital. The old town, built by the Austro-Hungarian Empire, will charm you at every turn. During a three hour guided city tour, our local guide will enlighten you on the city in its current position and its former past. The Kaptol (the center of the Roman Catholic Church in Croatia) and Gardec (the upper old town) are of course included in the program. In the evening you will dine in a specially selected restaurant. The delicious local specialties will be a great way to end the day. Overnight stay in a hotel in the town center of Zagreb.
Sunday
After breakfast transfer to Omišalj for embarkation.

Extension Package Includes:

3 or 4 star hotel at the town center
Guided sightseeing tour in Zagreb (entrance fees not included)
Dinner in a local restaurant
Transfer from Zagreb airport to your hotel
Transfer from your hotel in Zagreb to Omišalj
Local taxes
---
Day-To-Day
Itinerary
Day 1: Arrival in Omišalj, sailing to Cres
Day 2: Islands of Cres and Lošinj, 18 mi.  (28 km)
Day 3: Islands of Lošinj and Molat, 12 + 6 mi. (20 + 10 km)
Day 4: Islands of Dugi Otok - Zadar 26 mi. (42 km)
Day 5: Island of Pag - Rab, 12 mi. (20 km)
Day 6: Island of Rab, 15 mi. (25 km)
Day 7: Island of Krk, 28 mi. (45 km)
Day 8: Omišalj, end of tour after breakfast
*All distances are approximate. The above-planned itinerary is subject to change due to changing wind and weather conditions and other unforeseen circumstances having to do with mooring requirements, etc.
Day 1: Arrival in Omišalj, embarkation, sailing to Cres
Individual arrival in Omišalj, a nice little harbor village on the island of Krk. Check-in on board is between 2:00 pm and 2:30 pm. It is important to be on time because at 3 pm the ship takes you to the island of Cres, a 4-hour sailing adventure!  On Cres, you can take a walk through the Venetian old town in the evening.
Day 2: Islands of Cres and Lošinj, 18 mi.  (28 km)
After breakfast, you start your cycling itinerary from the city of Cres to Martinšćica. The boat awaits your arrival and lunch is served during the cruise to the island of Lošinj. If the weather is good, the captain will arrange a swim stop along the way before tying off in the harbor wellness town of Mali Lošinj. The port with its colorful facades and numerous cafes offers its visitors a welcoming atmosphere for a relaxed evening.
Day 3: Islands of Lošinj and Molat, 12 + 6 mi. (20 + 10 km)
Today's route leads along the seaside promenade to the south of Lošinj and you can visit the picturesque small harbor town of Veli Lošinj before meeting the ship for lunch. In the afternoon, cross over to the island of Molat for another short cycling tour. The day ends in a quiet harbor of Molat Island.
Day 4: Islands of Dugi Otok - Zadar 26 mi. (42 km)
During breakfast, the ship leaves Molat passing many small islands to the "spice island" of Dugi Otok. Today's bike tour starts in the bay of Božava, which is surrounded by pine woods, agaves, and tamarisk trees. Enjoy cycling along the island's "Road in the Sky" that leads to Sali, where the boat awaits you to sail to Zadar. For centuries, it was the political, cultural, and spiritual center of Dalmatia. Over 3000 years of history have left an imprint on the character of this town and there are many things to be admired. Among them is the mighty fortified walls with their bastion and the early Romanesque St. Donatus Basilica. In the evening, your tour guide takes you on an extensive walk through the lively city center.
Day 5: Island of Pag - Rab, 12 mi. (20 km)
After a long crossing in the morning, the ship reaches the island of Pag. In the harsh but delightful landscape of the island, you come across many fig and olive trees. Over the centuries the inhabitants have built numerous stone walls for protection against the wind. Starting from Novalja, you cycle on the narrow peninsula until reaching the sea from where the ship sails to Rab. The island of Rab is one of the sunniest places in Europe. The town of Rab, the fortified capital of the island, was built in the Middle Ages on a wedge-shaped headland and marks one of the highlights of the trip. The four famous bell towers are the symbol of the adorned beauty of the town. After dinner explore the narrow alleys with numerous cozy cafés.
Day 6: Island of Rab, 15 mi. (25 km)
Get to know the charming island of Rab on a lovely ride around the island. At lunchtime, the ship waits in the harbor directly in front of the old town of Rab. From here, you cruise to Jablanac near the picturesque Zavratnica fjord. Later on the ship takes us over to the neighboring island of Krk where you spend the evening in the historic town of Krk.
Day 7: Island of Krk, 28 mi. (45 km)
Cycle over the ridge of the island which is covered by fragrant macchia to a valley of vineyards and then onwards to the small museum town of Vrbnik in the northeast. The town built on a 50-meter-high cliff and surrounded by vineyards is the home of the famous white wine, Zlahtina. Another peculiarity that Vrbnik has to offer is the second narrowest alley in the world. The route leads across the island through old villages and rich vegetation to Omišalj. On the way, you will not want to miss the opportunity to swim in the bay of Soline. The last evening onboard includes a communal dinner and a last get-together with the crew and tour guides.
Day 8: Omišalj, end of tour after breakfast
After breakfast disembarkation by 9 am and individual trip home or extended stay in Croatia.
You can view all of our bike and boat tours or look at our featured bike trips, specials, and news.
Email or Call 800-951-4384 +1 570-965-2064
---
Kvarner Bay E-Bike and Boat
Boats + Barges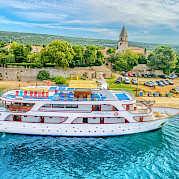 Andela Lora Croatia Deluxe Class Boat At 40 x 8.5 m the motor yacht Anđela Lora was launched in June 2012 and is an elegant addition to our comfort plus category. She is one of the biggest boats of the Croatian fleet with 17 spacious guest cabins – plenty of them available as three or four bed cabins – with air conditioning, shower cabins and WC. A bathing platform is available at the stern offering easy access into the sea. For a special experience, a salt water pool and numerous sun mats are available on the sundeck. The friendly crew will always make sure that you enjoy a recuperative stay on board.