4.9

/

5

(

24

reviews)
Tulip Tour - Amsterdam to Bruges - 11 day
Bike and Boat Holland and Belgium like it should be explored!
We have been told several times, and our captains and operators agree, the usual 8 days allotted for a bike and boat tour from Amsterdam to Bruges or Bruges to Amsterdam, is simply not enough. We think that this 11-day bike and boat tour featuring Holland's intriguing capital, Belgium's artistic gem, and everything in between, during peak tulip season, will be unsurpassed.

You will have more time to bike, more time to boat, and more time to immerse, enjoy your surroundings and participate fully in this cycling experience.

The highlight of this tulip-themed bike and boat tour is a visit to the world-famous Keukenhof, which will be ablaze with colors. In fact, all of Holland and Belgium will be bursting with Spring.

Other highlights:

Frans Hals Museum
Kinderdijk
Cycling the Tulip Fields
Zaanse Schans
Delft and Delft pottery
Rotterdam
Antwerp - you will have a full day here!
Deluxe accommodation

If you are looking for a truly opulent tulip experience, check out the Luxury Tulip Bike Tour on the Aurora. Also, be sure to check out all of our bike and barge tours in the Netherlands.

Twin/double: $ 4294 £ 2107 $ 3,668 € 2335 $ 4397 kr 26222 $ 2,574

extra

options

Electric bike, per diem, payable onboard, advanced reservation required: $ 55 £ 27 $ 47 € 30 $ 56 kr 337 $ 33

please

note

Rates are per person based on double occupancy.

A non-refundable admin fee of 20 Euros per person is included in the deposit amount.

Information to read before you book.

We recommend purchasing bike trip insurance.

† Currency exchange rate set 90 days before travel.

Travel

This tour is offered in both directions. Most people opt to fly into and out of Amsterdam Schiphol International Airport (AMS) regardless of the tour direction, however, depending on your tour start/tour end city you could opt to fly into or out of Brussels as well.

Local Travel

From the airport in Amsterdam, you can access the train station on the lower floor and take a 20-minute shuttle to Amsterdam Central. At the end of your tour, if flying out of Amsterdam, you will take a train from Bruges back to Amsterdam. Depending on the time of departure, and type of train, your train travel time ranges from 2 3/4 hours to 3 1/2 hours with one to three transfers. If flying out of Brussels, from Bruges, train travel time is about 1 1/2 hour to the Zaventem Airport. The train departs every hour and costs about €20 per person. You can check departure times by visiting the website: http://www.belgianrail.be/.

Climate

The Dutch have a saying "April doet wat hij wil". It means that April does whatever it wishes to do. Keep this in mind as you pack for your cycling holiday. The climate in Holland is considered maritime, greatly affected by the sea. Belgium as well is influence by the North Sea and Atlantic Ocean, with cool summers and moderate winters. Though cooler temperatures prevail in April, the sun does shine on average 177 hours. A very good website to research regional weather is weatherbase.com. Average high temperature is 55° F (12.8° C) and average low is 38° F (3.3° C). April is normally the driest month of the year but that does not mean it does not rain. Average rainfall is 1.8 inches (47 mm). Rain showers are common and frequent but not long. Plan to dress in layers!

Recommended

If you wish to reserve a guided city walk or guided city bike tour other than what is offered in the itinerary, just ask. The crew can assist you with information and organization.

DOCUMENTS:

Before you travel, please check your country's passport and visa requirements and the passport and visa requirements of the country/countries you plan to visit. For US citizens, the US Department of State website is a good source of information. The Country Information tab in the International Travel section provides details about passport validity, blank passport pages required, etc. For our other international clients, please be sure that you research your own country's travel requirements. It is each traveler's responsibility to ensure proper documentation.

*Important note: Beginning July 1, 2021, additional documentation from the European Travel Information and Authorization System (ETIAS) will be required to visit any of the 26 Schengen-member countries for tourism, business, medical, or transit. This is an additional check on security rather than a visa.

---
Skill
Level
This is an easy 11 day guided bike and boat tour. Bicycle routes follow mainly flat designated bike paths and country lanes with little traffic. Occasionally heavier traffic is encountered when entering or exiting the bigger cities but this region is very accustomed to cyclists and very accommodating as well. Daily cycling distances are between 20 - 60 km.
Where
You'll Stay
Onboard the deluxe boat, the Merlijn
What's
Included
Accommodation for 10 nights
Welcome drink
10 breakfast buffets, 9 packed lunches, and 8 three-course dinners
Coffee, tea, hot chocolate, and water
Daily cleaning of the cabin
27-speed hybrid bike of the brand Sensa, a famed Dutch company. Bikes come equipped with hydraulic disc brakes, waterproof pannier, water bottle, towel, and universal helmet
Tour guide
All ferry and harbor fees
Entrance to Keukenhof
Entrance to Royal Delft
†Wifi
†Important to note, due to steel construction of the ship, cruising locations, and other factors, Wifi signal speed and strength may not be what you are accustomed to and may not meet your expectations. If you are dependent on a constant, strong, fast, and reliable signal at all times, please consider a personal hot spot. See our FAQ page.
What's
Not Included
Two dinners
Drinks other than those mentioned
Entrance fees/excursions other than mentioned
City maps
Bike maps (available for sale on board)
Gratuities
Tour
Dates
2021
Amsterdam to Bruges: April 17, 2021
Bruges to Amsterdam: April 27, 2021
 
Tour
Boats
Day-To-Day
Itinerary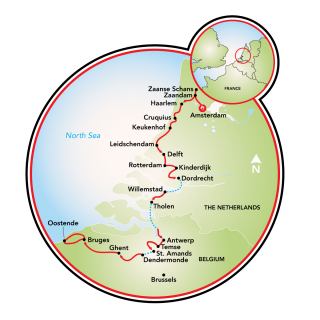 Amsterdam to Bruges
Day 1: Amsterdam - Zaandam
Day 2: Zaandam - Haarlem, 19 mi. or extend to 34 mi. (30 or 50 km)
Day 3: Haarlem - Cruquius - Keukenhof - Leidschendam - Delft, 34 mi. (55 km) 
Day 4: Delft - Rotterdam - Kinderdijk - Dordrecht, 25 mi. or extend to 37 mi. (40 or 60 km)
Day 5: Dordrecht - Willemstad - Tholen, 28 miles (45 km)
Day 6: Tholen - Antwerp, 12 mi. or extend to 31 mi (20 or 50 km)
Day 7: Antwerp - St. Amands, 22 mi. (45 km)
Day 8: Sint-Amands - Dendermonde - Gent, 22 mi. (35 km)
Day 9: Gent - Bruges, 24 mi. (38 km)
Day 10: Bruges, bike tour to Oostende, 34 mi. (55 km)
Day 11: Bruges, end of tour
*Daily distances on board the Merlijn range from 20 - 60 km. All mentioned distances are approximate. All itineraries are subject to change due to changing wind and weather conditions and other unforeseen circumstances having to do with mooring requirements, etc. 
Day 1: Amsterdam - Zaandam
Check-in will begin at 3:30 pm. Please be prompt because at 5 pm the Merlijn will set off for Zaandam. The crew will welcome you on board with a complimentary drink and information on the barge and the route. In the evening, a city walk will be offered through Zaandam.
Day 2: Zaandam - Haarlem,19 mi. or extend to 31 mi. (30 or 50 km)
After your first breakfast on board, you can test your bike and do some sightseeing in 'the Zaanse Schans' famous for its open-air museum and windmills. Perhaps you will want to visit one. You will then bike from Zaandam to Haarlem, along the rest of the Zaanse Schans. After crossing the river with a ferry, the route leads through the beautiful flat landscape of Holland. The Merlijn will moor in Haarlem, from here, there are 2 options:

1. Extend your bike tour with a loop through the dune landscape.
2. Soak up the history and culture of Haarlem! Explore this historical city. Today you can visit the 'Frans Hals' museum or the 'st. Bavo church', both cultural highlight's.
After dinner, you may want to go out and drink the famous local "Jopen" beer.
Day 3: Haarlem - Cruquius - Keukenhof - Leidschendam - Delft,34 mi. (55 km)
Get ready to pedal through the oldest tulip fields of Holland, including a visit to the infamous Keukenhof gardens! This is the most beautiful flower garden in the world, an overwhelming blaze of colors as seven million flowering tulips rise up in a magnificent background of traditional and modern gardening architecture. It is here that Spring begins. Hyacinths, narcissus, and many other flowers dazzle as well. After being saturated with color and scent, the cycling continues to Leidschendam where you will board the boat to navigate to the city of Delft. In its beautifully preserved historic center, you discover the rich history of the city. Delft is known for its Delfts Blue ceramic, the Nieuwe Kerk with its historic link to the House of Orange, the Dutch Royal Family. After dinner, there will be an evening walk through the city to showcase the highlights.
Day 4: Delft - Rotterdam - Kinderdijk - Dordrecht, 25 mi. or extend to 37 mi. (40 or 60 km)
In the morning, you will spend more time in Delft, including a visit to 'the Royal Delft', the world of Delft Blue. After your visit the bike tour starts and it will take you through the Green Heart of Holland. Soon you will see the skyline from 'Manhattan at the Maas', the nickname of Rotterdam. You will bike along the highlights of this metropolis while following the well-paved bike paths. Cross the river with a ferry and you will reach Kinderdijk world-famous for its windmills. You will find an impressive row of large windmills, built to drain the 'Alblasserwaard polder'. The best way to see this open-air museum, is by bike!  The route then leads to the town of Alblasserdam. From here you have 2 options:

1. Embark a deluxe fast-ferry, that will bring you in no time to the Merlijn in Dordrecht.
2. Extend the tour and bike to Dordrecht. Dordrecht is one of the oldest cities in Holland. Known since the 11th century, Dordrecht developed into an important market city because of its strategic location. It traded primarily in wine, wood, and cereals. In 1421, the Saint Elisabeth's flood flooded large parts of southern Holland, causing Dordrecht to become an island.
Tonight you will enjoy the Dutch cuisine in one of the local restaurants of this, charming, well-arranged, mid-sized, city.
Day 5: Dordrecht - Willemstad - Tholen, 28 mi.(45 km)
Starting early from Dordrecht, you will enjoy a sailing breakfast while motoring along the industrial area south of Rotterdam to the old fortress town Willemstad. You can spend some time here enjoying the harbor, and then from Tholen, the cycling begins. The tour will be on flat terrain thru 'polder landscape'. Tholen once was an island in the middle of the large Zeeland streams, where many people were fishermen for a living. Nowadays it is connected to the mainland in various ways, but it is still a charming village with many relics of an eventful past.
Day 6: Tholen - Antwerp,12 mi. or extend to 31 mi (20 or 50 km)
Today's bike tour is not too long so you can explore Antwerp the entire afternoon. The tour starts after breakfast and just before you reach Antwerp by bike, you are offered two options:

1. Board the Merlijn and sail through Antwerp's magnificent harbors to the docking place in the old center. You will have lunch on board and arrive early in the city to explore the cultural highlights.
2. Carry on biking through the 'harbor-landscape' until Merlijn's docking place in Antwerp.

Antwerp is not only known as the diamond city, but also as the birthplace of the painter Rubens. In the heart of the city, you will see the Cathedral of 'Our Lady' and around the beautiful Market Square. A local guide can be arranged to show you around this marvelous city. The guide can teach you more about the Cathedral or the very interesting Central Station. You can also spend your afternoon shopping in the lively center. Tonight you will enjoy the Belgium cuisine while eating out in one of the 1000 + local restaurants in Antwerp.
Day 7: Antwerp - St.Amands, 22 mi. (45 km)
Cycling itinerary today leads directly from Antwerp, entering the St. Anna tunnel which will bring you to the other side of the Schelde river. From here you follow the river further upstream via Temse to Sint Amands. The cycle path is beautiful here, surrounded by the river landscape. St.  Amands is a small town on the tidal Schelde River.
Day 8: Sint Amands -Dendermonde - Ghent, 22 mi. (35 km)
Your day begins with a cruise to Dendermonde, a nice country town on the Dender estuary, and then by bike, the route leads further along the beautiful but capricious tidal river Schelde. Soon you will see the city of Ghent. Ghent is a lively university city, again one with a rich past. This city has its origins in Roman Times, at the place where the rivers Leie and Schelde converge. This favorable situation brought a great deal of prosperity over the years. The major church is the St. Baafs Cathedral, built during various ages and in various styles. You will make a loop thru the city before biking to the Merlijn. The docking in Ghent is a bit far from the center, but after dinner, you will be offered a transfer to the city. As well, a boat ride thru the canals by night can be organized for a supplement.
Day 9: Gent - Bruges, 24 mi. (38 km)
As you enjoy your breakfast, the Merlijn will navigate to Aalter, where the biking begins, following a route that leads through the pleasant countryside of Western Flanders to Bruges. Bruges, also called 'the Venice of the North', is considered by some, the most beautiful of all Flemish cities. Its old center, which dates from the Middle Ages, is almost completely intact. At one time, Bruges was a metropolis, center of trade and art, and this fame has left its legacy for you to enjoy. Dinner on board, followed by a walk thru the city.
Day 10: Bruges, and bike tour to Oostende, 34 mi. (55 km)
Today you have 2 option:
1. A guided bike tour that will go to Oostende, a major coastal city. You can enjoy the North sea, feel the sand between your toes, and enjoy a picnic lunch on the beach or in a seaside restaurant.
2. For culture lovers, leave your bike onboard and go sightseeing in the city of Bruges. Visit the market square, go on a ride thru the canals and eat some Belgium fries for lunch! Everybody returns onboard for the farewell, celebratory dinner and your last overnight stay on the Merlijn.
Day 11: Bruges
Official end of tour
Bruges to Amsterdam
Itinerary coming soon!
If you're looking for a different flavor, check out our full list of bike and boat tours or view all our featured bike trips, specials, and news.
Email or Call 800-951-4384 +1 570-965-2064
---
Tulip Tour - Amsterdam to Bruges - 11 day
Boats + Barges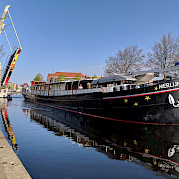 Merlijn Germany, Netherlands Deluxe Class Boat "The Divine Miss M" as we lovingly call the Merlijn is a diva, for sure. What can we say? Is it the luxurious cabins with most comfortable beds you have ever slept in? Is it the lovely dining area with the large windows and skylight that let the air, light, and sun pour in? Or perhaps it is the sun deck, where you can relax with newfound friends, sharing good wine and good conversation. We think you will find it is the entire divine package! Step onboard and discover for yourself!