4.2

/

5

(

5

reviews)
Andalusia - Seville to Granada Bike Tour
Spain Bike Tours
Seville to Granada Bike Tour
This diverse riding week blends Andalusia's three monumental gems; Seville, Cordoba, and Granada with some of Spain's finest rural landscapes and pleasant backwaters where little has changed. This tour caters to lovers of history, art and romanticism and those seeking harmony with nature and fresh Andalusian air.

Peaceful rides through quiet plantations of orange, avocado, olive, cotton, and sunflowers offer a glimpse of rural life in Andalucia's colorful valleys bordering the historic Guadalquivir River. Evenings are spent immersed in the historic and cultural elements of the cities and small villages on route.

A particular highlight is the culinary delights to be had such as the wide range of local 'tapas' dishes, wines, Sherries and fresh nuts, berries, and fruits growing wild throughout the region. This unique itinerary has something for everyone and every level of interest and ability. Classic moments such as flamenco evenings, wine tasting, spring wildflowers, and village fiestas make up only part of this holiday. If there is something of interest going on, you will be part of it – and in Andalusia, there is never a dull moment!

Highlights:

Seville
Cordoba and its beautiful Mosque
Exotic Granada and the Alhambra
Small rural towns of Roman and Moorish origins
Classis white village of Zuheros

If you are interested in this tour, you may also want to check out our Coastal Andalusia bike tour.

For a list of all of our bike tours in Spain click here.

Four or more participants: $ 3025 £ 1484 $ 2,584 € 1645 $ 3098 kr 18473 $ 1,813

Less than 4 participants:  $ 3623 £ 1777 $ 3,095 € 1970 $ 3710 kr 22123 $ 2,171

Single supplement: $ 423 £ 208 $ 361 € 230 $ 433 kr 2583 $ 254

extra

options

Electric bicycle: $ 230 £ 113 $ 196 € 125 $ 235 kr 1404 $ 138

Extra nights: 

Hotel Murillo, Seville: on request

Hotel Dauro, Granada: on request

please

note

Rates are per person based on double occupancy.

A non-refundable admin fee of 20 Euros per person is included in the deposit amount.

Information to read before you book.

We recommend purchasing bike trip insurance.

† Currency exchange rate set 90 days before travel.

Travel

Fly to Seville, Madrid, or Malaga.

Local Travel

By train
There are fast connections from Madrid (2.5 hours), Malaga (2.5 hours) and all major Spanish centers. Reservations can be done easily and far in advance using www.renfe.es website (English option available).


Granada is a good arrival point and a fast train or bus can be taken to Seville from here (this works well if you need to return home from Granada after tour). Seville's train stations, Sevilla Santajusta, and Sevilla San Bernardo are both close to the hotel (5-10 min taxi ride), but the Santajusta is a bit closer. In Seville, it doesn't really matter because the hotel location is quite central to everything.

By Bus Many bus connections direct to Seville from all major centers (Madrid, Malaga, Jerez, Cadiz, Gibraltar, Granada, etc.)

Climate

Be sure to check local conditions prior to departure. Average high/low temperature in °F for Seville is: 79/55 for May, 90/64 September, and 78/56 for October.

Recommended

Extra nights in Seville or Granada.

Remarks

Please keep in mind that although the tour is considered guided, the tour guide does NOT cycle with the group unless there are more than 14 people. In that case, there is a tour guide and a support vehicle driver. Groups range from a minimum participation requirement of 4 to a max of 16 persons. For groups of less than 14 persons, the tour guide acts as the support vehicle driver. He/she ensures that hotel, meals, transport and the riding goes smoothly and acts as your evening host and guide. This person also deals with the general well being of our guests, looks after bicycle maintenance and keeps a close watch on road conditions, route changes, etc. WIFI widely available throughout Spain.

---
Tour
Dates
2020 Dates
May 10*, September 20, October 18, and November 1, 2020
*Guaranteed departure
Please note: The dates above require a minimum of 4 participants. Additional dates are available on request for groups over 4 at the normal published price. An additional charge applies to groups of less than 4 people.
Skill
Level
This tour is described as a moderate to difficult, guided tour. See day-to-day itinerary for the level of difficulty for each daily ride. Some days are fairly flat, and other days of cycling require a considerable level of fitness with rolling hills or climbs to conquer. Daily cycling distances range from 30 to 36 miles (49 to 58 km). Keep in mind a support vehicle is with you or very nearby all day in case you cannot complete the day's cycling.
Where
You'll Stay
Very nice, charming 2 to 3 star hotels and B&B's located in town centers or at a nearby location with enchanting views.
What's
Included
Accommodations for 7 nights
7 x traditional light Spanish breakfast buffets
3 x three-course dinner (days 1, 4, and 6)
Water & snacks (during the ride)
Luggage transportation
Guide that drives the support vehicle (please see remarks for details)
Route descriptions & maps
21-speed hybrid bicycle equipped with helmet, gel seats, toe clip options, and carry bag (gel seats and toe clips must be reserved at time of booking)
What's
Not Included
Individual arrival to the hotel
Remaining meals (lunches can be organized but are not included in tour price)
Extra
Stay
Extra nights available in Seville or Granada.
Day-To-Day
Itinerary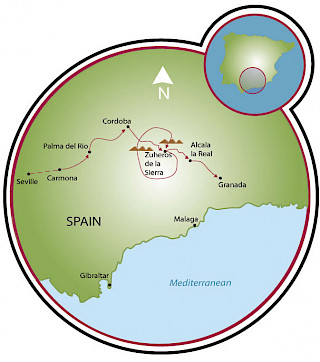 Day 1: Arrival in Seville
Day 2: Carmona - Palma del Rio, 30 mi. (49 km)
Day 3: Palma del Rio - Cordoba, 36 mi. (58 km)
Day 4: Cordoba - Zuheros de la Sierra, 36 mi. (58 km)
Day 5: Day of rest in Zuheros
Day 6: Zuheros - Alcala la Real, 31 mi. (50 km)
Day 7: Alcala la Real - Granada, 35 mi. (57 km)
Day 8: Departure from Granada
All distances are approximate.
Day 1: Arrival in Seville
Your tour leader will meet you in the hotel lobby of Hotel Murillo at 7 pm for orientation followed by an easy walking tour of central Seville and Barrio Santa Cruz. If you are interested in seeing Seville's main highlights (i.e., Cathedral and Alcazar Palace), please try to organize this before meeting the group. Overnight in Hotel Murillo. Dinner is included. 
Day 2: Transfer to Carmona. Carmona - Palma del Rio, 30 mi. (49 km)
Following breakfast is a 30-minute minibus or local coach shuttle to Carmona town where your cycling tour begins (you avoid riding out of Seville due to heavy traffic). The first ride - Carmona to Palma del Rio is on quiet secondary roads in open agricultural landscapes once ruled by both Moorish and Christian empires. Along the way, you'll pass fields of citrus, cotton, and sunflower, and numerous "Fincas" or traditional Spanish farmsteads. There is an optional 10 km extension to the pretty Baroque village, Peñaflor. Enjoy an evening guided walk of the medieval town and its historical origins. Tonight's stay is in the enchanting Monasterio San Francisco, a 16th-century Monastery adorned with courtyards and gardens with a swimming pool. Overnight in Hotel Monasterio San Francisco. Breakfast included.
Day 3: Palma del Rio - Cordoba, 36 mi. (58 km)
Ride from Palma del Rio to Cordoba through open countryside containing poppies, cotton, and avocados. The historic Sierra Morena lowlands flank the valley Guadalquivir providing much wealth and prosperity throughout Andalucia's turbulent history. Soon after passing the imposing Almodovar medieval castle, you arrive at the beautiful city of Cordoba. This afternoon, enjoy a guided walk of Cordoba's Juderia, Patios, and CraftWorks before having dinner in one of Cordoba's traditional patio restaurants. A must-see is the 9th century Mezquita (Cathedral) which is one of the earth's most awe-inspiring architectural feats. Overnight in Hotel Posada de la Vallina. Breakfast included.
Day 4: Cordoba - Zuheros de la Sierra, 36 mi. (58 km)
Today's ride (the longest of the week) offers the first taste of hilly landscapes as you approach Subetica National Park and its stunning green forests, waterfalls, and unique limestone craggy peaks. The route offers long, quiet stretches of rural road. Vast plains reminiscent of Spain's Don Quixote heritage are encountered! Lunch stop is in the shaded park of Castro village, followed by a ride to the region's most famous olive producing center, Baena. Here, you can visit the family-run organic cold olive press of Nuñez Prado before the final few km to Zuheros. Overnight in Hotel Zuhayra. Breakfast and dinner included.
Day 5: Day of rest in Zuheros
Your rest day is located in one of Andalucia's most charming white villages – Zuheros. Famous in Moorish history as a small defensive strong-hold, this tiny hamlet offers pure nature, quiet village lanes and opportunities to get out on foot into the mountains, ride the famous Via Verde paths or simply relax in the serene village surroundings with a book and a tapas. *Please see the information below for further rest day options. Tonight dinner is not included but we recommend dining at the lovely plaza venta under the fortress. Overnight in Hotel Zuhayra. Breakfast included.
Day 6: Zuheros - Alcala la Real, 31 mi. (50 km)
The ride today brings you through the rolling olive groves towards the mountains surrounding the famous Vega de Granada. Today's route takes in a busier road for part of the day followed by a lovely rural lane and even a section of the Via Verde historical route. The stay at Alcala la Real (The Royal) is marked by a visit of this once regal town's Moorish Fortress grounds as well as a light walk through the city itself. Overnight in Hotel Torrepalma. Breakfast and Dinner included.
Day 7: Alcala la Real - Granada, 35 mi. (57 km)
Your final riding day begins as you pass through Jaen Province's Sierra ranges and into the great valley (vega), that contains Granada itself. Beautiful countryside marked by olive and almond groves set on high valleys, cliff walls and along pretty rivers. This final ride to the heart of Granada offers inspiring views of the snowy Sierra Nevada peaks and with luck, you capture a view of the Alhambra Palace set high above the hustle and bustle of New Granada. Today is a picnic along a pretty lakeside where you can also enjoy a refreshing swim.
In the evening there is a guided tour through the lanes of Granada's exotic Albaizín district and Moroccan Quarter visiting lovely plazas and capturing the beauty of the Alhambra Palace at night from one of the city's most spectacular miradors. Tonight dinner is not included but we normally have a final group farewell celebration in one of the city's lovely open plazas. Overnight in Hotel Dauro. Breakfast included. This evening your tour leader(s) will also depart the tour.
Please note – your leader is always available to assist with onward travel advice, translations and highlights/ideas for visiting Granada. Additionally, if you plan to visit the Alhambra (which is highly recommended), remember to book your tickets by credit card well in advance – this can be done through the Alhambra Website at http://www.servicaixa.com. Without a booking, it is possible to line up first thing in the morning at the Alhambra (08:30) for limited tickets – though not advisable.
Day 8: Departure from Granada
Guests are free to depart this morning after breakfast from Hotel Los Tilos in Granada / no transport included.
*Rest Day Options
Zuheros is a fantastic village for those who appreciate natural outdoor settings. With a stunning mountain backdrop containing forests, caves, walking paths, waterfalls, and more, you will enjoy this friendly village and charming hotel.
You may also return to Cordoba city and explore this beautiful city more extensively. There are comfortable modern coach connections directly from the village to and from Cordoba – easily making the city a valid day visit.
Additional options (all self-guided): 
Walks in the Subbetica National Park (30 min. to whole day excursion)
Bird watching
Cave visit (cave of the bat/1 hr. guided tour
Organic olive tour press tour in Baena
Cycle the Via Verde routes
Relaxing in the village or surrounding countryside
Guide treks, rock climbing, caving courses
Day trips to surrounding towns
Be sure to check out all of our bike tours in Europe or view our featured bike trips, specials, and news.
Email or Call 800-951-4384 +1 570-965-2064
---