5

/

5

(

2

ratings)
St. Moritz to Innsbruck
The Inn Cycle Path
This bike tour in Austria and Switzerland takes you through the lush Engadin region. In Romansch, which is the indigenous language of the area, "Engadin" literally translates as "the garden of the Inn River". The Engadin valley includes the entire area of the Inn River valley, its tributaries and the surrounding mountains. This region is stunningly beautiful. Its quaint villages, meadows full of wildflowers, valleys with gurgling brooks, and high rugged mountains take your breath away. An artist equipped with brush and colors would need weeks to capture the essence of this tour. The Inn cycle path leads through this outstanding landscape as the Engadin merges into the big forests of the Swiss National Park. Suddenly the scenery changes and the Austrian Bundesland Tyrol welcomes you with warm hospitality. The tour ends in Innsbruck where your stay in the Olympic city is one of the highlights of the Inn cycle path.

Be sure to check out all our bicycle tours in Austria and Switzerland, too!

 
8 days
7 days
Season 1

£

905

$

1,425

€

950

NOK

9500

kr

8769

$

1,140

£

803

$

1,265

€

843

NOK

8430

kr

7782

$

1,012

Season 2

£

947

$

1,491

€

994

NOK

9940

kr

9175

$

1,193

£

850

$

1,340

€

893

NOK

8930

kr

8243

$

1,072

Single supplement

£

190

$

299

€

199

NOK

1990

kr

1837

$

239

£

176

$

278

€

185

NOK

1850

kr

1708

$

222

Dinners included

£

218

$

344

€

229

NOK

2290

kr

2114

$

275

£

190

$

299

€

199

NOK

1990

kr

1837

$

239

extra

options

Electric bike available: £ 90 $ 143 € 95 NOK 950 kr 877 $ 114

Extra nights (price is per person/night):

St. Moritz: £ 112 $ 177 € 118 NOK 1180 kr 1089 $ 142

Single supplement: £ 52 $ 83 € 55 NOK 550 kr 508 $ 66

Innsbruck: £ 66 $ 104 € 69 NOK 690 kr 637 $ 83

Single supplement: £ 25 $ 39 € 26 NOK 260 kr 240 $ 31

please

note

Rates are based on double occupancy.

Information to read before you book.

We recommend purchasing bike trip insurance.

† Currency exchange rate set 90 days before travel.
Where
You'll Stay
Accommodations in 3 star hotels and guest houses (4 star in Innsbruck and St. Moritz)
What's
Included
Hotel accommodations for 6 or 7 nights depending on category booked
Breakfast buffet
Luggage transfer from hotel to hotel
Detailed travel documents including detailed route descriptions, tourist information, and important phone numbers
7 day service hotline
21 speed hybrid bicycle
GPS tracks (must be reserved in advance)
Bicycle Protection insurance
What's
Not Included
Remaining meals (dinners can be included for a supplement)
Transfer back to St. Moritz incl. own bike every Friday morning: €80 per person
Local tax approx. € 5 p.p. (payable upon arrival)
Extra
Stay
Extra nights available in both St. Moritz and Innsbruck.
Tour
Dates
Arrival every Friday (8 day / 7 night tour) and Saturday (7 day / 6 night tour) from May 12 to September 16, 2017
Season 1: May 12 to June 17 and August 27 to September 16, 2017
Season 2: June 18 to August 26, 2017
Skill
Level
Moderate self-guided hotel to hotel tour. The route consists of bike paths and wood and gravel paths. The stages are slightly hilly, with two or three mid grade ascents and many normal descents. Daily distances range from 22 to 41 miles
Day-To-Day
Itinerary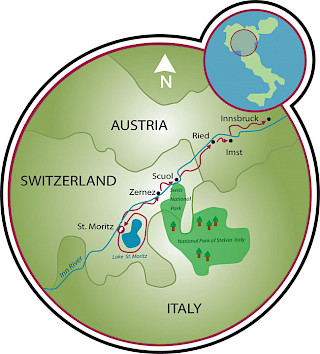 Day 1: Arrival in St. Moritz
Day 2: St. Moritz loop, 25 mi. (40 km)
Day 3: St . Moritz – Zernez, 22 mi. (35 km)
Day 4: Zernez – Scuol, 22 mi. (35 km)
Day 5: Scuol – Prutz/Reid, 34 mi. (55 km)
Day 6: Prutz/Reid – Imst, 25 mi. (40 km)
Day 7: Imst – Innsbruck, 41 mi. (65 km)
Day 8: Departure from Innsbruck
*All distances are approximate.  The 7 day tour does not include a loop around St. Mortiz. Day 2 is your arrival day. A transfer back to Moritz cannot be booked on Saturdays.
DAY 1: Arrival in St. Moritz
Chic, elegant and exclusive, with an extremely cosmopolitan air, the resort of St. Moritz is located at an altitude of 1856 meters above sea level and surrounded by the beautiful lake landscape of the Upper Engadine. The local tourist office claims the sun shines 322 days a year.
DAY 2: St. Moritz loop
Explore the fascinating surroundings of St. Moritz and perhaps undertake a tour by bike of Lake St. Moritz, one of the several lakes in the region. The Upper Engadin lake landscape is a unique phenomenon. The wide valley basin actually has a string of wonderful lakes, each with its own individual character.
DAY 3: St . Moritz – Zernez, 22 mi. (35 km)
You will be transversing the valley of the Upper Engadine region, the door to the Swiss National Park. Samedan is the first village today that you will cycle through. Worth seeing is the old St. Peter Parish Church with its Romanesque tower, built around 1200. Next is La Punt , a picturesque village strategically located at the sun kissed foot of the Albula Pass, directly next to the River Inn. Beautifully adorned farmhouses and stately patrician houses from the 16th and 17th centuries stand majestically in the village. A bridge over the River Inn leads from the La Punt part of the village, to Chamues-ch. Worth visiting is the early Gothic church of San Andrea in Chamues-ch, a classic example of a Gothic mountain pilgrimage church with a slim, white tower, Romanesque door and Gothic vaulted ceiling. The nave and chancel are adorned with frescoes from 1505. Also worth seeing is the La Punt baroque church built in 1680. Another village that you will cycle through is Zuoz , an example of a traditional Engadin village. It has many cobble stoned streets, an elegant town center and numerous beautiful old buildings. There is also the church of San Luzi with its beautiful window paintings that you will not want to miss. Continuing on through the Engadine high valley, your final destination today is Zernez, gateway to the Swiss National Park, Switzerland's biggest nature preserve, featuring a fascinating wilderness which provides a habitat for a great many Alpine animals and plants.
DAY 4: Zernez – Scuol, 22 mi. (35 km)
After breakfast, your first stop will be the old mountain village of Lavin. The village, on a long terrace on a south-facing slope, was rebuilt in Italian style after being destroyed by fire in 1869. The late-Gothic village church escaped the flames and has valuable frescoes dating from the late-Gothic and early-Renaissance periods – one of the best-known and worth seeing art monuments in this federal state of Graubunden. Next on the agenda is the village of Garda. Once an almost deserted place due to its remote location, it has been revived after most houses have been renovated and sold at attractive prices. Guarda is a quaint village of narrow roads with those beautifully renovated houses that preserve the traditional paintings and lovingly decorated doors and windows. Your final destination today is Scuol, an innovative holiday and spa resort– where mineral water bubbles from the village fountain and a park like environment surrounds. Dominating the village is its majestic landmark, the Tarasp Castle. Soothe your weary muscles in the thermal spa of Bogin Engiadina.
DAY 5: Scuol – Prutz/Reid, 34 mi. (55 km)
Today you will cross the border into Austria, passing through the village of Martina. After Martina, the Inn River thunders through a gorge before it escapes into the Tyrol region of Austria at the eerie Finstermünz fortress bridge. You will pass through Pfunds and Tösens to Ried.
DAY 6: Prutz/Reid – Imst, 25 mi. (40 km)
Through the Obere Gericht (Upper Court) from Ried , you will cycle through the little summer resort of Prutz with its old forts and parish church (remodeled in Gothic style around 1520 and then in the Baroque style in the 17th c.) On to Landeck a former fortress town that occupies a hillside above the Inn River. It huddles below the ruins of the 12 th c Schrofenstein castle, located on a ledge from where one enjoys a fantastic view. You will pass the monastery of Zams and travel through Milser Au to Imst (town of the wells). Time permitting a visit to Rosengartenschlucht (rose garden gorge) is recommended. Overnight in Imst.
DAY 7: Imst – Innsbruck, 41 mi (65 km)
Finally your bicycle tour in Austria take you through the villages of Stams, Telfs and Inzing where will make your journey to the Olympic city of Innsbruck a feast for your eyes. Cultural highlight of today's stage include the Zisterzienserstrift Stams (collegiate church with rose grids) and other numerous small churches and ruins you will encounter. The city of Innsbruck with its Golden Roof, a late gothic bay window built in 1500 is a must visit on this last day of this cycling path. Situated between two impressive mountain chains, Innsbruck was host of the Olympic Winter Games in 1964 and 1976 and to this day remains a major winter sports center. Perhaps you will want to ride the gondola up Seegrube (2000 m) to enjoy the spectacular views of the Inn Valley and surrounding mountains. Innsbruck's beauty and medieval wonders have kept it one of Austria's most marveled at cities for centuries. Along the cobblestone streets in the Altstadt (Old Town), you will come across magnificent Gothic architecture as well as Innsbruck's most famous landmark, the Goldenes Dachl (Golden Roof). Built in 1500, this roof was built for Maximilian I, the Holy Roman Emperor, and is covered with 3000 gold-plated copper tiles. The balcony once served as Maximilian's "ringside seat" during festive events in the square below. Furthermore, the Hofburg Palace served as his residence during the 15th century (with the paintings of the Hapsburg family still visible inside today). Also of note is that Innsbruck is the home of Swarovski Crystal, and has a theme park dedicated to the beautiful crystal art.
DAY 8: Innsbruck and individual departure
You can view all of our bike tours in Europe or look at our featured bike trips, specials, and news.
Email or Call 800-951-4384 +1 570-965-2064
---