5

/

5

(

1

rating)
Venice to Florence
Italy Bike Tours
Cycle in Italy between two of the most famous cities in the world…
In between cycling in Venice and ending the bike tour in Florence, you cycle through an almost unknown Italy. Relax as you cycle through this serene atmosphere through kiwi, peach, and melon fields, along with sunflower fields and vineyards seaming the way. Birds are singing and friendly fishermen are waving from their pole-huts along the canals as you pedal along. Far off the beaten track, typical Italian towns and places are waiting to be discovered.
And be sure to take a look at all our bike tours in Italy!
Skill
Level
This bike tour in Italy is considered an easy, self-guided hotel tour. For the first four days, you will cycle on mainly flat terrain. On day 5 there are 3 to 4 easy hills and on the 7th day, 2 small climbs and a long descent. Daily cycling ranges from 22 to 41 miles (35 to 65 km). Routes take place on mostly asphalted bike paths and country roads, avoiding traffic as much as possible.
Where
You'll Stay
Accommodations in selected 3 to 4 star hotels!
What's
Included
Accommodations for 7 nights in 3 or 4-star hotels
Breakfast buffets
Personal tour information
Luggage transportation
21-speed hybrid bicycle
Train fares from Brisighella to Borgo San Lorenzo
24-hour ferry ticket for in Venice (public means of transport, bike tickets not included, approximately €3)
1 x Grappa tasting session in Venice
Sign posted route
Detailed route descriptions and maps (1 set per booked room)
7-day service hotline
GPS tracks (must be requested in advance)
Bicycle protection
What's
Not Included
Visitor's Tax (to be paid upon arrival) approx. € 15-20 per person
Transfer back to Venice (advanced reservation required), €60/person, payable on the spot
Lunches and dinners
Extra
Stay
Extra nights available in Florence and Venice.
Tour
Dates
Arrival possible on Saturday from April 1 to October 14, 2017
Season 1: April 1 to April 28 and September 30 to October 14
Season 2: April 29 to May 26 + September 2 to September 29
Season 3: May 27 to September 1
Day-To-Day
Itinerary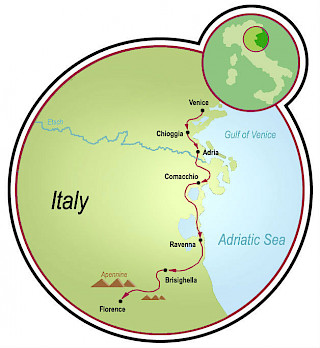 Day 1: Arrival in Venice/Mestre
Day 2: Venice/Mestre - Chioggia/Sottomarina, 22 mi. (35 km)
Day 3: Chioggia/Sottomarina - Adria, 31 mi. (50 km)
Day 4: Adria - Comacchio, 41 mi. (65 km)
Day 5: Comacchio - Ravenna, 41 mi. (65 km)
Day 6: Ravenna - Brisighella, 35 mi. (55 km)
Day 7: Brisighella - Florence, 22 mi. (35 km) + train
Day 8: Departure.
All distances are approximate.
Day 1: Arrival in Venice/Mestre
The hotel is on the mainland in front of Venice with excellent bus connection into the canal city. At the beginning of your tour, not far from the Marcus square, you can look forward to a little Grappa tasting session. 
Day 2: Venice/Mestre - Chioggia/Sottomarina, 22 mi. (35 km)
In the morning, you receive tour information. Once you join the bike path, you cross the freedom bridge to Venice. By ferry you go to Lido and then continue by bicycle via Pellestrina, with a marvelous view over the sea, to Chioggia. This is a quiet little town which reminds you of the Venetian sea power. You will find many typical seafood restaurants. 
Day 3: Chioggia/Sottomarina - Adria, 31 mi. (50 km)
On quiet roads, your bicycle tour in Italy leads you along the Adige River. You follow the river through fertile fields, melon plantations, and solitary villages to Adria. The charming little town with culture, little alleyways, and spacious plazas, comfortable cafés and friendly people is a nice place to stay overnight.
Day 4: Adria - Comacchio, 41 mi. (65 km)
Today you start with an easy route along Italy's longest river, the Po River, winding its way through the fertile plain. Then along one of its branches, Podi Goro, you will be led right through the delta area toward the sea.  You can even take the time to swim in the cool waters before you head to the charming town of Comacchio. The magnificent plazas, ornated churches, and numerous bridges still bear witness of the prosperity once gained by the salt production.
Day 5: Comacchio - Ravenna, 41 mi. (65 km)
The first half of the day's bike tour is dedicated to the natural park "Delta del Po" with its unique flora and fauna. As you pass over the dam, you feel as if you are cycling right on the water while the flamingos are nesting just meters away. After two short ferry rides (tickets not included in the tour price and cost approximately €3), you will reach the sea and ride along wide beaches on the way to Ravenna, where art and culture will enchant you. 
Day 6: Ravenna - Brisighella, 35 mi. (55 km)
The foothills of the Apennines form gently rolling hills changing the landscape. Even earlier, on the edge of the vast plains, you reach Faenza, famous center of ceramic artisans. Here you can enjoy watching the artists painting the ceramics. Only a short distance remains to Brisighella, an idyllic medieval village, overlooked by Rocca Veneziana and Torre Orogloggio where you can enjoy a restful evening.
Day 7: Brisighella - Florence, 22 mi. (35 km) + train
The day starts with an amazing train ride through the wild mountains of Apennines to Borgo San Lorenzo. Two climbs precede the rushing descent via Fiesole to Florence, the historic capital of Tuscany. 
Day 8: Departure.
Departure after breakfast or extend your bike tour in Florence!
Be sure to check out all of our bike tours in Europe or look at our featured bike trips, specials, and news.
Email or Call 800-951-4384 +1 570-965-2064
---