4.4

/

5

(

18

ratings)
Provence - Wilderness of Camargue
France Bike + Barge Tours
Among the wilderness of Camargue and the landscapes that were so dear to Van Gogh, you will cycle through delightful Provençal villages, vineyards, and fields of sunflowers. You can begin in Aigues Mortes, a completely walled town that has changed little in appearance since its glory during the Middle Ages, and end in Avignon, a UNESCO World Heritage Site, or you can begin in Avignon, though once here, you will not want to leave. Avignon is ancient, full of history, life, youth, art, music, and activity. You could wander the narrow streets inside the fortified walls for days without tiring of them.

A full list of bike and barge tours in France is here.

2017 Prices

Value Season: £ 964 $ 1,665 € 1085 NOK 10127 kr 9348 $ 1,215 (April 15 to April 22 and August 5 to August 19)

Standard Season: £ 1062 $ 1,833 € 1195 NOK 11153 kr 10295 $ 1,338 (April 29 to July 29 and October 7 to October 14)

High Season: £ 1107 $ 1,910 € 1245 NOK 11620 kr 10726 $ 1,394 (August 26 to September 30)

Single supplement: £ 267 $ 460 € 300 NOK 2800 kr 2585 $ 336

2018 PRICES

Coming soon! However, book now, and get your tour at 2017 pricing. As soon as prices are made available, offer is off the table so be sure to ask us when booking regarding pricing.

extra

options

Extra Options

Electric bike rental (advanced reservation required, limited availability): £ 84 $ 146 € 95 NOK 887 kr 818 $ 106

Helmet rental (advanced reservation required): £ 13 $ 23 € 15 NOK 140 kr 129 $ 17

Extra Nights (Prices may increase in 2017)

Avignon

Double: £ 58 $ 100 € 65 NOK 607 kr 560 $ 73

Single: £ 89 $ 153 € 100 NOK 933 kr 862 $ 112

Aigues Mortes

​Double: £ 58 $ 100 € 65 NOK 607 kr 560 $ 73

Single: £ 89 $ 153 € 100 NOK 933 kr 862 $ 112

please

note

Rates are based on double occupancy.

Information to read before you book.

We recommend purchasing bike trip insurance.

† Currency exchange rate set 90 days before travel.
Tour
Dates
2017 Dates​
Avignon to Aigues Mortes: April 15, April 29, May 13, May 27, June 10, June 24, July 8, July 22, August 5, August 19, September 2, September 16, September 30, and October 14, 2017
Aigues Mortes to Avignon: April 22, May 6, May 20, June 3, June 17, July 1, July 15 July 29, August 12, August 26, September 9, September 23, and October 7, 2017
2018 Dates
Avignon to Aigues Mortes: April 14, April 28, May 12, May 26, June 9, June 23, July 7, July 21, August 4, August 18, September 1, September 15, And September 29, 2018
Aigues Mortes to Avignon: April 21, May 5, May 19, June 2, June 16, June 30, July 14, July 28, August 11, August 25, September 8, September 22, and October 6, 2018
Skill
Level
The route is on countryside roads with little traffic in rural and city areas. Routes average 28 to 34 miles (45 to 55 km). This tour offers you the opportunity to choose each day if you would like to cycle on your own utilizing the detailed route descriptions provided or to cycle with the tour guide and the group. Terrain varies from flat to hilly with some climbing involved. One climb of approximately 4 km is quite challenging and the northern wind in Camargue, the legendary "Mistral" the master of the winds, can be a factor as well.
Where
You'll Stay
Aboard the Comfort class boats the L'Estello or the Soleo.
What's
Included
7 nights' accommodations
Breakfasts, self-packed lunches, and dinners
27-speed unisex touring bicycle
Sheets and towels
Tea and coffee on board
Detailed route description
Maps and information
Tour guide
1 x cabin cleaning (includes clean towels)
Harbor charges
Wine tasting in Chateauneuf-du-Pape
Guided visit of Arles and entrance to the Pont du Gard
What's
Not Included
Beverages on board
Entrance fee to museums
Helmet Rental- must be reserved in advance
Day-To-Day
Itinerary
Aigues Mortes to Avignon
Day 1: Arrival in Aigues- Mortes, boarding at 6 PM.
Day 2: Aigues-Mortes, round trip, 34 mi. (55 km)
DAY 3: Aigues- Mortes - Arles, 15 mi. (25 km)
DAY 4: Arles - Vallabreguès, 37 mi. (60 km)
DAY 5: Vallabreguèse - Aramon, 22 mi. (35 km)
DAY 6: Aramon - Avignon, 25 mi. (40 km)
DAY 7: Avignon, 28 mi. (45 km)
Day 8: Departure
DAY 1: Individual arrival in Aigues-Mortes
Individual arrival and boarding at 6PM in Aigues Mortes.
DAY 2: Aigues-Mortes, round trip, 34 mi. (55 km)
The name of this town literally translated means "dead waters" probably referring to its location in the heart of the marshy Camargue region on France's Mediterranean coast. Do not be deceived, however, by this description. Cycling along small country roads between canals, lagoons, and small villages, you'll reach the charming fishing village of Le Grau-du-Roi in the afternoon. Here, you can enjoy a refreshing swim along the beach.
DAY 3: Aigues Mortes - Arles, 15 mi. (25 km)
The barge will take you to Saint Gilles this morning, where your bike tour will begin. Today's destination is Arles. You'll have time to discover this fascinating city. Getting lost in its small alleys will feel like you've entered a painting by Van Gogh. Enjoy a guided tour around Arles in the afternoon.
DAY 4: Arles - Vallabreguès, 37 mi. (60 km)
This stage will bring you to the Alpilles, with the village of Le Baux de Provence, lodged in the rock itself, to Saint Remy de Provence. The village of St. Rémy is enchanting. Its ancient Gallo-Roman interior is encircled by the remnants of a 14th-century wall and a protective circle of buildings. Located on the plains at the northern edge of the Alpilles and 20 km south of Avignon, this is where Van Gogh painted Starry Night, Nostradamus was born, and Dr. Albert Schweitzer was a prisoner. A landscape of limestone cliffs, fields of lavender, and olive trees will surround you as you cycle. The evening the barge will be moored in Vallabrègues, a village on the banks of the Rhone.
DAY 5: Vallabreguèse - Aramon, 22 mi. (35 km)
Quiet country roads will bring you to Barbentane with its castle at the confluence of the Rhone and Durance rivers. You will cycle to the magnificent Abbey of Saint Michel de Frigulet and afterwards down to the medieval village of Boulbon. In the afternoon, make your way to Aramon where you'll stay overnight with a beautiful view over the Mont Ventoux.
DAY 6: Aramon - Avignon, 25 mi. (40 km)
Your tour today will lead to the best preserved Roman aqueduct in all of Europe, the Pont du Gard. It  is located 25 kilometers from Nîmes, in the direction of Avignon. It was inscribed on the UNESCO World Heritage List in 1985. The bridge is part of the aqueduct built around the year 50 to transport water from the Eure spring near Uzès to Nîmes, a distance of over 50 kilometers. Cycle back to Aramon where the barge will be waiting to take you to Avignon, the city of the popes. The barge will be moored in Quai de la Ligne next to the famous Pont St. Bénezet.
DAY 7: Avignon, round tour, 28 mi. (45 km)
Cycle in the direction of Châteauneuf-du-Pape, following roads with little traffic surrounded by vineyards. In Châteauneuf- du-Pape, you can enjoy a tasting of the very famous provencal wine. You will cross the Rhone at the height of Roquemaure and cycle back through Villeneuve-les-Avignon following the course of the river.
DAY 8: Departure
Individual departure after breakfast. 
Avignon to Aigues Mortes
Day 1: Arrival in Avignon, boarding at 6PM.
Day 2: Avignon, round tour, 28 mi. (45 km)
Day 3: Avignon - Aramon, (40 km)
Day 4: Aramon - Vallabrègues, 22 mi. (35 km)
Day 5: Vallabrègues - Arles, 37 mi. (60 km)
Day 6: Arles - Aigues Mortes, 15 mi. (25 km)
Day 7: Aigues-Mortes, round tour, 34 mi. (55 km)
Day 8: Departure from Aigues-Mortes
*All distances are approximate. Daily itinerary is subject to change by a decision of the captain due to adverse weather (high or low water issues) or other unforeseen circumstances.
*If you are booking for 2018, please be sure to check back at later date to see if there are any changes in the itinerary!
You can view all of our bike and boat tours or look at our featured bike trips, specials, and news.
Email or Call 800-951-4384 +1 570-965-2064
---
Provence - Wilderness of Camargue
Boats + Barges
L'Estello France Comfort Class Boat L'Estello was built in 1937. It is a classic Dutch passenger barge that has been converted to today's standards of comfort. The boat measures 39 meters long and 5.2 meters wide. The inviting atmosphere on board will make you feel immediately comfortable. The large lounge area has large picture windows with plenty of natural light. French doors give access to the inviting sun deck. The dining area has large windows and comfortable seating and the living room and bar area is spacious and air conditioned with comfortable sofas chairs.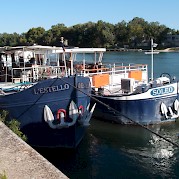 Soleo France Comfort Class Boat The Soleo was built in 1958, converted into a hotel barge in 1988, and last remodeled in 2009. It has a total of 12 ensuite cabins (4 double bed cabins, 6 twin bed cabins, and 2 single cabins), a living room, and a sun deck. The barge is 38.5 m (126.64 ft) long by 5.1 m (16.63 ft) wide with a max capacity of 22 passengers.