4.8

/

5

(

20

ratings)
National Parks of Dalmatia
Croatia Bike + Barge Tours
Bike and boat Croatia through National Parks and the Islands of Central Dalmatia
The perfect setting for a bike and boat tour, Croatia is a country with beautiful, well-kept coasts, thousands of islands, reefs, and bays. Numerous Roman ruins, charming hills and breathtaking beauty awaits you here. Situated along the Adriatic Sea, Croatia stretches from the slopes of the alps, deep into the Pannonian Valley, to the banks of the Danube and Drava Rivers.

Come and spend a week on a bike and boat tour cruising between the mainland of Croatia and the sea, through the National Parks of Croatia. Regional cuisine and an exceptional crew with knowledgeable tour guides await. You will visit two national parks as well as the islands of Central Dalmatia, starting at Trogir. Highlights include the UNESCO-protected old town of Trogir, Primosten, Sibenik (with its famous cathedral), Zadar (pictured below), the National Park, Krka waterfalls and the Kornati Islands.

On this Croatia bike and boat tour, you will discover the charm of the Adriatic in a very unique way. After a hearty breakfast, you cycle through history and culture and at midday meet the ship at a harbor for lunch. In the evenings, the ship will be waiting in the next harbor for you to dine as the sun sets, followed by a stroll through the historic harbor towns.

Be sure to check out our full line of bike and boat tours in Croatia.

2019 

Romantica
October 5: £ 1106 $ 2,228 € 1290 $ 1961 NOK 12255 kr 11312 $ 1,471 All other departures: £ 1191 $ 2,401 € 1390 $ 2113 NOK 13205 kr 12189 $ 1,585 Surcharge for cabin on or above deck: £ 129 $ 259 € 150 $ 228 NOK 1425 kr 1315 $ 171 Surcharge for single cabin below deck: £ 429 $ 864 € 500 $ 760 NOK 4750 kr 4385 $ 570   Surcharge for single cabin on or above deck: £ 600 $ 1,209 € 700 $ 1064 NOK 6650 kr 6138 $ 798

San Snova
Price £ 1191 $ 2,401 € 1390 $ 2113 NOK 13205 kr 12189 $ 1,585 Surcharge for cabin on deck: £ 129 $ 259 € 150 $ 228 NOK 1425 kr 1315 $ 171 Surcharge for single cabin below deck: £ 429 $ 864 € 500 $ 760 NOK 4750 kr 4385 $ 570 Surcharge for single cabin on deck: £ 600 $ 1,209 € 700 $ 1064 NOK 6650 kr 6138 $ 798

Kapetan Jure
Price £ 934 $ 1,883 € 1090 $ 1657 NOK 10355 kr 9558 $ 1,243 Surcharge for cabin on deck: £ 86 $ 173 € 100 $ 152 NOK 950 kr 877 $ 114 Surcharge for single cabin below deck: £ 343 $ 691 € 400 $ 608 NOK 3800 kr 3508 $ 456 Surcharge for single cabin on deck: £ 514 $ 1,036 € 600 $ 912 NOK 5700 kr 5262 $ 684

extra

options

2019

Electric bicycle:   £ 69 $ 138 € 80 $ 122 NOK 760 kr 702 $ 91

Bicycle protection, Hybrid bike:  £ 9 $ 17 € 10 $ 15 NOK 95 kr 88 $ 11

Bicycle protection, Electric bike:  £ 17 $ 35 € 20 $ 30 NOK 190 kr 175 $ 23

Transfer from Split to Trogir, per direction (embarkation and disembarkation days): £ 13 $ 26 € 15 $ 23 NOK 143 kr 132 $ 17

3-Day Extension in Plitvice Lakes and Zagreb

3 Star Double Room: £ 643 $ 1,295 € 750 $ 1140 NOK 7125 kr 6577 $ 855

3 Star Single Room: £ 729 $ 1,468 € 850 $ 1292 NOK 8075 kr 7454 $ 969

4 Star Double Room: £ 677 $ 1,365 € 790 $ 1201 NOK 7505 kr 6928 $ 901

4 Star Single Room: £ 763 $ 1,537 € 890 $ 1353 NOK 8455 kr 7805 $ 1,015

Discount on above prices if no transfer is needed: £ 326 $ 656 € 380 $ 578 NOK 3610 kr 3332 $ 433

Extra nights in/near Trogir

Prices on request

please

note

Reduction per person in combination with another Zeitreisen trip: - £ 43 $ 86 € 50 $ 76 NOK 475 kr 438 $ 57   Reduction from basic tour price for third person sharing a cabin: -50%
Reduction from basic tour price for children up to 16 (not combinable with 50% discount): -25%

Rates are per person based on double occupancy.

Information to read before you book.

We recommend purchasing bike trip insurance.

† Currency exchange rate set 90 days before travel.

Travel

Fly to the airport of Split which is about 6 km from your port of embarkation in Trogir.

Local Travel

From the airport you can take a taxi to the ship at Harbor Trogir, approx. 6 km away for ± 20 Euro.

Climate

The average high/low temperatures in degrees F for the area is approximately: April, 63/48°; May, 71/56°; June; 79/63°; July, 85/67°, August, 84/67°, September, 78/61° and October, 69/54°

Recommended

Extra time in Trogir. The medieval town of Trogir is almost like a museum and well worth visiting. The primal reason is its marvelously preserved old town (built on an island) and also a World Heritage Site. Furthermore, countless cafes invite you to relax with some coffee, ice cream or a piece of cake. Trogir is also an ideal starting point for excursions to the next-door Split.

Remarks

Electric bikes available (maximum of 3 per ship). Please be aware that you will be part of an international group of people. This tour is also available exclusively as an E bike tour aboard the newly constructed Princess Diana. Contact us for details!

---
Tour
Dates
2019 
Comfort Plus boats:
Romantica: June 22, July 6, July 20, August 3, August 10, August 24, September 7, September 21, and October 5, 2019 
San Snova: June 29, 2019
Comfort boat:
Kapetan Jure: June 15, August 17, August 31, September 14, September 28, and October 12, 2019
*These dates can be taking as a mountain bike tour!
Skill
Level
Moderate. Approx. 142 km / 86 miles of cycling total for this tour. The bike routes require a basic level of fitness, ideally acquired by occasional or daily cycling. The routes can reach an altitude of 100 – 300 meters (328-985 ft). The daily routes of 15-35 km (8-21 mi.) cover hilly terrain and can be completed without time constraints. You will also come across some rather steep climbs, where walking your bike is of course permitted. The roads are mostly asphalted and there is little traffic outside of holiday periods. There may be opportunity to cycle self-guided but this cannot be guaranteed. Helmets are mandatory and we encourage you to bring your own well-fitting helmet. A limited number of helmets are available for rent (reservation required).
Where
You'll Stay
On the comfort class or comfort plus boats, the San Snova, Kapetan Jure, or the Romantica.
What's
Included
8 days/7 nights accommodations in a below deck cabin with shower/toilet
4 x full board and 3 x half board
English-speaking tour guide
21-speed hybrid bike with pannier bag
Guided cycling tours as described in itinerary
Bed linens and towels
Entrance fees for National Parks (group visits only)
Maps for daily tours
What's
Not Included
Visitor's tax, local charges, and unlimited water on board and during cycling: €40 (€20 for children 16 and under) to be paid on board
Drinks on board (tally sheet)
Gratuities for crew and tour guide (optional)
Individual arrival to ship
Bicycle Protection (€10 for hybrid and €20 for electric)
3-day Post-Tour Extension in Plitvice Lakes National Parks and Zagreb (see Extra Stay below, pricing listed on the right under extra options)
Extra
Stay
3-DAY POST-TOUR EXTENSION in Plitvice Lakes National Park and Zagreb
Saturday
After breakfast and disembarkation from the boat, a transfer will take you from Trogir to Plitvice Lakes, the most well-known of the Croatian National Parks. Upon arrival, you will have time to enjoy lunch and can then explore the park throughout the afternoon and evening. Night spent in a hotel near the park.
Sunday
After breakfast, a transfer will bring you to Zagreb, where you can spend the day exploring Croatia's amazing capital city. The old town, built by the Austro-Hungarian Empire, will charm you at every turn. A 3-hour guided tour will take you to the Kaptol (center of the Roman Catholic Church in Croatia) and Gardec (the upper old town). In the evening, enjoy dinner at a specially selected restaurant offering local cuisine. Night spent in a hotel in Zagreb's town center.
Monday
After breakfast, a transfer will take you to Zagreb airport for your journey home.
Extension Package Includes:
Transfer from boat in Trogir to Plitvice Lakes (3 hours), Entrance fee into Plitvice Lakes National Park, 3 or 4 Star Hotel near Plitvice Lakes National Park (your choice), Transfer from Plitvice Lakes to Zagreb (2.5 hours), 3-hour guided sightseeing tour in Zagreb, Dinner in a local restaurant in Zagreb, 3 or 4 Star Hotel in Zagreb city center, Transfer from Zagreb hotel to Zagreb airport, Taxes
*Optional add-on: Sightseeing Bike Tour in Zagreb: €15 per person
EXTRA NIGHTS: In Trogir, at the 3-star Hotel Adria located 3 km outside of Trogir or stay at the 3-Star Hotel Concordia located in the old town of Trogir.
Day-To-Day
Itinerary
Day 1: Trogir – Rogoznica by boat
Day 2: Rogoznica – Primošten – Šibenik – Skradin, 12 mi. (20 km) 
Day 3: National Park of Krka -  Šibenik – Vodice, 12 mi. (20 km) 
Day 4: Vodice - Island of Murter - Nature Park Telašćica (approx. 16 mi./27 km)
Day 5: Island of Dugi Otok – Zadar (approx. 20 mi./33 km)
Day 6: Islands of Ugljan and Pašman – Island of Zlarin (approx. 20 mi/33 km)
Day 7: Island of Solta, 9 mi. (15 km)
Day 8: Departure from Trogir
*All distances are approximate. The itinerary is subject to change due to changing wind and weather conditions and other unforeseen circumstances having to do with mooring requirements, etc.
DAY 1 (Saturday): Trogir – Rogoznica by boat                          
Individual arrival to the picturesque port of Trogir. Check-in is between 2 - 2:30pm. At 3 pm, the boat departs and we cruise to Rogoznica, a village on a small island connected to the mainland by a dam. Covered with pine forests that reach the sea, this island is a paradise.
DAY 2 (Sunday):  Rogoznica – Primošten – Šibenik – Skradin, 13 miles (20 km)
In the morning, you will cycle to Primošten. From there the boat takes us to the city of Šibenik to the spot where the Krka River flows into the Adriatic Sea. After visiting the famous cathedral and the lovely old town we set off again. On the cruise, we pass the lower course of the river Krka following the river bend until we reach Skradin. In the port of the village, we spend our night. 
DAY 3 (Monday):  National Park of Krka -  Šibenik – Vodice, 8 miles (15 km) 
The magnificent port of Skradin is today's starting point for our excursion by and boat and on foot to Krka National Park and it's famous waterfalls. In the early afternoon, your boat takes you to the harbor of Vodice, a well-known holiday town on the Dalmatian mainland. From here, you mount the bicycles again for a short round trip.
DAY 4 (Tuesday): Vodice - Island of Murter - Nature Park Telašćica, 16 miles (27 km)
In the morning we cycle from Vodice to Murter Island that is connected to the mainland by the lift bridge at Tisno. We pass the bridge and cycle along the waterfront, passing by two very old coastal villages until we reach a small landing place from where the boat takes us on a cruise through the National Park Kornati, an archipelago in crystal clear water which is known for its rich aquatic realm. Our destination is the Nature Park Telašćica. In the evening a walk through the park leads us along the stunning cliffs of the island. The famous Silver Lake - known by movies of Winnetou - is also located in the Nature Park. Overnight stay on the Island of Dugi Otok.
DAY 5 (Wednesday): Island of Dugi Otok – Zadar, 19 miles (30 km)
After breakfast and a short crossing to Sali, your bike tour leads along a virtually traffic-free and panoramic road. We ride clear across the entire island. During the ride, we're treated to countless unforgettable vistas of the islands in the deep blue sea. We meet our ship for a crossing to Zadar, which, for centuries, was the political, cultural and spiritual center of Dalmatia. Our tour guide takes us on an extensive walk through the lanes of the lively old center. 3,000 years of history have left their imprint on the character of this town and there are many things to be admired: the mighty fortified walls with their bastions, the loggia and also the early Romanesque St. Donatus Basilica.
DAY 6 (Thursday): Islands of Ugljan and Pašman – Island of Zlarin, 21 miles (35 km)
​During breakfast, the boat crosses to the island of Ugljan at the channel of Zadar. Today we have a lot of time to explore both the islands of Ugljan and Pašman by bicycle, which were recently connected by a bridge. We cycle along the east coast, with it's beautiful views to the mainland and the ocean. Afterward, our boat cruises to the coral island of Zlarin.
DAY 7 (Friday): Island of Solta, approx. 9 miles (15 km)
In the morning, the boat will take you to the island of Solta. Olive, fig trees and farmland surround the streets. The sweet smell of lavender and rosemary will follow you throughout the day's ride around this tranquil island until we reach the village of Grohote. During midday, we take our last cruise and return to Trogir.   In the afternoon, you can stroll through the narrow alleys of the Old town, protected as a World Heritage Site, and devote your attention to the cultural side of the trip. Trogir is an ancient island settlement dating back to the Hellenistic period and has been embellished by successive rulers with many fine public and domestic buildings and fortifications. Its beautiful Romanesque churches are complemented by the outstanding Renaissance and Baroque buildings from the Venetian period.
DAY 8 (Saturday): Departure from Trogir
Your Croatia bike trip will come to an end after breakfast at 9 am.
Looking for more?  View all of our featured bike and boat tours, or our full list of bike trips.
Email or Call 800-951-4384 +1 570-965-2064
---
National Parks of Dalmatia
Boats + Barges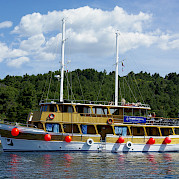 Kapetan Jure Croatia Comfort Class Boat Captain Anton and his crew form an experienced and friendly team, who know how to pamper their guests with delicious specialities. With its 15 cabins, the Kapetan Jure offers place for 30 guests. 11 of the cabins are on deck. 10 of these are furnished with 2 beds arranged side by side, while one cabin has bunk beds.The remaining 4 cabins are below deck and are furnished with a French bed (140 cm wide).
Romantica Croatia Premium Class Boat Captain Jure's Romantica, our brandnew ship in Croatia, was launched in May 2007. The ship is 32 m long and 7.6 m wide and possesses solid structural steelwork which, as the name says, connects romance with modern design and functionality.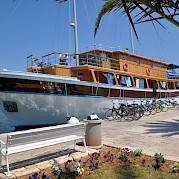 San Snova Croatia Premium Class Boat This ship, constructed entirely of oak, took 3 years to build by the Scherka familiy in their own carpentry workshop as a family project. The ship, 31m long and 8m wide, meets the highest expectations in regard to comfort, elegance and style, combining romantic seafaring with modernity and functionality.