4.9

/

5

(

8

ratings)
National Parks of Dalmatia
Croatia Bike + Barge Tours
Bike and boat Croatia through National Parks and the Islands of Central Dalmatia
Croatia is a country with beautiful, well-kept coasts with thousands of islands, reefs, and bays. Numerous Roman ruins, charming hills and breathtaking beauty awaits you here. Situated along the Adriatic Sea, Croatia stretches from the slopes of the alps, deep into the Pannonian Valley, to the banks of the Danube and Drava Rivers.
Come and spend a week on a bike and boat tour cruising between the mainland of Croatia and the sea. Regional cuisine and an exceptional crew with knowledgeable tour guides await. You will visit two national parks as well as the islands of Central Dalmatia, starting at Trogir. Highlights include the UNESCO-protected old town of Trogir, Primosten, Sibenik (with its famous cathedral), Zadar (pictured below), the National Park, Krka waterfalls and the Kornati Islands.
On this Croatia bike and boat tour, you will discover the charm of the Adriatic in a very unique way. After a hearty breakfast, you cycle through history and culture and at midday meet the ship at a harbor for lunch. In the evenings, the ship will be waiting in the next harbor for you to dine as the sun sets, followed by a stroll through the historic harbor towns.
Be sure to check out our full line of bike and boat tours in Croatia.
Tour
Dates
Comfort Plus boats:
Romantica:  June 25, July 9, July 23, August 6, August 27, September 10, September 24, October 8 and October 22, 2016
San Snova: July 2, 2016
Comfort boat
Kapetan Jure:  August 13, August 20, September 3, September 17, and October 1, 2016
2017 DATES:
Comfort Plus boats::
Romantica: April 29, May 13, May 27, June 10, June 24, July 8, July 22, August 5, August 26, Septemper 9, Septemper 23, October 7, 2017.
San Snova: July 1, 2017
Comfort boat
Kapetan Jure: May 6, May 20, June 3, June 17,  August 19, September 2, September 16, September 30, Octotber 14, 2017.
Skill
Level
Moderate. Approx. 200 km / 125 miles of cycling total for this tour.The bike routes require a basic level of fitness, ideally acquired by occasional or daily cycling. The routes can reach an altitude of 100 – 300 meters. The daily routes, of 30-50 km (18-30 mi.), cover hilly terrain. You will also come across some rather steep climbs, where walking your bike is of course permitted. The roads are mostly asphalted and there is little traffic outside of holiday periods. You can decide every day for yourself whether you would like to cycle individually, using the maps provided, or join one of the tour guides (or individual participants).
Where
You'll Stay
On the comfort class or comfort plus boats, the San Snova, Kapetan Jure, or the Romantica.
What's
Included
8 days/7 nights' accommodations on a motor yacht with a crew of four (below deck cabin)
4 x full board and 3 x half board
English-speaking tour guide
21-speed trekking bike with bicycle bag
7 guided cycling tours as described in itinerary
Bed linen and towels
Entrance fees for National Parks (group entrance)
Maps of the single cycling trips
What's
Not Included
Visitor's tax, local charges, and unlimited water on board and during cycling: €40 (€20 for children 16 and under) to be paid on board
Drinks on board (tally sheet)
Gratuities for crew and tour guide (optional)
Individual arrival to ship
Bicycle Protection (€10 for hybrid and €20 for electric)
3-day extension module Plitvice Lakes and Zagreb (see Extra Options, under Pricing)
Day-To-Day
Itinerary
Day 1: Trogir – Rogoznica, 3 to 11 mi. (7 to 17 km) 
Day 2: Rogoznica – Primošten – Šibenik – Skradin, 13 mi. (20 km) 
Day 3: National Park of Krka -  Šibenik – Vodice, 8 mi. (15 km) 
Day 4: Vodice - Island of Murter - Nature Park Telašćica (aprx. 16 mi./27 km)
Day 5: Island of Dugi Otok – Zadar (aprx. 19 mi./30 km)
Day 6: Islands of Ugljan and Pašman – Island of Zlarin (aprx. 21 mi/35 km)
Day 7: Island of Solta, 9 or 25 mi. (15 or 40 km)
Day 8: Departure
*All distances are approximate. The above planned itinerary is subject to change due to changing wind and weather conditions and other unforeseen circumstances having to do with mooring requirements, etc.
DAY 1: Trogir – Rogoznica,   3 to 11 mi. (7 to 17 km)                               
Individual arrival to the picturesque port of Trogir. Check-in on the motor yacht is between 2pm - 2:30pm. Your first cruise will be to Rogoznica. Covered with pine forests that reach the sea, this island is a paradise. You will also have opportunity for cycling along the wide bay and visit the village of Rogoznica, a small fishermen's village, hidden in a deep bay, well protected from the waves and open sea.
DAY 2:  Rogoznica – Primošten – Šibenik – Skradin, 13 mi. (20 km)
In the morning, you will cycle to Primošten. From there the boat takes us to the city of Šibenik to the spot where the Krka River flows into the Adriatic Sea. After visiting the famous cathedral and the lovely old town we set off again. On the cruise, we pass the lower course of the river Krka following the river bend until we reach Skradin. In the port of the village, we spend our night. 
DAY 3:  National Park of Krka -  Šibenik – Vodice, 8 mi. (15 km) 
The magnificent port of Skradin is today's start point for exploring the most famous part of the Krka National Park with its unique waterfalls by excursion boat and on foot. In the early afternoon our boat takes us to a landing place close to Šibenik. From here we cycle to Vodice, a well-known and lively resort on the Dalmatian mainland.
DAY 4: Vodice - Island of Murter - Nature Park Telašćica (aprx. 16 mi./27 km)
In the morning we cycle from Vodice to Murter Island that is connected to the mainland by the lift bridge at Tisno. We pass the bridge and cycle along the water front, passing by two very old coastal villages, until we reach a small landing place from where the boat takes us on a cruise through the National Park Kornati, an archipelago in crystal clear water which is known for its rich aquatic realm. Our destination is the Nature Park Telašćica. In the evening a walk through the park leads us along the stunning cliffs of the island. The famous Silver Lake - known by movies of Winnetou - is also located in the Nature Park. Overnight stay on the Island of Dugi Otok.
DAY 5: Island of Dugi Otok – Zadar, 19 to 40 mi. (30 km to 65 km)
Today's bike tour leads us along a virtually traffic-free and panoramic road. We ride clear across the whole island. During the ride we're treated to countless unforgettable vistas of the islands in the deep blue sea. We meet our ship and will have lunch. Afterwards, the ship takes us to Zadar, which, for centuries, was the political, cultural and spiritual centre of Dalmatia. Our tour guide takes us on an extensive walk through the lanes of the lively old centre. 3000 years of history have left their imprint on the character of this town and there are many things to be admired: the mighty fortified walls with their bastions, the loggia but also the early Romanesque St. Donatus Basilica.
DAY 6: Islands of Pašman and Ugljan – Island of Zlarin, 21 mi. (35 km)
​During breakfast, the boat crosses to the island of Ugljan at the channel of Zadar. Today we have a lot of time to explore both of the islands Ugljan and Pašman by bicycle. Recently they have been connected by a bridge. We cycle along the East Coast, always with beautiful views to the mainland and the ocean. Afterwards, our boat cruises to the coral island of Zlarin.
DAY 7: Island of Solta, 9 to 25 mi. (15 to 40 km)
In the morning, your motor yacht will take you to the island of Solta. Olive, fig trees and farmland surround the streets. The sweet smell of lavender and rosemary will follow you throughout the day's ride around this tranquil island until the village of Grohote. On this last bike tour, you will visit small villages in the hinterland, biking on roads with little traffic until you reach Trogir. The final descent will offer you a grand view of the coastline of Split. During midday, the  last cruise will be a return to  Trogir.   In the afternoon, you can stroll through the narrow alleys of the Old town, protected as a World Heritage Site, and devote your attention to the cultural side of the trip. Trogir is an ancient island settlement dating back to the Hellenistic period and has been embellished by successive rulers with many fine public and domestic buildings and fortifications. Its beautiful Romanesque churches are complemented by the outstanding Renaissance and Baroque buildings from the Venetian period.
DAY 8: Departure from Trogir
Your Croatia bike trip will come to an end after breakfast at 9 am.
Looking for more?  View all of our featured bike and boat tours, or our full list of bike trips.
Email or Call 800-951-4384 +1 570-965-2064
---
National Parks of Dalmatia
Boats + Barges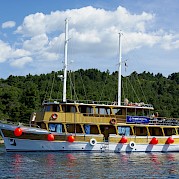 Kapetan Jure Croatia Comfort Class Boat Captain Anton and his crew form an experienced and friendly team, who know how to pamper their guests with delicious specialities. With its 15 cabins, the Kapetan Jure offers place for 30 guests. 11 of the cabins are on deck. 10 of these are furnished with 2 beds arranged side by side, while one cabin has bunk beds.The remaining 4 cabins are below deck and are furnished with a French bed (140 cm wide).
Romantica Croatia Comfort Plus Class Boat Captain Jure's Romantica, our brandnew ship in Croatia, was launched in May 2007. The ship is 32 m long and 7.6 m wide and possesses solid structural steelwork which, as the name says, connects romance with modern design and functionality.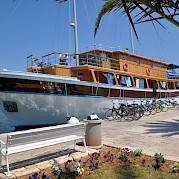 San Snova Croatia, Montenegro Comfort Plus Class Boat This ship, constructed entirely of oak, took 3 years to build by the Scherka familiy in their own carpentry workshop as a family project. The ship, 31m long and 8m wide, meets the highest expectations in regard to comfort, elegance and style, combining romantic seafaring with modernity and functionality.