Cycling Umbria: A Gastronomy Bike Tour
After the bustle of Rome, Umbria was a romantic movie set. Lesley and I were charmed to see children playing in Spello's piazza fountain, their mothers sitting nearby chatting, and old men soaking up the sun. We went through an impressive stone archway and began our 2 km walk uphill to our lodgings. Jasmine framed the doorways and covered the ancient stone walls, filling the air around us with its scent. As we walked higher, each corso had a better view of the green valley below, perfectly framed by the geraniums, daisies, petunias, and verbena tumbling from the flower boxes affixed to the walls on either side.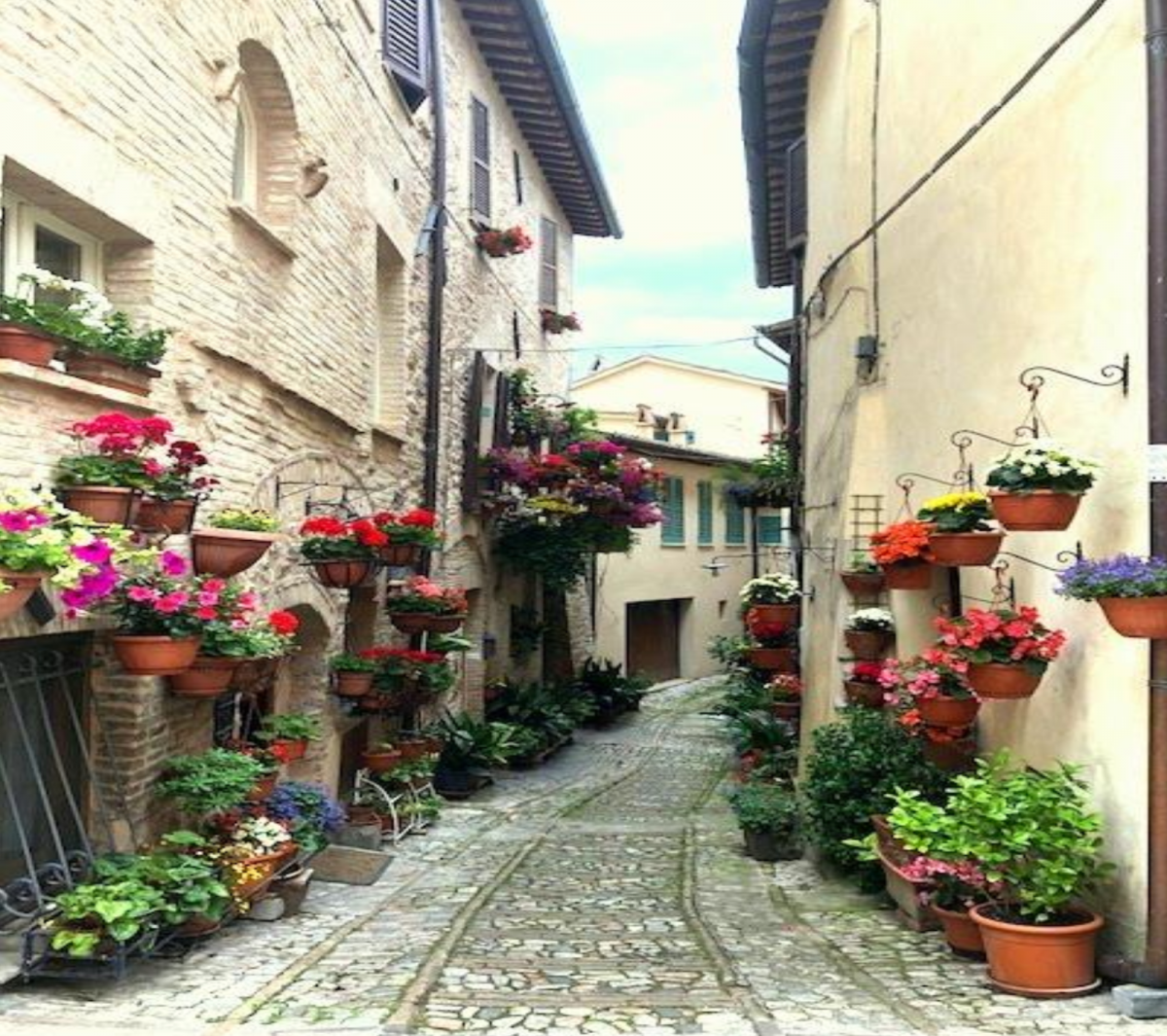 Juaqino, the proprietor of Il Cacciatore, a delightful inn with a deck overlooking the valley, spoke little English—or so he claimed—but his gestures and the twinkle in his eye communicated well enough. "How you will ride?" He pointed to my "roto polso" (broken wrist) encased in its black synthetic brace. I had broken it only five weeks earlier, but my orthopedic surgeon had removed my cast the morning of my flight, offering just two words of advice: "Don't fall."
Our trip was a gastronomy tour, so that evening Lesley and I redeemed our first voucher for wine pairings at a local enoteca. I am unsophisticated when it comes to wine, but Lesley was in her element as a new wine, in a new glass, arrived with each course. The sommelier described the history of the growing region, the grapes and who had blended them, and as Lesley carried on an intelligent wine conversation with him, I simply found each glass more delicious than the last. I lost count and felt a bit embarrassed by the accumulation of glasses on the table.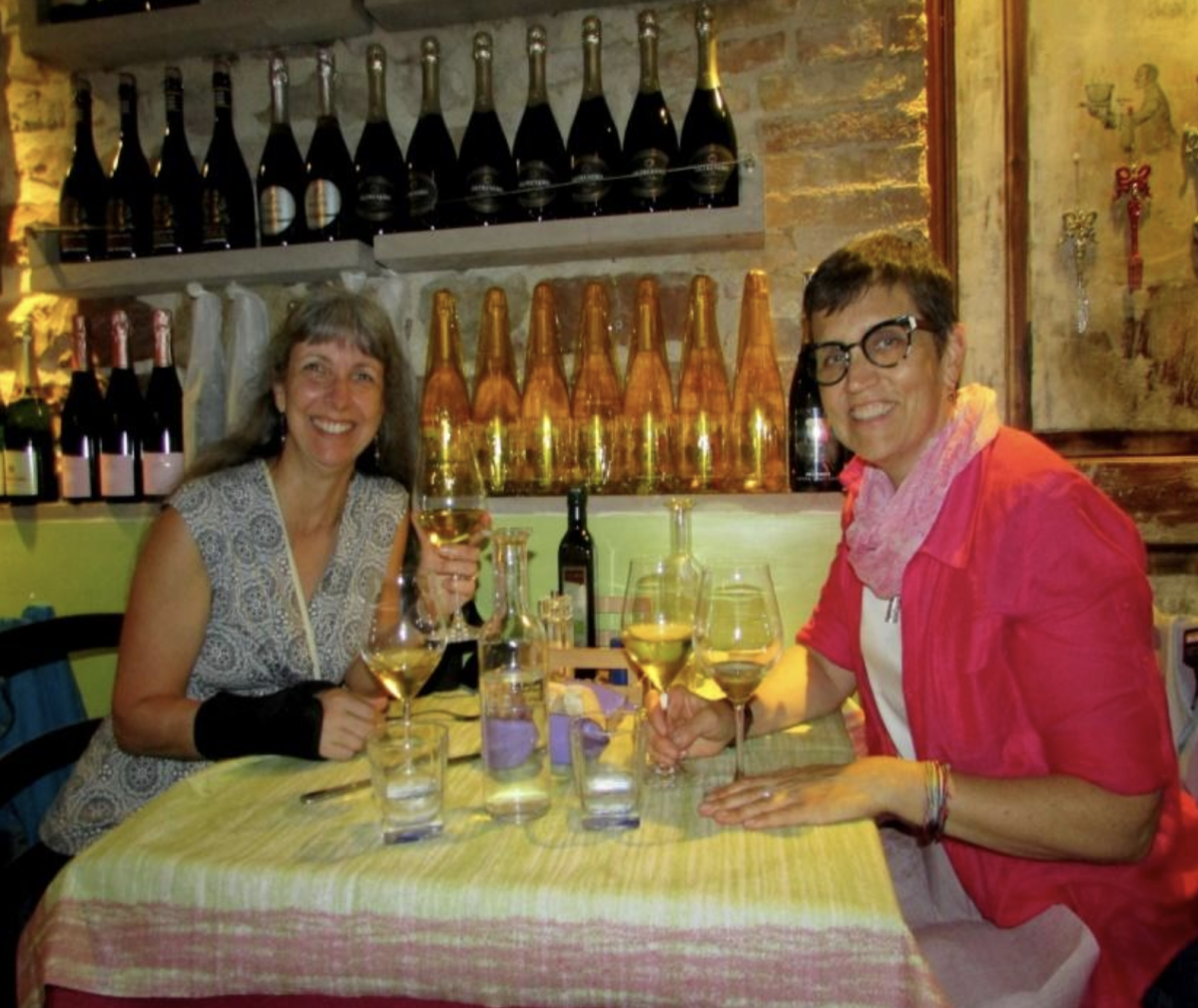 The food was such simple fare—scrambled eggs with porcini mushrooms, fettucine with herbs and olive oil, air-cured locally raised meats and cheeses—why did it all taste so divine? By the time dessert arrived—a particularly delicious biscotti—I could not even bring the dessert wine to my lips. Lesley, who had become involved in a lively conversation with the cyclists at the next table, discovered their tour company didn't provide wine pairings with its packages. Cheers to Tripsite!
In the morning Paolo, our bike man, and luggage mover, decided my roto polso entitled me to a brand-new bike and installed my special FinGrips (manufactured by Sidestix in BC) that would distribute the tension over my hand. Paolo couldn't have been more enthusiastic—I was earning points for riding in my condition.
As we rode out of Spello, the town was preparing for its annual festival, the Infiorate. Groups of people were separating flowers, petal by petal, sorting them by colour before setting them out in the sun to dry. They would, we were told, retain their brilliant hues and become part of the mosaics featured on the vias and corsos throughout the town—maintaining Spello's reputation as the world's best city for flowers.
Although we had odometers and maps, we preferred Paolo's written cycling directions, which while not perfect were more fun: "Continue straight on and you will see a dancing place with flamingos. After the dancing, turn right."
Italians love food, wine, and beauty. They decorate their towns, themselves and even, as it turns out, their vineyards. Planted at the end of each row there was often a beautiful red rose.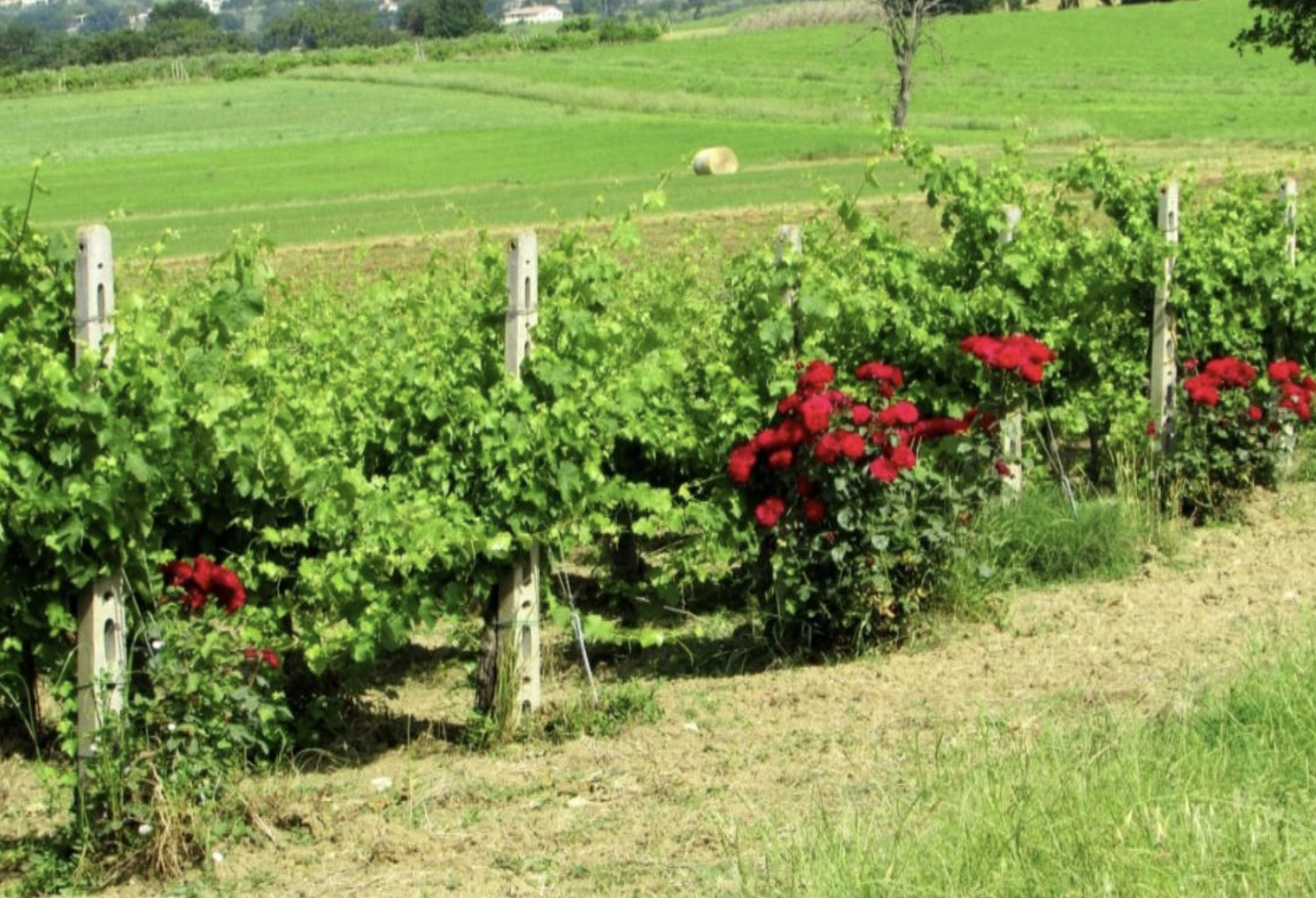 Each day we cycled past acres and acres of grapes, olive groves, golden wheat fields and large crops of legumes. Everything was lush and green, the insect and bird life prolific. But I had always associated Italy with the colour red-checkered tablecloths and chianti—so when we came upon a field exploding with red poppies, I was delighted. At home, they are considered weeds, but to me, they were a spectacular sight!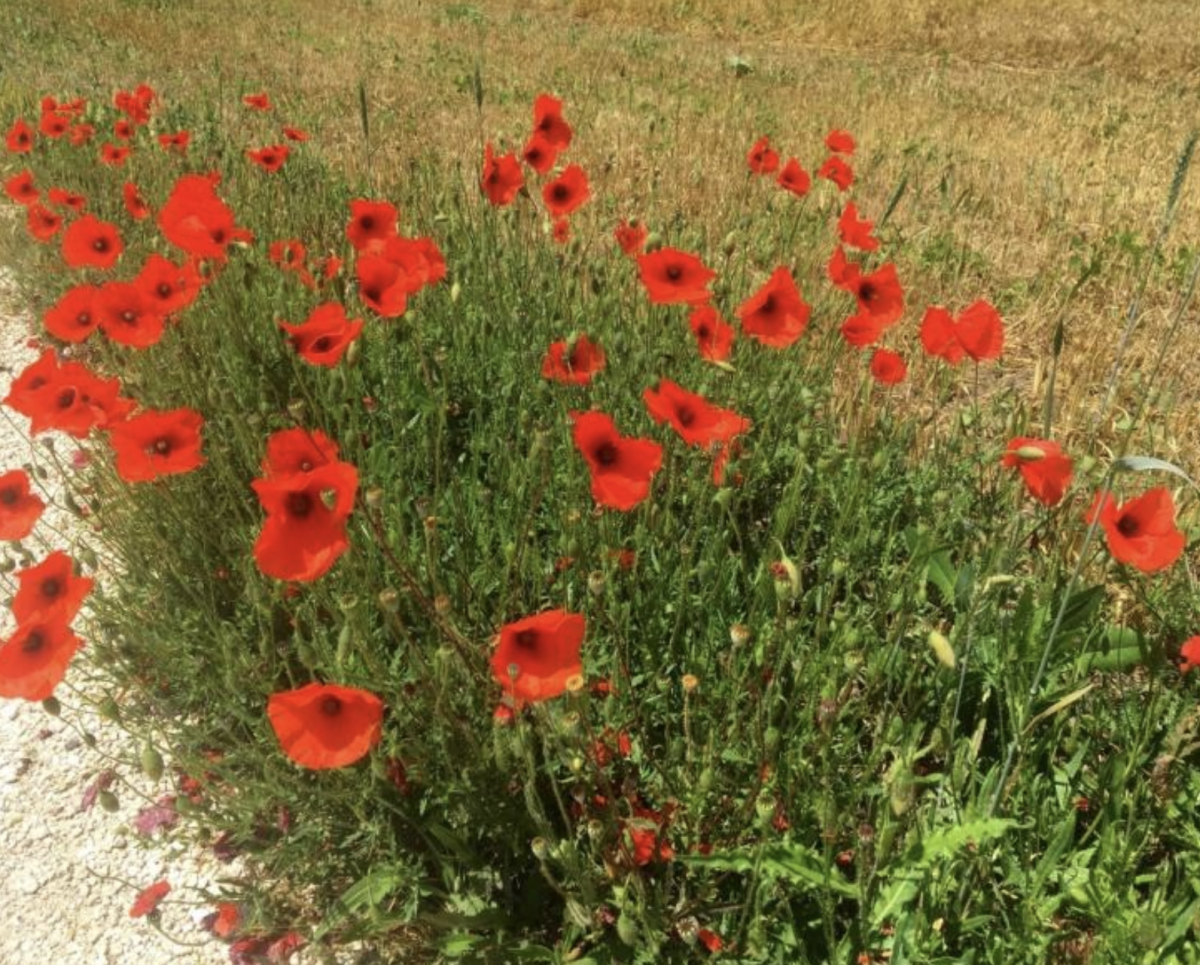 Our cycling route was rated easy to moderate, but Paolo had warned us there were a couple of gruelling bits. On a side trip to Perugia, he had suggested we leave our bikes locked at the station and take a bus up to the town and back because "the ride is torturous and barely cycle-able in parts." It was 30C degrees that day. We took his advice and appreciated the pool on our return.
One morning at breakfast, I was inspired by a couple in their seventies doing a tour similar to ours. Only when we met them again later that day did I realize the husband used a cane to walk. With his electric-assist bicycle, his infirmity was no impediment to his cycle-tour.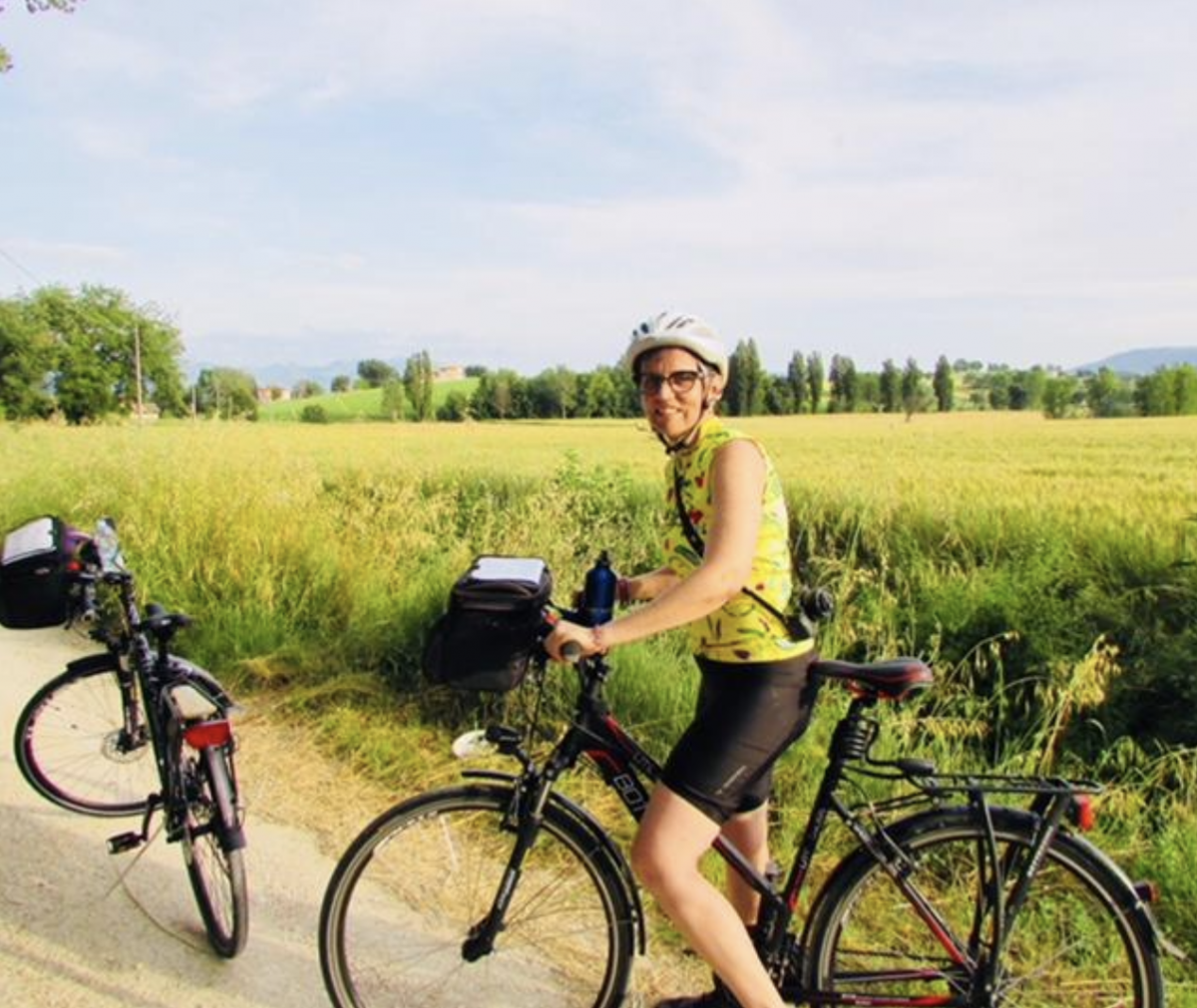 I had assumed that most towns sat atop steep hills for military reasons. "No, no!" said a friend. "It was a time of faith. They built up there so they'd be closer to God." Whatever the reason, some roads within the towns were so steep that escalators were provided. But Lesley and I walked, and my Fitbit regularly congratulated me for climbing up and down 49 stories!
One day after a swim in the enchanting rose-encircled pool at the Villa Zucceria, another of our five-star accommodations, we made the uphill ride to the famous wine-producing region of Montefalco. The ride was steeper than we had anticipated—the heat reflecting off the pavement had increased the temperature—so all I really remember of that ride was noticing a sign pointing to the town of Bastardo. Maybe it was the heat and exertion, but I remember thinking I know a few people who should live there!
I suspect there is something cyclists share with mountain climbers—that feeling of triumph on reaching the top and marveling at the panorama stretched out below. I lugged home a bottle of wine from Montefalco to mark my accomplishment!
Our gastronomy tour included two cooking lessons. The first was with Luigi, the chef at a five-star hotel in Spoleto where, after cooking our dinner, we enjoyed it on an outdoor terrace overlooking a restored Roman amphitheater!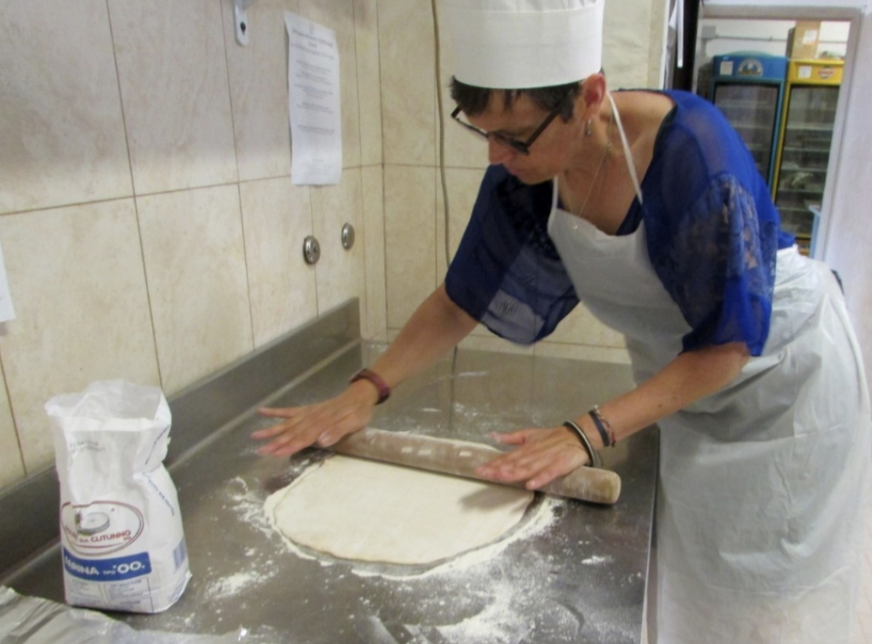 The second lesson was on our last night in Assisi at the beautiful, family-operated Il Roseta inn, named after the chef.. We made potato gnocchi and my favourite dish—Aubergine Parmigiana! Rosita, our Regina della Cucina (queen of the kitchen)—didn't speak English, but as we sugared rose petals to decorate our dessert, her interpreter told us, "She wants you to know that you can eat her roses."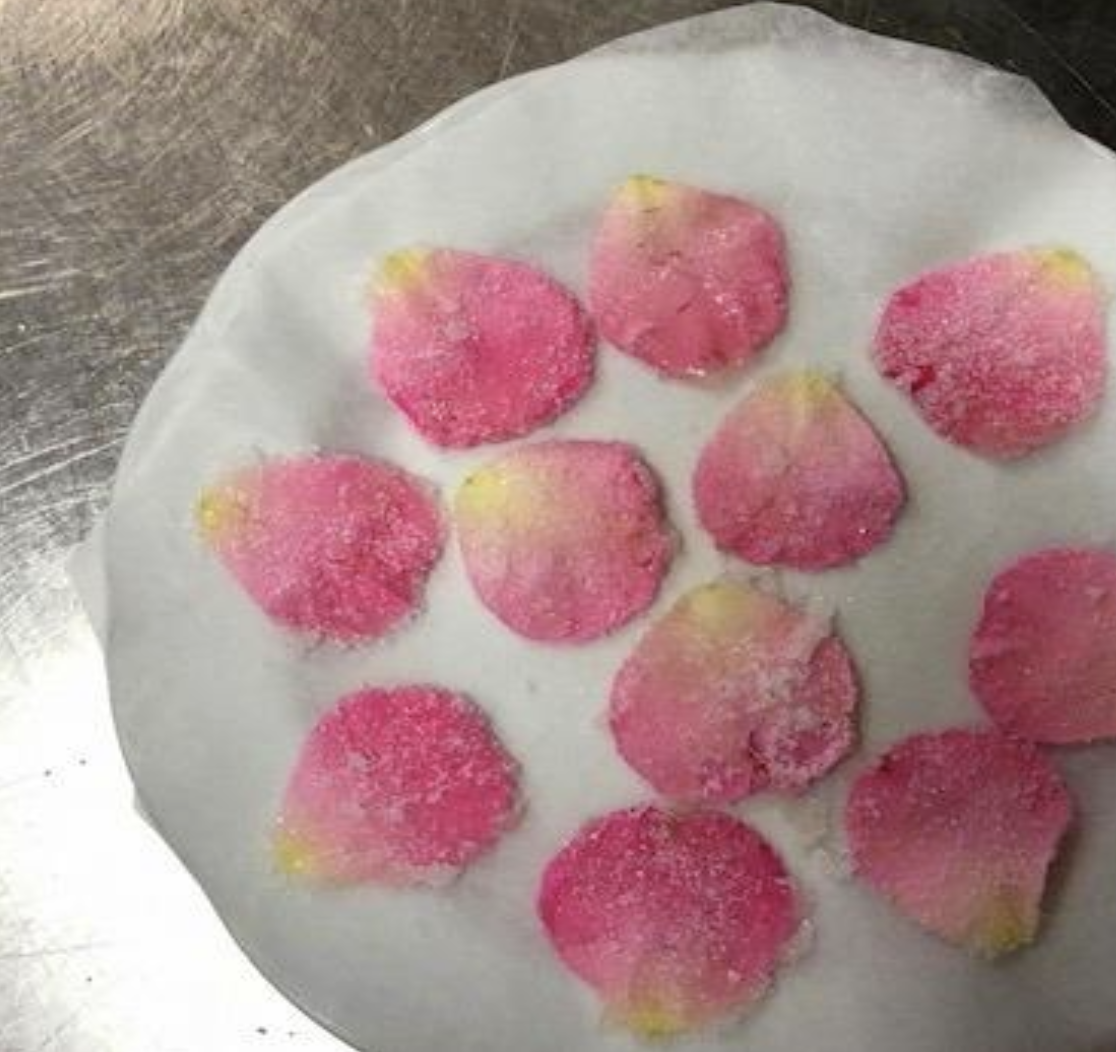 Anywhere in Umbria where there is more than one family, there is inevitably a church. And if there is a church, there is art—spectacular, awe-inspiring, time-defying sculptures, mosaics and frescoes—and gold, lots of it. And everything is old. Not old like the sweatshirt I still have from high school, but old as in they`re still getting water out of a 3rd Century BCE Etruscan well.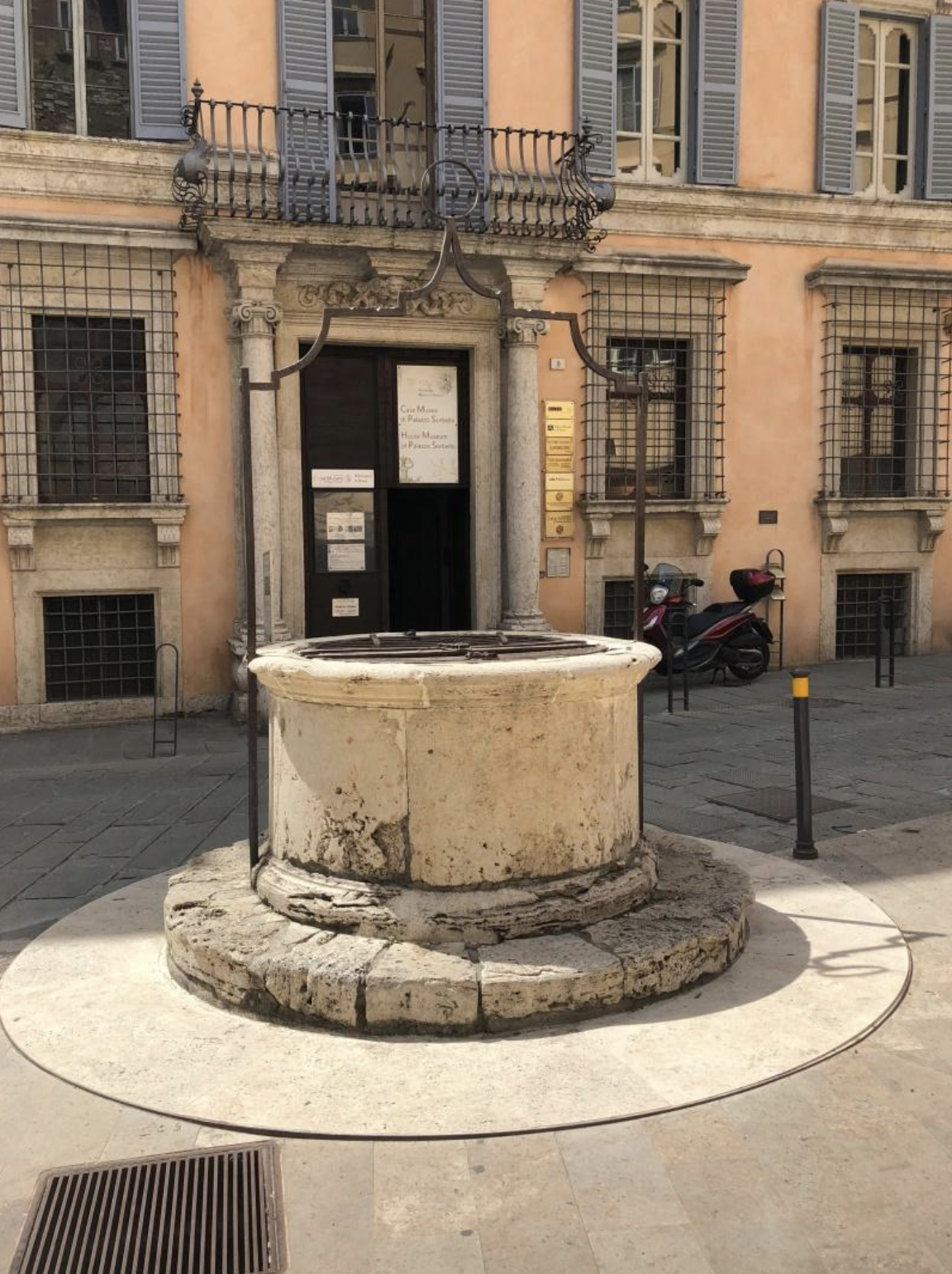 On our last day in Assisi, we visited the Basilica di Santa Maria Degli Angeli where, according to legend, to rid himself of temptations St. Francis threw himself into some rosebushes. It is now the only known place in the world where roses grow without thorns!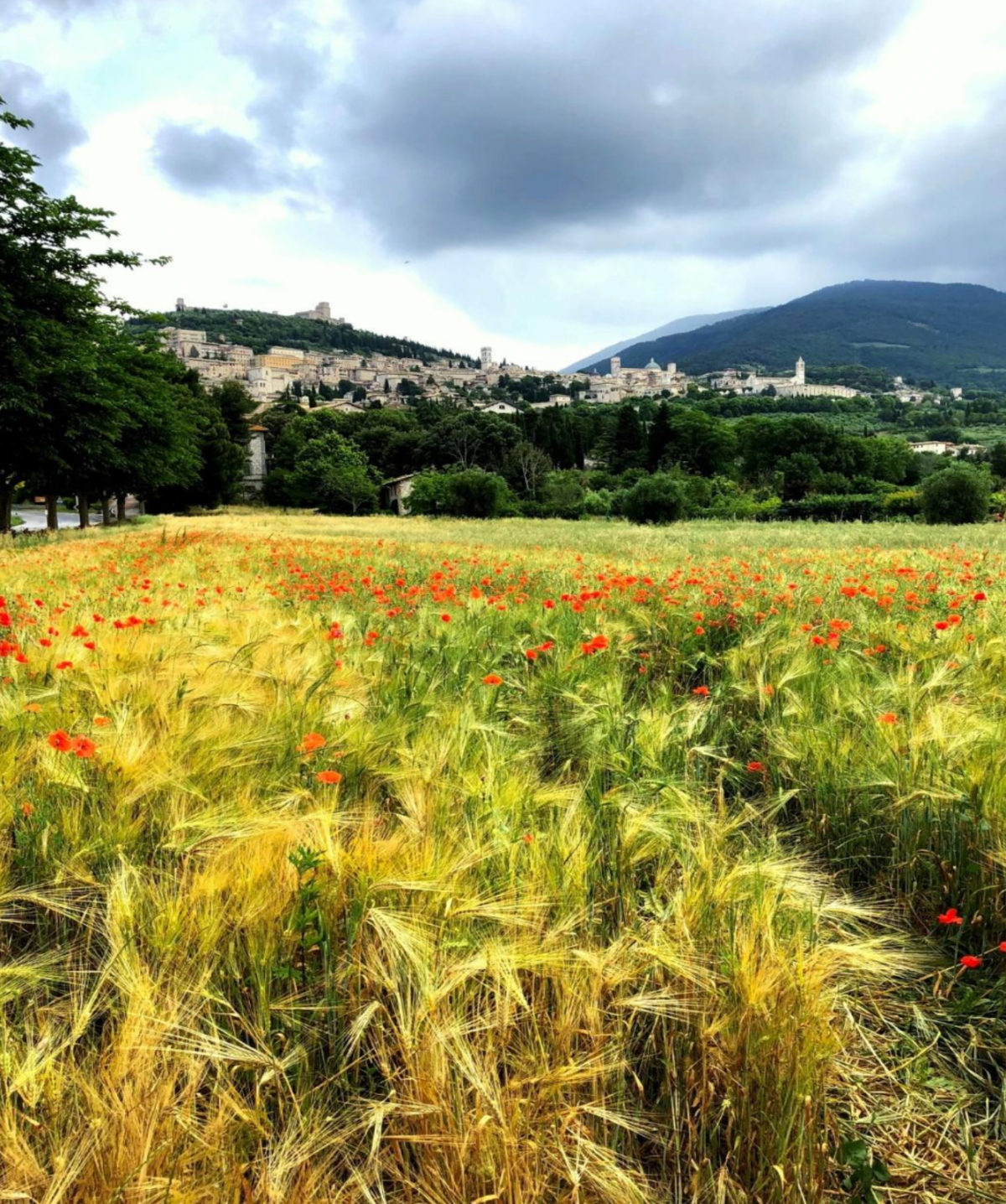 Cycling the Umbrian valley healed my rotto polso, filled us with an appreciation for all things Italian, and inspired us to further adventures!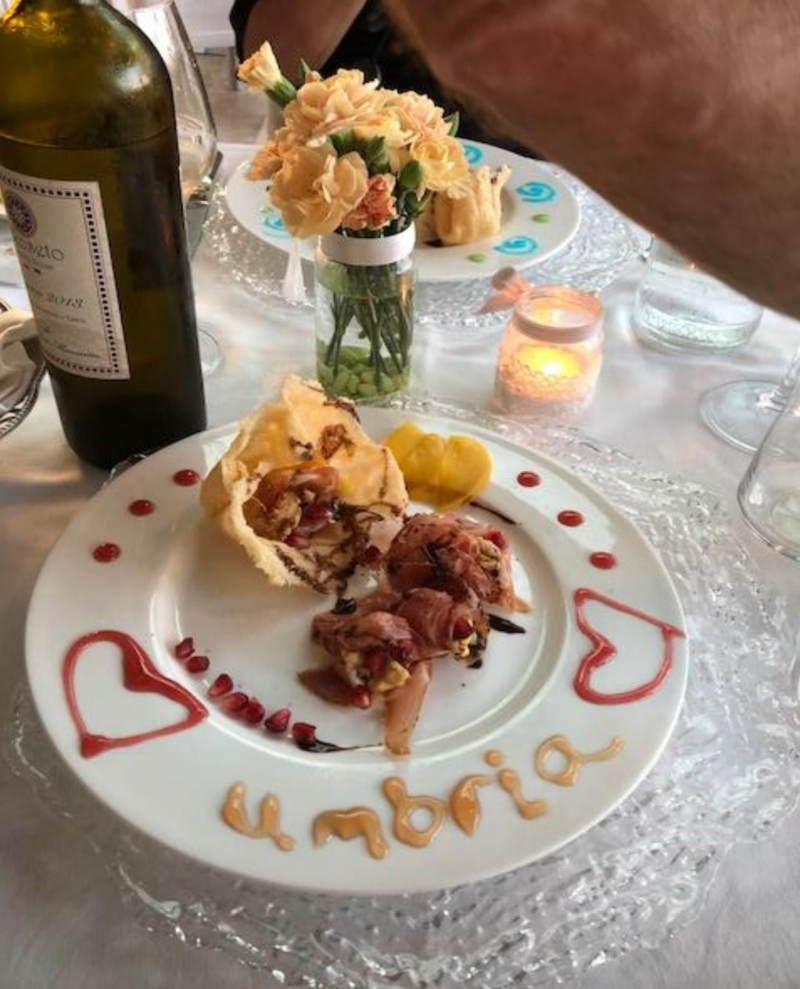 Looking for similar culinary adventures? Check out all of our Food and Drink cycling tours.
---
Comments
Post Comment