Tripsite Traveler: Wendy Savage
Snapshot Stories: The Bike and Barge Tulip Tour through Holland
Are you planning your next travel adventure to the Netherlands and trying to figure out the best way to experience this beautiful country? Consider the Bike and Barge Tulip Tour. Each day, as you travel by bicycle in and around this country, a significant and unique story unfolds. Noteworthy little snapshots will present themselves at every turn, so don't forget your camera!
First, we'll board the lovely MPS Zwaantje: The Little Swan, a lovely comfort plus boat that will be your home away from home. Isn't she a beauty? Settle in; relax and get comfortable because now we are on our way!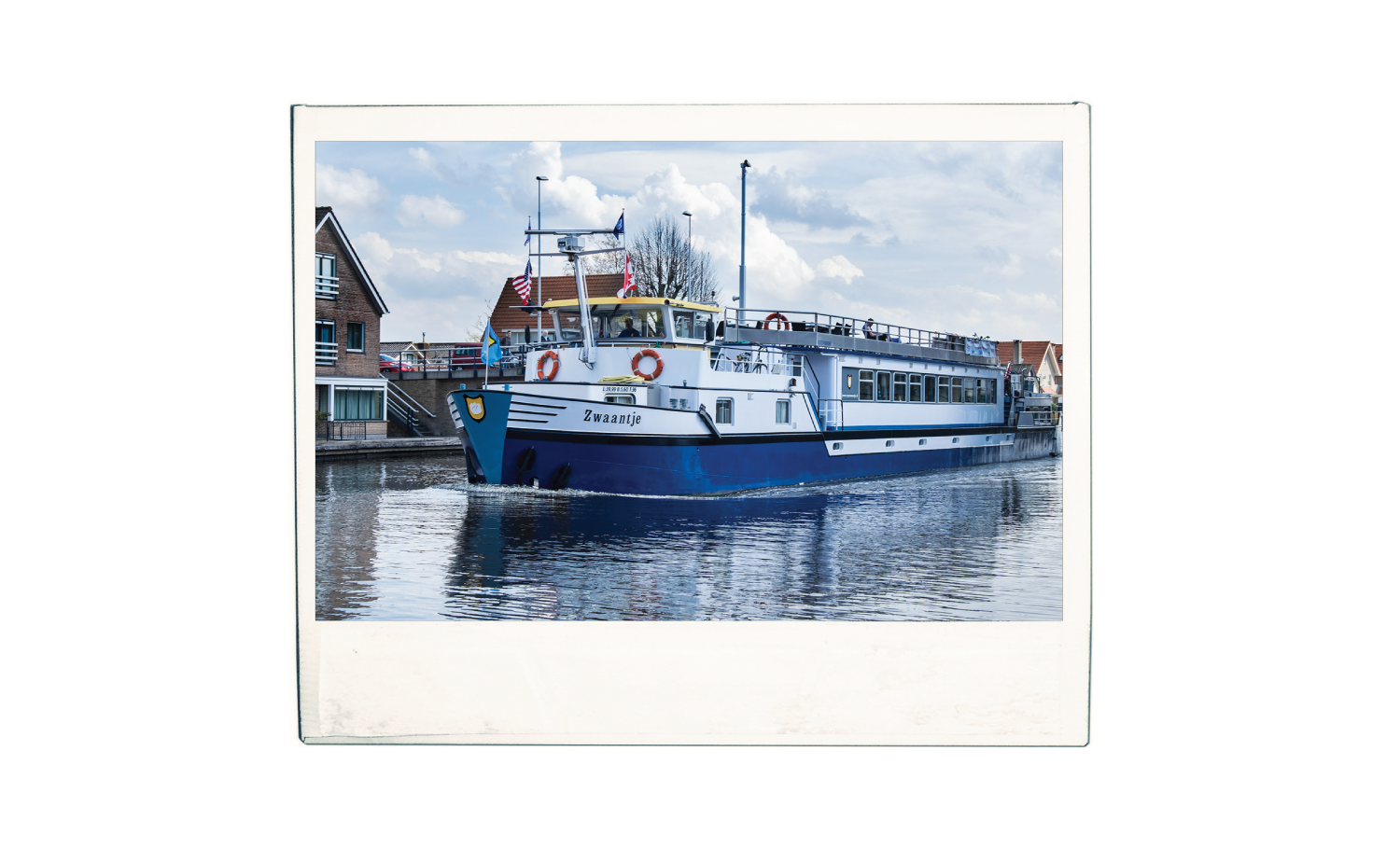 Amsterdam to Haarlem
In the afternoon we set sail from Amsterdam traveling a short distance and arrive in Haarlem. Our bicycles get fitted, we change into our gear, we are out the door peddling through beautiful landscapes till we arrive in town. Haarlem is an absolutely quaint and picturesque city. It is so well cared for and even though it is an "olde world" city with so much history, you can't help notice how beautifully restored and just so lovely it is. Here are a few snapshots that give a glimpse of what awaits. For me, the warm and colorful gallery storefront with a bicycle perfectly parked in front was irresistible. Because bicycles are a mode of transportation and way of life in Holland you will see them everywhere. This aspect of their lifestyle is so attractive and appealing. I could easily get used to this at home.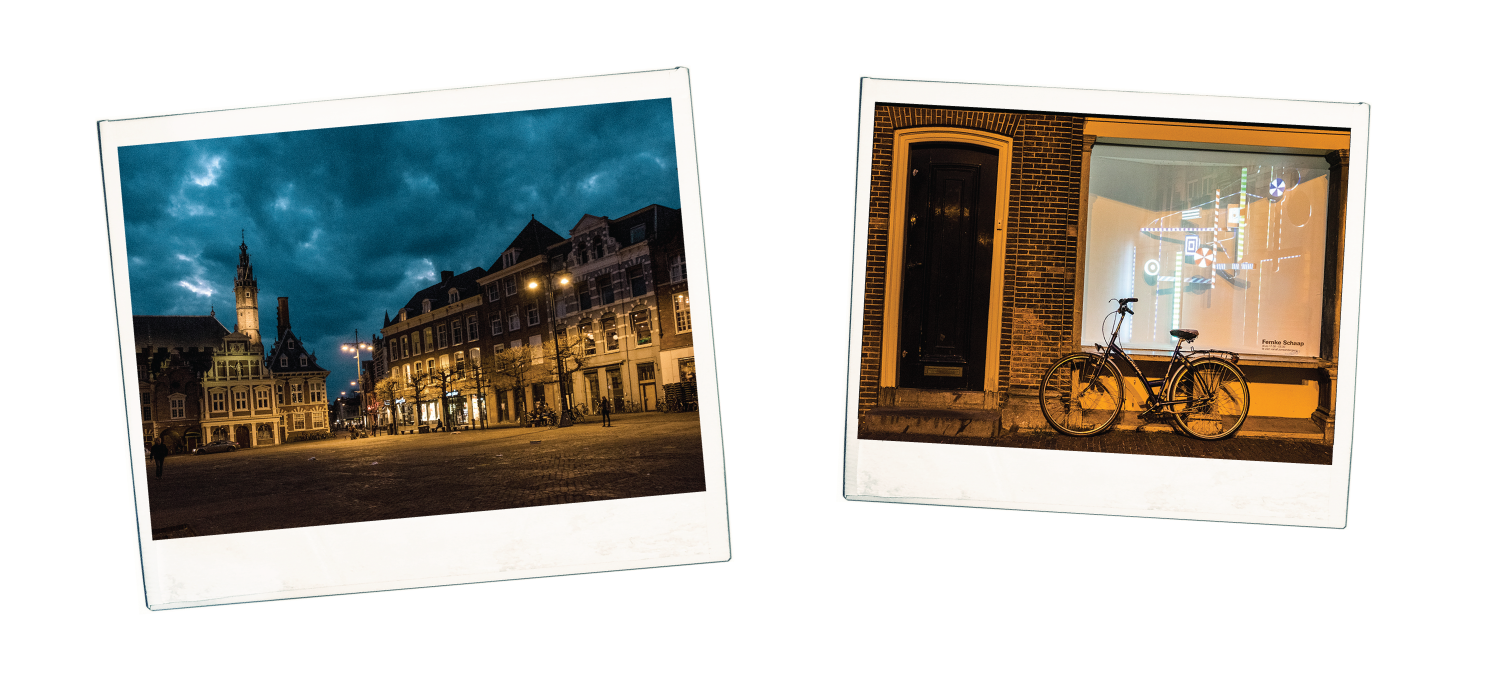 Fields of Flowers Abound
The next morning we rise, enjoy an early breakfast and prepare our lunches and pack them into our panniers. Today is exciting because we will we going to the Keukenhof gardens to experience the highly anticipated "Day of Flowers". This is what the Tulip Tour is so well known for. The opportunity to see the beautiful blooms of so many varieties will instantly put a smile on your face.
What an incredibly spectacular day! As we cycle off into the countryside we are beyond happy. We couldn't have asked for a more remarkable day with such an abundance of plants every which way you look. Photographing the gorgeous scenery became undeniable. Rows and rows of richly hued purple and pink hyacinths seemed to go on and on. Then, unexpectedly we approached a family playing with a camera drone in a field of pink hyacinths. It was so much fun to catch it taking off in flight! What an opportunity!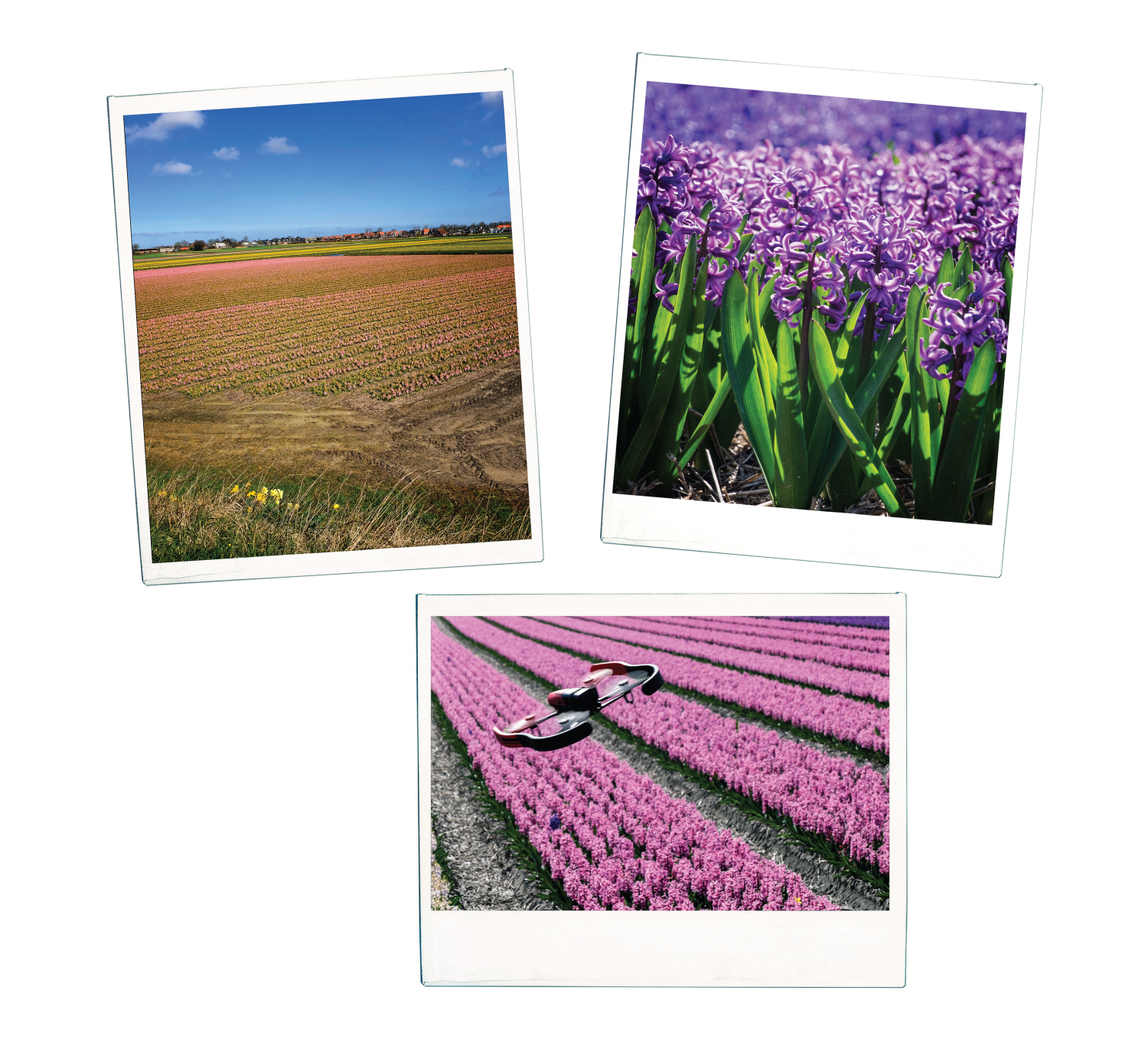 Time to head out and make our way to the Keukenhof gardens. As wonderful as our journey has started out it was time to head to the most beautiful flower garden in the world. The anticipation to experience this day has been a long time coming. My husband and I had heard about these gardens years ago from friends who went on a similar bike and barge tour. We knew we were in for an amazing treat!
The Keukenhof gardens
Finally! What a fantastic and amazing place. Yes! Without a doubt, we are absolutely in the most beautiful flower garden in the world. There are so many different varieties of flowers creating an overwhelming view of colorful hues every which way you look. I have so many favorites. Here are a few that I hope you enjoy.

Leiden
Our cycling continues and we are off to the historic town of Leiden where we will meet up with the Zwaantje. Pictured here is Leiden's east gate, the Zijlpoort, just as the sun was setting. The town is laced with numerous small canals similar to Amsterdam. At night the warm glow of street lamps gives such a wonderful ambiance as you stroll down the street along the canals. This day comes to a close and we feel wonderfully inspired by all we've experienced so far. There is so much to look forward to in the coming days but so far, this adventure couldn't have been more perfect.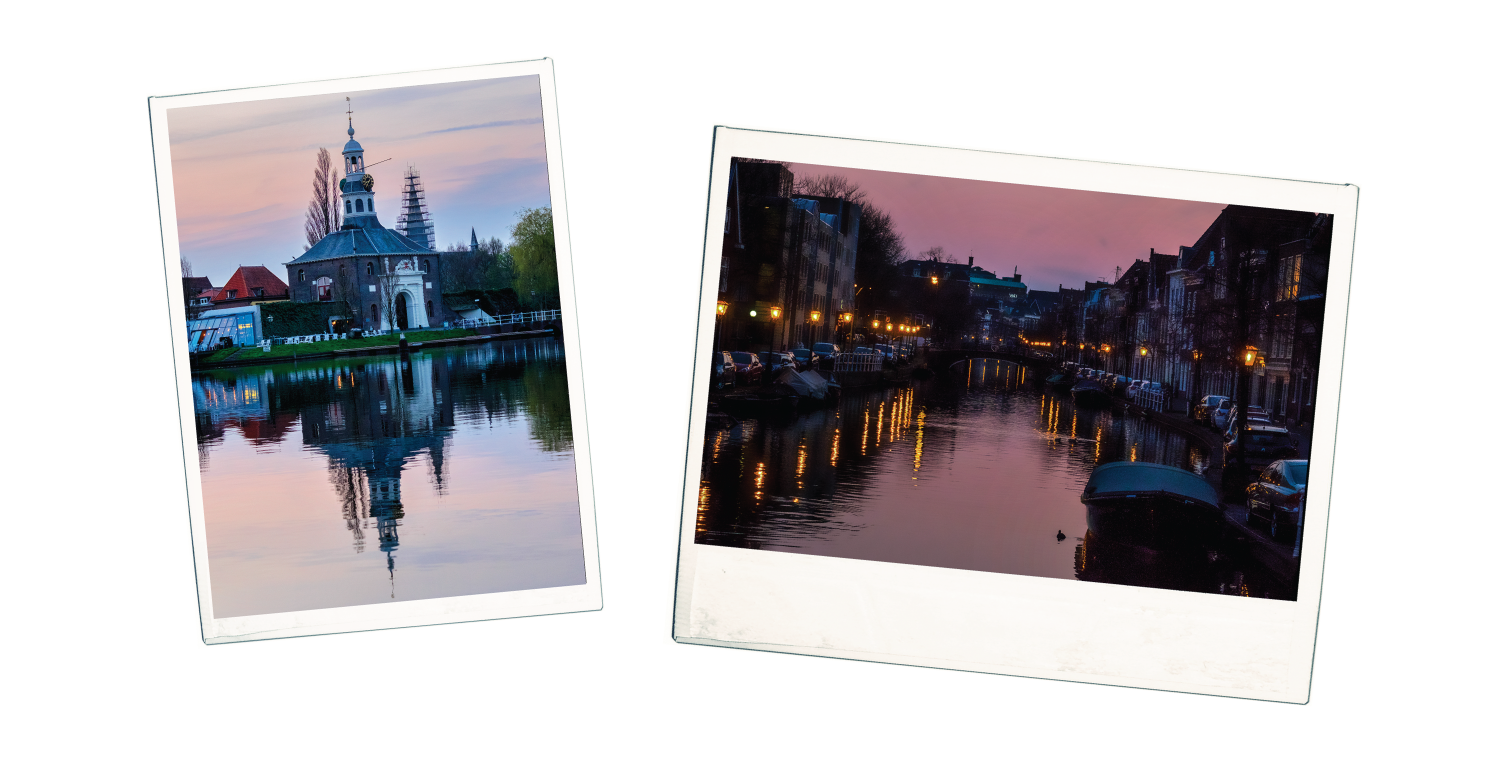 Alphen by Barge, Cycle to Gouda
With an aromatic and flavorful cup of coffee in hand, we depart from Leiden sailing to Alphen while enjoying
a satisfying and delicious breakfast on board the Zwaantje. Once reaching Alphen our cycling adventure begins. We are led out through the "Green Heart" of Holland which is best known for its rural character. The scenery of open landscapes scattered with sheep, goats, and cows is a big contrast from the flowers and the urban areas we recently visited. Even with high winds making some of our ride a bit more challenging, it is still a great day
of fun. Happily, we are rewarded with visiting a farm near Zoeterwoude. Here we learn all about the cheese-making process and enjoy some of its wonderful product. While touring the facility the chance to try our hand at milking the cows became available. And who wouldn't want to connect with these peaceful bovine for a special photo opp! Gouda is famous for its cheese and the samplings were amazingly flavorful, smooth, some a little tart and exceptionally delicious. Gouda is pronounced "How-da". I don't know when we in the US decided it should be pronounced differently but we have learned the proper pronunciation and there's no going backward now! More importantly, I can now call Gouda my new favorite cheese!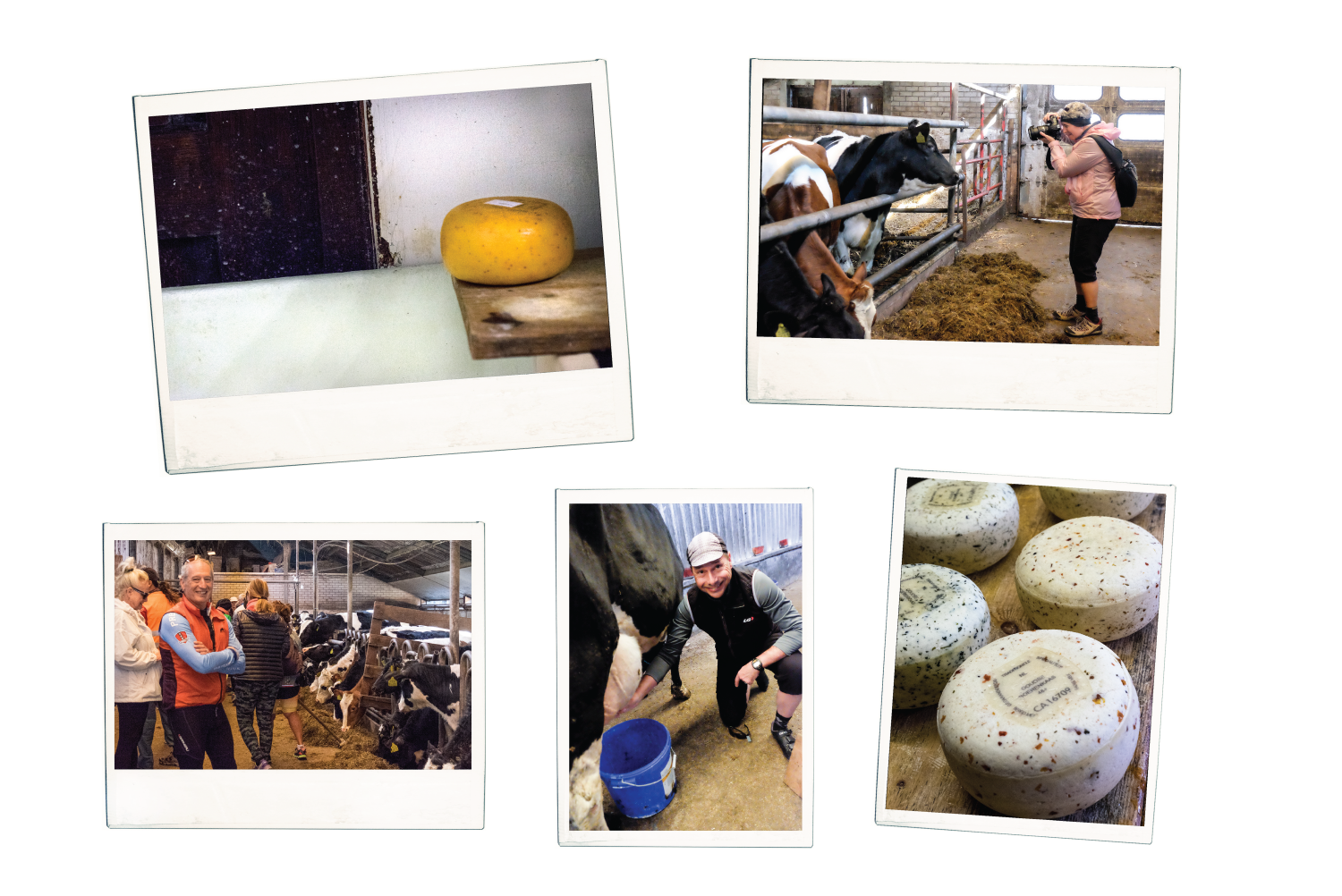 Later we ride back into the town of Gouda and visit The Saint John Cathedral,
learn about its history and marvel at the stained glass windows its renowned for.
Another amazing day experiencing the multitude of great riches this country has to offer.
Dial in a Rainbow
In the Afternoon we head on our way to Kudlestaart.. We met up with the Zwaantje as the sun was setting, Our guide, Felix, had mentioned that this area would be exceptionally beautiful. He dialed it in! At first, there was a little rain but then the sky lit up in these beautifully rich warm colors of red,orange and yellow tones as we looked to the west. Then if this wasn't already a perfect scene, low and behold a rainbow appears to the east. It was simply beautiful and the perfect way to end another great day.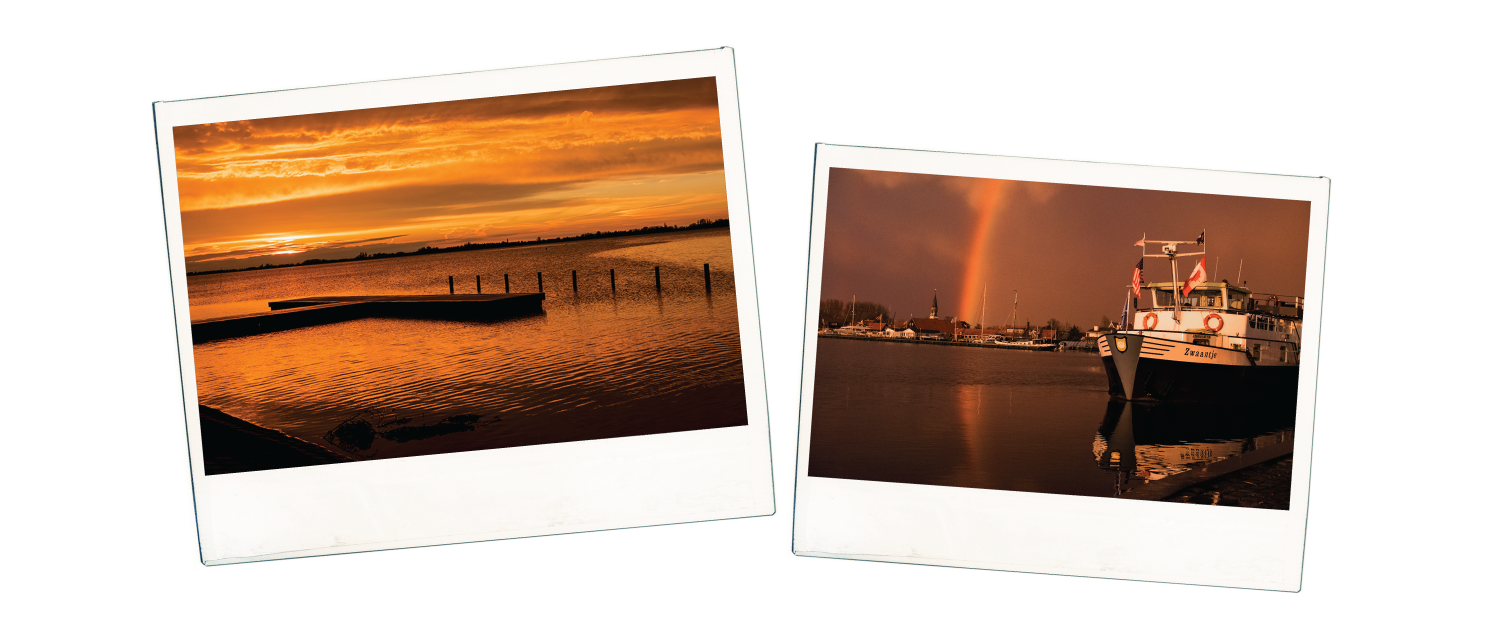 A Stroll into town for Stroopwafels!!!!!
No cycling this morning so we took a stroll into the town of Alphen. Among the many shops in town, we found ourselves at an authentic Stroopwafel workshop bakery. The incredible sweet aroma lured us in. What an absolutely decadent treat. It's a waffle made from two thin layers of baked dough with a caramel-like syrup filling in the middle. It is popular here in the Netherlands and they originated in Gouda. Here you can see the syrup making its way between both layers and then pressed together. Did I say decadent and amazing treat?!!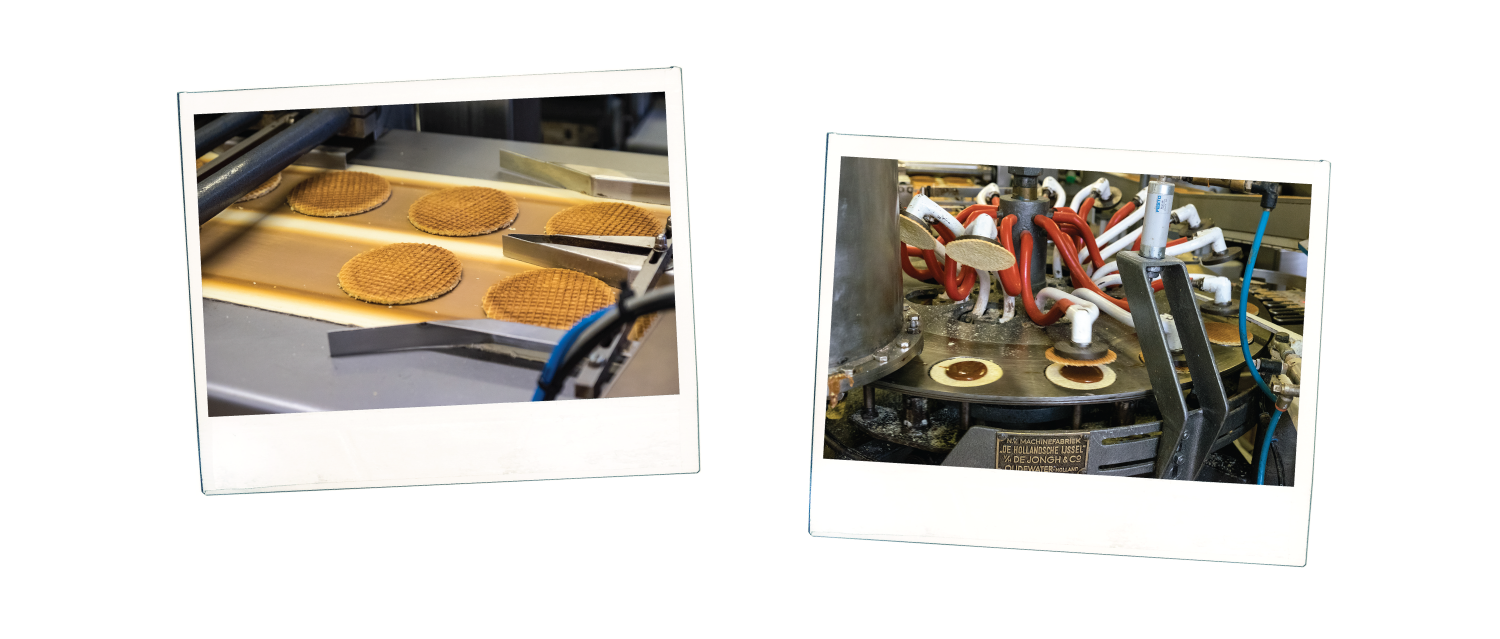 The Flower Auction in Aalsmeer
We started our day with an early ride to visit the flower auction of Aalsmeer - the largest in Europe. It was absolutely amazing! This facility seemed to go on and on for miles. Seriously! There was so much activity with so much movement throughout this massive room you didn't always know which way to look first. I enjoyed seeing these beautiful bouquets of flowers and wondered who might be the lucky recipient!


Zaans Schanns Hamlet
Next up, we roll into Zaanse Schans and the view upon arrival was lovely. This is a very picturesque little village with wooden facades, a beautiful church, and town hall. It's a very quaint town although a bit touristy but beautiful just the same. Among a few of the activities, we saw how clogs were made. What a great demonstration. These guys have the technique down! Also famous in this area are the incredible Windmills. I couldn't resist this iconic view of three of them at the water's edge.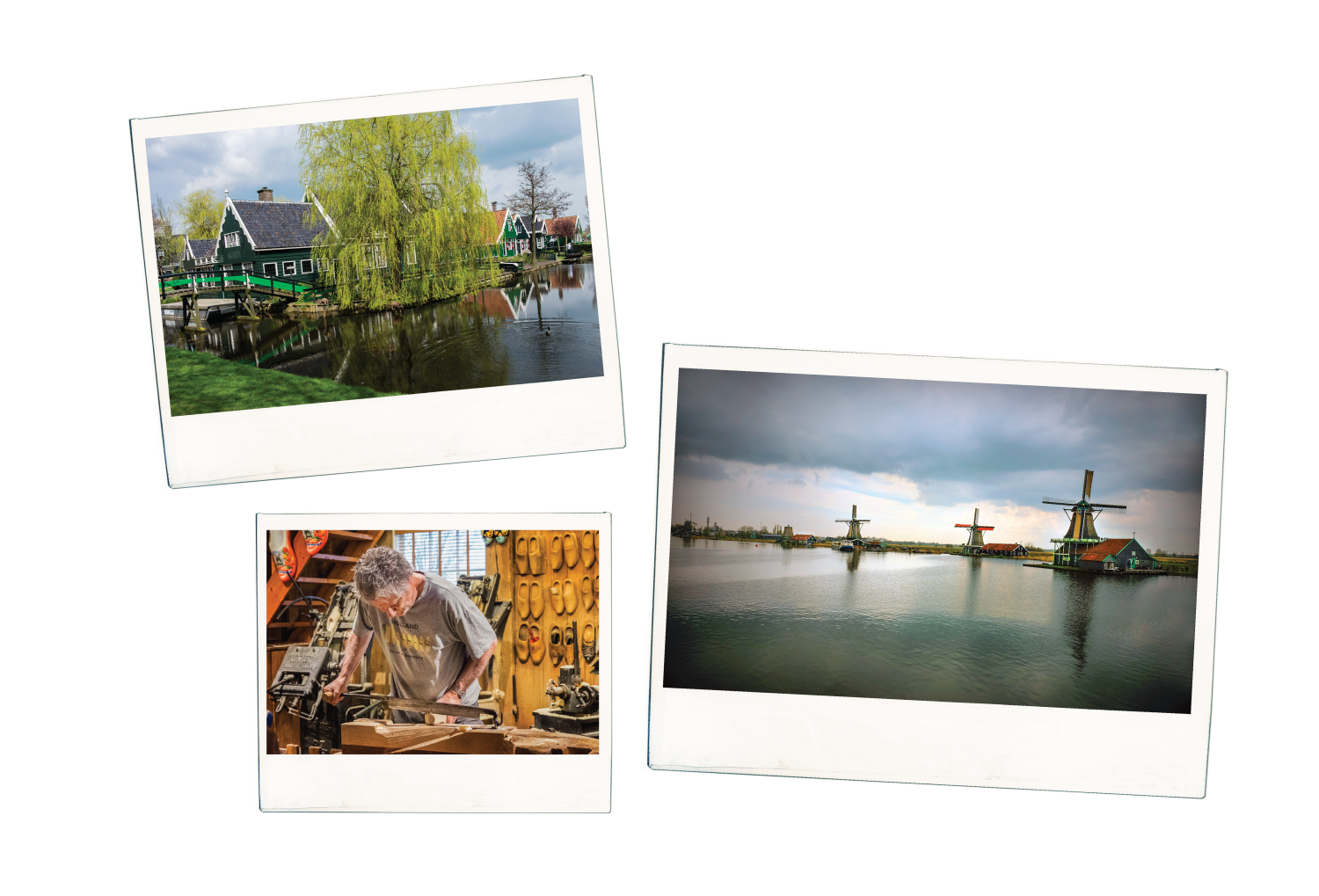 Beemster Polders
During much of our ride, these were the scenes that we had around us. Beemster Polders are alive with sheep and many varieties of waterfowl. It is so beautiful here. What's a Beemster Polder you ask? The simple response is: Once water, now land! In all honesty, it's a pretty amazing masterpiece of creative planning that started nearly 400 hundred years ago. It's an example of how man reclaimed land in an area that used to be an inland sea. It's rural beauty is captivating. I felt a real sense of peace as we rode through it.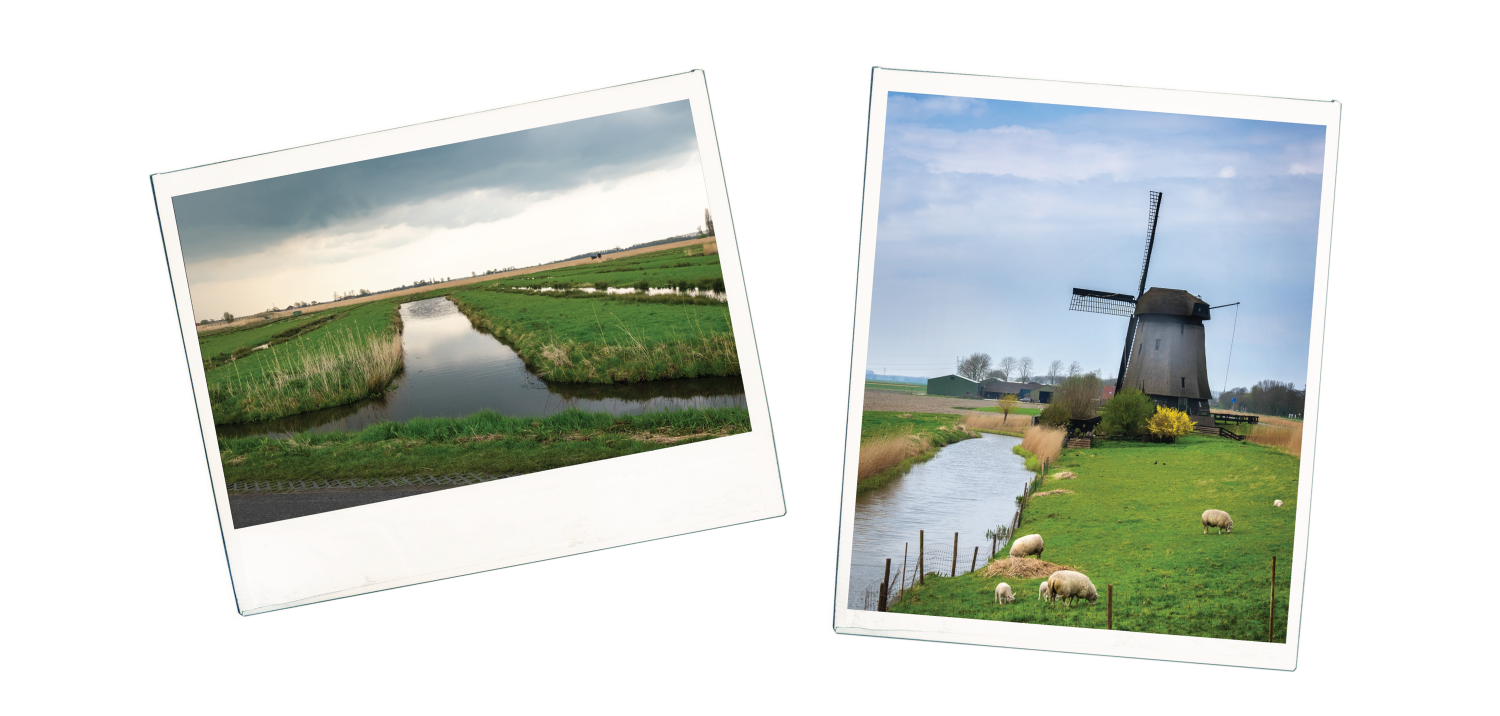 Alkmaar and Hortus Bulborum
I can't believe its the last day of riding!!!! It is a rainy one but a great day nonetheless. So happy to be out there forging forward with our fellow riders. First, stopping in Alkmaar to experience the centuries-old cheese market with a reenactment of how operations of cheese trading began. This was really interesting. The crowd is really loving it! Later in the ride we enjoyed Hortus Bulborum, a unique garden museum dedicated to the preservation of rare and historic bulbs. This collection boasts tulips dating from 1595 back to the time of the Golden Age. Wow! This amazing field of flowers was even more beautiful with soft water droplets enhancing these lovely and rare varieties. It is a photographer and nature enthusiasts paradise.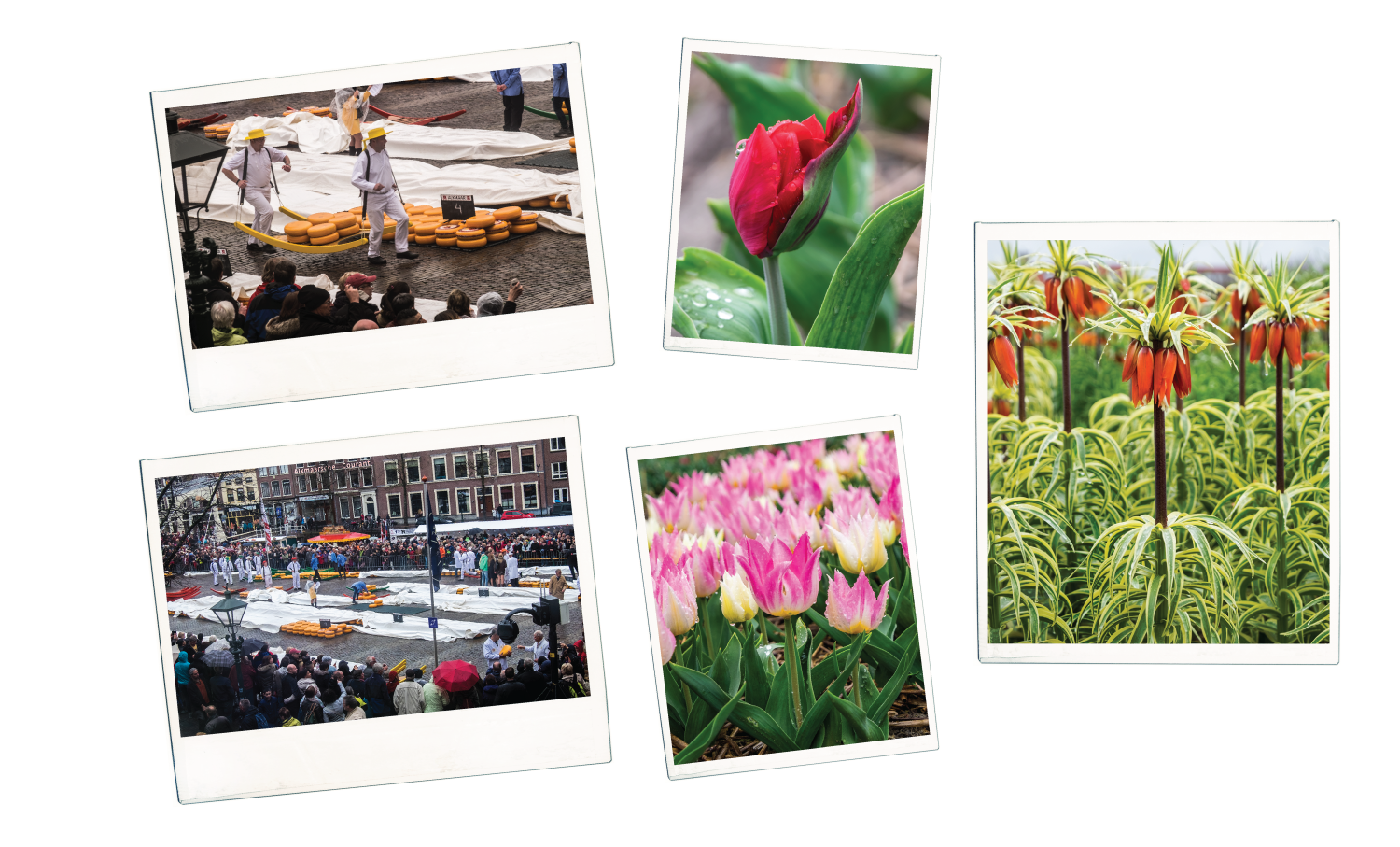 The finale back in Amsterdam!
Our last night was a perfect blend of relaxing with a fine and wonderful dinner, reflecting on the trip, expressing our gratitude for all we experienced and then later taking a stroll to the Amsterdam library (Openbare Bibliotheek Amsterdam). The library is perfectly adjacent to where the Zwaantje was docked for the night. This wasn't officially on our schedule but our guide Felix was just fantastic when it came to sharing what his country has to offer. This evening was no exception. The library was conceived by Jo Coenen, the former state architect of the Netherlands, and is spread over seven floors in a cutting-edge ecological design. Showcased within this space was "Future World". It was one among many incredible displays on view within the facility. Here are a few images of the space, the art and our easy going and wonderful guide, Felix.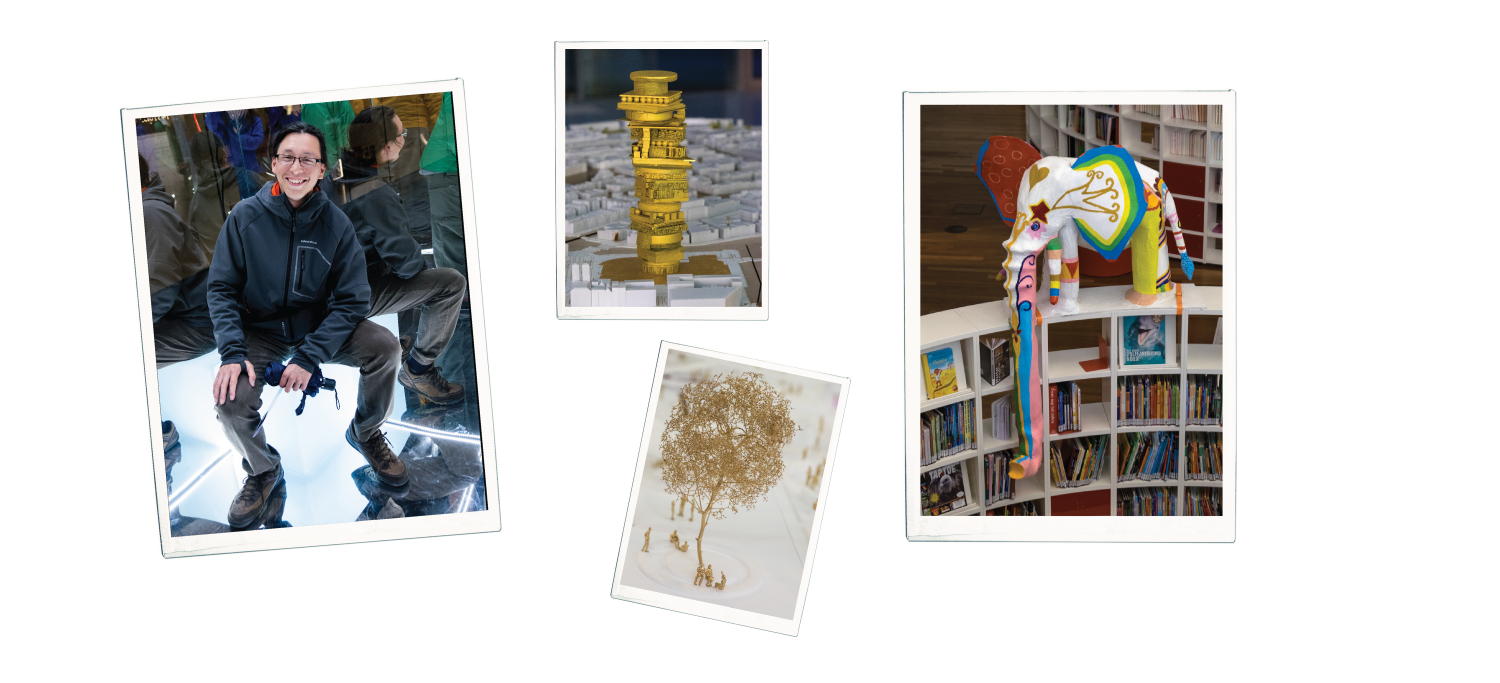 Thanks for an amazing trip!
The trip comes to a close but I'd like to acknowledge Tripsite.com for being such a great resource. What an exceptional organization! They have a great partnership with the wonderful Zwaantje owned by Marjorie Kersten and Martijn van Tatenhove. They are amazingly knowledgeable and wonderful hosts. The Zwaantje has been such a great boat to call our home away from home for the week! We enjoyed their hospitality so much we will be seeing them again in September 2017. We just can't wait! Thanks also to their cheerful and very kind staff who helped make our time extremely comfortable. We were so well fed and the food was fantastic! Last but not least, thanks go out to our guide Felix Tan. He was so awesome! I can't say enough good things about him. He covered so much detail and helped to create a very relaxed and comfortable atmosphere on the whole trip. My thanks go out to all of you!!!!!
Gallery
(Click to enlarge)

If you liked Wendy's story, feel free to explore all of our
bike and barge tours in Holland
.
| | |
| --- | --- |
| | Wendy Savage is a recently retired medical photographer and visual arts specialist living in Raleigh, North Carolina. She enjoys spending her time with family and friends, cycling, playing the harp, photography and of course....traveling and exploring the unique cultures of the people and places she visits. |
---
Comments
Post Comment