4

/

5

(

3

reviews)
Sicily and the Aeolian Archipelago
Italy Bike + Barge Tours
Bike and Boat in Sicily!
Let yourself be enchanted by this spectacular bike and boat tour in Sicily in the heart of the Mediterranean sea. Comprised of a number of satellite islands and archipelagos, Sicily, though part of Italy, seems a world apart. Conquered and influenced by one invader after another, it has emerged with a unique and distinct blended culture.

On this adventure, on board a traditional Turkish Caïque, by bike and boat, you will explore the extraordinary Aeolian Islands, a volcanic archipelago, comprised of the "seven sisters"; seven inhabited islands that are now part of the Unesco World Heritage List.

The volcanic origins have left a dramatic legacy of black-sand beaches, smoldering craters, and splintered, rocky coastlines with breathtaking views. The myths and legends live on. It was here that Dionysus discovered the vine and Hephaestus forged thunderbolts from Etna's molten lava. Aeolus, the God of the Winds, lived here, and Ulysses battled the monstrous Polyphemus and his companions, the followers of Vulcano, God of the Fire!

Highlights include but not limited to:

Creeks of Vulcano
Cave of the Cavallo
Pool of Venere
Valle Muria beach and Stacks Menalda (only reachable by boat)
Sciara del Fuoco
Panarea's rocky ridges

This is not a passive exploration by any means, but a truly active journey, combining boating and cycling tours deep into the wonders of the Aeolian Islands.

Looking for a different flavor? Check out our full list of bike and boat tours in Italy here.

2020

Double bed cabin: $ 2638 £ 1319 $ 2,278 € 1465 $ 2713 kr 16334 $ 1,614

Single cabin: $ 3871 £ 1936 $ 3,342 € 2150 $ 3982 kr 23971 $ 2,368

extra

options

Electric bike rental: $ 162 £ 81 $ 140 € 90 $ 167 kr 1003 $ 99

Dietary requirements surcharge:  $ 90 £ 45 $ 78 € 50 $ 93 kr 557 $ 55

Helmet rental: $ 27 £ 14 $ 23 € 15 $ 28 kr 167 $ 17

please

note

Rates are per person based on double occupancy.

A non-refundable admin fee of 20 Euros per person is included in the deposit amount.

Information to read before you book.

We recommend purchasing bike trip insurance.

† Currency exchange rate set 90 days before travel.

Travel

Fly to Catania Airport

Local Travel

Collective transfer at 3:30 pm to Milazzo Harbor at Catania airport. Plan your airfare accordingly and due note that transfers are only available on embarkation and disembarkation days.

Climate

Please check local conditions before your arrival! A good website to research weather in the area of travel is weatherbase.com. Here you can view average daily high/low temperatures, average rainfall during your time of travel, and more!

Recommended

We strongly recommend bringing a headlight with you for the Stromboli volcano day trip. If you don't have one, you can rent it on site for €2.

Remarks

During the tour, the boat will be docked in the port for 6 nights. The remaining night the ship will stay anchored in roadstead. Roadstead is a place outside the harbor where the ship can lie at anchor. It is an enclosed area with an opening to the sea. Natural roadsteads offer shelter from storms, winds, and currents, and are frequently used for naval bases. Sometimes, in exceptional cases (unfavorable meteorological and/or sea conditions), for safety reasons, the ship must return in the port during the night that it is scheduled in roadstead. Only and exclusively, in this case, the clients will be asked to pay the relative price for the stay in the port. This amount, variable from port to port, will be divided among all the participants of the tour and will be paid directly on site (approximately from €20 to 50 per person per night, subject to changes.

Documents

Before you travel, please check your country's passport and visa requirements and the passport and visa requirements of the country/countries you plan to visit. For US citizens, the US Department of State website is a good source of information. The Country Information tab in the International Travel section provides details about passport validity, blank passport pages required, etc. For our other international clients, please be sure that you research your own country's travel requirements. It is each traveler's responsibility to ensure proper documentation.

*Important note: Beginning July 1, 2021, additional documentation from the European Travel Information and Authorization System (ETIAS) will be required to visit any of the 26 Schengen-member countries for tourism, business, medical, or transit. This is an additional check on security rather than a visa.

---
Skill
Level
Easy to moderate (on an electric bike) guided bike and boat tour with average daily distances between 15 and 35 km. Change in elevation between 0 and 600 m per day.
Please note: This tour is rated "Easy-Moderate" with an electric bike option and "Moderate-Difficult" (depending on conditioning) for regular bike option.
Where
You'll Stay
Aboard the Turkish Caïque, the Sundial. Turkish caiques are constructed of solid wood and differ from the "gulet" because the foremast is higher than the stern.Though this is traditionally a sailing vessel, the sails will not be relied upon for wind power but the motor will always be utilized.
What's
Included
Arrival day group transfer from Catania Airport to the boat at 3:30 pm (Day 1), embarkation at 6 pm
Departure day group transfer from boat to Catania Airport at 9 am, arriving at the airport around 12 pm (Day 8)
Accommodations for 7 nights (6 nights in port and one night in roadstead)
Breakfasts, packed or onboard lunches, 5 dinners
24-speed bike rental equipped with handbrakes, lock, large rear pannier bag, handlebar bag or map holder, repair kit, and water bottle
Tour guide
Sheets and towels (1 change per week)
Port Fees
What's
Not Included
1 dinner in Salina and 1 dinner in Milazzo
Beverages
Entrance fees
Gratuities
Tour
Dates
2020
Saturdays: May 16, May 23, May 30, June 6, June 13, August 29, September 5, September 12, September 19, and September 26, 2020
Tour
Boats
Day-To-Day
Itinerary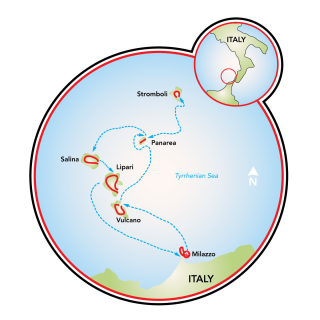 Day 1: Arrival
Day 2: Milazzo, 9 mi. (14 km) +/- 100 m
Day 3: Vulcano, 12 mi. (20 km) +/- 400 m
Day 4: Panarea and Stromboli, 3 h 30 min. walking, +/- 400 m
Day 5: Stromboli – Panarea (2 h 30 min. walking, flat) – Salina 
Day 6: Salina, 12 mi. (20 km cycling), +/-300 m – Lipari 
Day 7: Lipari, 16 mi. (25 km) +/- 600 m
Day 8: Departure
The captain and the guide reserve the right to make alterations to the itinerary, depending on wind, sea and weather conditions or organizational requirements. 
Day 1: Arrival
Individual arrival at Catania Airport from which there is a collective transfer at 3:30 pm to Milazzo Harbor at Catania airport. Plan your airfare accordingly and please note that transfers are only available on embarkation and disembarkation days. Embarkation will be on the Sundial at 6:00 pm at the Marina di Nettuno in Milazzo (Me). After settling in, you will enjoy a complimentary drink. Dinner will follow and presentation of the program. Night in the port of Milazzo. 
Day 2: Milazzo, 9 mi. (14 km).  +/- 100 m
Departure by bike to reach Capo Milazzo (Milazzo Cape). Possibility of bathing in the wonderful "Venus Pool", a protected natural sea pool at the very end of the cape. Return to Milazzo and possibility of visiting the Castle and its ancient bourg. Return to the Marina of Milazzo, dinner and night in port. 
Day 3: Vulcano, 12 mi. (20 km). +/- 400 m
Breakfast and navigation towards the island of Vulcano, the "Sulphur Island". Today you will discover by bike the hinterland of the island towards Piano Grillo, ideal place to admire an amazing panorama. The afternoon provides plenty of free time. We suggest one of the following activities to discover the volcanic activity of the island: you can walk up to the crater of the volcano (400 m.), you can have a mud bath in the sulfur beach of the island, or you can swing among underwater fumaroles. Dinner on board and overnight in port in Vulcano. 
Day 4: Panarea and Stromboli, 3 h 30 min. walking. +/- 400 m
After breakfast, the ship navigates towards Panarea and will stop for a swim close to the little islands of Lisca Bianca, Bottara, and Dattilo. The volcanic activity is still clearly visible and vapors rise up through the cracks between the rocks. Once you've arrived in Panarea, the smallest of the Aeolian Islands, you stop for a lunch break at anchor in a nice bay. Navigation towards Stromboli with a superb view on the Sciara del Fuoco. In the late afternoon, take a walking tour (about 400 m) above sea level to admire the volcanic explosions at dusk. Dinner tonight is a picnic that offers nice panoramic views. Return on board, overnight in roadstead in Stromboli. 
Day 5: Stromboli – Panarea (2 h 30 min. walking, flat) – Salina 
After breakfast on board, you will have free time in the morning to visit the little village of Panarea, the Drautto beach, and the prehistoric village. Lunch will be enjoyed on board as the boat navigates up to the Island of Salina. Disembark in Salina and visit a local wine shop where you'll have the opportunity to taste several products. Dinner tonight is on your own. Overnight will be in the port of Salina.
Day 6: Salina, 12 mi. (20 km cycling), +/-300 m. – Lipari 
Depart from the port of Salina and cycle on the biggest island of the Aeolian Archipelago. From Santa Marina on the East Coast, you will reach Pollara, a panoramic point on the western coast. Also on the agenda is a visit to the lake of Lingua and Pollara, with the possibility to taste the very good "granita" of Alfredo. Return on board and the boat navigates to Lipari. Overnight in the port of Lipari. 
Day 7: Lipari, 16 mi. (25 km) +/- 600 m
After breakfast, you begin a fantastic coast to coast by bike. Starting in the village of Lipari, you pass along the beautiful village and beach of Canneto. Reach the pumice quarries and the nice beach of Acquacalda (a swim is possible). After a picnic lunch at the panoramic point of Quattrocchi, return back to the historical center with many shops and restaurants to visit. After your return on board the boat takes you to Milazzo. Dinner is on your own this evening.
Day 8: Departure
Disembark at 9 am, after which there is a collective transfer to Catania airport. Arrival at the airport at approximately 12 pm.
You can view all of our bike and boat tours in Europe or look at our featured bike trips, specials, and news.
Email or Call 800-951-4384 +1 570-965-2064
---
Sicily and the Aeolian Archipelago
Boats + Barges
Sundial Italy Standard Class Boat The Sundial is a comfort class Turkish Caique, constructed of pine and mahogany in the Vedat Sungul Shipyard in Bodrum, Turkey, using the ancient art of Turkish shipbuilding still in use. The boat has a spacious dinette, large solarium with comfortable beach mattresses, and on the stern deck, a wide and elegant lounge. Catering on board is an excellent combination of fresh seafood and vegetables, pasta and meat, seasoned with Mediterranean herbs.