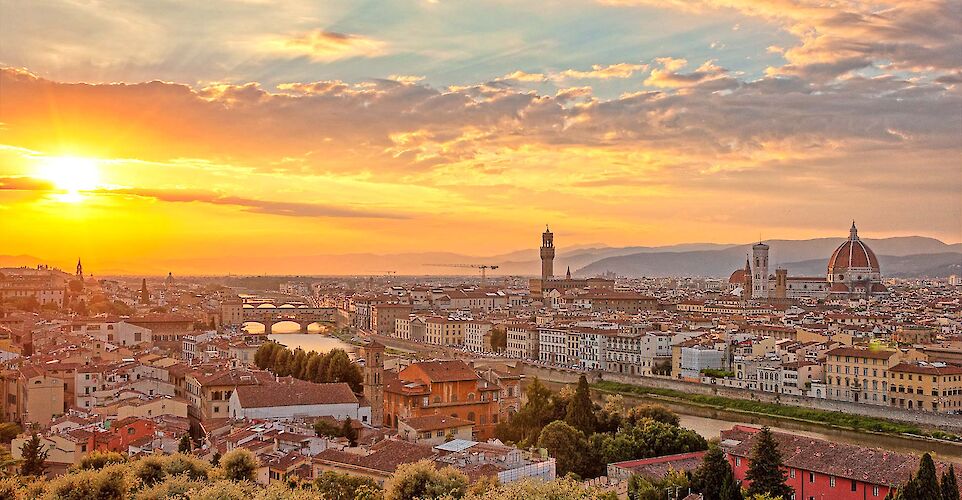 Best of Tuscany Bike Tour
Bike across Tuscany from Lucca to Florence!
Overview

Tuscany is what postcards are made of! Rolling green hills dotted with hill-top towns like San Gimignano contrasted with the medieval architecture of cities like Florence, Siena and Pisa, set the scene for this guided bike tour. Visit the best spots in Tuscany as you cycle across this breathtaking region, from the medieval town of Lucca in the north to the Tuscan capital of Florence in the south.

If the countryside doesn't charm, then the quaint villages, stately castles, and gourmet food and wine will. Local and seasonal cucina contadina (farmer's kitchens) paired with Tuscany's world-class Chianti and Vernaccia wines, will entice your tastebuds.

The Tuscany art scene is also alive and well. Famous painters, sculptors, and architects, from da Vinci to Giovanni, blossomed during the medieval and Renaissance periods. Admire their works, visible in the many churches, galleries, and museums dotted across the countryside, alongside the local artists painting and sculpting in the piazzas for a modern-day display.

Highlights

Walled city of Lucca
The challenge of the Tuscan hills
Leaning Tower of Pisa
Chianti wine region
Medieval towers of San Gimignano
Scenic Vinci, the birthplace of Leonardo da Vinci
Siena, the city of the Gothic
Renaissance art of Florence
Art, cuisine, wine and culture

Want to see more bicycle tours in Italy?

Itinerary

Day 1: Arrival in Lucca, 2.5 mi. or more (4 km or more)
Day 2: Lucca - Pisa, 41 mi. (65 km)
Day 3: Pisa - Vinci, 38 mi. (60 km)
Day 4: Vinci - Colle de Val d'Elsa, 45 mi. (72 km)
Day 5: Tuscany - San Gimignano, 22.5 mi. (36 km)
Day 6: San Gimignano - Siena, 30 mi. (48 km)
Day 7: Siena and Florence (rest day) 
Day 8: Florence 

All distances are approximate. Due to circumstances beyond control, weather conditions or provisions issued by local authorities, the itinerary may be subject to some changes before and/or during your holiday. For example, along the way you may find temporary deviations/detours caused by roadwork, In this case, please follow the directions posted on site.

Day 1: Arrival in Lucca, 2.5 mi. or more (4 km or more)
A short train or bus ride from Florence or Pisa airports will land you in the Renaissance town of Lucca. You will be met by your guide between 2 and 4pm. After a bike fitting, you can take a test ride around the town's fortified walls. If you have time to spare, explore the historical city center and cobblestone streets, and visit the amphitheater (built by the Romans for spectacles and gladiator games), the unique Torre Guinigi (with a tree growing on top of the medieval tower), and the marble-faced Gothic Duomo. Tonight you will enjoy a welcome dinner at a local Italian trattoria with the rest of the group. Overnight in Lucca.

Meals: Two-course dinner (dessert, two glasses of wine, and tea/coffee)
Accommodation: Hotel La Luna or similar

Day 2: Lucca - Pisa - Lucca, 41 mi. (65 km/300 m elevation gain)
A roundtrip ride to Pisa following the nearby river will land you in the center of this fascinating city. Your day will not be complete without a visit to the medieval "Square of Miracles",  built to represent the main stages of human life. The Romanesque Baptistery, the Cathedral, the "'civic" bell tower (which began to lean and now is the most famous building in Pisa), and, at life's end, the Monumental Cemetery. Shop as you walk through markets, admire sculptures, paintings, and art, or indulge in some refreshing gelato, as you explore the rest of Pisa. Take a relaxing ride back to Lucca. Overnight in Pisa.

Meals: Breakfast
Accommodation: Hotel Luna or similar
Elevation gain: +330 m

Day 3: Lucca - Vinci, 38 mi. (60 km)
Today you will leave Lucca for the small village of Vinci, birthplace and home to the world-famous genius Leonardo da Vinci. A highlight here is a visit to the small town centre, including the town's museum with full-scale models of Leonardo's inventions (many of which were never built in his lifetime). Not only a painter, Da Vinci was also an engineer, modeling flying machines, bicycles, and even weaponry, which show how ahead of his time he was. Tonight you will sleep in a Tuscan farmhouse or "agriturismo" in Italy, set on the Montalbano hills in the Chianti wine region. You will get a taste of the rural farming life and how the olive oil and wines of the region are produced. Overnight in Vinci.

Meals: Breakfast
Accommodation: Agriturismo il Piastrino or similar
Elevation gain: +500 m

Day 4: Vinci - Colle di Val d'Elsa, 45 mi. (72 km)
Today cycle from the province of Florence and enter its historic rival's territory: Siena. On the way, you will pass through the charming ceramics town of Montelupo Fiorentino. Quintessential Tuscany will charm as you ride through rolling terraces carpeted with vineyards, olive trees, and green cypress trees. A climb takes you to a ridge road which you will follow to the medieval Tuscan hill-top town of Colle de Val d'Elsa. Behind its walls, cobble-stoned streets lined with museums - including the Crystal Museum - gelateria and ancient buildings are waiting to be explored. Overnight in Colle di Val d'Elsa.

Meals: Breakfast
Accommodation: Palazzo Renieri or similar
Elevation gain: +1030 m

Day 5: Ride to San Gimignano, 22.5 mi. (36 km)
Today you'll ride to the nearby 'Town of towers' - San Gimignano. Centered around Piazza della Cisterna, with a skyline of medieval towers, this it one of the loveliest hill-top towns in Italy. Climb the Torre Grossa (the tallest tower of 54 meters) for spectacular views over the countryside, browse the shop-lined streets or taste its signature white wine, Vernaccia. Dine at one of the favorite osterie, or local restaurants, before you return to your own medieval town of Colle di Val d'Elsa. Overnight in Colle di Val d'Elsa.

Meals: Breakfast
Accommodation: Palazzo Renieri or similar
Elevation gain: +580 m

Day 6: San Gimignano - Siena, 30 mi. (48 km)
Today pedal south to reach Siena, considered by many to be the most striking Tuscan city in Italy (even more so than the Renaissance capital, Florence). After cycling through classic Tuscan scenery and plenty of rolling hills, settle into your hotel and then enjoy some of the famous sights – like the Romanesque-Gothic Cathedral and the unique shell-shaped Piazza del Campo, which twice a year becomes a tightly-packed horse race field for the annual "Palio". You'll want to explore the countless alleys and tight streets that bring surprises at every turn. If you prefer to take a break from the bike today, transfer by public bus directly to Siena. Overnight in Siena.

Meals: Breakfast
Accommodation: Hotel Italia or similar
Elevation gain: +843 m

Day 7: Siena and Florence (rest day) 
Spend a few hours exploring the historical contrada (districts) and piazzas of Siena. Streets lined with artisanal boutiques, Gothic architecture and alfresco restaurants will keep you captivated, before your public bus ride, with the option of an organized private transfer, to the Tuscan capital of Florence. An informal walking tour in the city center will take you through iconic landmark sights, such as the Piazza Santa Croce, the Palazzo della Signoria, and the stately and magnificent Duomo. The rest of the afternoon can be spent exploring the nearby art galleries and world-famous museums. Enjoy a group farewell dinner. Overnight in Florence.

Meals: Breakfast & dinner
Accommodation: Villa Vasari or similar

Day 8: Florence
Today marks the end of your tour. After breakfast, take your connection to the airport or continue your stay in Tuscany, with a few extra nights in Florence. This provides the perfect base to explore Italy further.

You can view all of our bike tours in Europe or look at our featured bike trips, specials, and news.

 

Accommodation

You will be accommodated in charming 3- and 4-star hotels during your tour. For a treat, you will stay in a family-run Tuscan farmhouse 'Agriturismo' for a night. Located in the Chianti wine region of Italy, on the Montalbano Hills, you will experience the slower rural life of Italy, as well as their "slow-food". With surrounding slopes of vineyards and silver olive groves, it goes without saying you will get to taste their extra virgin olive oil and famous red Chianti DOCG wine. Their white wine and the local vin santo (a sweet wine enjoyed with dessert), together with local dishes prepared on the farm, will be a highlight.
Please see each day's detailed itinerary for the preferred accommodation that is used. Of course in the event of a lack of availability, a comparable alternative will be offered.

Inclusions

What's Included

7 nights hotel accommodation
Breakfast
One welcome dinner with local wine
Luggage transfers
10-speed hybrid touring bike (Shimano with straight handlebars) with pump, rear rack bag, lock and under-seat repair pack
Bilingual English-Italian cycling guide
Support vehicle and driver on most days
Transportation from Florence to Siena by public bus
Informal walking tour of Florence
GPS tracks on request

What's Not Included

Transport to and from start/end
Private transfer from Siena to Florence on Day 7
Meals not mentioned
Helmets
Clipless / SPD pedals
GPS device
Gratuities
Bike protection

Dates & Pricing

Dates

Daily departures from March 1 through October 31, 2023

Guided departure: Sep 30, 2023

* If you are interested in joining an existing group departure date, please contact us for details

Please Note

Rates are per person, based on double occupancy
Tour prices are based on the fuel costs at time prices are set, often months or years in advance. In rare cases, additional fees may apply for fuel cost increases.

Pricing

Twin/double: $ 2972 £ 1564 $ 2,572 € 1765 kr 261236 ₪ 7281 ¥ 283348 Mex$ 35300 NZ$ 3197 NOK 20586 kr 20985 $ 1,903

High season surcharge (May, June, Sep, Oct 1-8): $ 168 £ 89 $ 146 € 100 kr 14801 ₪ 413 ¥ 16054 Mex$ 2000 NZ$ 181 NOK 1166 kr 1189 $ 108 per person

Single supplement: $ 328 £ 173 $ 284 € 195 kr 28862 ₪ 804 ¥ 31305 Mex$ 3900 NZ$ 353 NOK 2274 kr 2318 $ 210

* Pricing is based on a minimum of 6 people. Please request a quote for other group sizes.

Extra Options

Electric bike rental:  $ 152 £ 80 $ 131 € 90 kr 13321 ₪ 371 ¥ 14448 Mex$ 1800 NZ$ 163 NOK 1050 kr 1070 $ 97

Titanium hybrid/road bike upgrade: $ 51 £ 27 $ 44 € 30 kr 4440 ₪ 124 ¥ 4816 Mex$ 600 NZ$ 54 NOK 350 kr 357 $ 32

Tandem bike: $ 25 £ 13 $ 22 € 15 kr 2220 ₪ 62 ¥ 2408 Mex$ 300 NZ$ 27 NOK 175 kr 178 $ 16

Tag-a-long or kid trailer: No additional fee

GPS device rental (per day): $ 25 £ 13 $ 22 € 15 kr 2220 ₪ 62 ¥ 2408 Mex$ 300 NZ$ 27 NOK 175 kr 178 $ 16

Extra pannier (per day): €5

Extra Info

Skill Level — Moderate–Difficult

This is a great tour for active people (who regularly run, bike, or work out) without much bicycle touring experience. Also great for intermediate to advanced cyclists who want a fun vacation, enjoying some hills every day. You will ride 35-68 km per day, on rolling to hilly terrain, with a few steeper or longer climbs, using paved backroads with little traffic (on some shorter stretches we may share the road with cars), as well as on hard-packed gravel roads with very little traffic. Experienced cyclists who want longer, optional rides at the end of the programmed ride will have these available most days. There are two days with optional loop rides, for those who prefer to stay in town to explore or relax during the day. BUT do not be discouraged. If the terrain is just a bit too daunting, ask for an electric bike.

Vehicle support is provided on most cycling days. With a group of 8 or more participants, vehicle support is provided everyday (no additional cost).

Airport Info

You have three options for your arrival/departure depending on your own personal travel plans.


Option A: Flying into Pisa International Airport Galileo Galilei (PSA)
Option B: Flying into Florence Airport (FLR)
Option C: Flying into Rome International Leonardo da Vinci Airport (FCO)

Local Travel

Arrival in Pisa:
Lucca is an approximately 1-hour train ride (including transfer time) from Pisa. From Pisa Airport take the tram or PisaMover Bus to Pisa Centrale railway station. Trains to Lucca depart hourly and tickets can be purchased at the station or online at www.trenitalia.com (one-way tickets start from €3.60).
Arrival to Florence:
From the airport by shuttle bus to Florence's main train station, Firenze S. Maria Novella. Tickets may be purchased on board (one-way ticket: €6; round trip ticket: €10). Taxi from bus station to hotel (costs about €10 plus €1 per piece of luggage).
Arrival to Rome:
The train (Leonardo Express) takes you to Stazione Termini, Rome central station (€14/32 minutes). There are direct trains from Stazione Termini to Florence. The ride takes 1.5 - 2.0 hours depending on the type of train. Taxi to first hotel.

Climate

The climate in Tuscany is generally mild with differences depending on the geography of each area. The coast and valleys tend to have hotter summers than the hills or mountains although the coast benefits from breezes off the sea for cooler temperatures even in those warmer months. Please check local conditions before your arrival. A good website to explore weather-related facts including average high/low temperatures and average rainfall is weatherbase.com.

Day of Rest

Day 7 is a rest day. You have the option of joining an informal walking tour or exploring on your own.

Remarks

Bikes either come with flat pedals with cage (but no straps) or with cage and straps. You can choose the type you prefer during the bike fitting. If you prefer clipless pedals, you will have to bring your own with you. These will be mounted on the bike during the bike fitting.

Important to know

DOCUMENTS

Before you travel, please check your country's passport and visa requirements and the passport and visa requirements of the country/countries you plan to visit. For US citizens, the US Department of State website is a good source of information. The Country Information tab in the International Travel section provides details about passport validity, blank passport pages required, etc. For our other international clients, please be sure that you research your own country's travel requirements. It is each traveler's responsibility to ensure proper documentation.

*Important note: Beginning July 1, 2021, additional documentation from the European Travel Information and Authorization System (ETIAS) will be required to visit any of the 26 Schengen-member countries for tourism, business, medical, or transit. This is an additional check on security rather than a visa.

Covid-19 Info

Country Entry Requirements

Due to the changing requirements for entry, it is imperative that you stay up to date on requirements set by the country/countries that you are visiting. Please visit our Travel Restrictions Tool page and the country/countries government webpage for this information.

---

Photos
Have you been on this tour?
Please leave your feedback