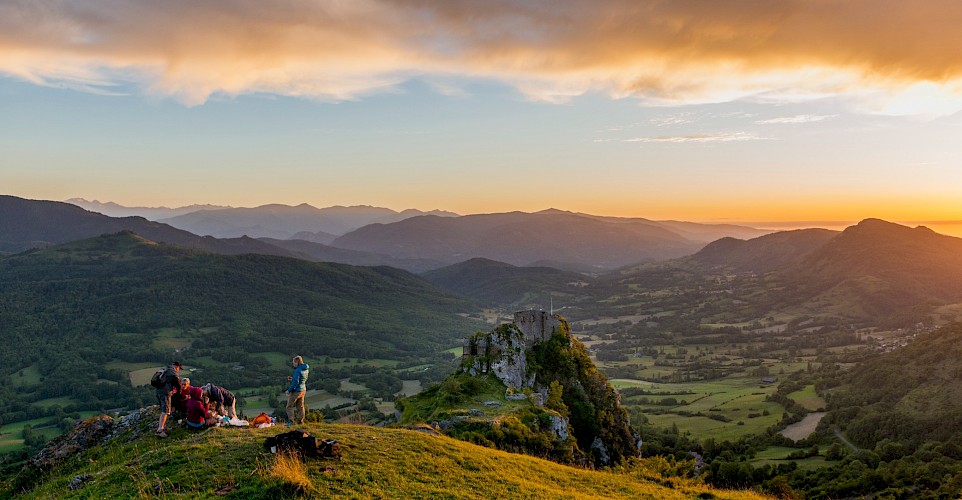 E-Bike & Hike in the Ariège Pyrenees
Stunning scenery & idyllic French villages; the ideal place for an active tour!
Overview

This multi-activity tour in Léran, a stone's throw from Lake Montbel, is perfect for any traveler looking for tranquility amidst a stunning natural backdrop.

Based in one unique accommodation, you can partake in a number of cycling or hiking itineraries showcasing the picturesque Ariège region. This place is one of the most unspoiled regions of France, where ancient tradition is still closely guarded and the countryside is wild but accessible.

While Tour de France riders challenge themselves in these mountains, your electric bike will make quick work of the ascents.

Highlights

Ariège Pyrenees
Chalabre Castle
Beautiful village of Camon
Coteaux d'Engraviès Wine Estate
Montségur Castle
Mirepoix, a medieval city
Lake Montbel
Lagarde Castle
Amazing local cuisine

Itinerary

We have arranged 6 biking itineraries of varying lengths for you to choose from.  All cycling itineraries start and end at the hotel. 

This region also has great hiking options, however, most itineraries require car transportation. For those travelers who do not rent a car, the hotel can provide a vehicle for your use. The cost can be found in the pricing section. If you're interested in renting a car, don't hesitate to ask for recommendations!

BIKING

Chalabre & Camon: Villages and Castles 

This ride takes you along the old railway line connecting Lavelanet to Mirepoix commonly called "Voie Verte" or the Greenway. You will travel between Aude and Ariège with a first stop in the lovely village of Chalabre. Not to be missed here is the Chalabre Castle, dating back to the 13th century! You cycle the Voie Verte again and cross Chalabre's bridge to find the fortified village of Camon. Camon is praised as one of the most beautiful towns in France and for good reason. Here you will find a 16th-century abbey that is well worth a visit (advanced reservation required). You will eventually return to your accommodation with the Pyrenees as a backdrop.

Difficulty level: Moderate
Duration: 3 hours 5 minutes
Elevation: 918 ft/280m
Distance: 23 mi/37 km

Chalabre & Camon: Villages and Castles (longer version)

This ride starts exactly the same as the short version, taking you to Chalabre and through Camon. From Camon, you will head to Lagarde. This idyllic little village is a perfect glimpse of traditional country life in France. Lagarde Castle, an ancient fortified castle overlooking the town, sits in majestic ruin. Before returning to your accommodation, you'll make a stop at Sibra Castle.

Difficulty level: Moderate
Duration: 4 hours
Elevation: 1312 ft/400m
Distance: 29 mi/47 km

Provincial Landscapes and Wine Estates 

This rural bike ride in the heart of Ariège is the ideal journey to escape the hustle and bustle and admire unspoiled nature. You will cycle through simple villages like Laroque-d'Olmes and Sautel before reaching Lieurac. Lieurac is famous for its Extraordinary Garden (open mid-July through August). This is an atypical place offering botanical strolls showcasing land art and nature. You'll continue on the bike to reach Coteaux d'Engraviès Wine Estate, a highlight of the day! This small organic vineyard won the gold medal in 2020 at the largest organic wine fair in the world "Challenge Millésime Bio". You'll return back to your hotel via quiet country roads with beautiful scenery. 

Difficulty level: Easy
Duration: 2 hours 50 minutes
Elevation: 1214 ft/370m
Distance: 27 mi/43 km

Provincial Landscapes and Wine Estates (longer version)

The long version of this itinerary takes you first to Carla-le-Roquefort. The village is quaint and scenic but the real treat is the waterfall located just outside of town. Roquefort-les-Cascades are thirty meters high and are produced from a very rare and very fragile phenomenon: a tuffière. A tuffière, or petrifying waterfall, is a geological curiosity that forms when carbonate minerals precipitate out of water. In summer, the water does not flow but the area is quite beautiful and well worth a trip! You also have the opportunity to visit La Distillerie du Sud, a small distillery where you can taste French gin, vodka, and whiskey all produced from locally grown fruits and herbs. 

As with the short version, you will visit the Extraordinary Garden in Lieurac (open mid-July through August) and the awesome vineyard Coteaux d'Engraviès, ending your day back at Nature Cathare.

Difficulty level: Moderate
Duration: 3 hours and 30 minutes
Elevation: 1673 ft/510m
Distance: 33 mi/53.5 km

This ride again follows the voie verte along the old railway line connecting Lavelanet to Mirepoix. This itinerary will take you to the city of Mirepoix. Mirepoix is an architectural gem of Ariège, it has preserved its medieval appearance with its narrow streets, colorful houses, and the small canal at the end of the city. The House of Consuls is a must-see, this superb half-timbered house is adorned with pieces of wood carved with strange faces typical of the era. If at all possible, try visiting Mirepoix on Monday where you'll find a lovely weekly market with local vendors.

You will continue to Lagarde to visit the stunning castle before returning to Nature Cathare. 

Difficulty level: Easy
Duration: 3 hours
Elevation: 1017 ft/310m
Distance: 26 mi/42 km

Mirepoix, Lagarde, including Sibra (longer version)

The difference in this itinerary is a stop at Sibra Castle at the end of the itinerary.

Difficulty level: Easy
Duration: 2 hours and 50 minutes
Elevation: 1148 ft/350m
Distance: 26 mi/42 km

HIKING

7 minutes from the hotel by car.

This walk goes through the villages of Montbel and Bayard. At the dam entrance, you have a magnificent view of the Tabe mountains. When Montbel lake was created, it flooded two ancient farms including Rey farm, now demolished, that forms a little island in the middle of the lake. Montbel lake covers 570 hectares. 

Difficulty level: Moderate
Duration: 4 hours
Maximum altitude: 1312 ft/400m
Elevation: 30 D+
Distance: 10 mi/16 km

30 minutes from the hotel by car.

This route will take you around the peaks of Roquefixade, first in Soulane where you can admire a large portion of the Ariège Pyrenean mountain range, then on the north slope, among fields and forests of beech or chestnut trees, facing the green and hilly Douctouyre valley.

Difficulty level: Easy
Duration: 2 hours
Maximum altitude: 3018 ft/920m
Elevation: 290 D+
Distance: 4 mi/6 km

50 minutes from the hotel by car.

This hike up the Mont Fourcat is a classic in the Ariège Pyrenees. It starts off in the forest, then rises up through the grasslands to reach its summer at over 2000 meters high. Throughout the climb, you can admire a panoramic view. The trail is also ideal for snowshoe hikers.

Difficulty level: Moderate
Duration: 4 hours 30 minutes
Maximum altitude: 6565 ft/2,001m
Elevation: 860 D+
Distance: 7 mi/11 km

1 hour and 20 minutes from the hotel by car.

Tarbésou is a magnificent point from which you can observe Mount Valier and St. Barthélémy to the West and the Canigou to the East. It is an unforgettable hike in Ariège which offers not only an outstanding view of the Pyrenees mountains but also a perfect spot for those who are fond of sunrises! Its advantages: this hike is easy to get to. It allows everyone to enjoy a beautiful ride into the wilderness. 

Difficulty level: Easy
Duration: 2 hours 50 minutes
Maximum altitude: 7743 ft/2,360m
Elevation: 400 D+
Distance: 7 mi/12 km

2 hours from the hotel by car. 

Located in the "upper part" of the commune of Aston, one of the largest in the Ariège, the lakes known as "les étangs de Fontargente" (silver mountains) are remarkable for more than one reason. They are nestled at the foot of the lowest mountain pass between France and Andorra (Port d'Inclès at an altitude of 2,262m) in a setting that is both lush and wild, with grassland bordering magnificent rock escarpments. 

Difficulty level: Moderate
Duration: 3 hours 35 minutes
Maximum altitude: 7086 ft/2,160m
Elevation: 463 D+
Distance: 5 mi/8 km

 

Map

Hotels & Bikes

Your accommodation is the incredible cottage Nature Cathare, a former factory built in the 1860s by Duke Lévis de Mirepoix. The current owners acquired the building in 2011 after it had been abandoned for nearly 40 years, in order to create a gîte or rural house. It took 9 years to restore this property to the glory you find today, respecting the old building and using only natural materials (lime, wood wool, cork, hemp, oak, etc).

Located in Pays d'Olmes, near Montbel Lake, Gite Nature Cathare offers a peaceful and welcoming place where you can mix rest, well-being, and sport. It features 5 bedrooms, a room for hikers or a small family with 6 beds, and a loft, with a personalized decorative atmosphere for each space. You can relax in the wellness area by the indoor pool, in addition to enjoying the sauna or the spa.

Bicycles

Inclusions

What's Included

Accommodations for 4 nights
Breakfast
3 days E-bike rental including helmet & pannier
Route details for cycling & hiking
Emergency breakdown service

What's Not Included

Individual arrival & departure
Use of the hotel vehicle (please see pricing)
Meals other than those mentioned
Bicycle protection

Dates & Pricing

Dates

This tour is possible any day from April until October.

Please note that a minimum stay of 4 nights is required. 

Please Note

Rates are per person, based on double occupancy
Tour prices are based on the fuel costs at time prices are set, often months or years in advance. In rare cases, additional fees may apply for fuel cost increases.

Pricing

2023

Twin/double

$

910

£

477

$

816

€

545

kr

83447

₪

2218

¥

86520

Mex$

10482

NZ$

974

NOK

6524

kr

6231

$

600

Single
On request

Extra Options

Transfer from Carcassonne or Toulouse and/or use of car during your stay $ 150 £ 79 $ 135 € 90 kr 13780 ₪ 366 ¥ 14288 Mex$ 1731 NZ$ 161 NOK 1077 kr 1029 $ 99

Discount for using standard bike $ 100 £ 52 $ 90 € 60 kr 9187 ₪ 244 ¥ 9525 Mex$ 1154 NZ$ 107 NOK 718 kr 686 $ 66

Extra night with breakfast $ 200 £ 105 $ 180 € 120 kr 18374 ₪ 488 ¥ 19050 Mex$ 2308 NZ$ 214 NOK 1436 kr 1372 $ 132

Extra day electric bike rental $ 58 £ 31 $ 52 € 35 kr 5359 ₪ 142 ¥ 5556 Mex$ 673 NZ$ 63 NOK 419 kr 400 $ 39

Extra day standard bike rental $ 25 £ 13 $ 22 € 15 kr 2297 ₪ 61 ¥ 2381 Mex$ 288 NZ$ 27 NOK 180 kr 171 $ 17  

Dinner per night (no drinks included) $ 50 £ 26 $ 45 € 30 kr 4593 ₪ 122 ¥ 4763 Mex$ 577 NZ$ 54 NOK 359 kr 343 $ 33

Ceramic and pottery course, 2 hours: $ 42 £ 22 $ 37 € 25 kr 3828 ₪ 102 ¥ 3969 Mex$ 481 NZ$ 45 NOK 299 kr 286 $ 28

Pilates, 1 hour for two people: $ 100 £ 52 $ 90 € 60 kr 9187 ₪ 244 ¥ 9525 Mex$ 1154 NZ$ 107 NOK 718 kr 686 $ 66

Private tour of tourist sites (including Cathars sites, medieval city of Mirepoix, Abbey of Camon), half-day:  $ 334 £ 175 $ 299 € 200 kr 30623 ₪ 814 ¥ 31751 Mex$ 3847 NZ$ 357 NOK 2394 kr 2287 $ 220

Extra Info

Skill Level — Easy–Moderate

With an e-bike, even the imposing Pyrenees mountains can be climbed with ease! Because you are based in one hotel, you have the freedom to choose the routes that best fit your activity level. Please keep in mind that while an electric bike offers pedal assistance, the rider should have a good balance and command of the bike, ideally acquired from regular riding. This tour takes place on paved roads with as little traffic as possible. Road bikes are available if you prefer!

Airport Info

You may fly into Carcassonne (CCF), Toulouse (TLS), or Montpellier (MPL).

Local Travel

If flying into Carcassonne or Toulouse, we can offer a transfer to the hotel for up to 4 people. Please see pricing. Information on public transportation or car rentals can be provided, just ask!

Recommended

If you plan on staying at Nature Cathare during July and August, we suggest visiting the local gastronomic market that takes place in Léran every Friday. Here you will find fresh, local food that highlights the cuisine of the region!

Important to know

Before you travel, please check the passport and visa requirements of the country/countries you plan to visit. For US citizens, the US Department of State website is a good source of information. The Country Information tab in the International Travel section provides details about passport validity, blank passport pages required, etc.

For our other international clients, please be sure that you research your own country's travel requirements. It is each traveler's responsibility to ensure proper documentation.

*Please check the status of the European Travel Information and Authorization System (ETIAS) as once implemented, will be required to visit any of the 26 Schengen-member countries for tourism, business, medical, or transit. This is an additional check on security rather than a visa.

Extra Stay

Extra nights are possible!

---

Photos
Have you been on this tour?
Please leave your feedback