Hadrian's Wall and the English Lake District
Cycle in England and experience the history of Roman Britain
On this bike tour in England you will experience three of the United Kingdom's major attractions: Hadrian's Wall, the English Lake District, and the countryside of the Northern Pennines.

In AD 122 Emperor Hadrian ordered the construction of a wall across northern England to hold back the advancing Barbarians. Even today, Hadrian's Wall remains the largest ancient monument in northern Europe. You will cycle in England where the Roman soldiers marched in ruggedly beautiful countryside on the Hadrian's Cycleway (National Route 72). The route is comprised of country lanes and quiet roads, interspersed with sections of traffic-free path, promenades, and riverside paths.

The Lake District, a vast national park, carved out by glaciers about 15,000 years ago, is a sweeping panorama of beauty. From sparkling lakes and tall, jagged mountains, to sheltered valleys, heather moorlands, and salty seascapes, Cumbria and the Lake District have inspired and captivated many, including the famous writers and poets of the early 19th century known as the Lake Poets. Among them, was William Wordsworth.

Your last highlight will be Northern Pennines where you will ride through some of the most dramatic and wild countryside to be found.

NOTE: This tour is also available as a road bike tour with a slightly altered itinerary and longer distances.

Our full inventory of bike tours in England is here.

2017

Hybrid bike tour

Price £ 906 $ 1,427 € 951 NOK 9510 kr 8778 $ 1,141

Single room: £ 1201 $ 1,892 € 1261 NOK 12610 kr 11640 $ 1,513

Road bike tour

Price £ 1020 $ 1,607 € 1071 NOK 10710 kr 9886 $ 1,285

Single room: £ 1315 $ 2,072 € 1381 NOK 13810 kr 12748 $ 1,657

extra

options

2017

Extra night in Keswick: £ 94 $ 149 € 99 NOK 990 kr 914 $ 119

E bike rental: £ 57 $ 90 € 60 NOK 600 kr 554 $ 72

(E-bike rental requires a signed rental agreement and £250 deposit on credit card per bike)

please

note

Rates are based on double occupancy.

Information to read before you book.

We recommend purchasing bike trip insurance.

† Currency exchange rate set 90 days before travel.
Where
You'll Stay
3  to 4  hotels, guest houses and country inns
What's
Included
Hotel accommodations for 7 nights
Breakfast
Welcome meeting
Luggage transfer
Bicycle rental (24 speed hybrid bicycle with lock, pannier, bottle cage, and repair kit or carbon road bike)
Route book with maps and other tourist information
GPS tracks are available upon request
What's
Not Included
Lunches and dinners
Bicycle protection
Trip insurance
Tour
Dates
Arrival possible daily from May 1 through September 20, 2017
Skill
Level
This tour is classified as a Moderate self-guided tour with daily distances ranging from 27 to 50 miles.
Day-To-Day
Itinerary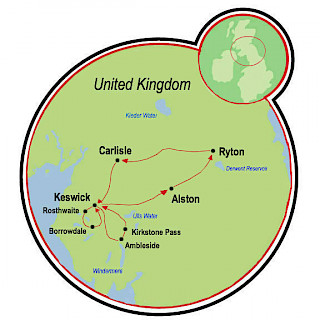 Day 1: Arrival in Carlisle
Day 2: Carlisle - Keswick, 30 mi. (48 km)
Day 3: Keswick loop, 27 mi. (43 km)
Day 4: Keswick - Alston, 45 mi. (72 km)
Day 5: Alston - Newcastle/surroundings, 49 mi. (79 km)
Day 6: Newcastle - Haltwhistle, 30 mi. (48 km)
Day 7: Haltwhistle - Carlisle, 29 mi. (46 km)
Day 8: Departure
DAY 1: Arrival in Carlisle
Individual arrival in Carlisle, ideally located between Scotland and the Lake District Cumbria, and both within easy reach. Situated on the path of Hadrian's Wall, Carlisle is a vibrant, cultured city.
DAY 2: Carlisle - Keswick, 30 mi. (48 km)
Your rental cycle will be delivered between 8:30 and 9 am. Leaving Carlisle, you will start your bike tour in England heading south into the Northern sections of the English Lake District, cycling away from Carlisle along the River Caldew and into open farmlands through lovely country lanes. Soon you reach the Caldbeck Fells of the Northern lakes, circling on the lower slopes before descending into Keswick which is situated on one of the great lakes, Derwent Water. The lake measures approximately 3 miles (4.8 km) long by 1 mile (1.6 km) wide and is some 72 feet (22 m) deep.
DAY 3: Keswick loop, 27 mi. (43 km)
The route today allows for exploring the beautiful English Lake District or you can decide to take a day off and relax in this beautiful Cumbrian town. The name Keswick literally means 'farm where cheese is made'. If you decide to ride, you will cycle along Derwent Water through Rosthwaite and Borrowdale before climbing over Honister at 300 m. You descend down to Buttermere and Cummock Water before climbing over to Keswick.
DAY 4: Keswick - Alston, 45 mi. (72 km)
A long day today as you cycle through the North Pennine Hills through a landscape of open heather moors between deep dales, upland rivers, hay meadows and stone-built villages along the Sea to Sea cycle route which is a well known and award winning path. After Huddlesceugh, you climb over the Pennines to Alston passing Hartside. Usually there is a prevailing west wind which will blow you along your journey through the Pennines. Your destination, Alston, is the UK's highest market town.
DAY 5: Alston - Newcastle/surroundings, 49 mi. (79 km)
Today the route leads back into the west side of Newcastle where you will stay, overnight in Ryton. You will cycle through some lovely North Pennine villages before the long descent to Ryton.
DAY 6: Newcastle - Haltwhistle, 30 mi. (48 km)
Soon after leaving Ryton, the route  joins the Hadrian's Cycleway going west. You will pass Stephenson's Cottage where the famous railway engineer was born and on to Corbridge, originally a Roman town. In Corbridge, there is the opportunity to visit the Roman Fort before continuing to the market town of Hexham with the famous Hexham Abbey in its heart.  The abbey is one of the earliest surviving Christian foundations in Britain. Continuing west along the Hadrian's cycleway, the terrain now becomes more undulating. There's a slight detour to visit the Roman Fort of Housesteads, then passing the reconstructed Vindolanda Fort, arrival at the National Park Visitor Center, situated next to the most spectacular remains of Hadrian's Wall.
DAY 7: Haltwhistle - Carlisle, 29 mi. (46 km)
Some hilly sections today as you descend across the northern end of the Pennines following the course of Hadrian's Wall past Gisland where you can visit the Birdoswald Roman Fort, located in one of the most picturesque settings along the whole of Hadrian's Wall, overlooking the River Irthing gorge. It is unique because at no other point along the wall can all the components of the Roman Frontier system be found in such a small area. Then, it is into the Vale of Eden and back to Carlisle. An ancient site, Carlisle lies on a slight rise at the confluence of the Rivers Eden, Caldew and Petteril. The Romans established a settlement here to serve the forts on Hadrian's Wall. Because this was the last English town before the border with Scotland, Carlisle became an important military stronghold. Highlights in Carlisle include the Citadel, two immense oval towers which once formed the southern entrance to the city, and also the Castle, over 900 years old, which still stands proudly in the city it once protected.
DAY 8: Departure
Your bike tour in England will end after breakfast 
Road Bike Tour Itinerary
Day 1: Arrival in Carlisle
Day 2: Carlisle - Keswick, 55 mi. (88 km)
Day 3: Keswick Loop, 42 mi. (66 km)
Day 4: Keswick Loop, 51 mi. (83 km)
Day 5: Keswick - Alston, 45 mi. (72 km)
Day 6: Alston - Newcastle/surrounding villages, 49 mi. (79 km)
Day 7: Newcastle - Carlisle, 59 mi. (94 km)
Day 8: Departure
Looking for more?  View all our featured bicycle tours, specials, and news or look at our full list of bike tours in Europe.
Email or Call 800-951-4384 +1 570-965-2064
---