Heart of Cheverny Bike Tour
Royal stay in Châteaux Country
Welcome to the heart of Cheverny, renowned wine region, and to the charm of the Hotel Château du Breuil, your 4* accommodations for this bike tour in France. We are excited about this tour as you will be able to explore by bike and on foot this picturesque area. The estate is located in a beautiful 45 hectare park in the heart of the castle strewn Loire Valley. This is a lush and fertile area, crisscrossed with rivers and vineyards. The wines produced here are light, airy, and fresh, reflecting the region.

Stretching southeast of Blois, the Sologne is one of those traditionally rural regions of France. Its forests, lakes, ponds, and marshes have a quiet magic, especially when the heather is in bloom and provides for lovely cycling or hiking.

You are offered two different possibilities for your overnight accommodations:
Le Verger: renovated rooms with refined decor situated in the former orchards.
Le Chateau: a wonderful manor house from 18th century with personalized but original and elegant decor.

Another wonderful option available for this tour is a hot air balloon ride! You will drift over the Loire Valley and enjoy a unique view of the chateaux. See pricing.

If this tour interests you, be sure to check out our full list of bicycle tours in France.

Verger: 
Standard room: $ 1417 £ 702 $ 1,225 € 767 $ 1447 kr 8646 $ 874 Single supplement: $ 558 £ 276 $ 482 € 302 $ 570 kr 3404 $ 344 *Deluxe room: $ 1630 £ 807 $ 1,409 € 882 $ 1664 kr 9943 $ 1,005

Chateau:
Standard room: $ 1620 £ 802 $ 1,401 € 877 $ 1654 kr 9886 $ 999 Single supplement: $ 698 £ 346 $ 604 € 378 $ 713 kr 4261 $ 431 *Deluxe room: $ 1833 £ 907 $ 1,585 € 992 $ 1871 kr 11183 $ 1,130

*Deluxe room: King size bed

extra

options

Extra nights including dinner:

Verger:
Standard room: $ 264 £ 131 $ 228 € 143 $ 270 kr 1612 $ 163 Single supplement (standard room only): $ 137 £ 68 $ 118 € 74 $ 140 kr 834 $ 84 Deluxe room: $ 305 £ 151 $ 264 € 165 $ 311 kr 1860 $ 188

Chateau:
Standard room:  $ 305 £ 151 $ 264 € 165 $ 311 kr 1860 $ 188 Single supplement: $ 174 £ 86 $ 150 € 94 $ 177 kr 1060 $ 107 Deluxe room: $ 362 £ 179 $ 313 € 196 $ 370 kr 2209 $ 223

Extra day bike rental:
Price $ 26 £ 13 $ 22 € 14 $ 26 kr 158 $ 16

Electric bike: $ 59 £ 29 $ 51 € 32 $ 60 kr 361 $ 36 Extra day e bike rental: $ 41 £ 20 $ 35 € 22 $ 41 kr 248 $ 25

Hot air balloon ride: $ 388 £ 192 $ 335 € 210 $ 396 kr 2367 $ 239 (minimum of 2 guests required to book)

please

note

Rates are per person based on double occupancy.

A non-refundable admin fee of 20 Euros per person is included in the deposit amount.

Information to read before you book.

We recommend purchasing bike trip insurance.

† Currency exchange rate set 90 days before travel.

Travel

Fly to Paris Charles de Gaulle international airport

Local Travel

Train from Paris Austerlitz to Blois

Climate

Please check local conditions before your arrival. A good web site to use for average high/low temperatures and average rainfall in a region is Weatherbase.com.

---
Where
You'll Stay
4 * Hotel Château du Breuil
What's
Included
Accommodations for 4 nights in a 4* chateau hotel
Breakfasts
4 Dinners
Color maps, itineraries, and tourist information
All taxes
21 speed rental bike equipped with two saddlebags, high visibility vest, lock, map holder, repair kit, and helmet
GPS files (must be requested in advance!)
What's
Not Included
Beverages
Lunches
Entrance fees
Extra
Stay
Extra nights can be booked upon reserving.
Tour
Dates
Daily arrivals from March to October, 2017
Skill
Level
Slightly hilly terrain with daily distances between 40 and 50 km
Day-To-Day
Itinerary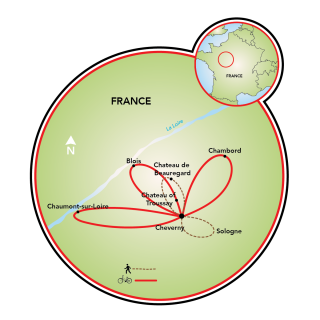 Cycling itineraries:
Excursion 1: Chateau of Chambord, 32 mi. (51 km)
Your first cycling excursion leads to Sologne, first to Chateau of Villesavin, then to the famous Chateau of Chambord, a majestic château in the Loire Valley. In its Renaissance splendor, the Château de Chambord, was a retreat for French kings, especially Louis XIV. 
Excursion 2: Blois, 29 mi. (46 km)
Through typical country villages, you will reach the very heart of the Loire valley, the village of Blois, gateway to Sologne. The royal town of Blois is packed with lively streets, paved squares, restaurants, and taverns. The Château of Blois, home of Louis XII and François I, is a wonderful example and illustration of the evolution of French architecture from the Middle Ages to the 17th century. The return route will be through the forest of Russy. You won't want to miss this Loire Valley bike tour.
Excursion 3 : Chateau of Chaumont-sur-Loire, 31 mi. (49 km)
Continuing on country lanes, you reach the banks of the Loire at Chaumont-sur-Loire where the Chateau of the same name towers over the small town and the valley. It was built in the 10th century by Count Eudes II. The count hoped the castle would be an imposing fortress protecting Blois from any outside invaders. The 21 hectares of land have been landscaped into an impressive park and gardens. From April to the end of October, the Chateau hosts the International Garden Festival showcasing different interpretations of artistic garden composition based on a common theme.
Walking excursions :
Excursion 4 : Walk in Sologne forest | 12.3 km
Sologne is land of hunting and fishing and the main reason that this was the land of Kings. On walking paths and small countryside routes, you will walk into heart of the Sologne forest's treasures.
Excursion 5 : Chateau of Troussay | 12.5 km
The walking itinerary today leads to the Chateau de Troussay, a small chateau of the Renaissance style, via numerous vineyards of Cheverny. During this excursion, you will have possibilities to taste wine in local cellars. The vineyards here produce fine, fresh, fruity white and red wines which perfectly reflect the richness of of the soil, climate, and landscapes.
Looking for more?  View all our featured bike trips, specials, and news or look at our full list of bike tours in Europe.
Email or Call 800-951-4384 +1 570-965-2064
---