Helsinki to Stockholm Bike Tour
A bike tour from Finland's capital to Sweden's capital
This bike tour takes you from the capital of Finland to the capital of Sweden.

Passing through lovely, beautifully preserved former ironworks villages that are now artisan communities, you will discover natural beauty, art and design, local handicrafts, and experience authentic Finland. Pedaling the beautiful archipelago, your cycling will end in Turku, a lovely riverfront medieval city with a vibrant marketplace and a hot spot for the culinary scene.

Traveling onward to Stockholm will be a highlight for sure and as you will be accommodated in a private sea view cabin as you cruise the unique Archipelago Sea consisting of thousands of islands and islets!

Highlights:

Helsinki, Unesco awarded City of Design
Idyllic seaside village of Tammisaari
Oldest city of Finland, Turku
Lovely Finnish countryside
Finnish Archipelago landscape
Lakes, lakes, lakes
Flourishing food culture based on delicious local food and fresh seasonal ingredients
Cruise to Stockholm


We have other bike tours in Sweden! Take a look!

7-day tour:

Twin/double: $ 1717 £ 850 $ 1,484 € 929 $ 1752 kr 10472 $ 1,058 Single room: $ 2622 £ 1298 $ 2,267 € 1419 $ 2676 kr 15996 $ 1,617

6-day tour:

Twin/double: $ 1532 £ 758 $ 1,324 € 829 $ 1564 kr 9345 $ 944 Single room: $ 2289 £ 1133 $ 1,979 € 1239 $ 2337 kr 13967 $ 1,411

5-day tour:

Twin/double: $ 1329 £ 658 $ 1,149 € 719 $ 1356 kr 8105 $ 819 Single room: $ 1986 £ 983 $ 1,717 € 1075 $ 2028 kr 12118 $ 1,225

Extra day bike rental: $ 28 £ 14 $ 24 € 15 $ 28 kr 169 $ 17

extra

options

Electric bike

7-day tour: $ 249 £ 123 $ 216 € 135 $ 255 kr 1522 $ 154 6-day tour: $ 249 £ 123 $ 216 € 135 $ 255 kr 1522 $ 154 5-day tour: $ 231 £ 114 $ 200 € 125 $ 236 kr 1409 $ 142 Extra day e-bike rental: $ 83 £ 41 $ 72 € 45 $ 85 kr 507 $ 51

Extra nights*

Helsiniki (Scandi park Helsinki or similar)
Double/twin: $ 150 £ 74 $ 129 € 81 $ 153 kr 913 $ 92 Single room: $ 275 £ 136 $ 238 € 149 $ 281 kr 1680 $ 170 Turku (Scandic Atrium or similar)
Double/twin: $ 131 £ 65 $ 113 € 71 $ 134 kr 800 $ 81 Single room: $ 225 £ 112 $ 195 € 122 $ 230 kr 1375 $ 139 Stockholm:
On Request

*prices may vary depending on time of booking

 

please

note

Rates are per person based on double occupancy.

A non-refundable admin fee of 20 Euros per person is included in the deposit amount.

Information to read before you book.

We recommend purchasing bike trip insurance.

† Currency exchange rate set 90 days before travel.

Travel

Fly to Helsinki-Vantaa Airport

Local Travel

Public transportation: HSL Bus 615 departs from outside both terminals and runs to the city center. Journey time is 40 minutes and fare is €3.20. Bus 620 connects the airport to the city center at night. The Express Finnair City Bus also departs from the terminals and links to Helsinki City Center (Central Railway Station). Journey time is 30 minutes and the fare is €7.
Taxi: Taxi ranks are located in front of both terminals and include Airport Taxi Yellow Line. Journey time to Helsinki is about 30 minutes and the fare is approx. €50.

Climate

Please check local conditions before you travel. There are numerous internet sites that provide average regional weather information and specific weather forecasts to assist you in planning and packing. The best time to bike in Sweden and Finland is definitely during the summer months of June, July, August, and September. May and October are considered transitional months with nighttime temperatures that can be quite cool. Regardless of when you go, plan on layering and don't forget good quality raingear. Helsinki benefits from the warming currents of the Baltic Sea and the North Atlantic Ocean. The city also experiences a heat island effect, which results in slightly higher temperatures. You will bike close to the coast in a westerly direction until Turku, on the southwest coast. In Stockholm, the average daily high temperatures during the summer months are 64° to 72° F.

Recommended

We recommend that book an extra night in Helsinki before the tour, in order to have time to explore Helsinki and its sights and an extra night in Stockholm. You will leave your rental bike in Turku but you can rent a bike in Stockholm and even book a guided city bike tour. Ask

Remarks

The bicycles are available from the welcome meeting / route briefing (Tammisaari) to the evening of Day 5 at 6 pm (in Turku). The bikes will remain in Turku(Finland). To cycle in Stockholm, you must rent a bicycle there, which is highly recommended. The fully developed city bike paths are always filled with commuters, families, and cycling enthusiasts and you can easily get around between the islands and out on Djurgården, an area of outstanding natural beauty.

Documents

Before you travel, please check your country's passport and visa requirements and the passport and visa requirements of the country/countries you plan to visit. For US citizens, the US Department of State website is a good source of information. The Country Information tab in the International Travel section provides details about passport validity, blank passport pages required, etc. For our other international clients, please be sure that you research your own country's travel requirements. It is each traveler's responsibility to ensure proper documentation.

*Important note: Beginning July 1, 2021, additional documentation from the European Travel Information and Authorization System (ETIAS) will be required to visit any of the 26 Schengen-member countries for tourism, business, medical, or transit. This is an additional check on security rather than a visa.

---
Skill
Level
This is a moderate self-guided tour with daily distances ranging from 45 to 53 km. Terrain is gently undulating with some steep but short up and downs. You will cycle mainly on designated cycle paths and secondary roads. This tour is most suitable for adults and teenagers with prior cycling experience. The tour is not suitable for children under the age of 12 years.
Where
You'll Stay
You will be accommodated in 3-star hotels. The rooms are standard double rooms that have two beds put together or separated to provide two beds (twin). If you would like a room with one uniform bed for two, you must request an upgrade (to a superior room). Note that a uniform bed is not available in all the hotels.

Preferred hotel list is as follows:
Helsinki (arrival day): Scandic Park Helsinki
Fiskars: Hotel Tegel
Mathildedal: Hotel Mathildedal
Turku: Scandic Atrium
Stockholm: Scandic Klara

If preferred hotel is not available a hotel of equal standard will be reserved.
What's
Included
7 nights accommodation
Breakfast
Welcome meeting/route briefing
Use of recyclable / reusable route description-map booklet (one per each party, in English / German / French / Italian)
On request: GPS tracks to be used with mobile application or GPS-device
Tourist information
21 to 24-speed trekking bike with one waterproof pannier, bottle holder, and odometer
1 map holder, 1 repair kit, 1 pump, and 1 spare tube per booking
Luggage transfer (except when traveling by train from Helsinki to Tammisaari and when traveling by cruise ship from Turku to Stockholm)
Service-hotline
Cruise ship trip according to the program in seaview cabin
What's
Not Included
Outward and return journey
Lunch and dinner
Train tickets (Helsinki – Tammisaari ca. €14–19 and Salo – Turku ca. €5–10)
Entrances to the museums/attractions
Everything not specified
Tour
Dates
Fridays, May 15 to September 11 (last departure), 2020
(except for July 3, 2020)
 
Day-To-Day
Itinerary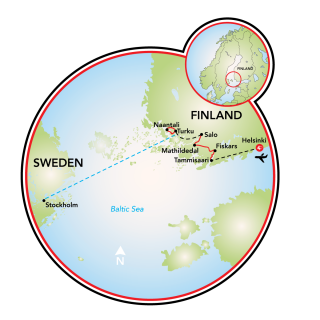 Day 1: Helsinki
Day 2: Train to Tammisaari, cycling Tammisaari - Fiskars,  28 mi. (45 km)
Day 3:  Fiskars - Mathildedal, 31 mi. (50 km)
Day 4: Mathildedal - Salo, 32 mi. (52 km) + train to Turku
Day 5:  Roundtrip to Naantali, 35 mi. (56 km)
Day 6: Cruise ship trip to Stockholm
Day 7: Departure or extension of your holiday
All distances are approximate. Due to circumstances beyond control, weather conditions, or provisions issued by local authorities, therefore the itinerary may be subject to some changes before and/or during your holiday. For example, along the way, you may find temporary deviations/detours caused by roadwork.
Day 1: Helsinki
Independent arrival in Helsinki. Helsinki, the capital of Finland, is a vibrant seaside city of beautiful islands and great green parks. The fortress of Suomenlinna is a UNESCO World Heritage Site and one of Finland's most popular sights. The beautiful islands of Suomenlinna are only a 15-minute ferry ride away from Helsinki Market Square. Influenced by Classicism and modernized by Functionalism, Helsinki is possibly best known for its Art Nouveau architecture. Helsinki's boulevards and backstreets overflow with magnificent architecture and opportunities for dining.
Preferred hotel: Scandic Park Helsinki
Day 2: Train to Tammisaari, cycling Tammisaari - Fiskars,  28 mi. (45 km)
Today you take a train from Helsinki to Tammisaari where the cycling starts. The idyllic seaside village of Tammisaari is popular among boaters, especially during the summer season. While many of the buildings in Old Tammisaari have been rebuilt over the years, care has been taken to preserve the winding alleys and lanes. The oldest part of Tammisaari is a conservation area where all the buildings are from the 18th and 19th centuries. From Tammisaari you cycle to the evocative ruins of Raasepori Castle and to Fiskars. Fiskars is a charming former ironworks village with a green river sliding between brick buildings. Today more than 100 artisans, designers, and artists work here, and craft shops, studios, and galleries fill the village's neoclassical buildings. Stroll through the picturesque center with Finnish design shops and nice galleries and cafés.
Preferred hotel: Hotel Tegel
Day 3:  Fiskars - Mathildedal, 31 mi. (50 km)
From Fiskars, you cycle through the countryside to another former ironworks village, Mathildedal. This small seaside village is located close to Teijo National Park and Matildanjärvi Lake. Here you can go kayaking and paddling.
Preferred hotel: Hotel Mathildedal
Day 4: Mathildedal - Salo, 32 mi. (52 km) + train to Turku
Today you cycle through the countryside to Salo, and then take a train to Turku, the former capital and oldest city of Finland. Some of the main attractions of Turku are the Cathedral, Turku Castle, Aurajoki riverside, Forum Marinum maritime center, and its museum ship fleet, Luostarinmäki Handicrafts Museum and Turku Art Museum. In the summer the city holds many events and festivals. The river is the heart and soul of the city. Walk along the Aurajoki River and admire the old ships. There are many nice cafés and restaurants in the center and by the riverside.
Preferred hotel: Scandic Atrium
Day 5:  Roundtrip to Naantali, 35 mi. (56 km)
Today you cycle in the lovely and calm Finnish countryside. In the summer you can enjoy a swim in the small lakes along the way in Rusko and Masku as you head to Naantali by the Archipelago Sea. Naantali is one of the oldest towns in Finland and was founded around the medieval Brigittine convent whose church still dominates its skyline. Known as the Sunshine Town, Naantali attracts local and foreign visitors from around the world with the ever-popular children's favorite Moomin World theme park. The official summer residence of the President of Finland, Kultaranta estate, is also located in Naantali. Take a walk through the idyllic old town and harbor and enjoy good food in one of the beautiful seaside restaurants. After Naantali you have an 18 km ride back to Turku.
Day 6: Cruise ship trip to Stockholm
A pleasant whole day cruise ship trip through the wonderful Archipelago Sea of tens of thousands of islands will bring you to the capital of Sweden, Stockholm.
The cruise ship ship from Turku to Stockholm is offered through the company Viking Line, normally with the ship M/S Amorella, departing at 8:45 am and arriving at 6:55 pm. Travel time is just over 11 hours.  This is not an overnight trip, but it is long, so you will be assigned a seaview cabin in which you can relax and enjoy the beautiful scenery of the archipelago or nap if you prefer. You can keep your luggage in your cabin as well. Of course, you are free to explore! The ship has several decks that include restaurants, bars, live music, sauna, pools, dancing, amusement, etc. 
Stockholm is built on 14 islands connected with 56 bridges. Stockholm offers many sights of which the most popular are the Old Town, the open-air museum Skansen, the Vasa-Ship and Museum, the Royale Palace, the Drottningholm Palace, the City Hall, and the Abba Museum. Stockholm flourishes architecture, design, good food and Scandinavian culture!
Preferred hotel: Scandic Klara
Day 7: Departure or extension of your holiday
Departure or extension of your holiday. We recommend you to book an extra day in Stockholm for sightseeing or for some lovely cycling around the many green areas and islands of the city.
Variation: Helsinki – Turku, 6 days / 5 nights
Day 1 | Helsinki
Day 2 | Helsinki- Tammisaari – Fiskars
Day 3 | Fiskars - Mathildedal
Day 4 | Mathildedal – Salo – Turku
Day 5 | Roundtrip to Naantali (overnight in Turku)
Day 6 | Departure
Variation: Helsinki – Turku, 5 days / 4 nights
Day 1 | Helsinki
Day 2 | Helsinki- Tammisaari – Fiskars
Day 3 | Fiskars - Mathildedal
Day 4 | Mathildedal – Salo – Turku
Day 5 | Departure
Email or Call 800-951-4384 +1 570-965-2064
---