5

/

5

(

1

rating)
Moravia
Biking in the Morava River Valley
This self guided bike tour in the Czech Republic leads through the Morava River Valley and connects numerous historical cities, palaces, wine towns, and beautiful gardens. Moravia is a breath of fresh air away from the bustle of Prague and Bohemia and provides for an authentic cycling experience and wonderful blend of beautiful towns and cities, steeped in legend and history, and nature at her best.

Your bike tour begins in Kraków, ancient seat of Kings. You must explore this wonderfully preserved and mysterious city. Krakow immerged from WWII quite untouched and boasts of a well preserved old town with Europe's largest medieval market square and even a fairy-tale castle overlooking the river with infamous catacombs of the Wawel Dragon beneath.

Olomouc is one of the most beautiful cities of the region. Its center is the largest historic preservation zone outside Prague, and its cobblestoned streets are lined with majestic cathedrals and grand palaces. Despite its fascinating history and great beauty, the crowds of tourists have not yet discovered this authentic city, with 1000 years of history and the vibrant, youthful energy of a university town.

Throughout this bike adventure, you will cycle through age old forests on the river bank and enjoy wonderful traffic routing and signposts. Moravia, with its bounty of attractions, can easily compare with well known European travel regions and is emerging as one of those untouched tourist destinations.

Highlights:

Wawel, ancient seat of royalty
Catacombs of Wawel, and the legend of Smok Wawelski, the Wawel Dragon
Olomouc, historic town

We have other bike tours in the Czech Republic. Please take a look!

Self guided: £ 676 $ 1,065 € 710 NOK 7100 kr 6554 $ 852 Single supplement: £ 124 $ 195 € 130 NOK 1300 kr 1200 $ 156 Guided: £ 948 $ 1,493 € 995 NOK 9950 kr 9185 $ 1,194 Single supplement: £ 152 $ 240 € 160 NOK 1600 kr 1477 $ 192

extra

options

Extra night in Krakow or Laa an der Thaya: £ 42 $ 66 € 44 NOK 440 kr 406 $ 53 Single supplement: £ 24 $ 38 € 25 NOK 250 kr 231 $ 30 ​Surcharge for starting tour in Vienna: £ 19 $ 30 € 20 NOK 200 kr 185 $ 24

please

note

Rates are based on double occupancy.

Information to read before you book.

We recommend purchasing bike trip insurance.

† Currency exchange rate set 90 days before travel.
Where
You'll Stay
Overnight accommodations in quality, mostly 3 star hotels.
What's
Included
Accommodations for 7 nights
Breakfast and dinners
Luggage transfer
Map and information package
21 speed trekking bike with pannier, spare tire kit, tools and pump
Transfers as described in the itinerary
(Transportation Krakow - Olomouc and Laa an der Thaya - Krakow (with possibility to join the transfer in Katowice))
Also included with guided tour:
Tour guide
Wine tasting
Some entrance fees
What's
Not Included
Entrance fees not mentioned as included
Optional train journey from Laa an der Thaya to Vienna
Tour
Dates
May 13, May 20, May 27, June 3, June 10, June 17, June 24, July 1, July 8, July 15, July 22, July 29, August 5*, August 12, August 19, August 26, September 2, September 9, and September 16, 2017
*Special guided tour
Skill
Level
This is an easy self guided/guided tour that takes place almost entirely on flat cycling routes though you will encounter some wine hills at Hodonin and Valtice as well as Mikulov town center which is also located on a hill. Up to 70% of the roads are paved and the other 30% are gravel roads.
Day-To-Day
Itinerary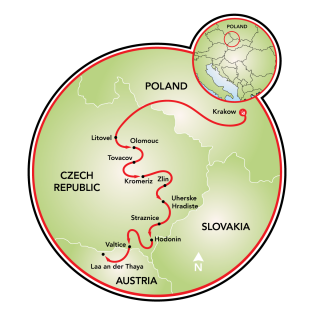 Day 1: Arrival
Day 2: Krakow - Olomouc, 12 mi. (20 km)
Day 3: Olomouc - Kromeriz, 28 mi. (45 km)
Day 4: Kromeriz - Uherske Hradiste, 22 - 31 mi. (35 - 50 km)
Day 5: Uherske Hradiste - Hodonin, 28 mi. (45 km)
Day 6: Hodonin - Valtice, 28 mi. (45 km)
Day 7: Valtice - Laa an der Thaya, 28 mi. (45 km)
Day 8: Departure 
Day 1: Arrival
There is some variation offered for your arrival.
Arrival in Krakow, first overnight stay at a hotel in the historic city center. Additional nights can of course be booked for those wanting a closer look at Poland's erstwhile capital. Please ask us about making this tour a two week tour by ending an extension.
Arrival in Katowice (where there is also an airport with many affordable direct flights). First overnight stay in Katowice.
 The trip can also be started in Vienna, for example subsequent to the classical Danube cycle path tour. In this case the first night is booked in Vienna.
 It is also possible to arrive in Olomouc on Saturday itself (for example by train or car). In this case we would book the first two nights in Olomouc.     
Day 2: Krakow - Olomouc, 12 mi. (20 km)
Transfer by mini bus departs from Krakow at about 8:30 am. This can also be joined in Katowice around 10:00 am. If you have stayed in Vienna the first night, you can travel to Olomouc by train (about a 3 hour journey, one change of trains) or by bus (2.5 hour journey, direct connection) and you can be picked you up from the train station. Also, if you have already arrived to Olomouc and spent the night here, you will be picked up at your hotel.    
 
Arrival in Litovel at approximately 1:00 pm. The Morava River divides into several channels here, and they flow around the old city center. Cycling begins after lunch at an old mill. The short first stage passes through a nature reserve with a protected forest. The historic architect of Olomouc, the former capital of Moravia, soon comes into view. This historic town which has been included in the UNESCO World Heritage list is the second most important protected site of the Czech Republic.
Day 3: Olomouc - Kromeriz, 28 mi. (45 km)
Olomouc is a beautiful city!  Leave yourself enough time to visit the Holy Trinity Column at the market place, the town hall with its astronomical clock, Saint Wenceslas Cathedral, the Olomouc fortress, as well as a grandiose Archbishop's palace. Cycling past the walls of the fortress is an awe-inspiring experience. Next on the agenda is Tovacov, an architectonic jewel set among the lakes. It has a palace and a Jewish museum. This stage ends in beautiful Kromeriz, a small city commonly known as the Athens of Moravia. Kromeriz has a picturesque historical city center, community centers, arcades and a magnificent archbishop's palace. It is best known for its two superb parks.

Day 4: Kromeriz - Uherske Hradiste, 22 - 31 mi. (35 - 50 km)
For the most part, today's stage is a flat as you cycle route along the Bat'a Canal. This is a fascinating technical achievment and the Czech version of the French "Canal du Midi". This navigable canal was originally built for transporting lignite and came into disuse over the course of time. It has now been restored as a tourist attraction. You cycle past old locks, tourist ships, houseboats, and cafés. Those interested in architecture can take a detour to Zlin, the headquarters of the legendary Bata shoe firm. This stage ends in Uherske Hradiste – a historic town that was originally founded on an island of the Morava. There is also a lovely historic center with a large market square. Of the all the historic monuments, the neo-Romanesque synagogue is particularly worth a visit.

Day 5: Uherske Hradiste - Hodonin, 28 mi. (45 km)
Today you cycle through Moravian Slovakia, where the special folklore tradition is still alive. The region is known for its little white houses with blue shutters, wood carvings, and ceramics. Vineyards, meadows in bloom, palaces and folk architecture can be enjoyed together with a glass of excellent wine on site. In Uhersky Ostro you can visit the historical city center, in Straznice the palace gardens and in Petrov the alley of cellars. An overnight stay is planned in Hodonin.
Day 6: Hodonin - Valtice, 28 mi. (45 km)
The Morava River Valley is left behind and the route continues through scenic vineyards to Breclav, a town on the banks of the Thaya. You will be following the course of the river upstream through protected wild river bank forests towards Lednice. There is a fairy-tale neo-Gothic palace here and beautiful gardens that were once a meeting place for European aristocrats. You'll be surrounded by the beautiful landscape of Lednice-Valtice, also called the "Garden of Europe".  Continuing on, you'll cycle through parks past numerous decorative structures such as a minaret, colonnade, and triumphal arch. Overnight this evening is in Valtice, directly next to the second palace which was once the magnificent seat of the rulers of Liechtenstein. Not only do you immerse yourself in Moravian culture you can also indulge in some excellent Moravian wine in the wine saloon.
Day 7: Valtice - Laa an der Thaya, 28 mi. (45 km)
The last stage runs through Mikulov. A Baroque castle dominates this town and welcomes cyclists from a distance due to its location on high cliffs. The historic town center surrounding the market square has ornate houses and an imposing tomb of the aristocratic family of Dietrichstein. Today's route is some easy cycling on a flat cycle route. Directly behind the Austrian border you arrive at the last lodging in Laa an der Thaya. Try out the thermal springs there!
Day 8: Departure  
A return transfer is offered to Olomouc, Katowice and Krakow with minibus (inlcuded) or by train (not included).  A direct train connection is about an hour and half. It is also possible to spend further nights in Laa. The surroundings offer many possibilities for round trips. There is, for example, a 50 km long "Natural Jewels Cycle Route" in the Czech Republic and the northern wine region.       
Be sure to check out all of our bike tours in Europe or look at our featured bike trips, specials, and news!
Email or Call 800-951-4384 +1 570-965-2064
---