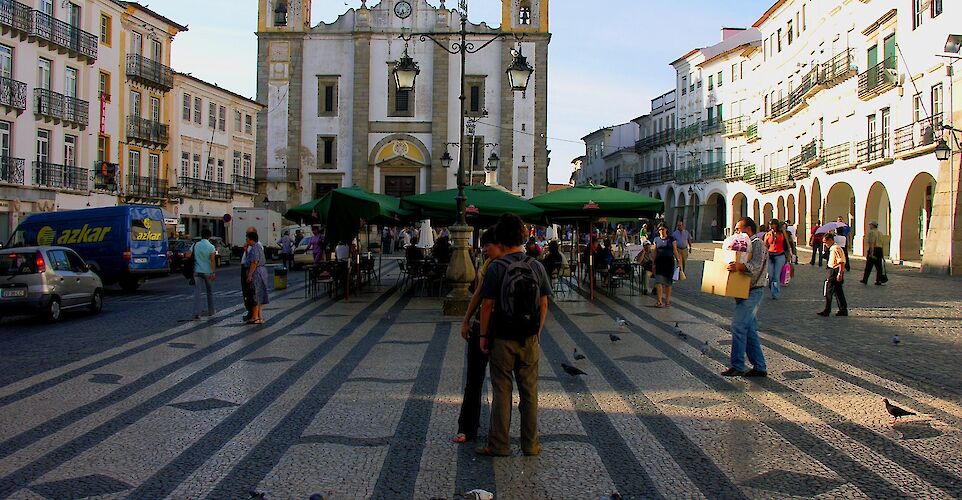 Portugal Cycling & Cooking E-bike tour
Food & wine tour in Évora & Alentejo Region on an electric bike!
Overview

An electric bike and culinary tour in Portugal? What is that, you ask? We did as well.

Take a sun-drenched landscape and a bike, toss in culture, history, and natural beauty, season with unique accommodations, top it all off with world-class cuisine and award-winning wine, and you have this unique electric bike tour in Portugal. You have it all.

With a pleasant climate, without great extremes of temperature, and a sun that shines throughout the year, Portugal offers incredible landscapes to be explored by bike and an unbelievable cuisine to be experienced.

This is a unique opportunity for immersion in a celebrated culture and cuisine. Bike by day. Eat, cook, and enjoy by night.

*This tour has been designed as an electric bike tour due to the difficulty of the terrain. Electric bikes are included in the tour price.

Highlights

Natural park of Serra d'Aire e Candeeiros
Beautiful region of Èvora, Unesco World Heritage site
Monastery of Batalha and Monastery of Alcobaça
Limestone caves
Wine tasting
Coast biking
Wonderful accommodations
Cooking classes

Interested in our full list of bicycle tours in Portugal?

Itinerary

Day 1: Arrival, Aires and Candeeiros
Day 2: Caves route, 27 mi. (43 km)
Day 3: The Monasteries Route, 29 mi. (47 km)
Day 4: The Wine and Cork Route, 26 mi. (42 km) or 34 mi. (55 km)
Day 5: The Famous carpets, average 25 mi. (40 km) 
Day 6: Twenty Centuries of history, 12 mi. (20 km)
Day 7: From the Mountain to the Sea, 35 mi. (56 km)
Day 8: Departure

*All distances are approximate. Due to unforeseen circumstances such as weather conditions or provisions issued by local authorities, the itinerary may be subject to some changes before and/or during your holiday. For example, you may find temporary local deviations/detours caused by roadwork not reflected in your route book or GPS tracks. In this case, please follow the directions posted locally.

Day 1: Arrival, Aires and Candeeiros
Transfer to Alvados (included in guided and van-supported tours only).

The Natural Park of Serra de Aires and Candeeiros has a very special landscape. As you bike you will discover man-made rock walls marking the roads and properties and a barren landscape dotted here and there by boulders, fissures, and slopes.  Underground there is a rich network of caves and galleries that extend beyond your imagination. There is a rich and varied range of animal life, including 18 species of bats (the symbol of the Park) that find ideal shelter in the various grottoes. In a deep valley, the small village of Alvados is hidden. The hotel will come as a wonderful surprise with architecture with modern lines but fully respecting local trends and materials. 

7:30 pm: Dinner, included in all tours

Accommodation: Cooking and Nature Emotional Hotel, located in Alvados village, situated in the heart of the Natural Park. 

Day 2: Caves route, 27 mi. (43 km)
This cycling tour will take you first to the wonderful limestone caves of the natural park. The guided tour takes about 1 hour. In 1955 two men working at a place called Pedra do Altar went through an opening in the rock as they were trying to catch a bird. Inside they discovered a gallery of Santo António caves, formed more than 150 million years ago. The caves occupy a huge area of 6,000 square meters, adorned with stalagmites and stalactites.

From here you will continue cycling through the agriculture fields of the area, which include olive groves. In the 50s about 200.000 liters of olive oil were produced here! There may be an opportunity to visit an olive mill for a tasting. On the way, you may park your bikes for a beautiful short walk. When you reach the top of the Fornea, you find the perfect place to relax. The amphitheater is 500 meters in diameter and 250 meters in height!  Arriving at the village of Porto Mós, you may choose to visit the castle and then head back for some relaxing time in the spa. You deserve it after this biking tour!

Picnic lunch included in guided, supported, and self-guided tours.

Total ascent: 1011 m / 3316 feet
Level: Difficult with a normal bike, moderate with an e-bike
Terrain: 80% asphalt, long steep hills, easy dirt track (eco-trail).

5:30 pm: Opportunity to enjoy the spa in the hotel. 
7:00 pm: Cooking class at the hotel - at the end of the day you are invited to meet the chef in the kitchen and make your own dinner. (Included in guided, supported, and self-guided tours). This class is not available on Sundays. Please plan accordingly.

Accommodation: Cooking and Nature Emotional Hotel, located in Alvados village, situated in the heart of the Natural Park. 

Day 3: The Monasteries Route, 29 mi. (47 km)
Today you will cycle from Alvados to the Monastery of Batalha and then the Monastery of Alcobaça. The route is again hilly at the beginning but then you have a wonderful downhill on a really narrow road through the mountains. The monastery of Batalha took over a century to build, starting in 1386 and ending around 1517, spanning the reign of seven kings! It is one of the masterpieces of Gothic art, mingled with Manueline style.
The Alcobaça Monastery has a beautiful 13th-century façade but the construction actually began in 1178. The impressive tombs of King Pedro I and his mistress Inês de Castro, who was murdered on the orders of Pedro's father, King Afonso IV are one of the highlights of the monastery. 

Lunch not included, but perhaps a café in Batalha will entice you?

Level: difficult with a normal bike, medium with e-bike
Terrain: 100% asphalt, some long steep hills.

4:00 pm: Transfer to the farmhouse in Évora
7:00 pm: Arrival to the farm followed by dinner

Accommodation: Monte do Serrado de Baixo

Day 4: The Wine and Cork Route, 26 mi. (42 km) or 34 mi. (55 km)
The bike tour leaves the farm in the direction of Igrejinha, a very white village where all houses have stripes with different colors, resembling a great painting. From here, the route leads to the cork factory, which will surely be the highlight of the day. The route then leads to  S. Miguel de Machede, another small rural village where you can stop for a drink at a local café. The day should finish with a visit to the winery of São Miguel, a really fun and interesting visit led by a local guide.

Today you are offered two options:

42 km, with a transfer back to the farm, avoiding cycling on the main road  
55 km cycling to the cork factory and back to the farm, repeating the last 15 km on the same road but not going to the winery
Total ascent: 324 m / 1062 feet
Level: easy
Terrain: mostly flat on secondary roads. A few km on the main road if you cycle back

 Extra costs:

Wine tasting: €15 per person (included in guided and supported tours)
Lunch not included, cafés on the way

6.30 pm – Cooking Class at the farm – Meet one of the team members for a cooking lesson on Alentejo food!

Accommodation: Monte do Serrado de Baixo

Day 5: The Famous carpets, average 20 mi. (33 km) 
Along the eco-trail, a bike lane built on an old railway, through small farms, you'll get to Graça do Divor, a very well preserved white and blue village. This is a good place to stop for a drink and try the delicious meat pies of Mrs. Ilda! From here, this bike tour heads to the Arraiolos village, with its rich historical center, famous carpets, and delicious Pastéis de Toucinho. The views from its castle are unforgettable. It's now time for a winery visit with a fantastic private carriage collection, and then a few km later a cheese production farm where local liqueurs, jams, and other regional delicacies are produced and can be sampled. 

Again, today you have options for the cycling distance.

33 km with all visits described and transfer from cheese farm back to the hotel. You should plan about an hour visit in each farm.
46 to 49 km - to winery and back - easy level
70 km - to winery and cheese farm and back a different way - medium level, very long day with the visits. Only for the very fast cyclist or those who just want to cycle!
Total ascent: 425 m / 1394 feet
Level: medium 
Terrain: gentle rolling roads, 15 km on dirt roads

Extra costs:

Wine tasting and carriage collection: €8 per person (included on guided and supported tours).
Tasting at cheese farm: €11 per person.
Lunch not included, cafés on the way
Dinner is not included tonight.  Perhaps you would like to have dinner in the city?

Accommodation:  Monte do Serrado de Baixo

Day 6: Twenty Centuries of history, 12 mi. (20 km)
Évora is such a gorgeous city you must cycle there to explore it. Visit some of the most interesting sites, cycling through beautiful streets carefully selected for you. The Roman Temple, the Cathedral, the Bone's Chapel, and the University are some of the places we recommend. 

After your lunch (not included), you will be transferred to Santiago do Cacém by car. There you can be dropped off at the castle for a visit, really worthwhile, and you may cycle to the hotel afterward. At 6 pm, you will meet the Chef for another cooking class. Enjoy!

Base km: 20 km / 12 miles
Total ascent: 121 m / 396 feet
Level: easy
Terrain: Eco trail for 8 km and city streets 

6:00 pm: Cooking class

Accommodation: Santiago Hotel Cooking & Nature

Day 7: From the Mountain to the Sea, 35 mi. (56 km)
After all these inland days, you deserve a few sea views and maybe a swim! Before leaving visit the last operating windmill and head out towards the coastline through a lush green oak forest. The Blue Ocean and schist cliffs will frame the arrival to the fisherman's village of Porto Covo. On the way check out a fortification that used to protect a natural bay from pirate attacks. Soon after you will have the opportunity to "walk into the ocean" in a pier made of rock, watch the unloading of the fish and the lamprey drying in the sun. Later relax at the beach or snoop around the small streets and shops of Vila Nova de Milfontes followed by the perfect end of the day at the romantic riverside agro-tourism.

Lunch included in guided tours only. Dinner included in self-guided, supported, and guided tours. 

Base kms: 56 kms / 35 miles 
Total ascent: 660 m / 2165 feet
Level: difficult with a normal bike, medium with e-bike
Terrain: 2 climbs and then flat roads and some dirt roads

Accommodation: HS Milfontes Beach Hotel or at a lovely farm Monte do Zambujeiro in Vila Nova de Milfontes

Day 8: End of tour
Departure from Vila Nova de Milfontes.

Perhaps we can entice you to stay 1 or 2 extra nights in the wonderful farm Monte do Zambujeiro and ride to the beach for relaxing days?

If you're looking for a different flavor, check out our full list of bike tours in Europe or view all our featured bicycle tours, specials, and news.

 

Hotels & Bikes

Accommodations

On this tour you are accommodated in very unique establishments; authentic Montes, traditional Alentejan farms, a design hotel located within Serras de Aire e Candeeiros Natural Park, and the 4-star Santiago Hotel Cooking and Nature, blending traditional and modern design, located on a hilltop overlooking the Castle of Santiago do Cacém. On each day's details, you will find the name of the hotel for that particular night.

Bicycles

Electric Bike

Focus Aventura 1.0

Aluminum alloy frame
Pedelec
Impulse 2.0 motor
Shimano 11 speed
Magura hydraulic brakes
Fizik Rondine saddle
28 inch wheels
Schwalbe Energizer Pro, 700 x 38c tire

Cube Touring Hybrid One 400

Aluminum Superlite frame
Pedelec
Bosch Drive Unit Active Plus Motor
Bosch PowerPack 400 battery
Shimano 9 speed
Shimano hydraulic brakes
Selle Royal Ariel saddle
Schwalbe Energizer Pro, 700 x 38c tires

Bikes come equipped with pannier and helmet.

Inclusions

What's Included

Self-guided

Accommodation with breakfast in a double/twin room
One picnic lunch
Three dinners ((includes a bottle of wine per couple)
Three cooking classes (includes a bottle of wine per couple)(not available in Alvados on Sundays)
Luggage transfer
Transfer from Alvados to Évora
Transfer from route The Wine and Cork
Transfer from route The Famous Carpets
Transfer from Évora to Santiago do Cacém
Electric bike rental (Force Aventura 1.0 or Cube Touring One or equivalent model) with helmet, bike rack, & a pannier or similar
Route instructions, detailed maps, & historical information
Basic repair kit
24h phone support
VAT tax
Cycling jersey

Supported Tour

All that is included on self-guided, plus:
Transfer from Lisbon airport to the first hotel
Transfer from the last hotel to Lisbon airport
Support car for 6 cycling days (the driver will wait at important landmarks to share history, culture, & other facts)
Water & fruit for the day
One liqueur tasting
Two wine tastings at wineries
Entrance fee at Santo António's caves
Entrance fee at Monastery of Batalha
Entrance fee at Monastery of Alcobaça
Entrance fee at Bones' Chapel, Évora
Entrance fee at Évora's University
First-aid assistance

Guided Tour

All that is included on the self-guided & supported tour &:
Cycling guide to ride with the group (one or two depending on group size)

What's Not Included

Any meal not mentioned as included
Gratuities
Bike protection

Dates & Pricing

Dates

2022

Saturday departures

Throughout the year.

*Other start days are possible with a supplement charge

Please Note

Rates are based on double occupancy
Tour prices are based on the fuel costs at time prices are set, often months or years in advance. In rare cases, additional fees may apply for fuel cost increases.

Pricing

Self-guided:
Minimum of 2 people: $ 3318 £ 1868 $ 2,970 € 2130 ₪ 7878 NZ$ 3643 kr 23289 $ 2,283 Minimum of 4 people: $ 2882 £ 1622 $ 2,579 € 1850 ₪ 6843 NZ$ 3164 kr 20227 $ 1,983

Supported:
Minimum of 2 people: $ 4564 £ 2569 $ 4,085 € 2930 ₪ 10837 NZ$ 5011 kr 32036 $ 3,140 Minimum of 4 people: $ 3583 £ 2017 $ 3,207 € 2300 ₪ 8507 NZ$ 3934 kr 25148 $ 2,465

Guided
Minimum of 2 people: $ 5265 £ 2964 $ 4,713 € 3380 ₪ 12502 NZ$ 5781 kr 36956 $ 3,622 Minimum of 4 people: $ 4595 £ 2587 $ 4,113 € 2950 ₪ 10911 NZ$ 5046 kr 32255 $ 3,162

Extra Options

Supplements 

All tours

Starting any other day (except Saturdays): $ 154 £ 87 $ 138 € 99 ₪ 366 NZ$ 169 kr 1082 $ 106

June 10 to September 12, high season supplement: $ 156 £ 88 $ 139 € 100 ₪ 370 NZ$ 171 kr 1093 $ 107

Single supplement: $ 779 £ 438 $ 697 € 500 ₪ 1849 NZ$ 855 kr 5467 $ 536

June 10 to September 12, high season single supplement: $ 1160 £ 653 $ 1,039 € 745 ₪ 2756 NZ$ 1274 kr 8146 $ 798

Self-guided tours

Discount for using regular touring bike: $ 156 £ 88 $ 139 € 100 ₪ 370 NZ$ 171 kr 1093 $ 107

GPS rental: $ 78 £ 44 $ 70 € 50 ₪ 185 NZ$ 86 kr 547 $ 54

Phone rental, excluding costs of calls: $ 16 £ 9 $ 14 € 10 ₪ 37 NZ$ 17 kr 109 $ 11

Transfers

Minimum two people

Transfer from Lisbon airport to Alvados, per person: $ 153 £ 86 $ 137 € 98 ₪ 362 NZ$ 168 kr 1072 $ 105 Transfer from Vila Nova de Milfontes to Lisbon airport, per person: $ 207 £ 117 $ 185 € 133 ₪ 492 NZ$ 227 kr 1454 $ 143

Minimum four people

Transfer from Lisbon airport to Alvados, per person: $ 107 £ 61 $ 96 € 69 ₪ 255 NZ$ 118 kr 754 $ 74 Transfer from Vila Nova de Milfontes to Lisbon airport, per person: $ 140 £ 79 $ 125 € 90 ₪ 333 NZ$ 154 kr 984 $ 96

---

*A single supplement applies for an extra person in a group of 2 or more and not for a solo traveler. Please ask us for pricing if you are traveling alone.
**Easter, Christmas, and New Year's Eve may include a supplement. Pricing on request.

Extra Info

Skill Level — Easy–Moderate

On this electric bike tour, the difficult terrain is rated as easy to moderate. However, if you opt to cycle this route on a hybrid touring bike, we would rate this tour as difficult. Please take a look at each day's mileage and elevation information! You can see why we are including an electric bike. On your electric bike, you can make the hills as easy as you would like or adjust your support for a little challenge. You will still earn your dinner at the end of the day. Regardless of the type of bike, this is not a tour for inexperienced cyclists as the terrain is varied. It is important to have good balance and good command of your bike.

Airport Info

Fly to Lisbon International Airport (LIS).

Local Travel

For guided and supported cyclists, arrival and departure airport transfers are included in your tour price. Self-guided cyclists are advised to book transfers for a supplement. See pricing. If however, you prefer to use public transportation, from the airport by bus to Batalha (approx. €12 per person) and from there, a taxi to the hotel.

Climate

Please check local conditions before your arrival. This region of Portugal is a typically Mediterranean climate with influence from the Atlantic.

Recommended

It is possible to modify the itinerary to include extra nights at all hotels, shorten the tour by removing an area/s, and swopping some of the cooking classes for served dinners. Please ask.

Remarks

If you prefer quite a challenge, we can offer Kross Hybrid touring bike (non-electric) with front suspension. Just ask!

Important to know

Documents

Before you travel, please check your country's passport and visa requirements and the passport and visa requirements of the country/countries you plan to visit. For US citizens, the US Department of State website is a good source of information. The Country Information tab in the International Travel section provides details about passport validity, blank passport pages required, etc. For our other international clients, please be sure that you research your own country's travel requirements. It is each traveler's responsibility to ensure proper documentation.

*Please check the status of the  European Travel Information and Authorization System (ETIAS) as once implemented, will be required to visit any of the 26 Schengen-member countries for tourism, business, medical, or transit. This is an additional check on security rather than a visa.

Covid-19 Info

Country Entry Requirements

Due to the changing requirements for entry, it is imperative that you stay up to date on requirements set by the country/countries that you are visiting. Please visit our Travel Restrictions Tool page and the country/countries government webpage for this information.

---

Photos

Reviews
Have you been on this tour?
Please leave your feedback