5

/

5

(

1

review)
Portugal, Land of Contrasts Bike Tour
Central heart of Portugal Cycling Tour
This week of diverse Portugal cycling takes you through the heart of Portugal's best-kept secrets, from breathtaking coastlines and rural landscapes to enchanting hilltop palaces. On this Portugal bike tour, you will observe Manueline architecture, verdant National Parks, and visit century-old vineyards and farmsteads.

Portugal, much like its neighbor Spain, is a land of wonderful contrasts. It is considered a Mediterranean country, mostly for its way of life and passion for the marine environment. Once at the forefront of navigation and world discovery, Portugal remains an intriguing place where history, landscape, gastronomy, and a humble, soft-spoken culture welcomes visitors to its sun-swept corners.

Of course, opportunities to sample Portugal's tasty local dishes, its superb wines, and delicious pastries are also part of this unique experience!

Want to see more bike tours in Portugal?

Price: $ 3060 £ 1514 $ 2,644 € 1670 $ 3157 kr 18608 $ 1,878

Single supplement: $ 458 £ 227 $ 396 € 250 $ 473 kr 2786 $ 281

Other requested dates are available for groups over 4 pax at the normal published price. Subject to hotel availability.

extra

options

Electric bicycle rental: $ 229 £ 113 $ 198 € 125 $ 236 kr 1393 $ 141

please

note

Rates are per person based on double occupancy.

A non-refundable admin fee of 20 Euros per person is included in the deposit amount.

Information to read before you book.

We recommend purchasing bike trip insurance.

† Currency exchange rate set 90 days before travel.

Travel

Fly into Lisbon International Airport (LIS).

Local Travel

Airport transfers to Lisbon are frequent and easy. Taxis are relatively inexpensive from the airport to the hotel or city center. Expect to pay minimum 15€ taxi fare or slightly more if traveling at night. There is a very efficient and rapid airport shuttle bus to the city center – costing about 3-4€ person for the one way trip. Least expensive is the METRO that departs right from the arrivals zone – about 2-4 € one way. However the Metro route may require you change lines before you reach the hotel.

Climate

Check local conditions prior to arrival. Average high/low temperature in degrees Fahrenheit: May 70/60º, June 76/60º, July 81/64º, August 82/64º, September 79/63º, and October 72/58º.

Remarks

Please keep in mind that although the tour is considered guided, the tour guide does NOT cycle with the group unless there are more than 14 people. In that case, there is a tour guide and a support vehicle driver. Groups range from a minimum participation requirement of 4 to a max of 16 persons. For groups of less than 14 persons, the tour guide acts as the support vehicle driver. He/she ensures that hotel, meals, transport and the riding goes smoothly and acts as your evening host and guide. This person also deals with the general well being of our guests, looks after bicycle maintenance and keeps a close watch on road conditions, route changes, etc.

---
Skill
Level
This is a moderate guided and/or supported tour depending on group size. The tour begins and ends in Lisbon with some transfers in the form of minibus (and/or, pending on your group size), public bus and train to bypass areas of high traffic volume. The total distance is approximately 230 km over 5 days of riding. The overall grade is moderate, riding over coastal terrain, and at times, some challenging climbs and descents. Of course, the support vehicle is always available for assistance. All routes are on good tarmac roads with the exception of Day 4 where there is approximately 6 km of good gravel road. Again, entering and exiting Lisbon, there will be traffic to contend with. It is important that you have a good level of fitness.
Where
You'll Stay
Accommodations in 3 and 4 star hotels that are small and authentic to the region. All rooms are ensuite, some with pools and gardens and nearly all are family run establishments.
What's
Included
Hotel accommodations for 7 nights
7 x breakfast
3 x dinner
21-speed hybrid bicycle equipped with helmet, gel seat pads, toe clip options, and bike bag
Transfers where necessary (as per itinerary)
A guide that drives the support vehicle (please see remarks for details)
Route information packet including maps and daily route description
What's
Not Included
Airport transfers
Remaining meals
Entrance fees to museums and other excursions
Tour
Dates
March 8 and September 6, 2020
Please note: The dates above require a minimum of 4 participants. Additional dates are available on request for groups over 4 at the normal published price. 
Day-To-Day
Itinerary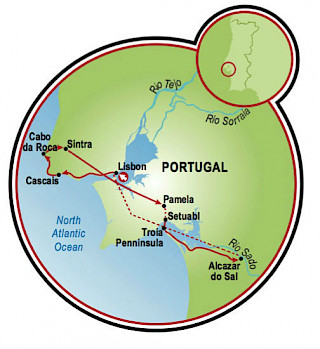 Day 1: Arrival in Lisbon
Day 2: Lisbon Interpretive tour and Cascais coastal town, 25 mi. (40 km)
Day 3: Cascais, Cabo da Roca and the Parque Natural of Sintra, 34 mi. (55 km)
Day 4: Enceira - Sintra, 27 mi. (45 km)
Day 5:  Rest day in Sintra
Day 6: Palmela, Parque Natural of Arrabida and the Vineyards of Setubal, 30 mi. (50 km)
Day 7: Troia Penninsula, the cork forests and Santiago do Cacem, 37 mi. (59 km)
Day 8: Santiago do Cacem - Lisbon
*All distances are approximate.
DAY 1: Arrival in Lisbon 
Upon your arrival in Lisbon, you will meet the group at 7 pm at the hotel in Lisbon's central quarter for orientation with the trip leader followed by dinner.  If you arrive in Lisbon earlier, you may wish to visit the Sao Jorge Castle, the Gulbenkian Museum, and wander the streets of the Bairro Alto where tiny bars spill onto the streets and sounds of Fado fill the air. The evening's accommodation is in a comfortable, tourist class hotel.  
DAY 2: Lisbon Interpretive tour and Cascais coastal town, 25 mi. (40 km) 
The day begins with a morning guided bicycle tour of Lisbon on that includes a cycle to Belem (where Vasgo de Gama set sail from), followed by a short van transfer (30 minutes) onto Cascais – a beautiful coastal town west of Lisbon. This afternoon you can also stroll the seafront promenade with great pubs and shopping close to the hotel.
DAY 3: Cascais, Cabo da Roca and the Parque Natural of Sintra, 34 mi. (55 km) 
Today you will bike Portugal along the stunning coastal route between Cascais and Enceira, taking in a number of sun-swept coastal villages, enjoying the vast flora and birdlife of this historic part of Estremadura. One of today's highlights is a visit to Cabo da Roca, continental Europe's most western point. 
DAY 4: Enceira - Sintra, 27 mi. (45 km)
From Enceira, you will cycle through Estremadura's rural settlements and beautiful coastline. You will also experience medieval townships and cycle through the region's pasturelands and agricultural landscapes before arriving in Sintra. Also along the way is a virtual fairytale kingdom and once home to generations of Portuguese Royalty seeking solitude in this verdant mountain hideaway. The Mafra National Palace is a worthy visit on today's ride. A two-night stay in Sintra offers plenty of time to explore the sights which include the Moorish fort, boutique shops, and the many cafes of this lovely area. 
DAY 5: Rest day in Sintra
Today you have the option of exploring Sintra's many wonders including the forested walking paths which lead to a Moorish Fortress and of course, La Pena Palace, which was the summer residence of the Royal Family of Portugal.  This fairytale village is adorned with medieval treasures, tidy boutique shops, and cozy eateries. You may also self explore on bike today as there are many riding options available such as the Montserrat Monastery or the stunning coastline itself.
Rest day options: Self-guided in the Sintra Region
Hiking through the Sintra National Forest (30 minutes to full day)
Visits to nearly a dozen palaces and mansions (quintas) of Sintra
Hop on a train or bus to a nearby rural area or head up to Fatima
Bird watching and nature spotting in the forest
Cycle the Sintra Forest routes or ride down to the coast (approx. 25 km one way - your bike is available to you on rest day)
Relax at the hotel utilizing the gardens and pool
Have a lazy lunch in Sintra watching the world go by from one of the many medieval era taverns
DAY 6: Palmela, Parque Natural of Arrabida and the Vineyards of Setubal, 30 mi. (50 km)
Today you will transfer to the wonderful highlands of the Arrabida Park and ride through the woodlands of Setubal. Along the way, you will pass traditional windmills and visit a wonderful, family-run vineyard for a taste of wine and homemade cheese before descending to the coastal road which leads to Setubal, a thriving city set on the Rio Sado. This is home to the country's most important wildlife sanctuary. 
DAY 7: Troia Penninsula, the cork forests and Santiago do Cacem, 37 mi. (59 km)
Starting with a short river crossing by ferry, today will take you on a wonderful ride over a forested peninsula that offers a view of some of Portugal's finest and most remote coastline. This is a great location for dolphin and whale watching! Continuing south, you will follow cork forests to the historic Moorish town of Santiago do Cacem, a colorful sleepy Alentejo village in woodlands where little has changed in centuries.
DAY 8: Santiago do Cacem - Lisbon
Following breakfast, a transfer will bring you back to Lison airport or you can extend your stay in Portugal!
Email or Call 800-951-4384 +1 570-965-2064
---