Thuringia, the Green Heart of Germany
Bike the Green Heart of Germany…
On the western edge of the former East Germany lies Thuringia, known as the Green Heart of Germany. A dense forest covers a varied terrain of valleys, rivers, and mountains, providing the perfect variety for this bike tour in Germany. The city of Weimar was home to Goethe and Schiller. J. S. Bach and many others from all branches of arts and culture have left their traces here.

Another highlight of the tour is Eisenach, world famous for Wartburg, the castle where Martin Luther first translated the bible. Your bike tour will take you through the "four pearls" of Thuringia, the major historical towns of the region, Gotha, Erfurt, Weimar and Jena. They fascinate visitors with their castles, palaces, breathtaking scenery, excellent cuisine and rich culture. It could be said that Thuringia is not only "The Green Heart of Germany" referring to the lushness of the landscape but also as "The Heart of Germany" referring to the culture and history that is found here.

Be sure to browse all of our bike tours in Germany.

Twin/double: £ 703 $ 1,416 € 820 NOK 7790 kr 7191 $ 935 Supplement for single room: £ 171 $ 345 € 200 NOK 1900 kr 1754 $ 228 Supplement for single traveler: £ 94 $ 190 € 110 NOK 1045 kr 965 $ 125

extra

options

Extra nights in Erfurt (4* hotel):
Twin/double: £ 56 $ 112 € 65 NOK 618 kr 570 $ 74 Single supplement: £ 34 $ 69 € 40 NOK 380 kr 351 $ 46 Dinners included: £ 150 $ 302 € 175 NOK 1663 kr 1535 $ 200 Electric bicycle rental: £ 60 $ 121 € 70 NOK 665 kr 614 $ 80 Extra day bicycle rental (price is per day): £ 13 $ 26 € 15 NOK 143 kr 132 $ 17 Extra day e bike rental (price is per day): £ 21 $ 43 € 25 NOK 238 kr 219 $ 29

 

please

note

Children's discounts available.

Rates are per person based on double occupancy.

Information to read before you book.

We recommend purchasing bike trip insurance.

† Currency exchange rate set 90 days before travel.

Travel

Fly into Frankfurt (FRA) or Erfurt/Weimar Airport

Local Travel

If you are flying into Erfurt/Weimar Airport, this airport is about 10 km from the city center. You can take tram 4 which provides a direct connection. The tram takes about 10 minutes. If you are flying into Frankfurt Airport, you can take a train to Erfurt. There is a train station on the lower level of the airport. It is possible to take a direct train but it may require one or two changes depending on time and connections. You can expect the train ride to take between 2 hours and 30 minutes to 3 hours.

Climate

Please check local conditions before arrival. The average high/low temperatures in degrees Fahrenheit for the region are: April 56°/39°, May 66°/47°, June 71°/53°, July 75°/56°, August 75°/56°, September 68°/51°, and October 57°/43°.

Recommended

Extra nights before or after the tour.

---
Where
You'll Stay
3 and 4  hotels and guesthouses
What's
Included
Hotel accommodation for 7 nights in 3 and 4 hotels/guesthouse
7 x breakfast
3 day Thuringia card-free entrance to over 200 attractions such as castles, museums, spa, local city buses, and train to Jena
21 speed bicycle
Luggage transfer
Tour Book
GPS tracks on request
Emergency hotline
What's
Not Included
Additional meals
Travel to and from the starting point of the tour
Extra
Stay
Available in Erfurt.
Tour
Dates
Daily arrival from April 22 to October 15, 2018
(minimum 2 people)
Skill
Level
This is a moderate self-guided bike tour on cycle paths and quiet minor roads. Terrain is rolling. About 50% of tour takes place on new cycle paths.
Day-To-Day
Itinerary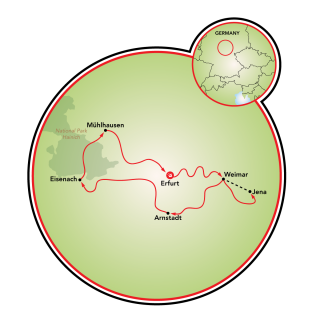 Day 1: Arrival in Erfurt
Day 2:  Erfurt - Weimar, 15 mi. (25 km)
Day 3:  Round trip of Weimar, train to Jena, 22 to 42 mi. (36 to 67 km)
Day 4: Weimar - Arnstadt, 20 to 39 mi. (33 to 63 km)
Day 5: Arnstadt - Eisenach, 17 to 41 mi. (28 to 65 km)
Day 6: Eisenach - Mühlhausen, 36 to 46 mi. (58 to 74 km)
Day 7: Mulhausen - Erfurt, 30 to 43 mi. (49 to 69 km)
​Day 8: Departure
*All distances are approximate.
Day 1: Arrival in Erfurt
Erfurt is the capital city of the state of Thuringia (Thüringen) located in the "green heart of Germany". The first documentary reference to Erfurt dates back to 742 AD, since then, the city has grown from being a small but thriving center for commerce at the intersection of medieval trading routes to an important commercial center. Erfurt also has a fine university and the city's cultural, intellectual and economic dominance drew great personalities such as Luther (Augustinian Monastery), Adam Ries, Goethe, Schiller, Herder, Wieland, Bach (Kaufmannskirche, (Merchants' Church) the church where J. S. Bach's parents were married), W. v. Humboldt, Zsar Alexander and Napoleon (Kaisersaal, Staatskanzlei (Chancellery)).
Day 2: Erfurt - Weimar, 15 mi. (25 km)
Your bicycle tour in Germany now departs from Erfurt via the Krämerbrücke. This is a very famous bridge spanning the River Gera. It is a medieval structure and dates from around 1325. Along its top, 32 houses and shops line the bridge, some rising four stories tall. These date in their present form from the 17th century and are all half-timbered structures. Originally there were 60 houses on the bridge in medieval times. The church of St. Ägidien from the 14th century can be found on the eastern end of the bridge. All of this is dominated by the monumental Mariendom and Severi church. As you leave Erfurt, you enter a completely different scenario, little villages with cozy bars entice you to try various delicacies of the local cuisine. Cycling on the Thurringian Bike Path, through farmland, your destination is Weimar, a city famous for culture. So many great names are connected to Weimar: Goethe, Schiller, Herder, Wieland, Lucas Cranach, Johann Sebastian Bach and Franz Liszt. There are many museums and monuments to be visited here. Weimar is a pulsating center of the arts and sciences.
Day 3: Round tour of Weimar, train to Jena, 22 to 42 mi. (36 to 67 km)
Today you will follow in the footsteps of poets and philosophers. A short train transfer to Jena will allow you sufficient time to explore this energetic university town. Founded in 1558, many well-known people have lectured here. Goethe was one of the supporters and Schiller lectured here. Ernst Abbe and Carl Zeiss worked on their epoch-making discoveries on optics. Jena also possesses the oldest planetarium of the world. The route lead from Jena on the Saale River cycle path through varied and geographically interesting country, past fortresses, castles, churches and historic mills all through the wine region of Thuringia. In the heart of Thuringia, you change to the Ilm Valley cycle path. Places as Apolda, Bad Sulza or Domburg, which have preserved their unique character, dot your landscape. Be sure to take your time to visit the energetic town centers.
Day 4: Weimar - Arnstadt, 38 mi. 20 to 39 mi. (33 to 63 km)
Leaving the city of culture along the Ilm Valley Cycle path, the route leads to the Thuringer Forest. Refresh at the Hohefelden Reservoir, enjoy a picnic lunch and swim. Continuing on the path, the desitnation is Arnstadt with its historic old town and lovely atmopshere.
Day 5: Arnstadt - Eisenach, 17 to 41 mi. (28 to 65 km)
Like pearls on a string are the four main cities of Thuringia: Gotha, Erfurt, Weimar and Jena. The last cycle day follows the City Cycle path, slightly undulating back to Eisenach. The dominating building of Gotha is the intimidating castle Friedenstein, the largest early baroque castle of Germany. The oldest baroque theatre of Europe can be found in the west tower. The Ekhof Theatre prides itself with completely conserved stage mechanics from the year 1681. The castle museum exhibits a substantial collection of porcelain and a picture gallery. Further the art collection of the Dukes of Sachsen-Coburg and Gotha. A further attraction of the historic old town is a beautiful ensemble of town houses around the main market square and the historic town hall, which you should not miss out. Cycle along sunflower fields, through shady forests and idyllic villages. As promised before – wherever you go, Thuringia's cuisine and hospitality are there. Do not miss the famous dumplings and sausages.
Day 6: Eisenach - Mühlhausen, 36 to 46 mi. (58 to 74 km)
Martin Luther lived as a child in Eisenach, although he was not born there, and it was here later that he sought refuge and protection after having been pursued for his religious views. It was while he was staying at Wartburg Castle, that he translated the New Testament into German. The town's history is linked to this castle, which, according to legend was built in 1067. Settlements grew up around the edifice to become Eisenach. The town is famous as the birthplace of Johann Sebastian Bach as well. You will want to visit the St Georg, where Bach sang as a choir boy and worked as an organist. There is a museum dedicated to Bach here in Eisenach as well. A collection of his works, furniture, and music instruments can be seen and concludes with a 25 minute Bach concert, played on antique instruments. Just a short walk from the church is the house where Martin Luther lived as a boy and today houses an exhibition tracing the important stages in the reformer's life through paintings, manuscripts and interactive multimedia terminals. As you leave Eisenach, you will follow the Werra-Cycle path. Along the river you cycle through varied nature: idyllic river meadows, forests and cultural heritage. The stage starts with the wild and idyllic Werra breakthrough – a region with an exceptional variety of orchids. Intimidating fortress Normannstein towers over Trettfurt and then you continue relaxed to Mühlhausen, the city of gates and churches. The 59 spires and the fortification wall were name giving to "Mulhusia Turrita". The manifold architecture, the overall layout of the town with completely conserved city wall (accessible) offer testimony of the once wealthy imperial city."
Day 7: Mülhausen - Erfurt, 30 to 43 mi. (49 to 69 km)
Today you cross the center of Germany by way of the nature park Hainich and then proceed on a shortcut to Unstrut.
Long Option: Stop at nature park Hainich, walk the "Tree Top Route" and enjoy the views on top of a beech wood across the Thüringer Becken (a large plain). Both options join again and then you continue to Bad Langensalza with almost completely conserved city walls, as well as townhouses and guild houses from the 8th century. This place truly is a historic gem. Visit the singular rose garden, botanical garden, and Japanese garden. Via Unstrut cycle path, you reach your days destination Erfurt, capital of Thuringia. This city has been shaped by one of Germany's best maintained medieval old town.
Day 8: Departure
End of tour, following breakfast.
Looking for more?  View all our featured bicycle tours, specials, and news or look at our full list of bike tours in Europe.
Email or Call 800-951-4384 +1 570-965-2064
---