Tour of Three Cities
Cycle Washington, Baltimore, and New York
This multi-faceted tour provides the opportunity to cycle through three of the most historically important cities in the U.S.; Washington D.C., NYC, and Baltimore. This US bike tour is self-guided which gives you the flexibility to explore these cities at your own pace. In fact, if you desire, all of your time can be spent cycling Washington DC's historic trails and visiting the monuments or you can choose to split your time between biking between DC and Baltimore. You may also choose whether or not to add New York City bike tour. However, it may be especially enticing during the historic 5 Boro Bike Tour.

A bike is the ideal way to get around these three cities. You can cover much more ground at a faster pace and yet still have the pleasure of seeing things up close and in person. Traffic and parking hassles disappear, and you always have the option to stop when and where you please.

Want to see more bike tours in the United States?

2015 Pricing: On request

extra

options

Bike rental (extra day): on request
Bike Protection (week): on request

​Extra nights in D.C.
Monday through Thursday: on request
Friday through Sunday: on request

Extra nights in NYC: on request
Add on NYC w/ 5 Boro Bike Tour (bicycle inlc.): on request
Add on NYC w/o 5 Boro Bike Tour: on request
​Single supplement NYC: on request

*Add-on consists of 2 nights

All accommodations are 3 star hotels
4 star hotels available on request.

please

note

Minimum of two people.

Rates are based on double occupancy.

Information to read before you book.

We recommend purchasing bike trip insurance.

† Currency exchange rate set 90 days before travel.
Where
You'll Stay
Accommodations in 3* hotels
What's
Included
Washington and Baltimore tour:

Accommodation in the 3 Quincy Hotel in DC
Accommodation in Leesburg 3 Best Western (continental breakfast included)
Accommodation in Baltimore 3*
Accommodation in Annapolis
21 speed bicycle with helmet
Route descriptions
Luggage transfer
Transfer from Falls Church to Baltimore (bike included)
Additional Options:
Add on NYC w/ 5 Boro Bike Tour:
Additional two nights accommodations in 3* hotel
Bike rental for 5 Boro Bike Tour
Entrance fee for 5 Boro Bike Tour
Train ticket from Washington DC to NYC
Add on NYC w/o 5 Boro Bike Tour
Additional two nights accommodations in 3* hotel
What's
Not Included
Local transportation costs
Any museum entrance fees
All meals other than those mentioned
Bike rental for Add on NYC w/o 5 Boro Bike Tour
Tour
Dates
Arrival on Fridays from April 10 to October 30
*Additional dates available on request only
**Extension to NYC is not possible after October 23 due to the NYC Marathon
Skill
Level
Easy to moderate. The terrain is relatively flat but you will encounter some hills.
Day-To-Day
Itinerary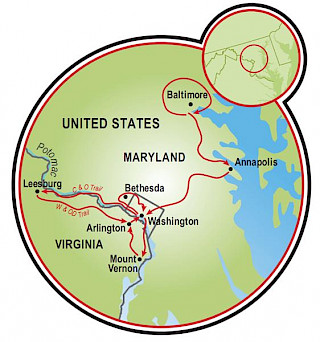 Individual arrival to Washington, DC
Downtown DC and monuments (31 miles)
Mt Vernon and the Pentagon
Option 1: (+/- 42 miles)
Option 2: (+/- 47 miles)
Option 3: (+/- 32 miles)
C & O Canal to Whites Ferry, overnight in Leesburg, Virginia (+/- 36 miles)
 Washington and Old Dominion Rail Trail to Falls Church (+/- 38 miles)
Baltimore (+/- 13 miles)
Baltimore to Annapolis (+/- 26 miles)
 Annapolis to DC (+/- 40 miles)
Departure or extension, Amtrak to NYC
NYC (5 Boro Bike tour: 42 miles) or bike at leisure in NYC
Departure from NYC or extension of stay.
Day 1:  Arrival
Individual arrival and check-in. 
Day 2:  Downtown DC and monuments ride.  (+/- 10 miles )
Bethesda option: (+/- 31 miles) through Rock Creek Park to Bethesda
 Highlights: Washington's major monuments and museums plus Georgetown, Embassy Row, and the White House. 
If you opt for the downtown DC and monuments ride, the possibilities are endless. You will be provided with various maps and suggestions and can decide which sites you desire to see and how much time you would like to spend at each. You will not want to miss the opportunity to cycle through Georgetown at some point during your stay. Located in the Northwest quadrant of Washington, D.C. along the Potomac River waterfront, Georgetown is a vibrant community. If you decide to include the ride to Bethesda, you can still do a DC loop and monument ride and then head off through Rock Creek Park on paved and hard packed trails and have your lunch in Bethesda, Maryland. You will return via the paved Capital Crescent Trail. This trail lies along an abandoned rail spur, developed in the first decade of the 20th century. It now serves as a protected greenway for wildlife and outdoor recreation.
Day 3:  Mt Vernon Ride and the Pentagon via Mt. Vernon Trail
Three options:
1.      Mt. Vernon and back: 37.6 miles
2.      Mt. Vernon, Pentagon and Arlington National Cemetery (41.5 miles)
3.      Mt. Vernon, Pentagon and Arlington National Cemetery utilizing the metro as well (32 miles)
The Mount Vernon Trail is a big favorite of area cyclists. The route affords riders beautiful vistas of the Potomac River and of the national memorials, the U.S. Capitol, and the National Cathedral. Other points of interest include Navy and Marine Memorial, Gravelly Point, Olde Town Alexandria, Arlington National Cemetery, and George Washington's home at Mr. Vernon at the end of the trail. If you desire to tour the estate, please plan on about 2-3 hours for this part of your cycling itinerary.
You can return via the Mt. Vernon Trail to end your cycling day or you can visit the Pentagon and ride into Arlington National Cemetery via the Four Mile Run Trail.
If you want to visit the Mt. Vernon Estate and have time to explore there and do not want to forfeit the ride by the Pentagon and into Arlington National Cemetery you can hop on the Metro, boarding at King Street in Alexandria and exiting at the Pentagon.
The Pentagon is the headquarters of the United States Department of Defense designed by the American architect George Bergstrom (1876–1955), and built by John McShain, a general contractor from Philadelphia, Pennsylvania. On September 11, 2001, exactly 60 years after the building's groundbreaking, hijacked American Airlines Flight 77 was crashed into the western side of the Pentagon, killing 189 people, including five hijackers, 59 others aboard the plane, and 125 working in the building. Today there is s a permanent outdoor memorial to the 184 men and women who lost their lives as victims of the attack, killed both in the building and on American Airlines Flight 77.
Day 4:  C & O Canal Trail to Leesburg (36 miles)
Highlights: Georgetown, Great Falls, Great Falls Visitor Center and Museum,  White's Ferry
The towpath begins in the Georgetown section of Washington DC, at the edge of the Rock Creek Parkway, between Pennsylvania Ave. and the Whitehurst Freeway. This roughly marks the inland most point of the navigable Potomac River. A few major points of interest along the route include Great Falls. Roughly 35,000 years ago, The Potomac River began carving out the Great Falls of the Potomac. The river cascades over a series of 20-foot (6.1 m) falls, falling a total of 76 feet (23 m) in elevation over a distance of less than 1 mile (1.6 km), making the Great Falls the steepest fall line rapids of any river in the eastern United States. You will also cycle past remains of the Seneca Creek Aqueduct. This three arch aqueduct is the first of eleven such structures along the canal. A local thunderstorm flood destroyed the western most arch on Sept 11, 1971
After the Seneca Creek Aqueduct, the conditions change radically. The canal bed is no longer watered and thus has been completely reclaimed by forest growth. This makes the towpath quite shady, which is great during the summer months. Expect to see a variety of wildlife, including towpath favorites such as deer, rabbits, and the occasional fox.
The major point of interest in this section is Whites Ferry, the only working ferry on the Potomac. You will use the ferry to cross over to Leesburg, Virginia, Founded in 1758, it is one of the state's most picturesque and best-preserved communities.
Day 5:  W & OD (Washington & Old Dominion) Rail trail to Falls Church (+/-38 miles)
The Washington & Old Dominion Trail (W&OD or "Wad") is a great rail trail through the Northern Virginia counties. The entire 45 miles is paved with nine foot wide asphalt and has a painted yellow center line. There is also a parallel horse trail along much of the trail. Starting in Leesburg, you will follow this to the town of Falls Church where a transfer awaits for both you and your bicycle to the city of Baltimore.
Day 6: Baltimore (+/- 13 miles)
Baltimore is the largest independent city in the United States and the largest city and cultural center of the state of Maryland. The city is located in central Maryland along the tidal portion of the Patapsco River, an arm of the Chesapeake Bay. Your bicycle route today begins and ends at Boston Street from Canton Waterfront Park and leads you to the Aquarium, Harbor View Drive, and the science center.
Day 7: Baltimore to Annapolis (+/- 25 miles) 
Via the BWI Trail, you will connect to the Baltimore and Annapolis Trail. This trail is an established recreational greenway following the route of the old Baltimore & Annapolis Railroad from Glen Burnie to Annapolis. This linear park is 13.3 miles long and encompasses 112 acres. The trail has a 10-foot wide, paved surface within a 66-foot wide, landscaped corridor. The trail has a two percent grade and is used by walkers, runners, cyclists, and equestrians as well as various forms of wildlife. Annapolis has a thriving historic district with shops and restaurants along the waterfront.  One could easily spend a day walking around the town's downtown harbor area shopping and eating. There is also a lively nighttime scene.
Day 8: Annapolis to DC (+/- 29 miles)
This is a capital-to-capital ride, from Annapolis, the capital of Maryland to the nation's capital. You will cycle along the Northwest Branch trail to West Hyattsville Metro station and ride the metro into downtown DC.
Return rental cycles to Old Post Office Pavilion.
Day 9: Individual departure or extension
Departure from Union Station via Amtrak to NYC, extension of stay in Washington D.C, or departure from Washington DC. 
Day 10: New York City
Participation in the 5 Boro Bike Tour depending on time of travel. This event is organized by Bike New York, which dates back to 1977, when the Five Boro Bike Tour began as a program of American Youth Hostels. This event grew so much over the years that by the late 1990s, it required a dedicated, year-round staff to handle operations, sponsorship, and communications. Thus, in 2000, Bike New York was established as a not-for-profit organization. Since then, the Tour has continued to introduce generations of riders to the joys of cycling in New York City.
If you are traveling at any other time, you can still enjoy some exciting biking in NYC. New York exerts a significant impact upon global commerce, finance, media, art, fashion, research, technology, education, and entertainment. The home of the United Nations Headquarters, New York is an important center for international affairs and is widely deemed the cultural capital of the world.
Located on a large natural harbor on the Atlantic coast of the Northeastern United States, New York City consists of five boroughs: The Bronx, Brooklyn, Manhattan, Queens, and Staten Island. New York is the most densely populated major city in the United States. As many as 800 languages are spoken in New York, making it the most linguistically diverse city in the world.
If you'd like, we can set up a customizable tour for you throughout Brooklyn or Manhattan. Please contact us for additional information!
Day 11:  Departure from NYC or extension of stay
Washington Based Option:This option provides for 8 days/7 nights in a 3 * hotel. You will be provided with bike rental and route descriptions detailed enough for you to be able to completely explore DC by bicycle.
Be sure to check out all of our bike tours in Europe or look at our featured bike trips, specials, and news​
Email or Call 800-951-4384 +1 570-965-2064
---