Tripsite Traveler - Tulip Tour with Nancy Arehart
I recently retired from a 38yr long career in Information Technology (yes, I started with punch cards). It was a great career, but it is now time to take my travel and hobbies more seriously!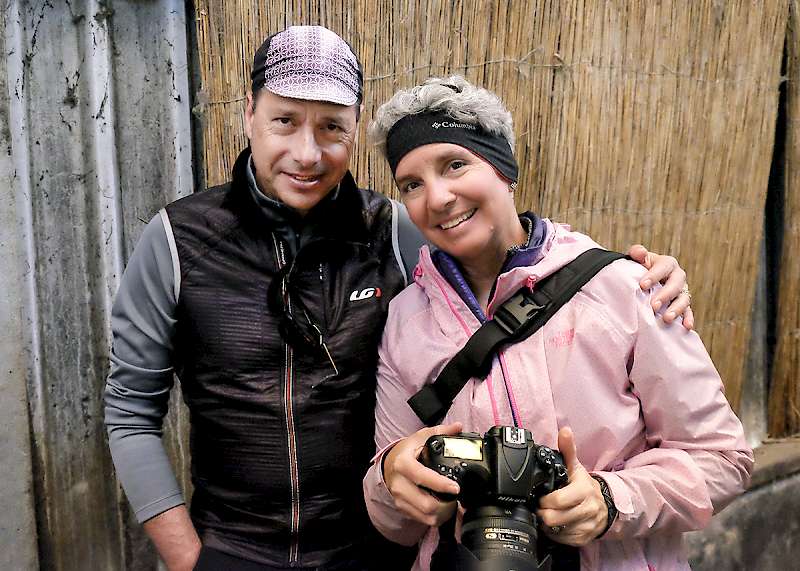 I live in Raleigh, North Carolina with my husband Kurt and part-time son, Coleman (he just finished his freshman year William Peace University and is home for the summer). Our older son, Tyler, lives and works in Seattle. As a family, we love to take vacations together that involve some kind of physical activity … Skiing, Hiking, Kayaking etc. We have hiked the West Highland Way in Scotland, the Narrows in Zion National Park, and Grandfather Mountain in North Carolina, just to name a few of our favorites.
About 5 years ago, I bought a nice Nikon camera and, although I didn't know much at all about photography, it was love at first sight. I joined a local photography club and I began marching up the learning curve. I still have a lot to learn, but my hobby was born. Now I take my camera with me wherever I go, near and far.
My travels have taken me to some really fabulous places. It is too hard to pick a favorite, as they have all been so very different. For instance … Namibia … who wouldn't love to see the lions, zebras, and elephants at Etosha National Park, or climb the towering sand dunes of Nauklift National Park? Or … Vietnam … who wouldn't want to trek through terraced rice fields in Lao Chai, visit the Black H'mong hill tribe people, and eat lunch in one of their modest homes? There are so many cultures to experience in this world. One is more fascinating than the next.
Kurt and I just recently returned from our first Tripsite Bike & Barge tour of Holland with our good friends, Cliff and Wendy. Bicycling is a favorite activity for all of us, so when this trip opportunity came up, we wasted no time booking it. The thought of cycling among the tulips, canals, and polders was very intriguing to us. We arrived in Amsterdam and made our way to the dock to find the MPS Zwaantje. We were greeted by the owners, Martijn and Marjorie, and their wonderful dog Gaston. The smiles on our faces broadened as soon as we stepped foot on the Zwaantje. This barge was just perfect … so clean and newly appointed. As we climbed the steps to the top deck, we saw a brand new fleet of bicycles. Those favorite saddles we brought with us … no need. These bicycles were perfect. Those smiles on our faces never left for the 8 days we were on board.
This trip was the perfect mix of activities for us. On average, we bicycled 25 miles per day with interesting stops along the way … Keukenhof Gardens, working Windmills, endless fields of flowers, oh, and chocolate shops. On two different occasions, our bicycling guide, Felix, put together a special route for Kurt and Cliff (and a new friend, Jeff) so they could get some more miles in while the rest of us sailed during breakfast. We had hoped that bicycling every day would give us the freedom to eat without gaining weight. Well, not with Chris as our chef! The family style dinners he turned out were so delicious, we had a hard time controlling ourselves.
As soon as we came home from this trip, we immediately began talking about where we wanted to go next. Hmmm … Bruges to Paris … that sounds good! Done. See you back on the Zwaantje in 2017! The smiles are already on our faces.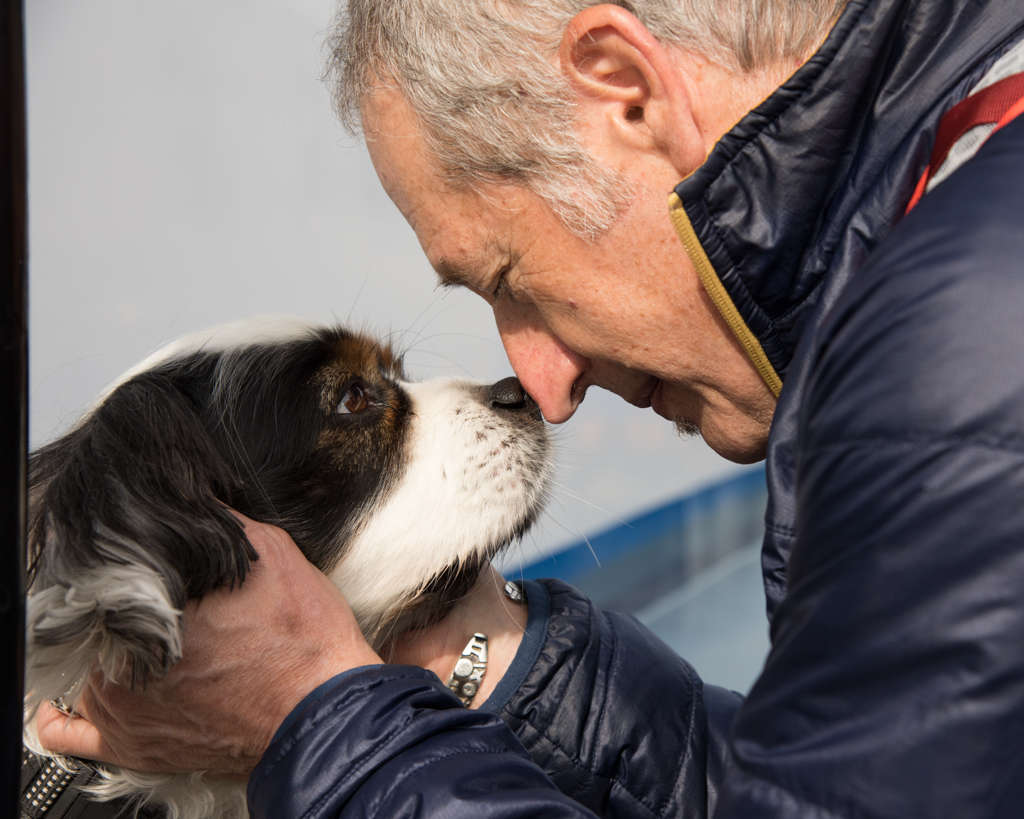 Gaston's Welcome Kiss:This is my friend Cliff accepting Gaston's greeting before we even stepped foot on the Zwaantje.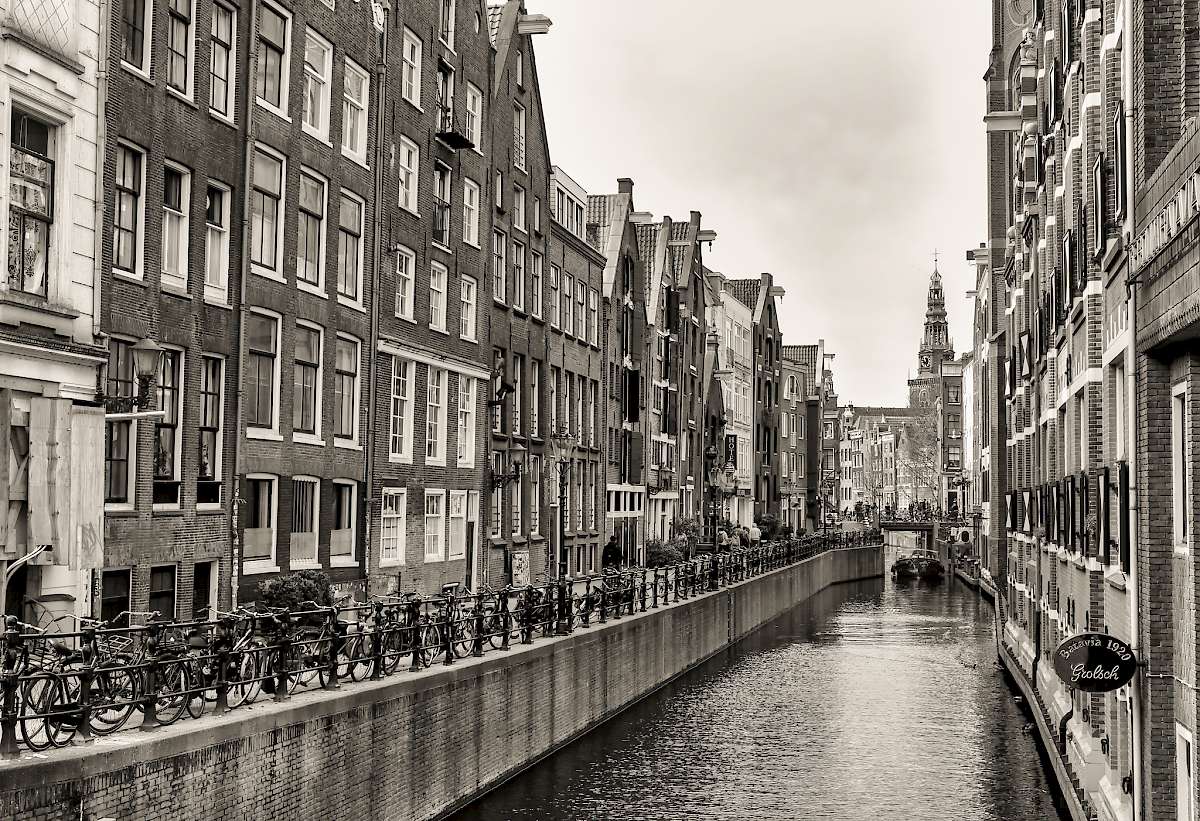 Amsterdam Canal: This is just one of MANY beautiful canals to be seen on this trip. We had dropped off our bags at the Zwaantje in the morning and then took some time to stroll around the city before our tour officially started.



Haarlem: The Zwaantje set off from Amsterdam and we were on our way to our first stop, Haarlem. Before arriving, we disembarked with our bicycles for an introductory/short ride. This was a good chance to make adjustments so that the bicycle fit was just right for the rest of the tour. As we rode into Haarlem, I took note of this windmill as we crossed a bridge. So, after dinner, Kurt and I walked back to this bridge to see if the windmill was lit. Yes, it was ☺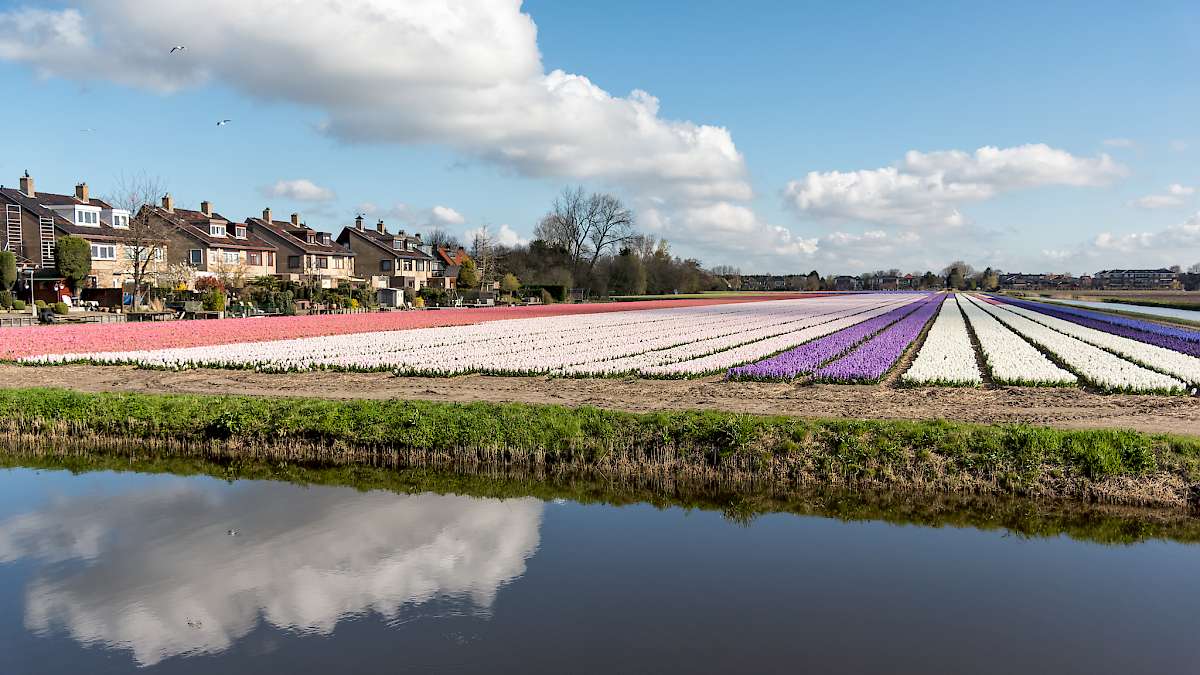 Fields of Hyacinths: For a week or so before our trip, we were watching the weather forecast for Amsterdam with great interest. As a result, we were sure to pack our best rain gear and lots of warm layers … the forecast looked grim. But then this happened!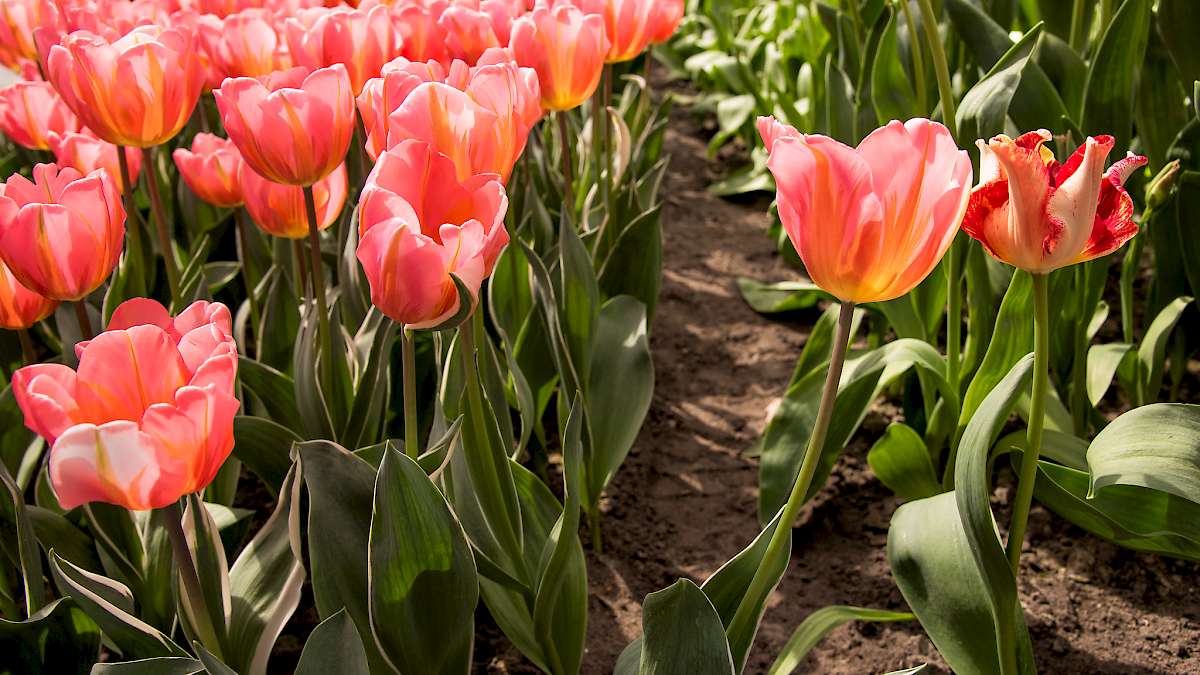 Tulips of Keukenhof: Although the open fields of tulips were not yet in bloom, we found a huge variety of tulips in the greenhouse at Keukenhof Gardens. We spent 3 hours at this beautiful park giving us plenty of time to walk around the gardens, eat our lunch, and well, take a few pictures.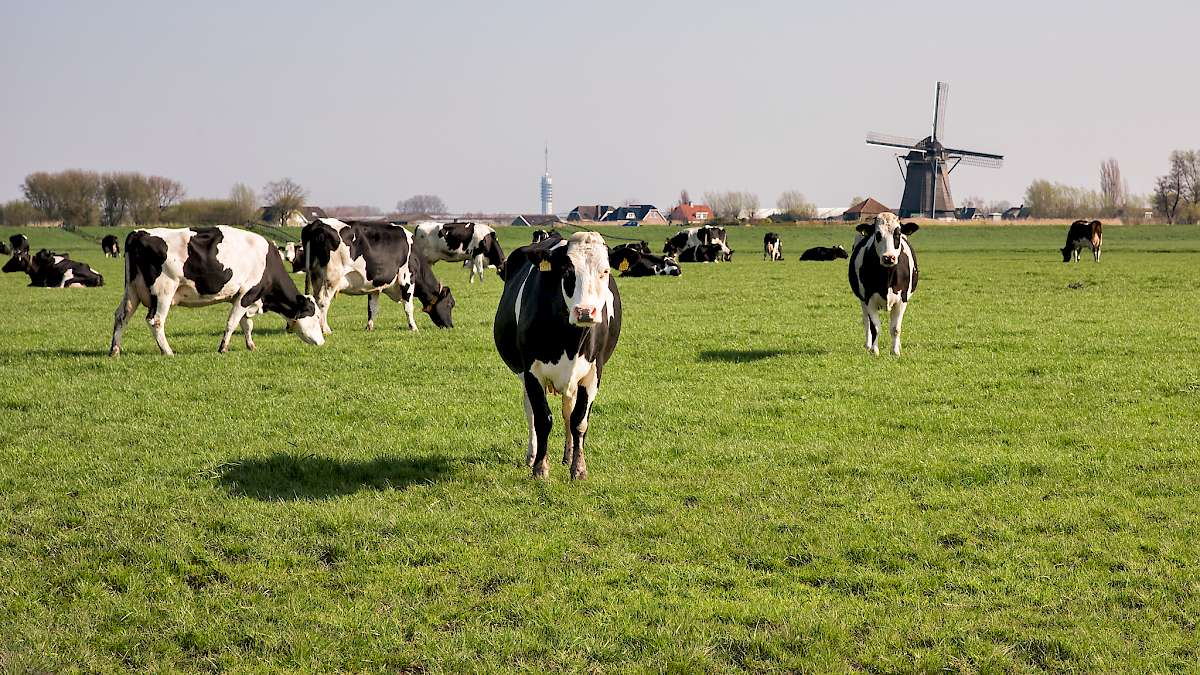 "They are just Cows": Yes there is a story that goes along with this caption, but I won't get into that here. Just know that I no longer pass up the opportunity to photograph cows when I see them. These cows were in a field at a cheese farm near Zoeterwoude. We had the opportunity to tour the facility, learn about the cheese making process, milk cows, and most importantly sample the cheeses. Yum!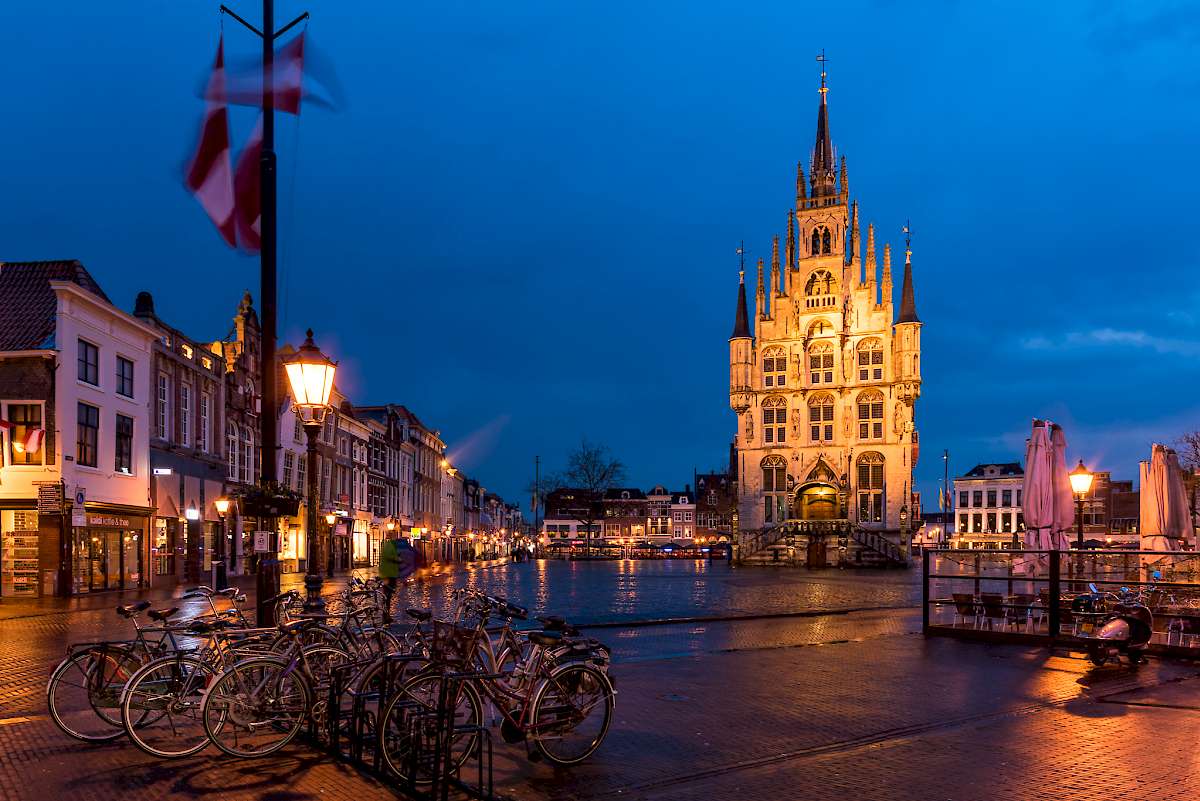 "How-da": We learned that this is how you pronounce the name of this city. Proper spelling, Gouda. Our post dinner walk took us to this lovely market square with its gothic City Hall standing proudly in the middle. The next morning we found the Chocoladeatelier PUUR and packed us a box of goodies for the road. Can't be without chocolate!
St. John's Church at Gouda:This church is famous for its stained glass windows, the "Gouda Windows". Before the outbreak of WWII, all the stained glass windows had already been removed from the church and put in safety somewhere else. The Liberation Window, seen here, is a constant reminder of that difficult period. In the floor of the church, there are many tombstones of well-to-do citizens. The last burial in the church took place in 1832.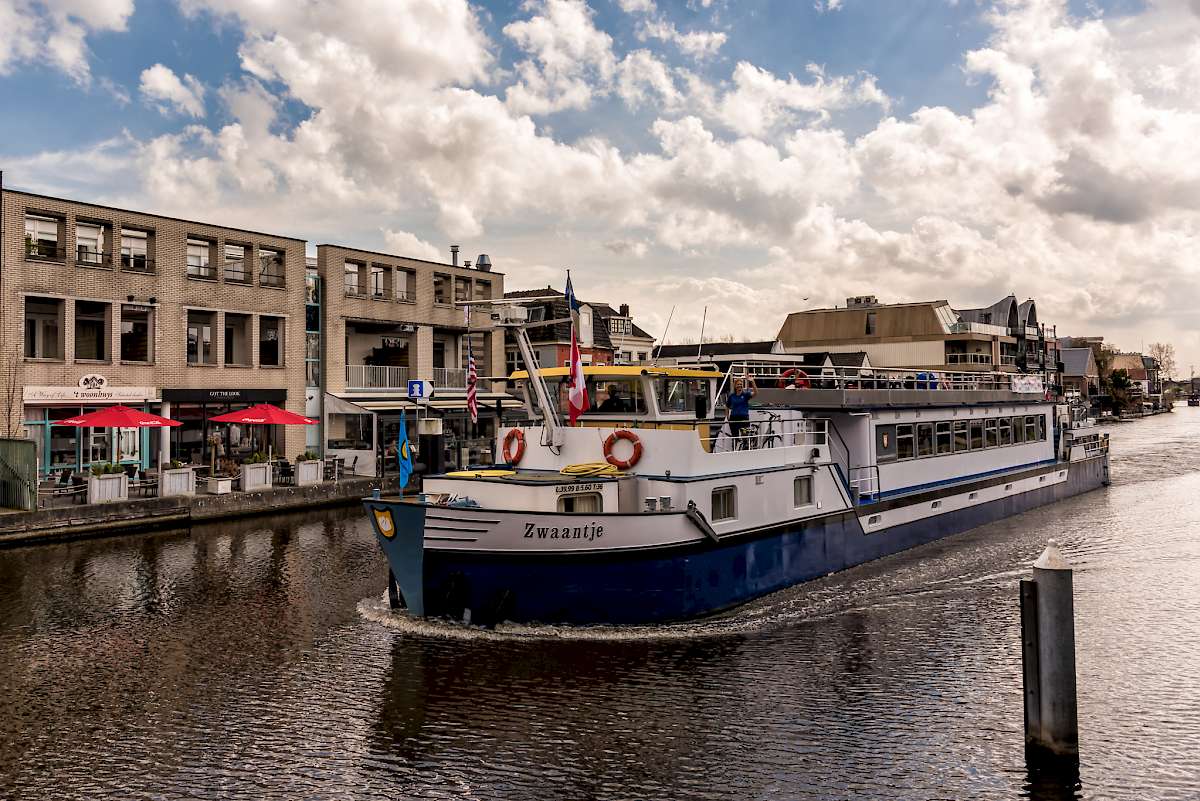 Leap Frog: We had some fun on our ride from Alphen to Kudelstaart as we continually played leap frog with the Zwaantje. Yes, we cheered like children and made Martijn blow the horn every time he passed us.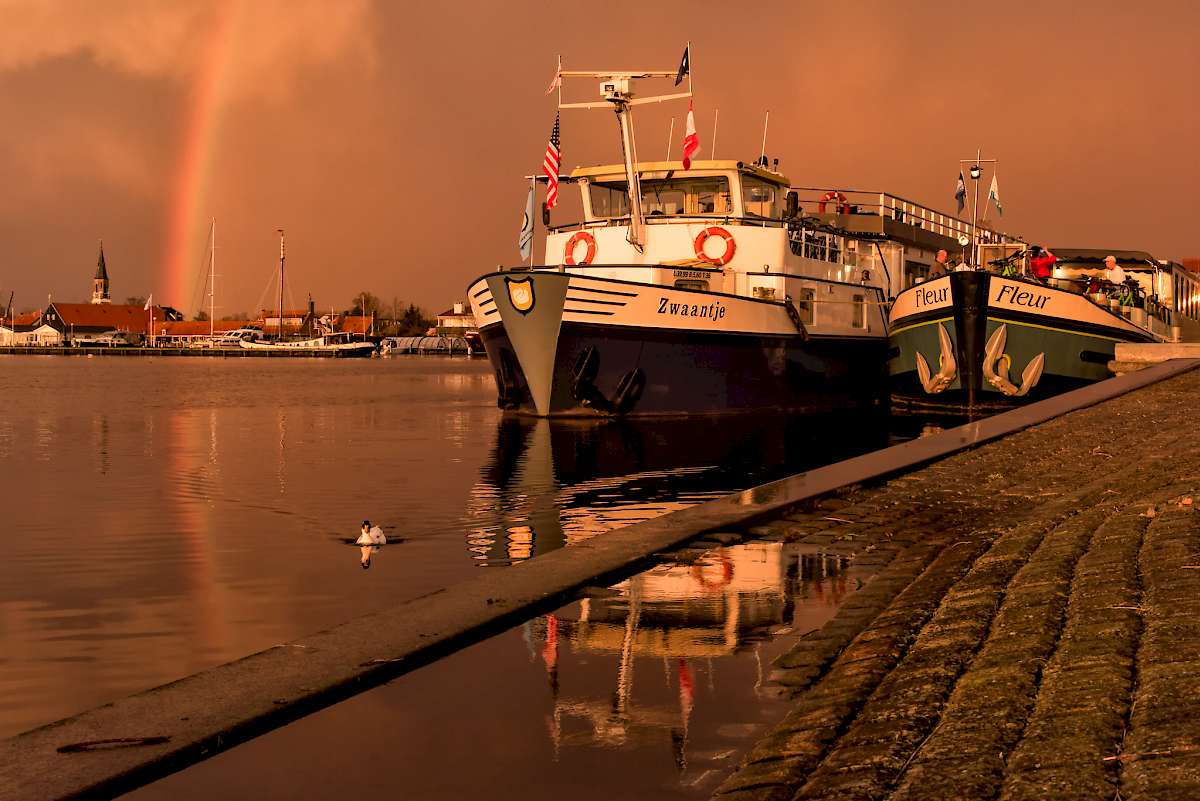 Rainbow to the East: During our ride to Kudelstaart, Felix (our guide extraordinaire) mentioned that the Zwaantje would be waiting for us in a place where sunset views could be nice. What an understatement! Here we are docked alongside the Fleur after a dinnertime rain storm. Doesn't get much better than this!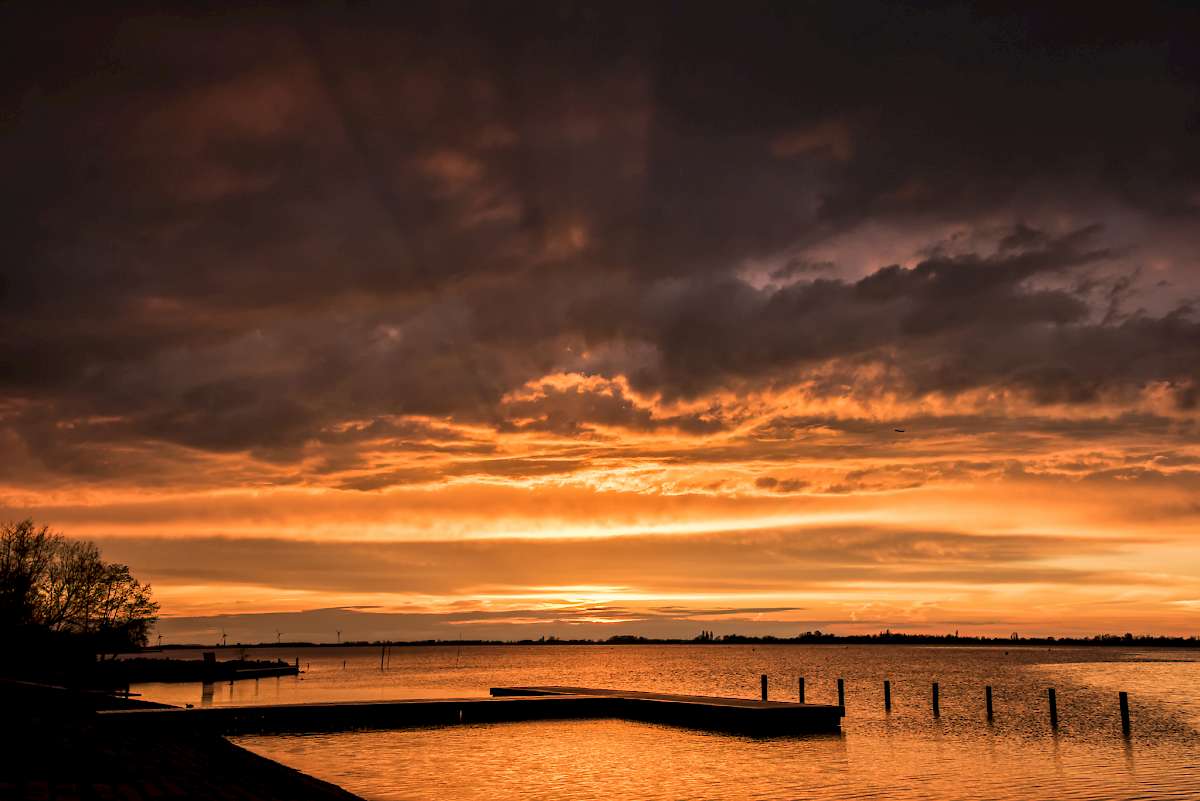 Sunset to the West:At this point, nobody was in their cabin, not even Gaston. It was a sight to behold.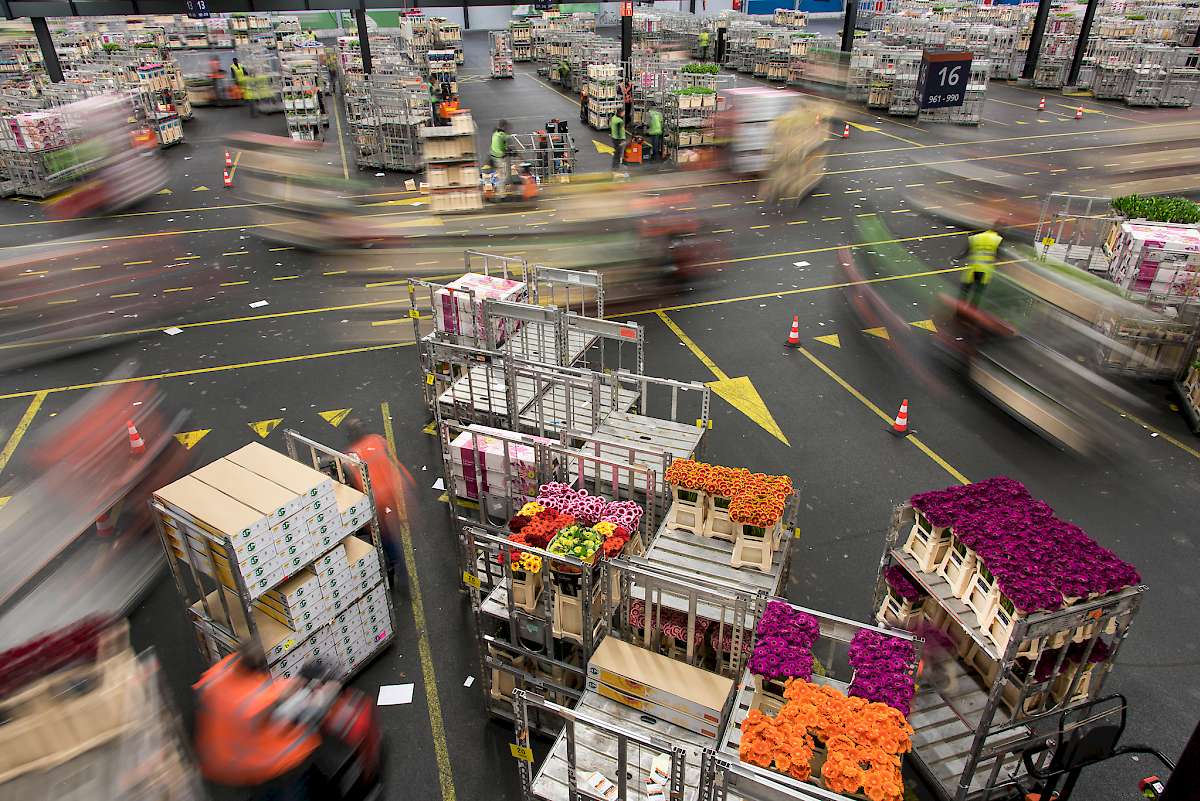 Flower Chaos: This morning started quite early, but it was well worth the wake-up call. We rode our bicycles to the flower auction of Aalsmeer, the largest flower auction in all of of Europe. Interesting that the auction prices start high and then drop until someone places a buy. Not what we are used to. After spending an hour or so here, we rode our bicycles back to the Zwaantje for a sailing breakfast.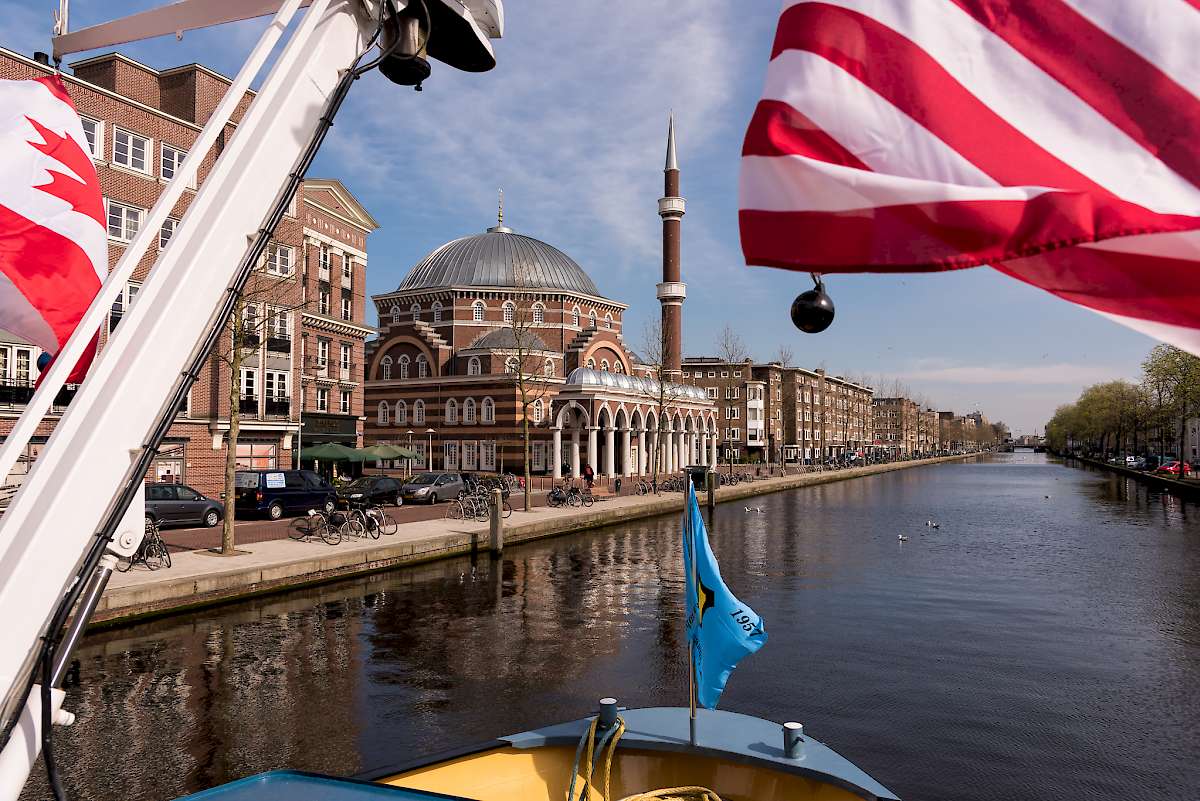 Sailing the Canals: After the Flower Auction, we sailed with the Zwaantje for a couple hours before we were back on our bicycles for the next adventure.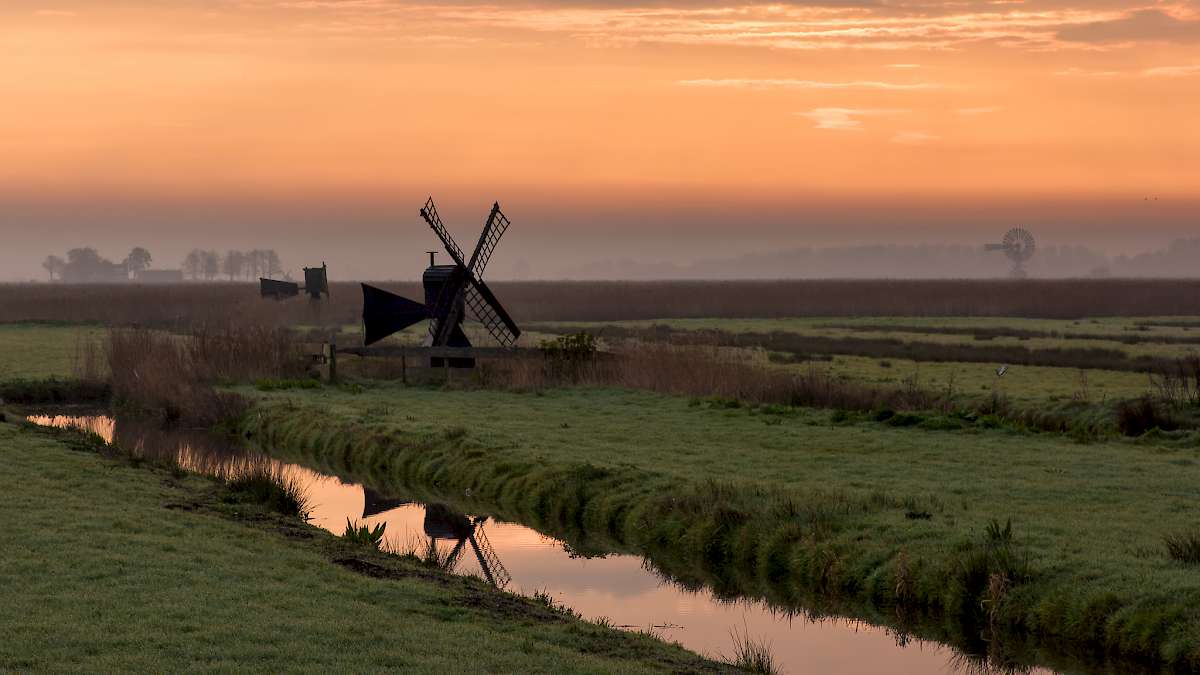 Sunrise Walkabout: Too excited to sleep, I went for a walkabout before breakfast in Zaanse Schans.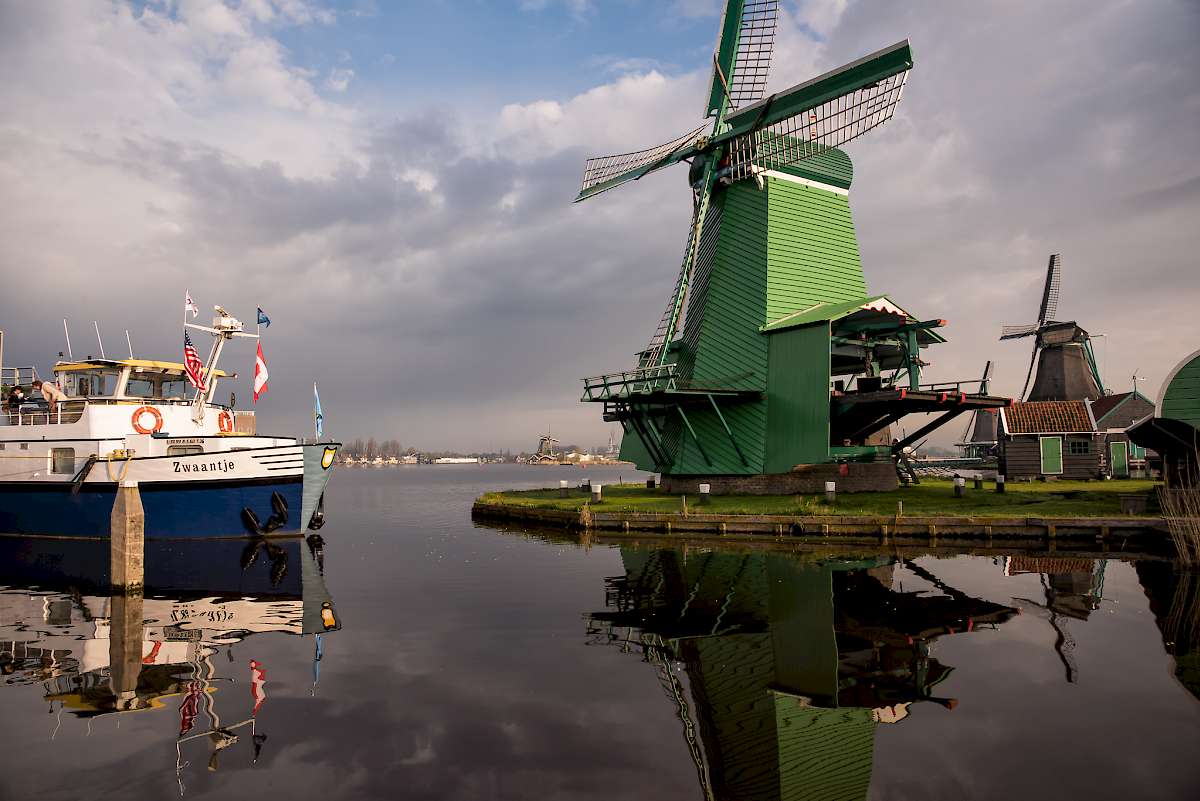 Morning Light: Not a bad place to have spent the night on a barge!

Ready to Go: Someone parked their bicycle out here as we were getting ready for the day's adventure. At the moment, the weather was looking OK, but by the time we had a demonstration of wooden shoe making, the clouds started dumping rain. No problem … we piled into a restaurant for a long cup of coffee and waited until Felix's new departure time. How did he know that the rain would stop right at that moment?! Beautiful weather the rest of the day.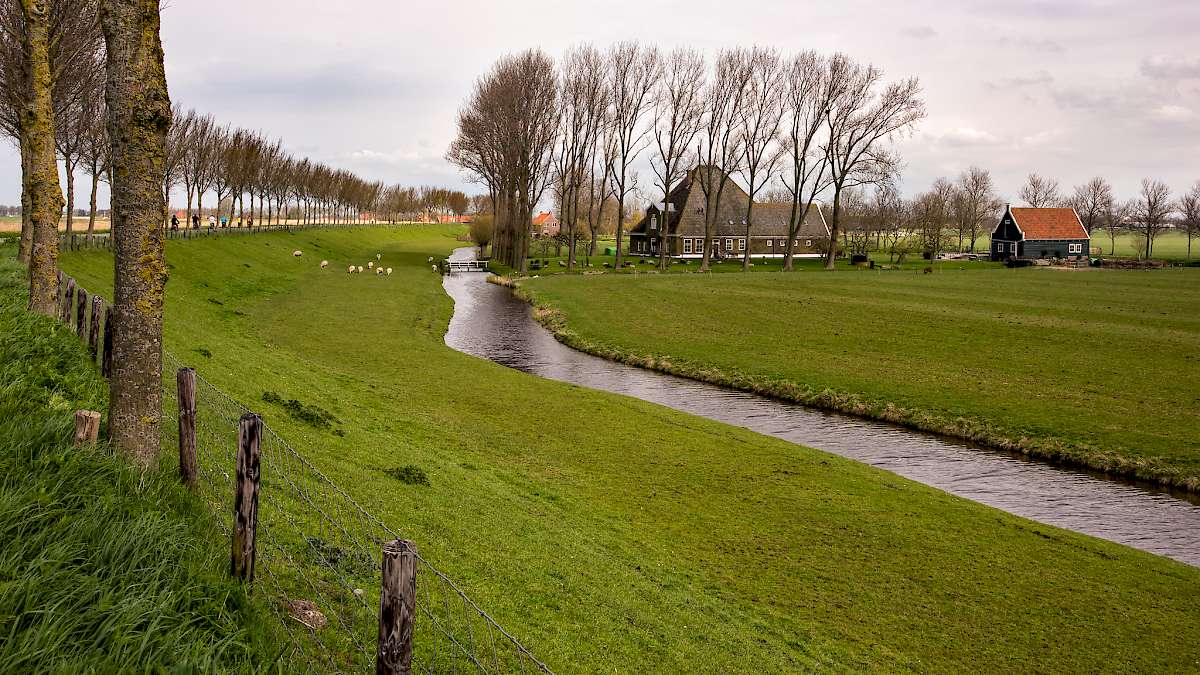 Beemster Polder: The Netherlands is frequently associated with polders (land reclaimed from the sea), as its engineers became noted for developing techniques to drain wetlands and make them usable for agriculture and other development. We cycled through the Beemster Polder and were amazed at how beautiful and rich this land is. I finally decided that I needed to stop and take out my camera. You can see, though, that most of the group is cycling on.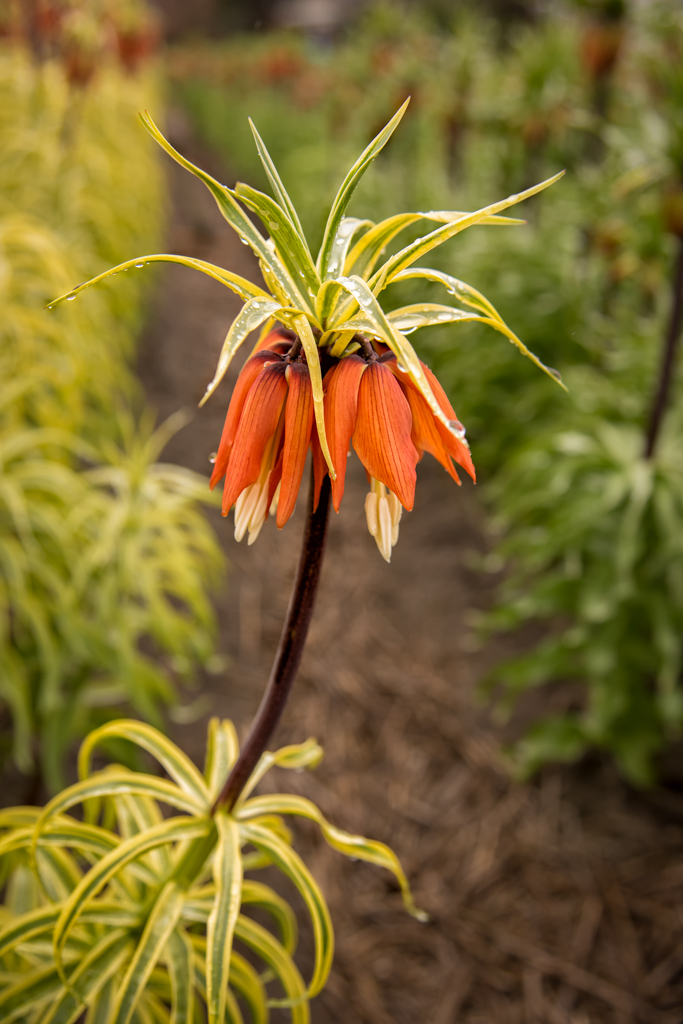 Fritillaria Imperialis Aureomarginata 1665:The rainy weather caught up to us on our last day of cycling, but that didn't stop us. We cycled to the Hortus Bulborum museum garden and were amazed at the many varieties of ancient tulip, hyacinth, daffodil and other bulbous cultivars. Fundamental to this garden is the preservation of heirloom bulbs, some dating back to 1595. The aim is to maintain these cultivars and safeguard them for future generations. This image is not of a tulip, but it was my favorite specimen in the garden.
Looking for more? View all of our featured bike and barge tours, or view our full list of bike trips.
---
Comments
Post Comment