Finland's North Country & Western Lapland
Finland Hiking + Walking Tours
A wilderness and nature-focused hike in Pallas-Yllästunturi National Park
On this Finnish Western Lapland hiking holiday, you will walk mainly in Pallas-Yllästunturi National Park, dominated by fells and the pristine forests and bogs that surround them. Some consider Lapland Europe's last wilderness, renowned for having the cleanest air of any place on earth. The scenery and landscape is so captivating, one trip is simply not enough.

During your walk, you will pass through old-growth boreal forests, full of life that's adapted to withstand cold climates, such as reindeer, brown bear, and lynx. You will pick your way along rocky ravines, trek marshes rich in cloudberries, and hike along crystal clear lakes, and streams. From one artic fell top to the next, you can admire the beauty of the wilderness stretching out in front of you.

As the midnight sun casts its enchanted golden light and the silence of serenity surrounds, free from noise and light pollution, you will find yourself unwinding and soaking it all in. In fact, no tour in Finland would be complete without a day end sauna!

Highlights:

Pristine wilderness
Midnight sun
Pure, clean air
Ancient fells
Local wildlife and fauna
Relaxing accommodations

This tour comes with a warning, as Lapland will certainly put a spell on you!

Check out all our hiking tours!

Season 1 (summer, midnight sun, early autumn), starting days June 15 to August 27, 2020
Season 2 (autumn colors), starting days: August 28 to September 24, 2020 

Season 1: 
Twin/double: $ 1190 £ 586 $ 1,026 € 649 $ 1221 kr 7272 $ 725 Single: $ 1869 £ 919 $ 1,611 € 1019 $ 1918 kr 11418 $ 1,138 Solo traveler surcharge: $ 202 £ 99 $ 174 € 110 $ 207 kr 1233 $ 123 Season 2:
Twin/double: $ 1275 £ 627 $ 1,099 € 695 $ 1308 kr 7788 $ 776 Single room: $ 2008 £ 988 $ 1,731 € 1095 $ 2061 kr 12270 $ 1,223 Solo traveler surcharge: $ 202 £ 99 $ 174 € 110 $ 207 kr 1233 $ 123

Triple and quad (family) rooms may be available. Please ask

extra

options

Extra nights:

Levi (Sirkka)
 
Season 1
Season 2
Twin/double

$

87

£

43

$

75

€

48

$

89

kr

532

$

53

$

115

£

56

$

99

€

63

$

118

kr

700

$

70

Single room

$

141

£

69

$

122

€

77

$

145

kr

863

$

86

$

207

£

102

$

179

€

113

$

213

kr

1266

$

126

Ylläs (Äkäslompolo)
Twin/double

$

117

£

58

$

101

€

64

$

120

kr

717

$

71

$

117

£

58

$

101

€

64

$

120

kr

717

$

71

Single room

$

207

£

102

$

179

€

113

$

213

kr

1266

$

126

$

207

£

102

$

179

€

113

$

213

kr

1266

$

126

Helsinki city center
Twin/double

$

149

£

73

$

128

€

81

$

152

kr

908

$

90

$

149

£

73

$

128

€

81

$

152

kr

908

$

90

Single room

$

273

£

134

$

236

€

149

$

280

kr

1670

$

166

$

273

£

134

$

236

€

149

$

280

kr

1670

$

166


Extra services

Transfers*
 
Kittilä Airport - Sirkka, approx.

$

18

£

9

$

16

€

10

$

19

kr

112

$

11

Transfer Äkäslompolo – Kittilä Airport, approx. $ 37 £ 18 $ 32 € 20 $ 38 kr 224 $ 22 to be paid on the spot.

*prices may vary depending on time of booking. Please indicate your transfer request when you reserve the tour.

please

note

Rates are per person based on double occupancy.

A non-refundable admin fee of 20 Euros per person is included in the deposit amount.

Information to read before you book.

We recommend purchasing bike trip insurance.

† Currency exchange rate set 90 days before travel.

Travel

The Lapland region is not the easiest destination to get to but it is so worth the effort. We suggest an international flight to Helsinki first for a day or two here. This green and vibrant seaside city is the sustainable capital of Finland. After a night or two, you can take a short flight to Kittilä Airport which is the closest to your tour start and end. If you book a flight package directly to Kittilä Airport, you will have a few layovers which can be long, causing extensive travel time.

Local Travel

From/to Kittilä Airport you can book airport transfers. From the airport to Sirkka it is about 15 km. June through August transfer is provided by taxi and in September, by airport shuttle service. At the end of your tour, from Äkäslompolo back to Kittilä Airport, transfer is provided by taxi and in September by public bus.

Climate

The Lapland region has a subarctic to a continental climate characterized by mild summers and cold, snowy winters. In the summertime, temperatures are usually 10 - 15 °C (50 - 60 °F) and rainfall is moderate.

Remarks

Because of the location of Lapland, it may be necessary to book a night(s) in Helsinki before or after your tour due to flight schedules. In fact, we recommend that you do book extra time in Finland's capital. The city is situated on the Baltic Sea and is described as vibrant and green. The Helsinki Archipelago consists of over 300 mesmerizing islands.

DOCUMENTS

Before you travel, please check your country's passport and visa requirements and the passport and visa requirements of the country/countries you plan to visit. For US citizens, the US Department of State website is a good source of information. The Country Information tab in the International Travel section provides details about passport validity, blank passport pages required, etc. For our other international clients, please be sure that you research your own country's travel requirements. It is each traveler's responsibility to ensure proper documentation.

*Important note: Beginning July 1, 2021, additional documentation from the European Travel Information and Authorization System (ETIAS) will be required to visit any of the 26 Schengen-member countries for tourism, business, medical, or transit. This is an additional check on security rather than a visa.

---
Tour
Dates
June 15 up to and including start day of  September 24, 2020

Season 1 (summer, midnight sun, early autumn), starting days June 15 to August 27, 2020
Season 2 (autumn colors), starting days: August 28 to September 24, 2020 
Minimum number of participants: 2. If you are a solo traveler, you will pay single room price and a solo traveler supplement. See pricing. If you prefer a guided tour, please ask. We will send you a proposal.
Skill
Level
The landscape of the fells (high barren fields or moors) is hilly, but not mountainous. The fells are eroded remains of Svekokarelids (mountains that existed three billion years ago). The elevation differences are quite moderate. You will walk on narrow and wide paths, duckboards , and steps. Sometimes the paths are bare (undemanding), sometimes there are rocks and exposed roots of trees on the paths. There are some steep and rocky stretches in the ascents / descents, but these stretches are relatively short. The third day's trail, Pyhäkota – Kukastunturi – Äkäslompolo, is quite long but the elevation differences are moderate and the paths are undemanding. The Pirunkuru trail is only for the surefooted, as the ascent to the fell is steep and more importantly, rocky. There is an easier optional trail (Hillapolku) to substitute with the Pirunkuru trail. As a whole, there are more undemanding stretches than demanding stretches and the trails are very rewarding.
Where
You'll Stay
You will spend 2 nights in the 4 star Levi Hotel Spa and 4 nights in the 4 star Ylläs Lodge 67°N apartment hotel with kitchenette. Both hotels are located quite close to the trail head, restaurants, and grocery stores. If rooms are not available in one or both of these preferred hotels, we will inform you and offer you an alternative of equal standard.
What's
Included
6 nights accommodation
Breakfast
Use of sauna in Ylläs Lodge 67° N apartment hotel
Luggage transfer
Transfer Sirkka – Pyhäkota (day 3)
Roundtrip transfer Äkässaivo / Äkäsmylly (day 5)
Service-hotline
Route descriptions and maps (one pack per room)
Tourist information
What's
Not Included
Lunches and dinners
Entrance to Spa in Levi Hotel Spa
Day-To-Day
Itinerary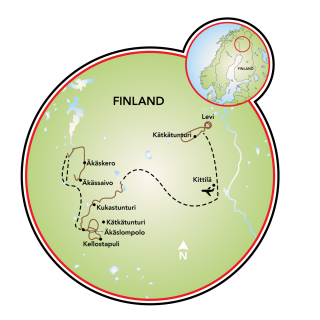 Day 1: Arrival to Levi (Sirkka)
Day 2:  Kätkätunturi, 9 mi. (14 km) 
Day 3: Pyhäkota – Kukastunturi – Äkäslompolo, 12 mi. (19 km) 
Day 4: Pirunkuru, 8 mi. (13 km) or 6 mi. (9 km) 
Day 5: Äkässaivo and Äkäskero, 9 mi. (15 km)
Day 6: Kellostapuli, 7.5 mi. (12 km)
Day 7: Departure
Day 1: Arrival to Levi (Sirkka)
We recommend that you book the available transfer from Kittilä Airport
Day 2:  Kätkätunturi, 9 mi. (14 km) 
Your first fell to conquer is the beautiful Kätkätunturi Fell. But first, what is a 'fell'? According to Wikipedia, a fell  "is a high and barren landscape feature, such as a mountain range or moor-covered hills. ... The fells in Finnish Lapland form vestiges of the Karelides Mountains formed two billion years ago." You will come away with your own impressions; exhilarating, breathtaking, colorful, and pristine. The ascent and descent include some short steep and rocky stretches, but you will agree that it is well worth the effort as the panorama of lakes and hills unfolds before you! 
Elevation: + 310 m / - 310 m
Day 3: Pyhäkota – Kukastunturi – Äkäslompolo, 12 mi. (19 km)
In the morning you will be provided a  transfer to Pyhäkota at Pyhäjärvi Lake. You walk along the lakeshore and through forest and marshes until you reach the foot of the Lainiotunturi fell. You continue through the moor-like landscape to Kotamaja hut, a beautiful spot between the three fells, Pyhätunturi, Lainiotunturi, and Kukastunturi. The ascent to Kukastunturi is easy. From the treeless top, you can admire a wonderful view out to the surrounding fells, lakes, and wilderness. You then descend to the forest and walk to Äkäslompolo village.
Elevation: + 240 m / - 260 m
Day 4: Pirunkuru, 8 mi. (13 km) or Hillapolku, 6 mi. (9 km)
Today you can choose between the demanding Pirunkuru ravine trail or undemanding Hillapolku trail encircling Kesänkijärvi Lake.

Pirunkuru trail: on this trail surefootedness is required because of the demanding rocky ravine ascent. You walk through the forest to Kesänkijärvi Lake and continue along the lakeshore with a view to Kellostapuli fell. You thenhave a demanding but rewarding ascent to the rocky ravine of Pirunkuru and the top of Kesänkitunturi fell. Take the ascent slowly with many breaks to admire the view at the same time. After Kesänkitunturi you arrive at the Tahkokuru ravine from which a forest path will bring you back to Äkäslompolo.

Elevation: + 270 m / - 270 m 

Hillapolku trail: this trail is flat and undemanding with designated campfire spot. Hillapolku, literally "cloudberry trail" goes around the clear watered Kesänkijärvi Lake between Kesänkitunturi and Kellostapuli fells.
Elevation: + 40 m / - 40 m
Day 5: Äkässaivo and Äkäskero, 9 mi. (15 km)
Today you have a transfer to Äkässaivo. You walk to a steep-walled ravine lake and the massive Seita rock, an ancient Sámi worship and sacrifice place. Your route then leads through a coniferous forest to ascend to Äkäskero fell. There is one demanding but short stretch before you reach the top. You cross the long moor-like fell top with awesome color contrasts and scenery. After that, you can visit another ancient Sámi worship site and admire the beautiful view to Äkäsjärvi Lake. Finally, you will arrive at a small water mill Äkäsmylly. Transfer back to Äkäslompolo village.
Elevation: + 260 m / - 250 m
Day 6: Kellostapuli, 8 mi. (12 km)  
Today's trail goes around Kellostapuli fell and across Kellostapulinkuru and Varkaankuru ravines. This varied trail runs on paths, duckboards, and steps and is maybe the most beautiful of all. Through forest along the fellside of Kellostapuli, you arrive at the Kellostapulinkuru ravine between two fells. You can admire the barren beauty of the craggy rocks of the ravine. In the Varkaankuru ravine,  you walk a relatively long stretch along a lovely stream in a forest with verdant deciduous trees. Return to Äkäslompolo through coniferous forest.
Elevation:  + 220 m / - 220 m
Day 7: Departure
Departure and transfer to Kittilä airport if booked.
If hiking is not your thing, view all our featured bicycle tours, specials, and news
Email or Call 800-951-4384 +1 570-965-2064
---