Helpful info before you go…
As you prepare to travel, questions will likely arise. We hope that the answers to all your questions can be found here or on our Travel Prep & FAQ page. Our goal is to help you feel prepared and ready for your adventure. Please keep in mind that this is general information. Tour-specific information will be emailed to you approximately three weeks before the start of your trip. If you would like it emailed sooner, we will do our very best to comply but cannot guarantee this, especially during the peak travel season. For many of our trips, more detailed information (such as route descriptions, maps, and tourist information) will be provided as well upon arrival.
How to Get There
"Travel" and "Local Travel" can be found on each tour page under the Extra Info tab. Additional detailed information is provided in the travel packet that we will email to you. For train schedules and the like, the internet is a valuable guide. One useful site for train travel all over Europe is Die Bahn. This is a German website but can be helpful to view schedules throughout Europe. For train travel within Germany, you can purchase tickets in advance on Die Bahn site.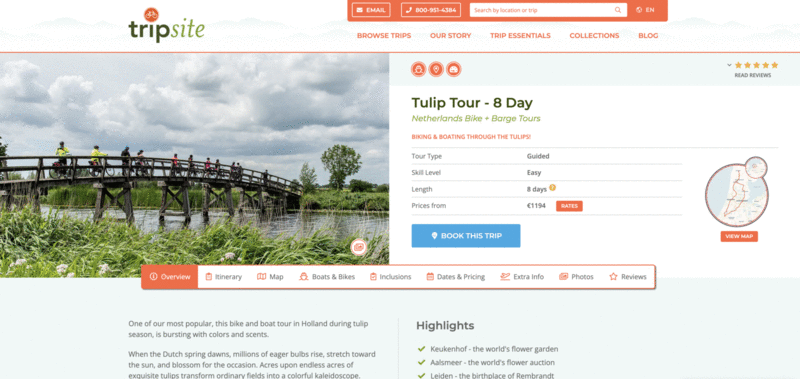 For travel in France, another good site is www.sncf.com.
In the Netherlands, we recommend https://www.ns.nl/en
In Italy, we recommend https//italiatren.com/en
For driving directions within Europe, Mapquest.com can be useful. Keep in mind that local transportation costs are generally not included unless stated otherwise. (Please note that we cannot guarantee the accuracy of these sites or that they have not been altered, discontinued, or otherwise changed).
Extra nights
We always encourage booking extra nights to give you more time to explore (and, on arrival, to help recover from jet lag). When we travel we trust Booking.com because they offer:
Free cancellation on nearly all rooms
Price match guarantee
Award-winning customer service
Over 93 million reviews

Travel Insurance
We strongly encourage you to purchase travel insurance. A request to cancel your reservation will likely incur cancellation fees. The most popular reason for cancellations are circumstances out of your control like unexpected injury, diagnosis, or illness of a loved one. Your holiday is a big investment and the only way to protect your investment is to purchase a policy that fits your needs. Policies are time-sensitive and each plan is different, so be sure to review the following coverages: Trip cancelation or interruption, travel or baggage delay, emergency, medical coverage, etc. We trust RoamRight and have found they have the best comprehensive policies and customer service. Call toll-free to talk to an experienced customer service agent in minutes: 1-866-891-6614

For clients outside of the USA, we recommend InsureMyTrip.com.
WiFi
WiFi is everywhere today and many of the boats and hotels on our tours do provide this service. However, most likely, it will not be what you are accustomed to. Due to the steel construction of the ships and barges, signal strength and speed can be affected and many times hotels offer this service only in the lobbies and public areas. If you are expecting and requiring reliable, strong, and effective WiFi while you travel, we recommend that you consider your own portable WiFi device which can be rented from numerous companies throughout Europe and the World. We have personally tried MyWebSpot in Europe and have been very impressed by their service. You can pick up their device in thousands of locations throughout Europe or request to have it mailed directly to you before your trip. The pre-trip mailing can be to your home in the USA or Canada or some other location in Europe. After using the WiFi hotspot during your holiday you simply mail it back in a pre-paid envelope from anywhere in Europe. Click here to see packages and get a free quote.
Register your Trip - Smart Traveler Program
When traveling internationally, it is a good idea to consider registering your trip with your home country. Doing so will inform your embassy of your travel plans so that they can notify you of any safety conditions in your destination country and help you to make informed decisions. In case of an emergency, they will also be aware of your location and will contact and assist you if necessary.
U.S.A. - STEP (Smart Traveler Enrollment Program)
Canada - Registration of Canadians Abroad
Australia - Smart Traveller
Currency
ATMs, DEBIT CARDS, AND CREDIT CARDS
While traveling, we recommend using your debit card and withdrawing cash at ATMs in the local currency for your transactions abroad. It is the easiest and most cost-effective method. Upon arrival at a European airport, it is a good idea to withdraw cash from an ATM so that you have some on hand for train/taxi travel to your destination but from then on, it is best to use ATM machines at a local bank, which will have lower fees.
Helpful tips:
Contact your bank to let them know that you will be traveling internationally.
Ask your bank what the fees will be for an ATM cash withdrawal
Inquire about your daily withdrawal limit and consider increasing it
Know your 4-digit PIN
Ask your bank what the fees will be if you use your debit card for purchases (this will typically include fees from both the bank and the creditor on the front of your card)
Stick with actual bank ATMs. There are independent ATMs that are tricky and charge higher fees and are sometimes located right next to banks as well. (Examples of independent ATMs to avoid are Travelex, Euronet, Moneybox, Cardpoint, Cash Zone).
Know the symbols on the front and back of your debit card
Symbols on the back are for ATM cash withdrawals, they represent the cash networks used (VISA Plus, MasterCard Maestro or Cirrus)
Symbols on the front are for purchases – work like a credit card and typically include higher fees (VISA, MasterCard)
Be aware of ATMs that give you a message sounding like they are doing you a favor by asking if you'd like them to convert the transaction for your bank into your home currency – you don't want to do this, you will end up paying a lot more in fees but they don't tell you. Always choose the currency of the country you are in and have your home bank do the conversion.
ATMs are also referred to as "Cash Point" in the UK, "Distribueur" in France, and "Bankomat" elsewhere.
You may also wish to use your credit card but be sure to know what fees will be included.
Apps for your cell phone that may be helpful: ATM Hunter and Currency Converter
Packing list
We recommend bringing the clothing items which you feel most comfortable wearing while cycling. Multiple layers of clothing tend to work best for all kinds of climates, and gloves are needed if booked in Spring-time months when the mornings can be chilly. Some tours, specifically hotel tours, have a limit on the weight or number of pieces allowable. Always check the tour page for specific luggage requirements. For additional information and suggested packing lists, please visit our Packing Tips page.
Cycling and Conditioning Tips
For the majority of our tours, a hybrid bicycle is included in the tour price. This is a standard "touring" bicycle. There is also the option the rent an electric bike ("E-bike") for a supplement. Electric bicycles are pedal assist which means you still have to pedal the bicycle, however a battery assistance helps you almost like the wind was pushing you. Electric bicycles are a wonderful option if you have a hard time with longer distances or getting up hills. HOWEVER, electric bicycles are ONLY recommended for regular cyclists. Electric bicycles can go faster than a normal bicycle. They require the natural balance and agility that comes with require regular cycling. If you are not a regular cyclist, electric bicycles can be more dangerous and make you more prone to falls or accidents.
We offer a variety of tours for all levels of cyclists. The majority of our tours fall within the Easy to Moderate level which means they can be experienced by the beginner as well as the expert. It is essential, however, that you have cycling experience and be in good physical condition. The cycling involved on a bike tour may require good balance that can only be acquired from regular cycling. To fully enjoy your cycling vacation, you should prepare!
Easy: Flat terrain. Average daily distances approx. 16-30 miles
Easy to Moderate: Terrain is mainly flat with some sloping hills. A daily distance can sometimes exceed 30 miles.
Moderate: Terrain is made of rolling hills with some climbing involved. Itineraries frequently include two or more days with mileage more than 30 miles.
Moderate to difficult: Climbs are more frequent and strenuous, such as you would find in the Tuscany region of Italy.
Difficult: Very hilly terrain such as you will find with our Road Bike Tours or some of the tours in Croatia. Daily distances normally exceed 40 miles, but not always. A very mountainous terrain but shorter daily mileage will often times warrant the designation of Difficult.
Very Difficult: Road Bike Tours with longer daily distances and strenuous climbs.
The most important thing regardless of difficulty rating is to get saddle ready! Nothing will dampen your enjoyment of cycling more than a sore bottom! You can be aerobically prepared but if you do not put in "saddle time" you will be sorry. A good rule of thumb is the plus 10 x 2 rule.
If the longest day on your tour is 25 km, then you should be able to ride 35 km. On self-guided tours, the unexpected can happen, you can get turned around, inadvertently adding kilometers, so be prepared for the unexpected. X 2 means that you are able to do this distance AT LEAST twice in one week. Most of our 8-day tours entail at least 5 days of riding. You will benefit even more if you add at least one ride of a shorter distance for a few weeks before your tour.
As the difficulty level increases, so should your pre-tour preparation and training. For those booking a difficult tour, the assumption is that you are a regular year-round cyclist who understands training techniques. Hills require hill work and long distances require longer times in the saddle.
Documents
It is each traveler's responsibility to ensure that you are in compliance with the country or countries you plan to visit. This includes and is not limited to passport validity, visa requirements and acquisition, blank passport pages required for your destination (s), etc.
US citizens: A good website to research the requirements of the Schengen Agreement and entry into other countries is travel.state.gov.
Non-EU and EU residents: Please research the requirements of your country of residence for international travel and your destination country or countries.
*Important note: Please check on the European Travel Information and Authorization System (ETIAS) status as once implemented, this will be required to visit any of the 26 Schengen-member countries for tourism, business, medical, or transit. This is an additional check on security rather than a visa.