Along the Danube-Passau-Belgrade-Vienna aboard the Primadonna
Cycle the Danube Cycle path in Germany, Serbia, and Austria
Bike and boat tours along the Danube have always been a best seller and this tour will be no exception. Combine an active vacation with luxury, and you have the best of both worlds. Unlike other Danube bike and boat tours, this tour does not loop back but begins in Passau, ends in Vienna, and still includes all the "must sees" such as Bratislava, Budapest, and Belgrade. Also unique to this tour is that you begin your tour with one overnight in a three star hotel in Passau and embark the next day. The Danube Bike Trail is the most popular trail in Austria, and one of the most popular in all of Europe. It will become a favorite of yours as well.

Highlights:

Danube River - Europe's second largest
Linz
Schlögener Loop
Wachau Valley
Belgrad
National parks
Capital city of Vienna
Budapest

You can search our complete list of bike and barge tours in Germany

Twin Cabin - Main Deck Astern (bunk beds): £ 588 $ 1,185 € 686 $ 1043 NOK 6517 kr 6016 $ 782

Twin cabin/single use - Main Deck Astern (bunk beds): £ 717 $ 1,444 € 836 $ 1271 NOK 7942 kr 7331 $ 953

Twin Cabin - Main Deck: £ 717 $ 1,444 € 836 $ 1271 NOK 7942 kr 7331 $ 953

Twin cabin/single use - Main Deck: £ 1037 $ 2,090 € 1210 $ 1839 NOK 11495 kr 10611 $ 1,379

Double Cabin - Upper Deck: £ 955 $ 1,924 € 1114 $ 1693 NOK 10583 kr 9769 $ 1,270

Cabin/single use - Upper Deck: £ 1614 $ 3,253 € 1884 $ 2863 NOK 17893 kr 16517 $ 2,147

Double Cabin - Promenade Deck: £ 998 $ 2,011 € 1164 $ 1769 NOK 11058 kr 10207 $ 1,327

Cabin/single use - Promenade Deck: £ 1689 $ 3,404 € 1971 $ 2996 NOK 18725 kr 17284 $ 2,247

*Please visit the boat page for description of cabins and bed configurations.

extra

options

Electric bike: £ 70 $ 142 € 82 $ 125 NOK 779 kr 719 $ 93 Beverage package on board (soft drinks, coffee / tea, Mosel sparkling wine, quality wine, beer): £ 123 $ 249 € 144 $ 219 NOK 1368 kr 1263 $ 164

please

note

Rates are per person based on double occupancy.

Information to read before you book.

We recommend purchasing bike trip insurance.

† Currency exchange rate set 90 days before travel.

Travel

The closest international airport to your tour start, Passau, is Munich (MUC). However closest international airport to the end of your tour, Vienna, is Vienna International Airport (VIE). If you want to fly into and out of the same airport you can plan for your arrival and departure from Vienna International Airport. Otherwise, arrive to Munich, and depart from Vienna.

Local Travel

From Munich airport, to arrive to Passau, you must take a bus to Freising train station (approximately €2). It's also possible to take a taxi from the Airport to Freising Station (approximately €25). From Freising, continue by train to Passau. The train ride is approx. 2 to 2½ hours (depending on connections) and costs €30 to €45 depending on type of train. At the end of your tour, the airport is easily accessible from the main train station by CAT, city airport train, travel time is 16 minutes. In fact, you can actually check in for your flight at Vienna Mitte train station! If you are arriving in Vienna and need to travel to Passau for your tour start, again train travel from the airport to the city center is very convenient and from Wien HBF (main train station) trains to Passau are approximately two hours and 16 minutes travel time.

Climate

Please check local conditions just prior to arrival. A great website to research average high/low temperatures, average rainfall, and more is weatherbase.com.

Important Information

We ask that when booking, you provide names as they appear on your passport. Once confirmed, we will ask for detailed passport information which is required for border crossings.

---
Where
You'll Stay
One night in 3 star hotel in Passau and 6 nights on board the comfort plus boat, the Primadonna
What's
Included
1 overnight in Passau in a 3 star hotel with dinner on arrival in the evening and breakfast the next morning
6 overnights on board the Comfort plus class vessel, the Primadonna
Daily breakfast buffet on board
Daily 3 course lunch or packed lunch for the bike tour
Daily afternoon coffee/tea incl. cake
Daily 4-course dinner
Daily midnight snack in the Panorama bar
All passenger and port fees
1 body massage (20 min.) and 1 Hydrojet massage (15 minutes) and one men's shave per main deck cabin
On-board guide and daily personal route-information
Route description and road maps of the routes
GPS data of the routes
Bus transfer Belgrade–Novi Sad (75 min.)
Parking space Passau for the duration of the journey if needed
Bus transfer Vienna – Passau directly from the ship to the parked car in Passau if needed
21 speed hybrid touring bike with hand brakes or 7 speed hybrid touring bike with back pedal brakes
What's
Not Included
Tour
Dates
Thursdays: October 3, 2019   
Skill
Level
This is an easy bike and boat tour that for the majority of the time follows the infamous Danube Bike Path. The route is flat
Tour
Boats
Day-To-Day
Itinerary
Day 1: Passau, 12.5 mi. (20 km)
Day 2: Passau - Schlögen - LInz, 34 mi. (54 km)
Day 3: Bratislava and Schloss Hof, 24 or 29 mi.(38 or 46 km)
Day 4: Budapest and Mohács, 11 or 26 mi. (18 or 42 km)
Day 5: Belgrade and Novi Sad, 9 mi. (14 km)
Day 6: Mohács, 28 mi. (45 km)
Day 7: Esztergom/Štúrovo and Komárno, 33 or 14 mi. (53 or 22 km)
Day 8: Disembarkation in Vienna 
Below is brief day to day details. More complete details pending.
Day 1: Passau, 12.5 mi. (20 km)
Individual arrival to Passau and overnight in a three star hotel. Bikes can be taken for a test ride along the Inn Bike Path, very scenic, well maintained, and signposted trail. A  highlight during you ride would be a visit to the Wernstein Castle.
Day 2: Passau - Schlögen - LInz, 34 mi. (54 km)
Your luggage will be transferred to the ship while you bike to embark. Embarkation begins at 9 am. The boat will pick up anchor at 10:30 am and begin navigation to Schlögen. You can enjoy lunch on board. Once in Schlögen,  you will disembark for a cycling route along the Danube River through the Schlögener Schlinge (Danube Loop)  to Linz. The Danube Loop has been designated a "Natural Wonder of Austria". Here the Danube loops back on itself, forming almost a complete circle. The boat waits for you  in Linz.
Day 3: Bratislava and Schloss Hof, 24 or 29 mi. (38 or 46 km)
Bratislava is a green city, covered by parks and woodlands, forests an vineyards that reach almost into the city center. The boat arrives at 1 pm and the cycling itinerary begins, including a visit to the Schloss Hof, a palace that is part of the imperial estates of Maria Theresia of Austria. You can add some miles if you prefer an cycle via Hainburg and the national park Donau Auen to the castle Hof and back to Bratislava. At 8 pm, the boat begins navigation to Budapest.
Day 4: Budapest and Mohács, 11 or 26 mi. (18 or 42 km)
Today you decide if you want to tour by bike, tour by bus, or stroll Budapest. If by bike, you will enjoy a route that is approximately 18 km and car free, or the longer option to Szentendre and back. Touring by bus is approximately a 3 hours loop.
Day 5: Belgrade and Novi Sad, 9 mi. (14 km)
Belgrade is an up and coming city, yet also one of the oldest. It is the capital of Serbia, and is built on the confluence of two large rivers, the Danube and the Sava. Your route will take your through the center of the city, to the Kalemegdan Castle and to the Saveisland. Later on, bus transfer (approx. 75 min.) to the ship in Novi Sad.
Day 6: Mohács, 28 mi. (45 km)
Stop at the EU-border for border control and further on to the center of the city. You will cycle a loop around the Nemzeti National Park.
Day 7: Esztergom/Štúrovo and Komárno, 33 mi. (53 km)
From Moča to Komárno, you will follow the Danube Bike path. Komárno, is the fortress city with a long and rich history, one of the oldest towns in Slovakia. 
Day 8: Disembarkation in Vienna 
*Important Information:
In case of flood or low tide, the shipping company reserves the right to change the route and/or bridge parts of passages with buses.  Bicycle touring routes may also be affected. In extreme situations, the shipping company reserves the right to cancel the journey on short notice. No legal right shall be constituted of both situations. (Water level is force majeure). The same applies for officially ordered - previously not announced - repair work on locks or bridges or in case of unexpected breakdown of engine or power unit. 
Please be aware that these ships, like all other ships on the Danube, are not just your "floating hotels" but also a machine, running engines,  also during the night. Especially crossing locks and bridges - and the preparation work - may cause noise. If you are sensitive to noises, please bring your own ear plugs.
Be sure to check out our full list of bike and barge tours or view all our featured bike trips, specials, and news.
Email or Call 800-951-4384 +1 570-965-2064
---
Along the Danube-Passau-Belgrade-Vienna aboard the Primadonna
Boats + Barges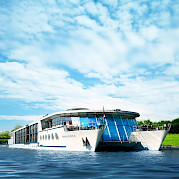 Primadonna Austria, Germany, Slovakia, Hungary Deluxe Class Boat Experience the elegance of the MS Primadonna, with spacious decks, spa facilities, restaurant, bar, atrium and much more, on a cycling holiday without having to pack and unpack each day. Your boat will await you at your destination every day. You can also feel free to spend some of your time on board where you can enjoy the Jacuzzi on the outdoor deck or the spa area, which is equipped with Jacuzzi, sauna, Kneip basin, etc. All meals on this Austrian cruise line are freshly cooked and have a particular emphasis on regional and organic products.