4.6

/

5

(

18

ratings)
Along the Danube - Passau - Vienna - Budapest aboard the Primadonna
Cycle along the Danube River between four countries on the famous Danube Bike Path
Get ready for a treat! This bike and boat tour along the mighty Danube is similar to our other Four Country Tour but is offered on a premium ship! The Primadonna is a top-class river cruiser and combines luxury with all the benefits of a typical bike and boat tour. Because we are active vacationers, yet enjoy a touch of class as well, we feel this offering satisfies even the most discerning.

The Danube landscape is unsurpassed and remains one of the top European destinations. From the charming Bavarian "Three River City" of Passau straight into the heart of the once glorious Imperial and Royal Monarchy, you will bike along the famous Danube Cycle Path through four countries and visit three of the most enchanting European capitals: the lively Vienna, City of Music, the Slovak coronation city of Bratislava, and Budapest, the Hungarian "Danube Queen".

Highlights:

Accommodations on the Deluxe class riverboat, the Primadonna
The Wachau wine-growing region
City tours of Bratislava and Budapest
Cycling the beautiful Danube Bike path through four countries
World-class cuisine with specialties of the Danube countries, especially Viennese Cuisine. Primarily prepared with organic ingredients

You can search our complete list of bike and barge tours in Germany

2020

May 8

Bunk bed cabin/main deck (eco-cabin): £ 698 $ 1,546 € 821 $ 1237 NOK 7731 kr 7136 $ 928

Twin bed cabin/main deck (middle of deck): £ 808 $ 1,791 € 951 $ 1433 NOK 8955 kr 8266 $ 1,075

Double cabin/upper deck with balcony: £ 1216 $ 2,695 € 1431 $ 2156 NOK 13475 kr 12439 $ 1,617

Double cabin/promenade deck with balcony: £ 1301 $ 2,883 € 1531 $ 2307 NOK 14417 kr 13308 $ 1,730

May 8 Single Prices

Bunk bed cabin/single-use/main deck astern (eco-cabin): £ 852 $ 1,889 € 1003 $ 1511 NOK 9445 kr 8718 $ 1,133

Twin cabin/single-use/main deck (middle of deck): £ 1173 $ 2,601 € 1381 $ 2081 NOK 13004 kr 12004 $ 1,561

Double cabin/single-use/upper deck with balcony: £ 2069 $ 4,586 € 2435 $ 3669 NOK 22930 kr 21166 $ 2,752

Double cabin/single-use/promenade deck with balcony: £ 2218 $ 4,916 € 2610 $ 3932 NOK 24578 kr 22687 $ 2,949

 

All other departures

Bunk bed cabin/main deck astern (eco-cabin): £ 825 $ 1,829 € 971 $ 1463 NOK 9144 kr 8440 $ 1,097

Twin bed cabin/main deck (middle of deck): £ 927 $ 2,055 € 1091 $ 1644 NOK 10274 kr 9483 $ 1,233

Double cabin/upper deck with balcony: £ 1326 $ 2,940 € 1561 $ 2352 NOK 14699 kr 13569 $ 1,764

Double cabin/promenade deck with balcony: £ 1411 $ 3,128 € 1661 $ 2503 NOK 15641 kr 14438 $ 1,877

Single Prices 

Bunk bed cabin/single-use/main deck astern (eco-cabin): £ 1012 $ 2,243 € 1191 $ 1794 NOK 11215 kr 10353 $ 1,346

Twin cabin/single-use/main deck (middle of deck): £ 1352 $ 2,996 € 1591 $ 2397 NOK 14982 kr 13829 $ 1,798

Double cabin/single-use/upper deck with balcony: £ 2263 $ 5,015 € 2663 $ 4012 NOK 25077 kr 23148 $ 3,009

Double cabin/single-use/promenade deck with balcony: £ 2411 $ 5,345 € 2838 $ 4276 NOK 26725 kr 24669 $ 3,207

---

 

extra

options

2020

Extra nights in Passau on request.
Electric bike rental: £ 75 $ 166 € 88 $ 133 NOK 829 kr 765 $ 99 Beverage package (soft drinks, coffee/tea, Mosel sparkling wine, quality wine, beer): £ 144 $ 318 € 169 $ 255 NOK 1591 kr 1469 $ 191 Discounts for triple and quad cabins (available on main and upper deck).
Main deck (bunk beds) and upper deck with sofa bed (75 x 185 cm).

please

note

Rates are per person based on double occupancy.

Information to read before you book.

We recommend purchasing bike trip insurance.

† Currency exchange rate set 90 days before travel.

Travel

The closest international airport to your tour start and end in Passau is Munich International Airport.

Local Travel

Munich Airport (MUC) is well connected to the city center and beyond by public transportation, taxis, and transfer services.
Public transportation:
To access a train to Passau, your point of embarkation, you first take a bus to Freising train station (approximately €3). It's also possible to take a taxi from the airport to Freising Station (approximately €27). From Freising, continue by train to Passau. The train ride is approx. 2–2½ hr. (depending on connections) and costs €30 to €45 depending on type of train.
If you are arriving by car, just ask! We can provide parking details. If your travel plans include spending some time in Munich before your bike and boat tour, you can access a train to Munich city centerdirectly at the airport at either Terminal 1 or Terminal 2.
Private transfers:
Transfers from Munich can be booked through us for the Carissima and Fortuna only or on all boats individually through Salzburger Mietwagen und Reise Service GmbH (SMS).
Phone: +43 (0) 662 - 8161 - 0 
sms@flughafentransfer.at, www.flughafentransfer.at

Climate

The region has a moderate maritime climate, generally experiencing pleasantly mild winters and relatively cool summers. Please check local conditions prior to your departure and remember that your tour will cover a significant distance and will stretch along the Danube from Passau to Budapest and back. A good website to use to research average high/low temperatures, average rainfall, and more is weatherbase.com.

Remarks

On this tour, superb cuisine will top off your day. The chef and staff pride themselves on using organic ingredients and presenting top-rated cuisine. The day begins with a breakfast buffet, which offers a healthy start to the day, ranging from vegetable juices to the organic corner. For lunch, a 3-course menu is available with multiple options and a 4-course menu is available in the evenings, always also for vegetarians. In the late afternoon, a traditional 5 o'clock tea is provided, including homemade cakes and pastries in the Primavera café. At midnight, when the cinema evening in the board theater is over, midnight refreshments await you. For cycling cruises, a packed lunch is prepared.

DOCUMENTS

Before you travel, please check your country's passport and visa requirements and the passport and visa requirements of the country/countries you plan to visit. For US citizens, the US Department of State website is a good source of information. The Country Information tab in the International Travel section provides details about passport validity, blank passport pages required, etc. For our other international clients, please be sure that you research your own country's travel requirements. It is each traveler's responsibility to ensure proper documentation.

*Important note: Beginning July 1, 2021, additional documentation from the European Travel Information and Authorization System (ETIAS) will be required to visit any of the 26 Schengen-member countries for tourism, business, medical, or transit. This is an additional check on security rather than a visa.

---
Where
You'll Stay
Accommodations on the Deluxe class vessel, the Primadonna
What's
Included
Accommodation for 7 nights in an air-conditioned cabin with safe and minibar
Welcome snack on arrival day
Daily breakfast buffet
Daily 3 course lunch or packed lunch for cyclists
Daily afternoon coffee/tea and cake
Daily 4 course dinner
Daily midnight snack in the panoramic bar
7 or 21 speed hybrid bicycle with pannier (please specify preference at time of booking)
All passenger and port fees
Daily personal route information for the following cycling day
On board tour representative
Comprehensive route description and cycling maps
1 partial body massage (approx. 20 min.) or 1 hydro jet massage
Guided city tour by bus "Vienna by night"
Guided city tour by bus in Budapest
Guided city tour in Bratislava on foot:
Welcome evening with crew including a complimentary drink
Free parking in Passau if needed
GPS data available for download
What's
Not Included
Entrance fees and excursions not mentioned
Gratuities
Tour
Dates
2020
Fridays: May 8, May 15, July 3, July 10, July 31, August 7, August 14, August 21, August 28, September 4, and September 11, 2020
Skill
Level
This is an easy self-guided bike and boat tour with average daily distances between 22 to 35 miles (35 and 56 km). You will be following the mostly flat Danube Cycle path.
Tour
Boats
Day-To-Day
Itinerary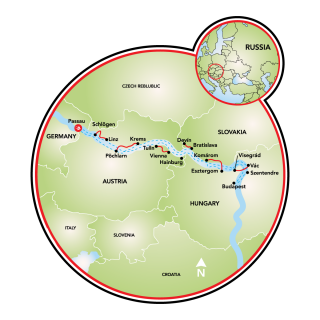 Day 1: Arrival in Passau at 4 pm
Day 2: Schlögen - Linz, 34 mi. (55 km)
Day 3: Tulln - Vienna,  22 mi. or 32 mi. (36 or 52 km)
Day 4: Komárom – Esztergom, 35 mi. (56 km)
Day 5: Sightseeing in Budapest and cycling tour to Margareteninsel, 14 mi. (22 km)
Day 6: Sightseeing in Bratislava and cycling Bratislava - Devin - Bratislava, 20 mi. (33 km)
Day 7: Cycling tour Krems to Pöchlarn, 30 mi. (48 km)
Day 8: Departure from Passau at 9 am
*All distances are approximate. Timetable and program are subject to changes by the captain due to regional conditions (among other things high or low water, adverse weather, storms, etc.).
Day 1: Passau - Schlögen 
Arrive at the fenced-in car park until 4 pm or arrival at Passau main station by 4.45 pm (e.g. arrival with train ICE 27). Bus transfer from the car park or from the main station to the ship is available for an additional charge. Please be on board by 7 pm! Welcome snacks are offered on board from 4 pm and this evening you will enjoy a captain's welcome dinner with a 4-course menu. The ship will depart Passau at 8 pm and navigate to Schlögen, arriving approximately 11:30 pm.
Day 2: Schlögen - Linz,  34 mi. (55 km)
Distribution of bicycle rentals at Schlögen Bend in the morning. Your cycling itinerary today will lead through the uninhabited narrow valley near Kaiserau to Ottensheim and further on to Linz (European Capital of Culture 2009). The ship will depart from Schlögen at 12 noon and will arrive in Linz at 4:15 pm. The ship will depart from Linz at 8:30 pm, heading to Tullin, arriving at 7:30 am.

Day 3: Tulln - Vienna, 22 mi. or 32 mi. (36 or 52 km)
Plan on a visit to the Museum of Egon Schiele and garden exhibition (with 65 gardens) in Tulln, followed by a cycle tour from Tulln ("city of flowers"), with a wonderful view
of the foothills of the Viennese Wood (Wiener Wald), past Klosterneuburg (monastery – Austrian Escorial) to Vienna. Individual sightseeing in Vienna or if you prefer, a city tour by bike, 95 % of which will take place on dedicated cycle tracks!  More information will be provided onboard. After dinner, at 8:30 pm, a guided city tour is included by bus "Vienna by night". The ship departs Tulln at 10 am, arriving in Vienna at noon. Departs Vienna at 11 pm and arrives in Komárnom at 9 am.
Day 4: Komárno - Esztergom-Štúrovo,  35 mi. (56 km)
After the ship arrives at 9 am, cyclists disembark to enjoy their cycling itinerary. You depart from Komárom, cycling on the left bank through small, dreamy places on the very beautiful, car-free causeway, sometimes pedaling directly along the Danube past Moča to Esztergom. The boat departs at 12 noon, heading to Esztergon/Štúrovo arriving at 4 pm.  Cyclists embark here for the evening. The ship navigates once again leaving at 6 pm, arriving in Budapest at 11 pm.
Day 5: Budapest, 14 mi. (22 km)
In the morning, you will enjoy a city tour by bus of Budapest which will leave directly from the boat landing station. The tour will take about 3.5 hours, with a stay in the city center of about 1.5 hours. From here you will be transferred back to the ship. In the afternoon, there is a possibility for a round trip tour by bike on the 8 km long car-free Margareten Island in Budapest. The ship departs from Budapest at 5 pm and arrives in Bratislava at 9 am.

Day 6:  Bratislava - Devin - Bratislava, 20 mi. (33 km)
You will enjoy a guided city tour through the historical center of Bratislava. Afterward, on the Danube cycling route, you will pedal to Devin and the Bratislava Castle, one of the landmarks of the city – a National Cultural Monument. It is situated on a rocky hill of the Little Carpathians in the center of the city and is overlooking the river Danube. It also provides an excellent view of Bratislava and Austria. Afterwards, cross the new cycling bridge, you arrive in Austria, to the magnificent palace of the Empress Maria Theresia, Castle Hof with its impressive Baroque gardens, staterooms, etc.). You will return to Bratislava to board the ship and enjoy a sailing dinner.  The ship departs Bratislava at 4 pm arriving in Krems at 9 am. 

Day 7: Krems - Pöchlarn, 30 mi. (48 km)
You will enjoy the cycling this day on the Danube cycling path in the Wachau from Krems (UNESCO world cultural heritage) via Dürnstein to Melk (monastery) and further on to Pöchlarn. After arriving at 9 am in Krems, the ship will depart at 11:30 am for Pöchlarn, arriving at 3:30 pm. Departs once again at 5 pm, heading to Passau.

Day 8: Passau
The ship is scheduled to arrive in Passau at 8 am.  Disembarkation at 10.00 am. Transfer to the parking spot or train station, if reserved.
Be sure to check out all of our featured bike and boat tours, or our full list of bicycle tours.
*Important Information:
In case of flood or low tide, the shipping company reserves the right to change the route and/or bridge parts of passages with buses.  Bicycle touring routes may also be affected. In extreme situations, the shipping company reserves the right to cancel the journey on short notice. No legal right shall be constituted of both situations. (Water level is force majeure). The same applies for officially ordered - previously not announced - repair work on locks or bridges or in case of unexpected breakdown of engine or power unit. 
Please be aware that these ships, like all other ships on the Danube, are not just your "floating hotels" but also a machine, running engines,  also during the night. Especially crossing locks and bridges - and the preparation work - may cause noise. If you are sensitive to noises, please bring your own earplugs.
Email or Call 800-951-4384 +1 570-965-2064
---
Along the Danube - Passau - Vienna - Budapest aboard the Primadonna
Boats + Barges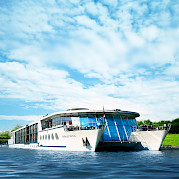 Primadonna Austria, Germany, Slovakia, Hungary Deluxe Class Boat Experience the elegance of the MS Primadonna, with spacious decks, spa facilities, restaurant, bar, atrium and much more, on a cycling holiday without having to pack and unpack each day. Your boat will await you at your destination every day. You can also feel free to spend some of your time on board where you can enjoy the Jacuzzi on the outdoor deck or the spa area, which is equipped with Jacuzzi, sauna, Kneip basin, etc. All meals on this Austrian cruise line are freshly cooked and have a particular emphasis on regional and organic products.