4.3

/

5

(

3

reviews)
Burgundy - Paris to Auxerre
France Bike + Barge Tours
Cycle in France in the heartland of Burgundy
This bike tour in France takes you through Burgundy, one of the country's most fascinating regions, and often labeled as the land of fine art and living. This area is well-known for its easy pace of life, mild climate, and friendliness. It has a rich royal history, but you may know it now for the delicious wine and cheeses. By bike and boat you will explore historic towns, imposing castles, and quaint villages. You will enjoy excellent food and wines both aboard ship and in hospitable towns along the way.

Highlights:

Paris by bike
Fontainebleau, the artists village of Barbizon
The rocks of Nemours
The medieval cities of Ferriéres and Chatillon Coligny
The complex of locks in Rogny
Pont Canal de Briare
Bien Sancerre wine
Chavignol cheese

And more!

An extensive list of all of our France bike boat tours can be found here.

2018

8 day tour 

Low bed cabin:  $ 1906 £ 933 $ 1,634 € 1045 $ 1955 kr 11685 $ 1,156

Bunk bed cabin: $ 1842 £ 902 $ 1,579 € 1010 $ 1889 kr 11294 $ 1,117

extra

options

On the Feniks: 

Electric bicycle rental per week: $ 95 £ 46 $ 81 € 52 $ 97 kr 581 $ 58

please

note

Rates are per person based on double occupancy.

A non-refundable admin fee of 20 Euros per person is included in the deposit amount.

Information to read before you book.

We recommend purchasing bike trip insurance.

† Currency exchange rate set 90 days before travel.

Travel

Fly into Paris, CDG.

Climate

Please check local conditions before arrival. The average high/low temperatures in degrees F for the area are: April 57/42º, September 69/52º, and October 59/46°.

---
Skill
Level
This France bike tour is classified as an easy to moderate guided bike and boat tour on quiet roads through a rolling landscape. Average daily distance is 30 miles a day. The route follows bike trails and asphalted side roads. There are some hilly stretches but you will be able to walk if necessary.
Where
You'll Stay
On board the standard plus boat, the Feniks
What's
Included
Accommodations for 7 nights
21-speed bicycles with pannier, lock and water bottle
Multilingual tour guide
Route program with city maps
7 x breakfast, 7 x lunch package and 6 x dinner
Coffee, tea and biscuits
Afternoon snacks
Cabin with private bathroom including bed linen and fresh towels
Shampoo, shower gel and soap
Daily check of your cabin, once a week extra cleaning
Service for personal laundry
Ferry fares
What's
Not Included
Gratuities
Entrance fees
Travel or cancellation insurance
Meals other than mentioned
Tour
Dates
2018
Paris to Auxerre: August 4, 2018
Auxerre to Paris: August 11, 2018
Tour
Boats
Day-To-Day
Itinerary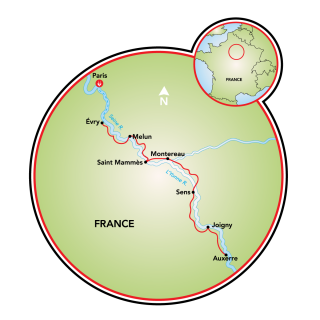 ABOARD THE FENIKS
Paris to Auxerre
Day 1: Arrival to Paris
Day 2: Paris - Evry (by boat)
Day 3: Evry - Melun, 19 or 29 miles (31 or 46 km)
Day 4: Melun - Moret sur Loing - St. Mammes, 26 miles (43 km)
Day 5: St. Mammes - Montereau - Sens, 28 miles (45 km)
Day 6: Sens - Joigny, 24 miles (40 km)
Day 7: Joigny - Auxerre, 30 miles (48 km)
Day 8: Departure
 
Day 1: Arrival to Paris
After your arrival and check-in on board, there will be a city tour.
Day 2: Paris - Evry (by boat)
In the morning, you start your cruise to Evry. The incredible views along the Seine river will accompany you. Arrival will be in the late afternoon, after which you'll have a chance to test the bikes. 
Day 3: Evry - Melun, 19 or 29 miles (31 or 46 km)​
Setting off in the morning, your destination for the day is Melun. Along the way, you'll make an extended visit to the Chateau Vaux-le-Vicomte. This majestic estate was purchased by the young parliamentarian Nicolas Fouquet in 1641, who transformed it into a masterpiece whose château and gardens still feature among the most beautiful in France. You'll end your cycling in Melun. This historical town regularly welcomed the Kings of France and the court until the mid-15th century. Two exceptional reminders of the 11th century are still preserved in Melun: the Collegiate Church of Our Lady and the Priory of St. Saviour. 
Day 4: Melun - Moret sur Loing - St. Mammes, 26 miles (43 km)​
Today you will bike through the famed forest of Fontainebleau. This forest is spread over 25,000 hectares and remains a popular destination for nature lovers due to its dense and varied flora and fauna. It contains more than 1600 km of forest routes and pedestrian trails for walking and running, including 300 km of signposted trails. Eventually, you will reach incredible Fontainebleau castle. This gorgeous chateau was once used by the kings of France from the 12th century as a medieval royal hunting lodge. You will also pass through Moret sur Loing before ending your day in St. Mammes. This little town was made famous by the English painter Alfred Sisley who lived and painted here all his life. 
Day 5: St. Mammes - Montereau - Sens, 28 miles (45 km)​
In the morning you will sail from St. Mammès to Montereau where you'll begin your bike tour to Sens. Sens is most famous for it's gothic Cathedral Saint-Etienne that dominates the main square. The building is especially important as it is first gothic cathedral built in France and acted as a model for many other gothic style cathedrals built later in France and elsewhere in Europe.
Day 6: Sens - Joigny, 24 miles (40 km)​
Today's route follows the Yonne river. Before reaching your destination of Joigny, you'll make a stop to the quaint town of Villeneuve.
Day 7: Joigny - Auxerre, 30 miles (48 km)​
Joigny is a lively town with a good market, contemporary art museum, and plenty of waterway activity. Leaving here, you will make your way to Auxerre. Situated on the River Yonne, Auxerre is a very pleasant town with an relaxed air about it. Auxerre is the capital of the Yonne 'département' and home of the government offices and administration for the region. There are plenty of interesting shops and casual restaurants for you to explore. 
Day 8: Departure
Depart after breakfast. 
*All distances are approximate. The above planned itinerary is subject to change due to changing wind and weather conditions and other unforeseen circumstances having to do with mooring requirements, etc. 
Email or Call 800-951-4384 +1 570-965-2064
---
Burgundy - Paris to Auxerre
Boats + Barges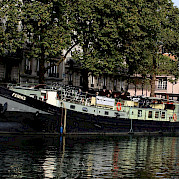 Feniks Belgium, Netherlands, France Comfort Class Boat Originally, the Feniks was built in 1928 as a freighter on the Dutch, Belgium and French inland waters. In 1992, the Feniks was converted to a hotel passenger ship and put in service for various sailing holidays. Since then, she has undergone several renovations to keep up-to-date with all modern facilities.