5

/

5

(

4

ratings)
Frankfurt to Ludwigsburg
Germany Bike + Barge Tours
Cycling through the valleys of the Main, Rhine, and Neckar Rivers!
On this tour, you will bike and barge through the valleys of the rivers Main, Neckar, and Rhine, from Ludwigsburg on the Neckar river to Frankfurt/Offenbach on the Main river. You begin in Frankfurt, a bustling and modern metropolis and end in Ludwigsburg, a city of many different faces from being a center of education, culture, and history to also being a major industrial center. The Residential Palace located here is one of the greatest German Baroque palaces in existance today with 452 rooms and 28 buildings.

Highlights include:

City tour of Heidelberg
Vineyard tour and wine tasting in Nierstein
The lively city of Mainz
Wonderful cycling from village to village

For a list of all of our cycling tours in Germany click here.

Travel

Fly to Frankfurt.

Local Travel

Frankfurt is well connected by public transportation.

Climate

Please check local conditions before arrival. The average high/low temperatures for the area in ° F: August, 73/55 °.

Remarks

High quality bike helmets are available on board free to use.Please be aware that you will be part of an international group of people, but your tour guide and crew members will always speak English. Electric bikes and tandems available for €25 per day.

---
Where
You'll Stay
On the beautiful Merlijn, a comfort plus class ship.
What's
Included
Hotel accommodations for 7 nights on board the Merlijn in a double room with private bathroom
Daily cabin cleaning service

Welcome drink

7 x breakfast buffets, 6 x lunches, 5 x 3-course dinners
Unlimited ice water, coffee, hot chocolate & tea on board

24-speed hybrid bicycle, incl. a bike bag, water bottle, towel and helmet
Route information

Tour guide

Guided city tour Heidelberg

Ferry fares en route

Wine tour through the vineyards in Nierstein
What's
Not Included
2 x dinner
Organized city tours other than Heidelberg
Drinks other than mentioned
Entrance fees and and excursions
Gratuities
Bicycle protection
Trip insurance
Extra
Stay
Extra nights are always recommended in either Frankfurt or Ludwigsburg!
Tour
Dates
September 2, 2017. 
Skill
Level
This is an easy, guided bike and boat tour with average daily distances between 16 to 30 miles (26 to 45 km).
Tour
Boats
Day-To-Day
Itinerary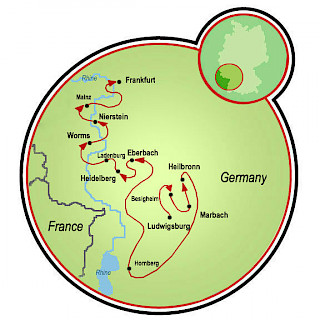 Day 1: Arrival in Frankfurt am Main
Day 2: Frankfurt - Mainz, 30 mi. (45 km)
Day 3: Mainz - Worms, 16 mi. (25 km)
Day 4: Worms - Heidelberg, 25 mi. (40 km)
Day 5: Heidelberg - Eberbach, 20 mi. (32 km)
Day 6: Eberbach - Bad Wimpfen - Heilbronn, 25 mi. (40 km)
Day 7: Heilbronn - Ludwigsburg, 16 mi. (26 km)
Day 8: Ludwigsburg
*All distances are approximate. The above planned itinerary is subject to change due to changing wind and weather conditions and other unforeseen circumstances having to do with mooring requirements, etc.
Day 1: Arrival in Frankfurt am Main
You are welcomed on board the Merlijn with a welcome cocktail. The afternoon is free, allowing you to explore Frankfurt, with its modern buildings, museums, and lively shopping center. Dinner and overnight in Frankfurt.
Day 2: Frankfurt - Mainz, 30 mi. (45 km)
While you enjoy your breakfast, the Merlijn takes you a little further downstream the Main River. Your bike tour leads you partly along the Main river and then you cross the Rhine river into Mainz, where you meet the Merlijn. Mainz has beautiful squares, half-timbered houses, and impressive baroque churches. Behind Rococo Façades and in Baroque houses hide inviting elegant boutiques, cafés, and 'Weinstuben'. And of course there's the famous Cathedral of Mainz you shouldn't miss. Tonight you will enjoy your dinner in one of the many restaurants in Mainz.
Day 3: Mainz - Worms, 16 mi. (25 km)
This morning you will explore the city of Mainz a little more before you bike to Nierstein. Here you will enjoy a tour through the vineyards including a wine tasting. You will have marvellous views of the Rhine river and surroundings.
Day 4: Worms - Heidelberg, 25 mi. (40 km)
Today the bike tour starts from Worms along the Rhine river and later on you will follow the Neckar river to Heidelberg. You will enjoy your dinner tonight at your own expense in one of the many local restaurants in Heidelberg.
Day 5: Heidelberg - Eberbach, 20 mi. (32 km)
In the morning there will be a guided city walk through the historic center including the castle. Afterwards you will bike from Heidelberg via Ziegelhausen to Neckargemünd. The tour continues through the southern part of the Odenwald to Neckarsteinach. Our next stop is Hirschhorn, one of the pearls on the Neckar river. Hirschhorn has a charming castle, a Carmelite Monastery and an interesting Market Church. Our tour today ends in Eberbach, a charming village with quiet narrow streets.
Day 6: Eberbach - Bad Wimpfen - Heilbronn, 25 mi. (40 km)
After breakfast you bike to Neckarzimmern and make a short tour towards the castle of Hornberg. This castle is to be considered as one of the most beautiful castles in the Neckar valley. After 1259 the bishop of Speyer had his quarters here and in the 16th century it became the house of Berlichingen. The bike tour follows the Neckar River to Bad Wimpfen, where you will board the Merlijn. Together you sail to Heilbronn.
Day 7: Heilbronn - Ludwigsburg, 16 mi. (26 km)
While you enjoy your sailing breakfast the Merlijn will take you to Besigheim. This is where your bike tour starts on the right bank of the Neckar river to Benningen. Here you can see Roman history in the Castle Vicus.
Day 8: Departure from Ludwigsburg
Departure after breakfast. 
If you're looking for a different flavor, check out our full list of bike and boat tours or view all our featured bike trips, specials, and news.
Email or Call 800-951-4384 +1 570-965-2064
---
Frankfurt to Ludwigsburg
Boats + Barges
Merlijn Germany, Netherlands Comfort Plus Class Boat The Merlijn has 12 luxurious cabins with two comfortable airbeds that can be pushed together or separated, a desk, a wardrobe closet, a hairdryer, and a safe. The lounge is comfortably furnished in a modern style with a restaurant area and lounge near the bar. You can enjoy fresh air, water, and nature in all weather on the sun deck. The entire ship is climate controlled and you can adjust the temperature in your own cabin.