Mainz to Ludwigsburg
Germany Bike + Barge Tours
Cycle through some of the Romantic cities along the Neckar and Rhine
This bike and boat tour in Germany takes you from the beautiful city of Mainz and to Ludwigsburg. Along the way, you will pass through some of the most Romantic cities along the Neckar and Rhine rivers. Your floating hotel, the beautiful Merlijn, will make you feel right at home after a day of cycling.

You begin in the historic city of Mainz, with it's attractive town squares, impressive churches, and half-timbered houses. While biking along the Rhine River, you will pass lovely small German towns and villages. You can also stop and enjoy the local fine wines and delicious foods of the area. The River landscape will captivate you. Along the way, you will not be able to resist a swim in the lakes that beckon. Occasionally you come upon a road with a slight climb to a fortress that you can explore and of course enjoy the wonderful view. You will pass through towns with interesting stories to tell and fascinating castles to visit. Finally you will reach beautiful Ludwigsburg!

Highlights:

Historic center of Heidelberg
Vineyards and Wine tasting in Nierstein
The picturesque village of Marbach

All of our bike and barge tours in Germany can be found here.

2017: £ 1205 $ 1,898 € 1265 NOK 12650 kr 11677 $ 1,518

Single supplement: £ 286 $ 450 € 300 NOK 3000 kr 2769 $ 360

2018: £ 1257 $ 1,980 € 1320 NOK 13200 kr 12185 $ 1,584

Single supplement: on request

extra

options

Electric or tandem bicycle rental (price is per day): £ 24 $ 38 € 25 NOK 250 kr 231 $ 30  

please

note

Rates are based on double occupancy.

Information to read before you book.

We recommend purchasing bike trip insurance.

† Currency exchange rate set 90 days before travel.
Where
You'll Stay
You will be staying on the beautiful Merlijn, a comfort plus class ship
What's
Included
Accommodations for 7 nights on board in double room
Daily cabin cleaning
Welcome drink
7 x breakfast buffets, packed lunches, and 5 x 3-course dinners.
Unlimited water, hot chocolate, coffee, and tea on board
Route information
24 speed bicycle including towel, bike bag, water bottle, and helmet
Tour guide
Guided city tour in Heidelberg
Wine tour in Nierstein including wine tasting
Ferry fares en route
What's
Not Included
2 x dinner
Drinks on board
Entrance fees and excursions
Bike protection
Trip insurance
Tour
Dates
2017: October 7, 2017
2018: September 22, 2018
Skill
Level
This is an easy guided bike and boat tour with daily distances ranging from 12 to 28 miles (20 to 45 km).
Tour
Boats
Day-To-Day
Itinerary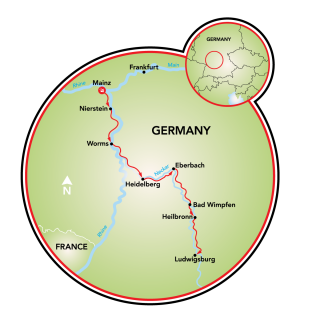 Day 1: Arrival in Mainz
Day 2: Mainz - Nierstein, 12 mi. (20 km)
Day 3: Nierstein - Worms, 28 mi. (45 km)
Day 4: Worms - Heidelberg, 25 mi. (40 km)
Day 5: Heidelberg - Eberbach, 20 mi. (32 km)
Day 6: Eberbach - Bad Wimpfen - Heilbronn, 25 mi. (40 km)
Day 7: Heilbronn - Ludwigsburg, 16 mi. (26 km) 
Day 8: Departure from Ludwigsburg
After breakfast it is time to say goodbye and continue your European trip or leave for the airport.
*All distances are approximate.
Day 1: Arrival in Mainz
You will be welcomed on board with a cocktail. The afternoon is free, allowing you to explore Mainz. Mainz has beautiful squares, half-timbered houses and impressive baroque churches. Behind Rococo Façades and in Baroque houses hide inviting elegant boutiques, café's, and 'Weinstuben'. And of course there's the famous Cathedral of Mainz you shouldn't miss. Dinner and overnight in Mainz.
Day 2: Mainz - Nierstein, 12 mi. (20 km)
In the morning there will be more time to explore the beautiful city of Mainz, afterwards your bike tour starts to Nierstein. In the afternoon you will enjoy a tour through the vineyards including a wine tasting. You will have marvelous views on the Rhine river and surroundings. Dinner on board an overnight stay in Nierstein.
Day 3: Nierstein - Worms, 28 mi. (45 km)
After breakfast you will bike from Nierstein along the Rhine river to Worms. Here you may want to have a look at the famous Nibelungen tower, which is located directly at the Rhine river, close to the Merlijn. In the evening, you can further explore Worms.
Day 4: Worms - Heidelberg, 25 mi. (40 km)
Today the bike tour starts from Worms along the Rhine river and later on you will follow the Neckar river to Heidelberg. You will enjoy your dinner tonight at your own expense in one of the many local restaurants in Heidelberg.
Day 5: Heidelberg - Eberbach, 20 mi. (32 km)
In the morning, there will be a guided city walk through the historic center including the castle. Afterwards you will bike from Heidelberg via Ziegelhausen to Neckargemünd. The tour continues through the southern part of the Odenwald to Neckarsteinach. Our next stop is Hirschhorn, one of the pearls on the Neckar river. Hirschhorn has a charming castle, a Carmelite Monastery, and an interesting Market Church, that are all worth a visit. Your tour today ends in Eberbach, a charming village with narrow streets and a quiet life style.
Day 6: Eberbach - Bad Wimpfen - Heilbronn, 25 mi. (40 km)
After breakfast, you cycle to Neckarzimmern and make a short tour towards the castle of Hornberg. This castle is considered one of the most beautiful castles in the Neckar valley. In 1259 the bishop of Speyer had his quarters here and in the 16th century it became the house of Berlichingen. The bike tour follows the Neckar River to Bad Wimpfen, where you will board the Merlijn. Relax on board as it cruises to Heilbronn. Dinner this evening will be at your own expense in the city of Heilbronn.
Day 7: Heilbronn - Ludwigsburg, 16 mi. (26 km) 
While you enjoy breakfast, the Merlijn will take you to Besigheim. This is where your bike tour starts on the right bank of the Neckar river to Benningen. Here you can see Roman history in the Castle Vicus.
When you come to Marbach you will change to the left bank and pay a visit to Marbach, the city where the famous German poet Friedrich Schiller was born. Further more it is a very picturesque village, which you definitely will enjoy. We change again to the right bank of the Neckar river and arrive at Hoheneck. You may want to bike to Ludwigsburg, the road is perhaps a little tough but your reward will be the view of Ludwigsburg with its beautiful castles and baroque gardens.
Day 8: Departure from Ludwigsburg
Departure after breakfast.
If you're looking for a different flavor, check out our full list of bike and boat tours or view all our featured bike trips, specials, and news.
Email or Call 800-951-4384 +1 570-965-2064
---
Mainz to Ludwigsburg
Boats + Barges
Merlijn Germany, Netherlands Comfort Plus Class Boat The Merlijn has 12 luxurious cabins with two comfortable airbeds that can be pushed together or separated, a desk, a wardrobe closet, a hairdryer, and a safe. The lounge is comfortably furnished in a modern style with a restaurant area and lounge near the bar. You can enjoy fresh air, water, and nature in all weather on the sun deck. The entire ship is climate controlled and you can adjust the temperature in your own cabin.