4.9

/

5

(

11

reviews)
Mainz to Metz
From France to Germany, bike along the Rhine and Moselle Rivers…
This bike and boat tour in Germany to France is aboard the luxurious and popular Deluxe class ship, the Merlijn. Along the Rhine and Moselle Rivers, from Mainz to Metz, you will visit three countries.

Imagine yourself relaxing on the sundeck of this modern river barge and watching the beautiful countryside pass, able to just soak in sun and scenery. Imagine climbing atop a bicycle and becoming part of the terrain that most tourists only see fly pass in an impressionistic blur from the window of their bus or train. Imagine being rocked to sleep at night by the gentle motion of the water and awakening on your floating hotel, to the smell of coffee, knowing that another day stretches before you, a day filled with biking, boating, local history and the camaraderie of your fellow passengers.

There is absolutely no better way to explore this region than on a bike and boat tour. Smooth and perfectly flat bike lanes are apart from any distracting traffic, allowing you to ride in peace, while from the boat, you will be able to admire the gorgeous riverside scenery.

All of our bike and barge tours in Germany can be found here.

Price $ 2337 £ 1157 $ 2,021 € 1265 $ 2386 kr 14260 $ 1,441 Single supplement on request.
August 12th departure is now being offered as a 2 for 1 (valid for reservations made after July 11):
First traveler: $ 2337 £ 1157 $ 2,021 € 1265 $ 2386 kr 14260 $ 1,441 Second traveler (in same cabin): FREE

extra

options

Tandem or electric bike rental (rate is per day): $ 46 £ 23 $ 40 € 25 $ 47 kr 282 $ 28

please

note

Rates are per person based on double occupancy.

A non-refundable admin fee of 20 Euros per person is included in the deposit amount.

Information to read before you book.

We recommend purchasing bike trip insurance.

† Currency exchange rate set 90 days before travel.

Travel

Closest international airport is Frankfurt International Airport (FRA).

Local Travel

The Frankfurt Airport Regional Station is located below Terminal 1. S-Bahn train services S8 and S9 link the airport with central Frankfurt at Hauptbahnhof (central) station. Local train to Mainz.

Climate

Please check local conditions before your arrival. Average high/low temperatures in degrees Fahrenheit for the area in October are 57/43°

Remarks

Please be aware that you will be part of an international group of people, but your tour guide and crew members will always speak English. Electric bikes and tandems available for rental for supplemental fee.

---
Where
You'll Stay
You will be staying on the beautiful Merlijn, a Deluxe class ship
What's
Included
Accommodations for 7 nights on board
Breakfast, 6 x packed lunch and 5 x three course dinner
Coffee, tea, hot chocolate, and ice water free of charge
Daily cabin cleaning
Welcome drink
Harbor, ferry, and lock fees
Tour guide
24 speed hybrid bike with water bottle, towel, bike bag and use of universal helmet
Route descriptions and maps
Guided city tour in Trier
Wine tasting tour in Zell
Daily cabin cleaning service
WiFi onboard
What's
Not Included
Gratuities
Inbound and outbound transfers
2 x Dinner
All beverages other than those mentioned
Excursions, other than those mentioned
Transfers
Extra
Stay
Information and assistance can be provided to arrange extra nights if desired.
Tour
Dates
Mainz to Metz: August 5, 2017
Metz to Mainz: August 12, 2017
Not being offered in 2018
Skill
Level
This is an easy guided or self-guided bike and boat tour with daily distances ranging from 19 to 28 miles.
Tour
Boats
Day-To-Day
Itinerary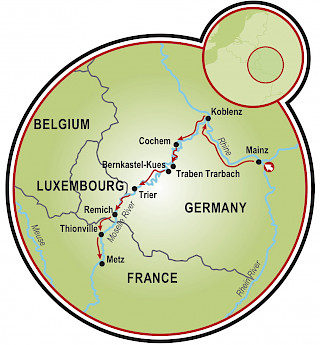 MAINZ TO METZ
Day 1: Arrival in Mainz, cruise to Bingen/Rüdesheim
Day 2: Bingen/Rüdesheim - Koblenz, 25 mi. (40 km)
Day 3: Koblenz - Cochem, 16 mi. (25 km) 
Day 4: Cochem - Zell - Traben Trarbach, 22 mi. (35 km)
Day 5: Traben Trarbach - Bernkastel Kues - Trier, 28 mi. (45 km)
Day 6: Trier - Remich, 26 mi. (42 km)
Day 7: Remich - Thionville - Metz, 22 mi. (35 km)
Day 8: Departure from Metz
*All distances are approximate. The above planned itinerary is subject to change due to changing wind and weather conditions and other unforeseen circumstances having to do with mooring requirements, etc.
Day 1: Arrival in Mainz, cruise to Bingen/Rüdesheim
The Merlijn will be moored in the city of Mainz. Embarkation begins at 4 pm. You will be welcomed on board by the crew and can enjoy a complimentary cocktail and learn about the ship, the daily tours and the bicycles. If you arrive earlier, you can drop off your luggage beginning at 10:30 AM, giving you plenty of time to explore the city of Mainz. Be sure to stroll through the Old Town, its pride and joy, which is characterized by big, broad plazas, lovingly restored half-timbered houses and magnificent Baroque churches. At around 5:30 PM, the Merlijn leaves Mainz and cruises to Bigen/Rüdesheim where you stay overnight.
Day 2: Bingen/Rüdesheim - Koblenz, 25 mi. (40 km)
The day begins with a morning sail during breakfast so that the view from the Merlijn of the Lorelei rock can be enjoyed. According to German legend, there was once a beautiful young maiden, named Lorelei, who threw herself headlong into the river in despair over a faithless lover. Upon her death she was transformed into a siren and could from that time on be heard singing on a rock along the Rhine River, near St. Goar. Her hypnotic music lured sailors to their death. The legend is based on the echoing rock with that name near Sankt Goarshausen. In St. Goar, the cycling tour begins along the Rhine River, passing charming cities such as Boppard. There will be time to visit this ancient city, also called the "pearl on the Rhine River." If you would like, you can take the chair lift up to the magnificent viewpoint on the Rhine loop. Day's end finds you in Koblenz where the Moselle meets the Rhine River at the "German Corner."
Day 3: Koblenz - Cochem, 16 mi. (25 km) 
Once again, during breakfast, the Merlijn will set off up the Moselle River to Alken where you will disembark and set off cycling to Moselkern. At Eltztal, a visit to the Eltz Castle is on the itinerary. Sitting atop a cliff, this castle is one of the very few that has never been destroyed during its long history. The Merlijn will be moored and waiting in Cochem. A visit to the famous Reichsburg Castle is recommended. The castle towers on a mighty rock, 100 meters above the town of Cochem. The castle was built around the year 1000. You can meander the medieval streets in this romantic city tucked between steep vineyards and the river.  Dinner this evening is out on the town, perfect for exploring the local cuisine.
Day 4: Cochem - Zell - Traben Trarbach, 22 mi. (35 km)
The Merlijn will cruise to Beilstein in the morning for a visit to this medieval village. Afterwards, the cycling begins along the meandering Mosell River via Zell, famous for its vineyard Zeller Schwarze Katz, towards Traben - Trarbach, the city of the art nouveau. The day concludes with a wine tasting event at a local vineyard.
Day 5: Traben Trarbach - Bernkastel Kues - Trier, 28 mi. (45 km)
The boat sets forth first thing, cruising to Bernkastel-Kues where magnificaent framework houses line the marketplace. Cycling though the interesting city of Neumagen-Drohn, you will head toward Mehring, where the Merlijn will be moored. The Romans fell in love with this landscape more than 2000 years ago, building splendid country villas here and the Roman poet Ausonius sang of its beauty. Embarking once again in Mehring, you will cruise to Trier. After dinner, a stroll through the interesting streets can be enjoyed.
Day 6: Trier - Remich, 26 mi. (42 km)
After breakfast, you will enjoy a guided city tour through Trier and then begin to bike along the meandering Mosel River up to Wasserbillig where you follow the German Luxembourg border, encountering remainders of the Roman Times. Be sure to enjoy a glass of local wine and discover the difference between the German and Luxembourg wines. You will spend the night aboard the Merlijn in Remich.
Day 7: Remich - Thionville - Metz, 22 mi. (35 km)
Cycling out of Luxembourg, you head in the direction of the French Lorraine. In Sierck-les-Bains,  there is an interesting old citadel. Thionville is the steel industry center for the Lorraine-district, but there is 17th century history as well in the form of ancient fortifications. The boat waits in Thionville for embarkation and sailing on to Metz, the final destination. It is a beautiful cruise along the Moselle River.
Day 8: Departure from Metz
Disembarkation will occur after breakfast at 9 AM. Be sure to allow for time to explore the city of Metz. The town's origins go back to the Roman times and today, it  is a lively university city, complete with a medieval center. Recommended is a visit to the Gothic cathedral with its stain glass windows by Marc Chagall.  
Metz is not at all the drab place you might expect from an industrial locale, indeed it is known as the "Ville jardin" or Garden City, with impeccable flower-beds. The warm hues of mustard-yellow stone buildings and the waters of the Moselle combine to form a lovely cityscape.
METZ TO MAINZ
Day 1: Arrival in Metz. Embarkation at 4 PM.
Day 2: Metz - Thionville - Remich, (25 km)
Day 3: Remich - Trier, (42 km)
Day 4: Trier - Traben Trarbach, (45 km)
Day 5: Traben Trarbach - Zell - Cochem, (20 km)
Day 6: Cochem - Moselkern - Koblenz, (35 km)
Day 7: Koblenz - Metz
Day 8: Mainz
If you're looking for a different flavor, check out our full list of bike and boat tours or view all our featured bike trips, specials, and news.
Email or Call 800-951-4384 +1 570-965-2064
---
Mainz to Metz
Boats + Barges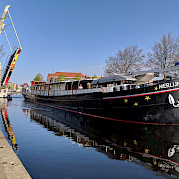 Merlijn Germany, Netherlands Deluxe Class Boat "The Divine Miss M" as we lovingly call the Merlijn is a diva, for sure. What can we say? Is it the luxurious cabins with most comfortable beds you have ever slept in? Is it the lovely dining area with the large windows and skylight that let the air, light, and sun pour in? Or perhaps it is the sun deck, where you can relax with newfound friends, sharing good wine and good conversation. We think you will find it is the entire divine package! Step onboard and discover for yourself!