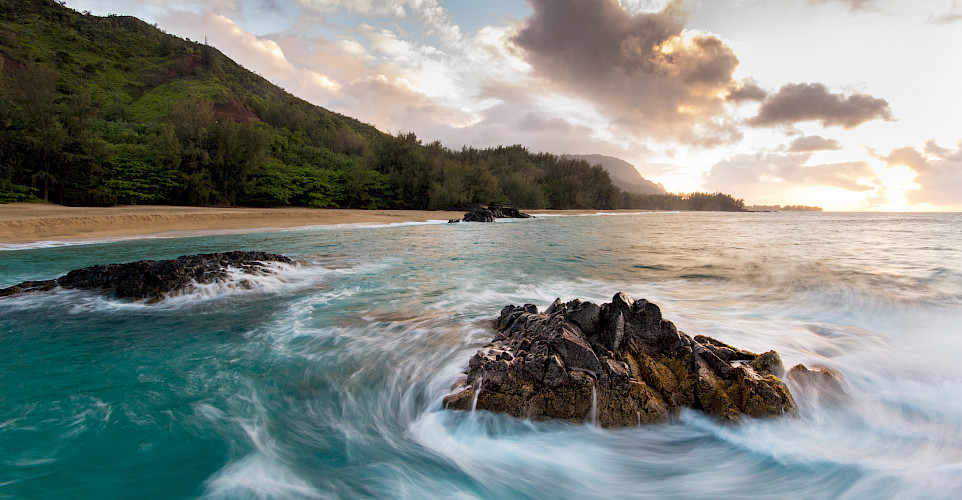 Hawaii - Island Dreams
A bike tour on the sunny side of the Big Island!
Overview

A bike tour in Hawaii? What could be more perfect? Hawaii is on everyone's bucket list and why not combine an active, involved vacation with one of the top destinations in the world?

Everyone knows that Hawaii is a tourist's paradise, but on this tour, you will not be the typical tourist. You will pedal the roads less traveled on which you will delight in a palette of colors and textures; austere blue of the sea, the lush green of the tropical forests, and the splash of colors of a sunrise over jagged peaks.

The gastronomy is a smorgasbord of colors and textures as well. Picture fresh pink Ahi Tuna laid out on crisp salad greens and sipping a Blue Hawaii as you relax at day's end.

Your adventure will begin in the renowned Kona coffee countryside and will lead through macadamia plantations, past Punalu'u Black Sand Beach, into the clouds of Volcanoes National Park, through tropical forests. Your route will even follow the famed Ironman cycling course as you return back to Kailua Kona.

Trust us, this is not your parents' Hawaii!

Highlights

Wonderful itinerary
Full guide and van support
Charming accommodations
Stunning scenery
Hawaiian cuisine

Want to see more bike tours in the United States?

Itinerary

Day 1:  Kailua Kona
Day 2 : Kailua Kona - Pahala, 59 mi. (94 km)
Day 3: Pahala - Volcano Village, 25 mi (40 km)
Day 4: Volcano Village - Hilo, 29 mi. (46 km)
Day 5: Hilo - Honoka'a, 43 mi. (69 km)
Day 6: Honoka'a - Hawi, 40 mi. (64 km)
Day 7: Hawi - Kailua, 32 mi. (51 km)
Day 8: Departure

*All distances are approximate.

Day 1:  Kailua Kona
Your Island Dream tour begins in Kailua Kona with an included transfer from the airport to you first hotel. There are no activities planned on this first day so you are free to explore town or relax poolside after the long flight. The group will gather for orientation later in the day, then enjoy the sunset and dinner at a nearby cafe that features local grinds (food) and a big assortment of island micro-brews.

Overnight accommodation: Royal Kona Resort
Meals: D

Day 2 : Kailua Kona - Pahala, 59 mi. (94 km)
Rather than cycling through the morning rush, a transfer will be provided to coffee country to start your active vacation!  The rolling ride leads past numerous coffee farms, quaint country towns, and vast lava fields, en route to the southern most city in the USA, Waiohinu. Continuing along the coast, the day's destination is to the plantation town of Pahala with its vast Macadamia orchards where you will be accommodated in some historic plantation houses. 

Overnight accommodation: Pahala Plantation
Meals: B, L, D
Terrain: Hilly

Day 3: Pahala - Volcano Village, 25 mi (40 km) 
Today is a short ride up to Volcanoes National Park. It is a continuous climb, but only about a 2% grade so easily done by even beginner cyclists. Before the group begins, there will be a warm-up side trip to the Punalu'u Black Sand Beach. If you are lucky, you may encounter Honu or sea turtles. Upon reaching Volcano Village, the afternoon is free to explore! Perhaps you would enjoy a wine tasting at Volcano Winery or a spin into the Volcanoes National Park. If conditions are good, an early dinner is scheduled, followed by a hike out to see the fresh flowing lava at sunset. 

Overnight accommodation: Kilauea Lodge
Meals: B, L, D
Terrain: Long, slow climb

Day 4: Volcano Village - Hilo, 29 mi. (46 km)
Another leisurely day is in store today.  After breakfast, you will explore the Crater Loop Road inside the park, enjoy lunch at Lava Rock Cafe and reward yourself with a 30 mile downhill ride to Hilo. There is a visit to an orchid farm scheduled and then upon arrival in historic Hilo, you have the balance of the day free to do as you please. (Dinner is on your own this evening)

Overnight accommodation: Hilo Hawaiian Hotel
Meals: B, L
Terrain: Downhill

Day 5: Hilo - Honoka'a, 43 mi. (69 km)
Hawaii's scenic Hamakua Coast highlights today's ride. This region, which was heavily dependent on agriculture, still reflects traditional Hawaii. Small communities line the winding road, with wooden walled, tin-roofed houses. Via small side roads, the route leads through lush tropical forests. You will have the opportunity to enjoy Hawaii's best smoothies and take in the sweeping vistas of blue Pacific waters. Overnight this evening is in Honoka'a, another old plantation town in a hotel that was originally the Plantation Manager's Club.

Overnight accommodation: Waipio Wayside B & B
Meals: B, L, D
Terrain:

Day 6: Honoka'a - Hawi, 40 mi. (64 km)
Cattle and cactus, sights not expected in Hawaii, highlight the ride today across Parker Ranch, the largest privately held ranch in the US. After lunch in the Paniolo town of Waimea (paniolo is a Hawaiian cowboy), you cycle along the Kohala Mountain Road, a quiet road that hugs the shoulder of the Kohala Mountains, offering dramatic vistas of the Big Island's southern shores. You relax and refresh in the old sugar cane town of Hawi this evening.

Overnight accommodation: Kohala Village Inn
Meals: B, L, D
Terrain: Two moderate climbs and then downhill

Day 7: Hawi - Kailua, 32 mi. (51 km)
Your last day of riding starts with breakfast at the Soda Shop, with pancakes big enough to satisfy anyone! Your cycling begins along the Kohala Coast, pedaling through the dry landscapes that mark the southern side of the island. The historic sites of Pu'ukohola Heiau National Historic Site and Lapakahi Historical Park, provide some diversions from the cycling, before reaching Hapuna Beach and  the end of  riding.  You will end your tour at one of Kailua's best seaside restaurants. What better way to say goodbye!

Overnight accommodation: Royal Kona Resort
Meals: B, L, D
Terrain: Flat

Day 8: Departure
Sadly, all things must end! Shuttles to Kailua Kona Airport will be provided. 

Be sure to check out all of our bike tours in Europe or look at our featured bike trips, specials, and news

Hotels & Bikes

You will be accommodated in boutique inns and resorts of three and four-star level. On each day's full description, you will find the name of the preferred hotel. Final hotel list will be based on availability and if the preferred hotel is not available, you will be offered a hotel of equal standard.

Bicycles

Inclusions

What's Included

Accommodations in boutique hotels, inns, & resorts
6 dinners, 6 lunches, & 7 breakfasts
Rental bike
Cycling guide
Air-conditioned van support
Daily route descriptions & maps
Sightseeing & cultural activities
Entrance fees as indicated in itinerary
Airport pick up & drop off

What's Not Included

Tips
Personal expenses
Bike protection

Dates & Pricing

Dates

2021

March 7, April 25, & October 24, 2021

Please Note

Rates are based on double occupancy

Pricing

2021

Double/twin room: $ 5851 £ 3114 $ 5,466 € 3648 ₪ 13791 NZ$ 6056 kr 37215 $ 4,225 Single supplement: $ 1177 £ 626 $ 1,100 € 734 ₪ 2775 NZ$ 1218 kr 7487 $ 850

Extra Options

Private tours can be booked for as few as one! Ask us

Extra Info

Skill Level — Moderate

The entire ride is on paved roads, with some stretches on narrow lanes. During the peak season, December, January, and July, traffic can be heavy. However, the remainder of the year, traffic is moderate to light. The route is suitable for performance road, sport road, and touring bikes. The terrain is hilly; small coastal hills in the beginning, with some larger climbs in the later part on the volcanoes. This tour is fully guided and fully supported. Remember that if a climb proves to be just a bit too difficult, you can use the "sag" wagon for support.

Airport Info

Fly to Kailua Kona (KOA), Hawaii before 3 pm on Day 1 and fly out of Kailua Kona (KOA) after 10 am on Day 8. *Guides will meet flights arriving 10 am to 4 pm on Day 1.

Local Travel

Your tour guides will meet flights arriving from 12 noon to 5 pm and 8 pm to 10 pm on Day 1 of tour to provide airport transfers

Climate

Please check local conditions before your arrival. Hawaii is a wonderful year-round destination for good reason. For most of Hawaii, there are only two seasons: "summer," between May and October, and "winter," between October and April. Temperatures are mild throughout and on the big island, the Kohala Coast is super sunny all year round, receiving just 10 inches of rain throughout the year.

Important to know

Entry requirements

Due to the changing requirements for entry, it is imperative that you stay up to date on requirements set by the country/countries that you are visiting. Please visit our Travel Restrictions Tool page and the country/countries government webpage for this information.

For US citizens, documents for travel to/from Hawaii and within the Hawaiian Islands are the same for any other U.S. state. If you are flying to Hawai'i within the United States, you only need a valid government photo ID. A list of accepted forms of ID can be found on the TSA website.

For Non-U.S. citizens a passport is required. Please research documentation and visas needed to enter the United States of America. 

Tour Operator

We do not run these tours ourselves, we never have. We work from the commission our trusted local operators offer us plus a small administration fee of $20. We pride ourselves on the strong working relationship we have with all our tour operators and the services we provide.

Photos
Have you been on this tour?
Please leave your feedback