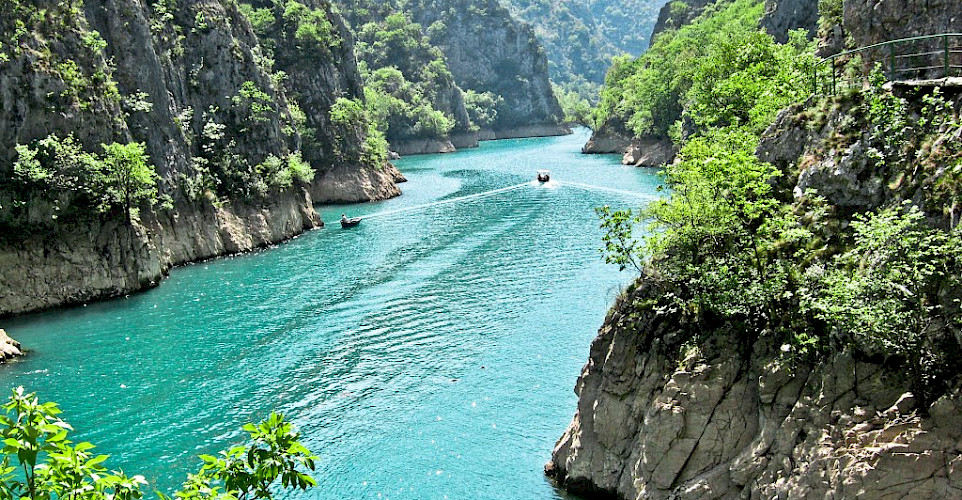 Multi-Adventure in Montenegro, Macedonia & Albania
Three countries, eight activities & countless memories!
Overview

We told you we would offer multi-adventure in the Balkans and now we deliver. This tour has it all and you can cross off every adventure on your bucket list during these ten exciting days. I feel like calling this tour "the tour of exclamations"! There are adventures galore, not to mention, food and drink. You will not just indulge, however, but will engage, in an experience that will connect you with the people of the region.

Included excursions are sea kayaking, hiking, climbing, boating, snorkeling, and biking. Optional excursions are canyoning and paragliding. You can see why it is a tour of exclamations. The sky (literally) is the limit!

Itinerary

Day 1: Arrival and welcome to the adventure of a lifetime!
Day 2: Kayak and Hike
Day 3: Hiking the Bay of Kotor 
Day 4: Bike from Lovcen National Park to Skadar Lake National Park 
Day 5: Canyoning in Bar or leisure visit to the old town, overnight in Tirana, Albania
Day 6: Biking from Macedonian Border to Struga and Ohrid
Day 7: Boating and Swimming in Ohrid  Lake, Bay of Bones
Day 8: Hike to Treskavec Monastery. Optional paragliding.
Day 9: Rock climbing and the Via Ferrata in the Iron Gate
Day 10: Transfer to Skopje Airport or extend your stay in Skopje

Day 1: Arrival at Dubrovnik or Tivat Airport
Welcome to your adventure! After arrival to either of the above airports, included in your tour is a transfer to the town of Herceg Novi on the shores of the Bay of Kotor. Here you will meet your local guide and enjoy a relaxed stroll and orientation through the streets of this 13th-century citadel guarded by three mountainside fortresses; one Italian, one Spanish,  and one Turkish. Your first "taste" of Montenegro will be at the delicious welcome dinner at a renowned local seafood restaurant, Feral,  in the harbor area. The local specialty is black risotto, naturally dyed by the ink of the squid. 

Your accommodation for the first two nights of the trip is the 3* family-run Bokeska Noc Hotel or similar (depending on availability). Located in the quieter Savina area of Herceg Novi, the hotel is within 15 minutes walk of the Old Town and offers stunning sea views.

Meals included: D

Day 2: Kayak (4 hours, easy) and Hike, (1 hr. 30 minutes, easy)
After breakfast served in your hotel, you will head to the harbor to meet your kayaking guide for a half-day kayaking tour across the bay. You will use "sit-on-top" kayaks that are suitable for all levels and even for those who have never paddled a sea kayak before. Complete instructions will be given by your guide as well as a safety briefing. Lasting approximately 4 hours, the kayaking excursion will lead to the fishing village of Rose, followed by an exploration of a local shipwreck!  Peer inside the Cold War-era submarine tunnels and paddle along the spectacular and rocky coastline.

After the kayaking tour and a quick change of clothes, a short van transfer of 25 minutes will bring you to the small mountainside village of Zlijebi. Overlooking the Bay of Kotor at an altitude of 600 meters, the village is built from local stone mined by the villagers. Visit the beautiful home of a local resident, Nikola who grew up in this village and has spent 25 years restoring his family farm. Enjoy lunch from the produce Nikola grows in his garden and learn about life in the village. After lunch, there is the opportunity for a  short hike to the church of St Nikola with its spectacular views across the Bay. Continuing onwards, you will hike the lower mountain trails down to the village of Trebjesin (approx. 1 hour 30 mins hiking from Zlijebi, 400 meters descent) with a difficulty level of easy.  In Trebjesin you will enjoy dinner in a traditional family inn tasting local mountain specialties including meat cooked 'under the ashes' and salads from the inn's own garden. After dinner, it is a short 10-minute transfer by road back to the hotel.

Accommodation once again in  3* Bokeska Noc or similar.  

Meals included: B,L,D

Day 3: Hiking the Bay of Kotor, 4 - 4.5 hours, medium 
Depart today from Herceg Novi after breakfast by minivan to the small mountain village of Gornja Lastva, approximately a 50-minute drive. From the village,  situated approximately 300 meters above sea level, you will enjoy a 9 km hike along the beautiful Vrmac Ridge. Ascending to a point of 650 meters above sea level, the ridge separates the inner and outer Bays of Kotor. Views stretch to the Adriatic in one direction and far over the Bay of Kotor on the other. The ridge is a wide stone and grass path, with some shaded and some exposed sections. Hiking time is usually around 4 – 4.5 hours and a trail lunch will be enjoyed. Upon reaching the old Austro-Hungarian fortress of Trojica (long abandoned), you will descend on switchback pathways to the medieval town of Kotor. The rating for this hike is medium level. Arriving by afternoon, the rest of the day is free time to explore the walled city, enjoy a coffee, or cold beer on one of the town's piazzas and watch the world go by. An independent evening is on the schedule, allowing you time to check out the great local restaurants or nightlife. 

Accommodation will be in the 3* family-run hotel, Marija or similar, located approximately 15 minutes from the historic Old Town area.  

Meals included: B, L

Day 4: Bike from Lovcen National Park to Skadar Lake National Park, 64 km, 1600 m descent, 480 m ascent, easy to medium depending on experience
Depart early this morning from Kotor with your luggage for the one hour drive to Lovcen National Park. Rising high above the Bay of Kotor this mountain has spectacular views in every direction. Upon arrival in the park you will have some time to rest and enjoy a mid-morning coffee or refreshments on the terrace of the Ivan Konak hotel before setting off for the main challenge of the day, a bike ride consisting of a 64 km, 1600 m descent (plus 480 m total ascent) to Skadar Lake National Park. The ride is on tarmac using old roads with very little traffic. There is one section where the tour will ride through the historic former capital city of Montenegro – Cetinje. You will have time to stop and stroll along the boulevards. Rating for this bike ride is easy but cycling experience is needed.  A trail lunch is supplied today. By late afternoon you will arrive in the lakeside town of Virpazar for your final overnight in Montenegro at the Hotel Vir. Enjoy a "farewell to Montenegro" dinner at the riverside Konoba Bandanj restaurant.

Accommodation is in the 3* Hotel Vir on the lake.

Meals included: B, L, D

Day 5: Canyoning in Bar (easy) or leisure visit to the old town.  Overnight in Tirana, Albania
For those wishing to try canyoning, a 3 hour trip through the Rikavac canyon will be sure to excite you. Suited for beginners, this is ideal for those wishing to experience canyoning for the first time. Over the course of approx. 3 hrs, you will follow the flow of the water, hiking, abseiling (repelling) down waterfalls from heights ranging 2 - 10 meters, and jumps/slides from various heights to the beautiful natural water pools below. Although this is not a large river canyon, it offers a fun and memorable experience. This experience is payable locally and costs EUR 75 per person based on minimum of 4 participants. For those who do not wish to experience the canyoning, there will be the opportunity to visit the ancient town of Bar, located on the lower mountain slopes above the new town and port. Wander the historic streets and enjoy the sun-soaked olive groves which surround this area. Time will be given for independent lunch. After lunch, the group will join together again to continue the journey with a 3-hour drive to Tirana, the capital city of Albania.

Spend one overnight in the city with an independent evening to explore the cosmopolitan and vibrant city center with its colorful buildings and fascinating history.

Meals included:  B

Day 6: Biking from Macedonian Border to Struga and Ohrid, 30 km, 400 m descent, total ascent 100 m, easy
Depart from Tirana after breakfast for the 2.5-hour drive to the Macedonian border at Qafe e Tane, where you will meet your local guide in Macedonia and get together on the bikes and continue cycling down to Ohrid Lake and along the lakeshore to Ohrid. You will stop on the way to see the ancient monastic cells and temples carved in the rocks at Kalishta, and to enjoy our lunch in Antika restaurant on the riverwalk in Struga. After 30 km in total cycling on the local asphalt road arrive in Ohrid, a UNESCO World Heritage town, home to 365 Orthodox churches and birthplace of the Cyrillic script. Explore the old town of Ohrid on an orientation walk with your guide, and find out more about the local customs and traditions while sampling Macedonian fresh salads and fish from the lake. Difficulty for this bike tour is rated easy and cycling experience is required.

Stay overnight in guesthouse Robinson Sunset just outside Ohrid.  

Meals included: B, L, D

Day 7: Boating, swimming, and snorkeling in Ohrid Lake, Bay of Bones 
This day is packed full of lake adventures.  First, by boat, ladened with canoes, surfboards, hammocks, and snorkeling gear, you head to the fishing villages to visit the archaeological settlement on water, the Bay of Bones. A BBQ lunch will be served on a hidden beach with crystal clear water, accessible only by boat. Later in the afternoon, you anchor near the rocks to snorkel for lake sponges. Then,  it is off to the middle of the lake for more swimming. Sail back in the afternoon. From here it will take a 1 h 50 min drive to our next destination,  the picturesque mountain town Krushevo, arriving there in time for a  traditional dinner, including their famous mix of spiced, melted homemade cheese.

Overnight in a guesthouse in Krushevo.

Meals included: B, L, D

Day 8: Hike to Treskavec Monastery, 4.5 km, total ascent 723 m, medium. Option for paragliding or downhill hike.
After breakfast today and a 50-minute transfer to the city walls of Prilep, you will enjoy a 3-hour hike on the 4,5 km long trail (rated medium) to Treskavec monastery, hidden among the boulders of Gold Mountain. You will meet Father Kalist, the only monk living in the monastery today, who speaks English fluently and is always happy to explain the story of the Byzantine art heritage in the frescoes of the monastery. After a picnic lunch at the monastery, you can descend down to Prilep, or, fly!  It is your choice. If you are an experienced, licensed paraglider, you will be provided with all the necessary equipment, while novices can take an exhilarating tandem flight with experienced instructors.  After a 10 minute briefing with your tandem pilot, you will be connected together to the glider where each one of you has your own comfortable harness. Two minutes later, you are airborne! The flight takes around 20 minutes, where, if the flying conditions allow, you will be offered hands-on control of the glider! They say if you can jog 2-3 meters, then you can fly! This experience is payable locally and it is 60 euros based on a minimum of 2 participants. Once at the foothills of Treskavec, the hikers and flyers will join together again and continue driving for another 1,5 hour into the wine area of Macedonia, to enjoy dinner with wine tasting in Popova Kula winery.

Overnight in the winery hotel.

Meals included: B, L, D, and Winetasting

Day 9: Rock climbing and the Via Ferrata in the Iron Gate
After breakfast on the hotel balcony, you will be transferred to the rocks of the Iron Gate. There are more than 120 rock climbing routes (from 15 – 100 meters) offering something for everyone, from beginners to experts, and more than 100 alpine routes (up to 300 meters high) to choose from. No experience is required!  You will be provided with all the equipment needed(helmet, harness, rope, etc.) so just bring your enthusiasm and your shoes! Lunch will be in the gardens of a local household where you can taste the best rakija in the region and traditional dishes made of vine leaves.  In the afternoon, there will be a transfer to Skopje, the Macedonian capital, and one of the oldest since the early Bronze age. Take a walk through the main Macedonia square with the grand fountain of Alexander the Great, and over the old Stone Bridge into the maze of cobblestoned alleys of the Old Town.

Farewell dinner will be in the Old Beer House below the city walls.

Overnight in Hotel Victoria or similar in Skopje.

Meals included: B,L,D

Day 10: Transfer to Skopje Airport or extend your stay in Skopje

Take time to peruse our full list of bike tours in Europe or view all our featured bicycle tours, specials, and news.

Accommodation

Your accommodations are a mix of 3-star hotels and guesthouses. On each day's details, you will find the preferred hotel listed. If the preferred hotel is fully booked, you will be offered accommodations of equal standard.

Inclusions

What's Included

Arrival airport transfers from Dubrovnik, Croatia, or Tivat, Montenegro (one group transfer)
Accommodations for 9 nights
Meals as indicated in the itinerary
All transfers as described
Services of an activity guide throughout the tour
Included activities : sea kayaking, hiking, mountain biking, biking, boating, rock climbing
Departure airport transfers to Skopje (one group transfer)

What's Not Included

Private airport transfers if not arriving with the group (can be arranged separately for a surcharge)
Independent meals as stated
Alcoholic & soft drinks
Canyoning & paragliding activity – payable locally
Driver & guide tips
International flights
Bike protection

Dates & Pricing

Dates

2021

Arrival possible on any day. Best time to travel to the region is March through October.

 

Please Note

Rates are based on double occupancy

Pricing

2021 pricing coming soon! Thank you for your patience as we update our tours. If you are interested in this tour, please do not hesitate to contact us!
 

Extra Options

Coming soon!

Extra Info

Skill Level — Moderate

It is actually difficult to give this tour a difficulty rating because it will depend on you, your experience level, and the activities you choose. The hikes are easy to moderate with some steep ascents. We advised that you be in good physical condition, accustomed to a variety of activities.

Airport Info

The closest international airport for your tour is Dubrovnik or Tivat Airport

Local Travel

Group arrival and departure transfers included in your tour price. For private transfers, see pricing.

Climate

Please check local conditions before your arrival.

Important to know

Documents

Before you travel, please check your country's passport and visa requirements and the passport and visa requirements of the country/countries you plan to visit. For US citizens, the US Department of State website is a good source of information. The Country Information tab in the International Travel section provides details about passport validity, blank passport pages required, etc. For our other international clients, please be sure that you research your own country's travel requirements. It is each traveler's responsibility to ensure proper documentation.

*Important note: Please check the status of the European Travel Information and Authorization System (ETIAS) as once implemented, it will be required to visit any of the 26 Schengen-member countries for tourism, business, medical, or transit. This is an additional check on security rather than a visa.

Recommended packing list:

Hiking boots with good ankle support
Lightweight long and short hiking pants
Lightweight long and short-sleeved hiking shirts
Layers – lightweight fleece
Lightweight rain jacket
Comfortable shoes for evenings/city explorations
Swimwear
Travel towel
Sunglasses, hat, and sunscreen
Daypack – 20-25 liters
Reusable drinking bottle – pref 2 liters minimum
Cell phone (camera)
Small personal first aid kit (guides carry full kits)

Photos
Have you been on this tour?
Please leave your feedback