Saigon to Siem Reap Bike Tour
Bike in Cambodia and Vietnam!!
This amazing bike tour in Cambodia and Vietnam explores two of Southeast Asia's most exotic countries and will connect you with beautiful and hidden gems such as Cai Be and Cai Rang. You will experience village life and escape the well trodden tourist trails. Discover the real Vietnam and Cambodia, and see major attractions, such as the Mekong Delta, Angkor Wat Temples, and the charming cities of Saigon and Phnom Penh on a cycling adventure you will never forget.

Check out our other awesome bike tour in Vietnam ​or perhaps a bike and barge tour in Vietnam ​will interest you!

Prices in 2017:

Number of Cyclists

Price
7-9

$

3138

£

1554

$

2,713

€

1732

$

3204

kr

19147

$

1,897

4-6

$

3658

£

1811

$

3,163

€

2019

$

3734

kr

22316

$

2,211

3

$

3627

£

1795

$

3,135

€

2002

$

3702

kr

22125

$

2,192

2

$

4417

£

2187

$

3,819

€

2438

$

4509

kr

26949

$

2,670

Single Supplement: $ 586 £ 290 $ 506 € 323 $ 598 kr 3573 $ 354

please

note

Rates are per person based on double occupancy.

A non-refundable admin fee of 20 Euros per person is included in the deposit amount.

Information to read before you book.

We recommend purchasing bike trip insurance.

† Currency exchange rate set 90 days before travel.

Travel

Fly to Ho Chi Minh City, Vietnam and Depart from Siem Reap, Cambodia

Local Travel

Transfer from airport to hotel (included).

Climate

Please check local conditions prior to arrival. The average high/low annual temperature for the region in degrees Fahrenheit is 89/75º.

Remarks

A trip to Vietnam and a holiday there, require a certain amount of preparation in regard to formalities. Please allow yourself enough time! In order to enter Vietnam, foreigners need a passport valid for at least 6 months and a valid visa to be obtained from the Vietnamese embassy. The following documents must be submitted either in person or by mail:
-Passport (original document, not a copy!)
-Completed application form
-Current passport photograph (1.5 x 2.3 inch/ 4 x 6 cm)
-Visa fee as a non-negotiable check or in cash
-A sufficiently prepaid envelope for registered mail


---
Where
You'll Stay
11 nights in comfortable hotels, 1 night in local guesthouse in Takeo Province, Cambodia. All with private facilities and air conditioning.
What's
Included
12 nights' accommodations with breakfast included
11 x lunch
7 x dinner
Cannondale Trail SL4 mountain bike equipped with handlebar bags, disc brakes, and hybrid tires
Helmet
Air conditioned support vehicle
Tour guide
All entrance fees for attractions included in the itinerary
Boat trip (mentioned in program)
Daily drinking water and cool towels and snacks while cycling
What's
Not Included
Drinks with included meals
Gratuities
Tour
Dates
Possible daily arrivals in 2017
Skill
Level
This bike tour in Cambodia and Vietnam is classified as a moderate to difficult, guided or self-guided bike tour with average daily distances between 25 and 78 miles (40 and 125 km). Please keep in mind that the support vehicle will always be accessible in case you need a break.
Day-To-Day
Itinerary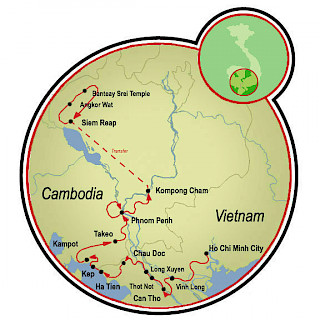 Day 1: Arrival in Saigon (Ho Chi Minh City)
Day 2: Saigon, Cai Be, Vinh Long & Can Tho, 34 miles (55 km)
Day 3: Can Tho to Chau Doc, 78 miles (125 km)
Day 4: Chau Doc to Ha Tien, 50 miles (80 km)
Day 5: Bid Farewell to Vietnam, Say Hello to Cambodia, 40 miles, (65 km)
Day 6: Kampot to Takeo, 56 miles (90 km)
Day 7: Takeo to Phnom Penh, 56 miles (90 km)
Day 8: Phnom Penh City Cyclo Tour (Rest day)
Day 9: Phnom Penh to Kompong Cham, 40 to 65 miles (65 to 105 km)
Day 10: Kompong Cham to Beng Mealea & Siem Reap, 65 miles (105 km)
Day 11: Explore the Angkor Temples by Bike, 25 miles (40 km)
Day 12: Banteay Srei Temple
Day 13: Departure
 
*All distances are approximate.
Day 1: Arrive in Saigon (Ho Chi Minh City)
On arrival in Ho Chi Minh City, you will be picked up from the airport and transferred to your hotel. After check-in, you are free to explore Saigon at your leisure.
Day 2: Saigon, Cai Be, Vinh Long & Can Tho, 34 miles (55 km)
Today you will meet your cycle guides and receive your bicycles before traveling to the river market of Cai Be. Enjoy a cruise along the Mekong Delta and visit the colorful floating market and Dong Phu Island. Explore the shady surroundings, witness the daily life of the farmers, and have lunch on the island. Afterwards, cycle Vietnam to Vinh Long and continue cycling through the heart of the Mekong Delta, crossing countless canals and rivers. After a few ferry crossings, arrive in Can Tho, the unofficial capital of the Mekong Delta, where you will check in to your hotel.
Day 3: Can Tho to Chau Doc, 78 miles (125 km)
Take an early morning boat trip along the Hau River to the Cai Rang floating market, one of the largest in Vietnam. Witness a mass of wooden boats of all sizes converging to sell their wares. Here you will be able to take some great photographs and buy some of the local products. Afterwards, head deeper into the delta and cycle on less crowed roads. At Thot Not, you will stop at a stork sanctuary and have lunch in Long Xuyen. Cycle along the coast, through one of the most scenic parts of the delta, as you follow the Mekong through traditional villages, past fish farms, and over small bridges. On arrival in Chau Doc, you will check in to your hotel.
Day 4: Chau Doc to Ha Tien, 50 miles (80 km)
Explore the amazing riverside market at Chau Doc, with all its bustling activity and smorgasbord of sounds, colors, and smells. The boat continues through fish farm villages to an ethnic Cham village with its famous Mubarak Mosque. Witness women weaving, using traditional methods. Cycle along pleasant roads, passing green rice fields and limestone formations, looking out for the Khmer influenced pagodas as you get closer to Cambodia. By late afternoon, you will arrive at your hotel in Ha Tien.
Day 5: Bid Farewell to Vietnam, Say Hello to Cambodia, 40 miles (65 km)
Cycle the short distance to the border crossing into Cambodia. After completing the customs formalities, meet your Cambodian cycling crew. Cycle along quiet coastal dirt roads, passing through salt flats and small villages. Your first port of call will be the coastal resort of Kep, where you will stop for lunch. Afterwards, cycle the final 22 miles (35 kilometers) to Kampot, where you will check into you accommodation for the night.

Day 6: Kampot to Takeo, 56 miles (90 km)
Depart from Kampot and cycle through inspiring limestone karst scenery. See picturesque villages, including some ethnic Cham settlements, and endless rice fields. On arrival in Takeo you will check in to your hotel and spend the rest of the day at leisure. You can walk along the waterfront promenade, ideal for a pleasant sunset stroll.

Day 7: Takeo to Phnom Penh, 56 miles (90 km)
Today is an opportunity to visit a local orphanage managed by 'New Futures' and learn more about their great educational work in the surrounding villages. Visit Tonle Bati on the banks of the river, where you will have time to explore the small Angkorian temples of Ta Prohm and Yeay Peau. Your next stop is the infamous 'Killing Fields', where Khmer Rouge prisoners were forcibly marched from Toul Sleng Prison in the city center and then executed. Today, it is a haunting memorial site, located in a beautiful and tranquil setting. Check-in to your riverside Cambodiana Hotel in Phnom Penh and enjoy dinner in a local restaurant.

Day 8: Phnom Penh City Cyclo Tour, rest day
Let someone else do the pedaling today! Rest your legs as you are treated to a fun cyclo tour of Phnom Penh. See the city via this traditional mode of transport and stop at the National Museum, which offers a charming setting for a comprehensive collection of Khmer artifacts. Continue to the nearby Royal Palace and the neighboring Silver Pagoda. Your cyclo driver will then take you to a local restaurant for lunch. Following a traditional lunch, it is back in the cyclos as you are pedaled through Phnom Penh to the Toul Sleng Genocide Museum, the infamous Khmer Rouge prison. The next stop is the Russian Market, an excellent place to buy some souvenirs. Later you will be taken back to your hotel, where you are free at leisure for the rest of the evening.

Day 9: Phnom Penh to Kompong Cham, 40 to 65 miles (65 to 105 km)
This morning, you can choose to cycle through the busy streets of Phnom Penh, or travel in the support vehicle until the traffic thins out. 25 miles (40 kilometers) from the city, turn off the main road and enjoy a shady ride following the course of the Mekong River along a mostly unpaved, and at times bumpy, road toward the town of Kompong Cham. Foreigners are rare through these areas, so expect a few surprised faces as you cycle through the many traditional villages. You will witness people busy with their everyday lives; cooking, cleaning, playing, and leading the cows to the river. You will also pass by cycling school kids and see pagodas and monks. Watch the sun drying bright red chilies, pepper, rice, and fish by the side of the road, and experience the river life of the mighty Mekong, which will keep coming in and out of view. There are plenty of shady and scenic spots to take rests, where curious locals are sure to say "Hello". Kompong Cham retains a number of French influenced buildings and trader shop fronts, and given its small size, the province is easy to explore by foot, which you are free to do after you have checked-in to your hotel.

Day 10: Kompong Cham to Beng Mealea & Siem Reap, 65 miles (105 km)
Get up early to depart Kompong Cham. Turn off the main highway to follow a road which gradually climbs through shady rubber plantations. After 45 miles (75 kilometers), you will reach the small town of Prey Thom Tratrav and rejoin the main highway. From here, you will travel in the support vehicle for the 90 mile (150 kilometer) drive to the market town of Dom Dek. Re-mount your bikes and cycle the 18 miles (30 kilometers) to the temple remains of Beng Mealea for a truly unforgettable experience. After, take the support vehicle for the final 42 miles (70 kilometers) to Siem Reap. After checking-in to your hotel and freshening up, you will be taken to a local restaurant for dinner.

Day 11: Explore the Angkor Temples, 25 miles (40 km)
This morning, begin your cycle exploration of the incredible Angkor temples. Today you will focus on the Small Circuit, which features temple greats such as the Pyramid of Takeo, the jungle-clad Ta Prohm, made famous by the Hollywood blockbuster "Tomb Raider," and Sras Srang, known as the King's Bathing Pond. See the impressive Royal City of Angkor Thom. After lunch, it is time to take on the majestic Angkor Wat, the world's largest religious building. Return to your hotel and spend the rest of the day at leisure to experience Siem Reap's lively nightlife and fine restaurants.

Day 12: Banteay Srei Temple, 50 miles (80 km)
Pedal north towards Banteay Srei. During the trip you will see pleasant Cambodian countryside and friendly villagers. Stop off at a couple of villages to get a closer look at the wooden stilted homes and local life. On arrival at Banteay Srei, be struck by the delicate beauty of the elaborately-decorated temple, embellished with floral motifs and scenes from the Ramayana. Enjoy lunch at a local village nearby, after which you will cycle back towards Siem Reap. If there is still time left you can explore some of the temples on the Grand Circuit, such as Preah Khan, one of the largest temples at Angkor, and Neak Pean, surrounded by fountains and ponds; and Banteay Kdei. This evening, you will enjoy a hosted farewell dinner and mesmerizing Apsara dance performance.

Day 13: Departure
Today you are free at leisure until it is time for your transfer to Siem Reap, Angkor International Airport for your onward flight. Leave the home of the mighty Khmer Empire with many wonderful cycling memories.

Looking for more?  View all our featured bike trips, specials, and news or look at our full list of bike tours in Europe.
Email or Call 800-951-4384 +1 570-965-2064
---