3.5

/

5

(

2

reviews)
Valencia, Color and Contrasts Bike Tour
Spain Bike Tours
A bike tour in Valencia through the land of wine and oranges
A bike tour in Valencia is a journey of color and contrasts. Valencia is a land of wine and oranges, olives and almonds, rugged mountains and green valleys, rivers and sea, and orchards and pine forests. It is an eclectic mix of modernity and history, religion, and secularity, but above all, sunshine!

The journey starts in the Vinalopó River valley and leads through scenic valleys and the foothills of imposing mountains. You will cycle through the district known as Terres dels Alforins, renowned for its vineyards and stunning landscapes, sometimes referred to as "the Tuscany of Valencia".

You will finish your journey in the vibrant city of València.

And, last but not least, you can savour award-winning local wines and wholesome, traditional foods, many of which are particular to their village, town or district.

Highlights:

Artisanal traditions, music, and customs
Small rural settlements
Diversity of landscape
Valencian Gastronomy
Medieval town centers
Serra de Mariola and the Font Roja
Parque Natural de la Albufera
Fertile plains of the Vall d'Albaida
Historic and imposing town of Xativa

Not quite what you want? Be sure to look over all of our bicycle tours in Spain.

2020

 
Season 1
Season 2
Season 3
Double/twin

$

1474

£

730

$

1,275

€

798

$

1505

kr

8994

$

909

$

1498

£

742

$

1,295

€

811

$

1529

kr

9141

$

924

$

1545

£

765

$

1,335

€

836

$

1577

kr

9423

$

952

Single supplement

$

390

£

193

$

337

€

211

$

398

kr

2378

$

240

$

390

£

193

$

337

€

211

$

398

kr

2378

$

240

$

390

£

193

$

337

€

211

$

398

kr

2378

$

240

Season 1: February 2 - March 14 | March 22 to April 4 | April 12 to May 23 | September 13 to October 24, 2020
Season 2: April 5 to April 11 | May 24 to June 27 | August 23 to September 12, 2020
Season 3: March 15 to March 21 | June 28 to July 26 | October 25 to November 14, 2020

Children's discounts available

extra

options

2020

6 dinners (excluding Valencia): on request
Electric bike (aluminum low frame, 7 or 24 gears and 6 levels of power: $ 120 £ 59 $ 104 € 65 $ 123 kr 733 $ 74 Child seat (Thule Ride Along): $ 41 £ 20 $ 35 € 22 $ 41 kr 248 $ 25 Optional transfer from the airport (Alicante) to Biar, minimum 2: $ 92 £ 46 $ 80 € 50 $ 94 kr 564 $ 57 Extra nights:
Biar:
Double/twin: $ 76 £ 37 $ 65 € 41 $ 77 kr 462 $ 47 Single supplement: $ 46 £ 23 $ 40 € 25 $ 47 kr 282 $ 28 Valencia:
Double/twin: $ 92 £ 46 $ 80 € 50 $ 94 kr 564 $ 57 Single supplement: $ 65 £ 32 $ 56 € 35 $ 66 kr 394 $ 40  

 

 

please

note

Rates are per person based on double occupancy.

A non-refundable admin fee of 20 Euros per person is included in the deposit amount.

Information to read before you book.

We recommend purchasing bike trip insurance.

† Currency exchange rate set 90 days before travel.

Travel

You can fly to Alicante or Valencia.

Local Travel

If your arrival airport is Alicante, you can go by bus from the airport to the Alicante city center and then taxi to Alicante Railway Station. Onward then by train to Villena Railway Station (45 minutes/€10 per person.
If your arrival airport is Valencia, you first take the subway to the city center (Valencia Railway Station, Estacio del Nord). You will get off at Xativa Underground Station. From the train station, you will then take train to Villena Railway Station (1 hour and and 15 minutes/€15 per person).

Climate

On this tour you will start inland cycling north and east, to finish along the coast. The climate is Mediterranean, with mild, relatively rainy winters and hot, sunny summers. Please check local conditions before your arrival. A good website to explore regional weather information including average high/low temperatures, average rainfall, and more is weatherbase.com. Average high/low temperatures in degrees Fahrenheit are: March, 66°/48°, April, 68°/51°, May, 73°/57°, June, 79°/64°, July, 84°/69°, August, 85°/70°, September 82°/66°, October, 74°/58°, and November, 67°/51°.

DOCUMENTS

Before you travel, please check your country's passport and visa requirements and the passport and visa requirements of the country/countries you plan to visit. For US citizens, the US Department of State website is a good source of information. The Country Information tab in the International Travel section provides details about passport validity, blank passport pages required, etc. For our other international clients, please be sure that you research your own country's travel requirements. It is each traveler's responsibility to ensure proper documentation.

*Important note: Beginning July 1, 2021, additional documentation from the European Travel Information and Authorization System (ETIAS) will be required to visit any of the 26 Schengen-member countries for tourism, business, medical, or transit. This is an additional check on security rather than a visa.

---
Tour
Dates
2020
This tour is possible all year round with Sunday departures except for July 27 till August 22.

Season 1: February 2 - March 14 | March 22 to April 4 | April 12 to May 23 | September 13 to October 24, 2020
Season 2: April 5 to April 11 | May 24 to June 27 | August 23 to September 12, 2020
Season 3: March 15 to March 21 | June 28 to July 26 | October 25 to November 14, 2020
Skill
Level
This route has been designed to take advantage of the downhill slopes along the valleys that start in the interior and wind their way towards the coastal plains and the sea. But, where there are downhills, there are also uphills and you will have to conquer a few. There are different alternatives that can either shorten or lengthen a day's ride. For the first two days, the route follows a former railway line, which is traffic-free. For the other days, the route follows quiet roads with very little traffic.
Where
You'll Stay
It has been endeavored to offer the highest comfort possible in carefully selected accommodations consisting of 3 & 4 star hotels , charming rural houses or farmsteads, or quality B&Bs. Under each day's itinerary on the Day to Day details, you will find listed the hotels that are generally used for this tour. Keep in mind that confirmed hotel lists are based on availability and if any hotel listed is not available, then an alternative of equal standard will be offered.
What's
Included
Accommodation for 7 nights
Welcome meeting
Breakfast
Detailed tour documentation consisting of maps, route descriptions, and tourist information (available in English, German, Italian, and Spanish)
Emergency hotline number from 9 am to 6 pm
Luggage transfer
Preloaded GPS device
Hybrid KTM (or similar) trekking aluminum bicycle with 24 gears and front suspension with tool/puncture repair kit, speedometer, one pannier per bike, one handlebar bag and one map holder. Handlebars are higher, not flat, but not as high as a city touring bike
Free transfer from Villena railway station to the hotel in Biar
What's
Not Included
Lunches
Dinners (may be included with supplement)
Extra
Stay
You can book extra nights before, after, or during your tour
Day-To-Day
Itinerary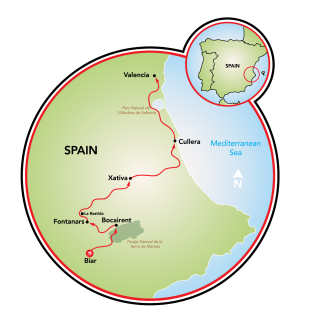 Day 1: Arrival in Biar
Day 2: Biar - Bocairent, 15/20/29 mi. (24/32/46 km)
Day 3: Bocirent - Fontanars, 13/21 mi. (21/34 km)
Day 4: Fontanars, loop ride, 17/27 mi. (28/44 km)
Day 5: Fontanars - Xativa, 27 mi. (43 km)
Day 6: Xativa - Cullera, 34 mi. (55 km)
Day 7: Cullera - Valencia, 29/35 mi. (46/56 km)
Day 8: Valencia
*Due to organizational reasons, weather conditions, or provisions issued by local authorities, the itinerary may be subject to some changes before and/or during your holiday. For example, along the way you may find temporary deviations caused by construction or road repairs that cannot be foreseen. 
Day 1: Arrival in Biar
You arrive in Biar, a city rich in heritage, highlighted by its 12th Century castle that has witnessed many historic episodes.  It is suggested to simply stroll around the old quarter with its maze of narrow streets, and discover the quaint squares, churches, and so much more. 
On your first night, you will be accommodated in the 3 to 4 * hotel in the old quarter, Hotel Villa de Biar
Day 2: Biar - Bocairent, 15/20/29 mi. (24/32/46 km)
Welcome meeting and bike delivery at your hotel. Meeting can be arranged from 8 am until 10 am.  Your route will follow a former railway that goes parallel to the River Vinalopó. You'll pass fruit-tree orchards and many small villages, approaching Banyeres de Mariola where you can choose between three routes:
Route 1: This option is quite flat, bordering the natural enclave known as Paraje Natural de la Serra de Mariola.
Route 2: This route enters directly into the Paraje Natural de la Sierra de Mariola, leading to higher ground. You will marvel at the stunning views and abundance of flora and fauna. You then head to the imposing medieval town of Bocairent for your overnight.  Not to be missed is a stroll in its old quarter. 
Route 3: During this option, you can explore the Natural Park a bit more by cycling an extra loop.
You will be accommodated in town in the very good 3 * hotel with swimming pool, Hotel Agora
Day 3: Bocirent - Fontanars, 13/21 mi. (21/34 km)
Following breakfast, you set off in the direction of vineyard country, following the green route that will lead to La Valleta d' Agres. You pedal past groves of fruit trees at the foothills of the impressive mountain range known as Serra de Mariola, through villages like Alfafara and Agres (34 km), marked by their own distinctive characters, or you can cycle more directly to Fontanars (21 km). This evening you will be accommodated in a rural and serene setting.
In Fontanars, you will be accommodated for two nights in the 3 * rural hotel in a rural setting, Casa rural Morera
Day 4: Fontanars, loop ride, 17/27 mi. (28/44 km)
Today you cycle on a quiet lane past peaceful fields sown with wild grain and dotted with olive groves and vineyards. Ancient buildings blend into the landscape, as you make your way to Fontanars dels Alforins. Some of the former noblemen's houses have been converted into wineries and in the village, you can visit specialty shops that offer artisanal delicacies and craft items (28 km)  If you choose the longer route, you will have the opportunity to visit the historical Iberian town, La Bastida (44 km).
Day 5: Fontanars - Xativa, 27 mi. (43 km)
You'll start the day pedaling past verdant fields and fertile groves of almond, olive and apricot trees, all making a patchwork with persimmon plantations and old vineyards, venturing into Ontinyent. The old town has been declared Property of Cultural Interest and the architecture showcases 18th-century mansions and the more modest Valencian buildings from the late 18th century and early 19th century.  You'll come across small villages and hamlets, heading to the shores of the Bellús dam. The area around the dam is of great scenic and ecological value. You'll come across a number of cultural artifacts such as old watermills, azuts (water diversion dams) and elements of irrigation infrastructure. The lands around here are the most fertile in the district and not surprisingly, market gardens are plentiful. You'll take a path bordering the gorge of the Albaida River, (in spring/summer you can swim in its waters to cool off). Final destination today is the noble town of Xàtiva, a place steeped in history and crowned by an imposing castle.
Accommodation in the 4 * guest house in the old quarter, Casa Aldomar Guest House
Day 6: Xativa - Cullera, 34 mi. (55 km)
You depart from the city of Xàtiva and delve deeply into the hinterland of València with its verdant market gardens and orange groves. The area is renowned for its quality oranges which, blessed by the climatic conditions of the Mediterranean. The route leads on quiet roads and paths that weave their way through the rich green tapestry along the floor of the valley. and includes following part of the pilgrimage route that linked different monasteries. There is an opportunity to explore the imposing monastery of Simat de la Valldigna. Your goal today is the coastal city of Cullera with its beautiful sea views. Be sure to sample a few of rice specialties of the area. Located amidst rice field, the star ingredient of the cuisine is rice in all its varieties including Valencian paella, "arroz a banda" (rice with fish stock), "arroz negro" (rice with octopus ink), rice with lobster, seafood rice, etc. Enjoy!
Tonight you will stay close to the beach in the 3 * Hotel Chalet
Day 7: Cullera -  Valencia, 29/35 mi. (46/56 km)
Route 1: You venture fairly directly (46 km) into the natural reserve known as Parque Natural de la Albufera, one of the most valuable ecosystems in the Mediterranean. You'll be able to marvel at different natural environments such as lakes, marshes, sand-dunes and pinewoods that border the seafront. All of these ecosystems have their corresponding flora and fauna.
Route 2: If you choose the longer option, you'll start the day by cycling along the banks of the River Xúquer, the waters of which irrigate the many, lush fields and groves of the whole district (56 Km). It is well worth enjoying one of the typical dishes of this rather special district. You can go for a stroll by the port and see the fisherman at work before they return home to picturesque El Palmar. Upon reaching Valencia, you'll explore the formidable old quarter with its cathedral and central market – a cathedral of a market, indeed! Not to be missed are the narrow streets and squares that offer so many kinds of cafés, bars and restaurants. The lovers of good food will be pleased. The city's nightlife is also famous.
This evening you will enjoy a  4* accommodation, the Hotel Silken Puerta Valencia
Day 8: Valencia
Departure or extend your stay.
If Spain isn't your thing, check out all our featured bike trips, specials, and news or look at our full list of bike tours in Europe
Email or Call 800-951-4384 +1 570-965-2064
---