Tripsite Traveler: Bikes, Tulips, Canals and Windmills
We recently caught up with Tripsite Traveler, Liz Ling, who had a blast on our 8 Day Tulip Tour aboard the Quo Vadis. Along the way, she snapped some lovely photos from the bike path. Heres what Liz had to say about her trip:
Adventure and being active is what we love, especially when traveling. I work in a busy trauma hospital as an anesthesiologist, so vacation time is precious and trips are booked carefully. Whether it's skiing, trekking, golfing, pickleball, sailing, or mountain biking, we love to do it all! Some of our more memorable trips include hiking the Druk Trek in Bhutan, the hut to hut W Trek in Patagonia, cycling and eating our way through Tuscany, a 15 km hike on top of the Great Wall of China, mingling with the wildlife on the Galapagos Islands, and spending weeks on a 60 foot sailboat, sailing through the Greek Islands.
We discovered biking and barging last year when friends invited us to cycle the Dalmation Islands. We loved the scenery and the idea of biking and barging, but the quality of the bikes and the food on this trip were less than desirable. Wanting to visit the Keukenhof in The Netherlands this past spring resulted in discovering Tripsite's bikes & barges. The idea of visiting the Keukenhof and skipping the lines was perfect, as was the thought of cycling on dedicated bike paths through colourful tulip fields dotted with windmills. This trip was considerably less expensive than the previous one in Croatia, so we booked it. Turned out to be a fantastic choice!
We loved every aspect of this trip! This family-owned barge was very comfortable and special.
The Captain was very personal, and each night joined a different table for dinner. He loved to chat with us after a fun day of cycling. One evening, he surprised us with a sing-a-long when he pulled out his guitar! The meals were hearty, tasty and plentiful and dessert was always a special treat. Snacks in the afternoon highlighted local cookies and pastries, and there was a great coffee machine always at your disposal. Every evening the bike guides went over the next day's itinerary in detail. Cycling was in a group, but going individually was offered to those who wanted it. The cycling was the best part! So much fun cycling on high-quality bikes on dedicated cycle paths with fantastic scenery and with so many other cyclists! Cycling in Europe is great, but cycling in a country where it's a local passion is something to experience. Even though we met lots of other cyclists, it never felt congested or crowded. Stopping along the route for a cappuccino or apple tart was a daily treat, especially with our new found friends. Our group consisted of people from South Africa, Australia, Canada, and the U.S. and we are already making plans for another Tripsite Bike & Barge next spring! Can't wait to see them again but right now, we just need to agree on which trip to choose. Will it be the south of France or Amsterdam to Belgium? Very hard choices but I'm sure either trip will prove worthy of our precious holiday time!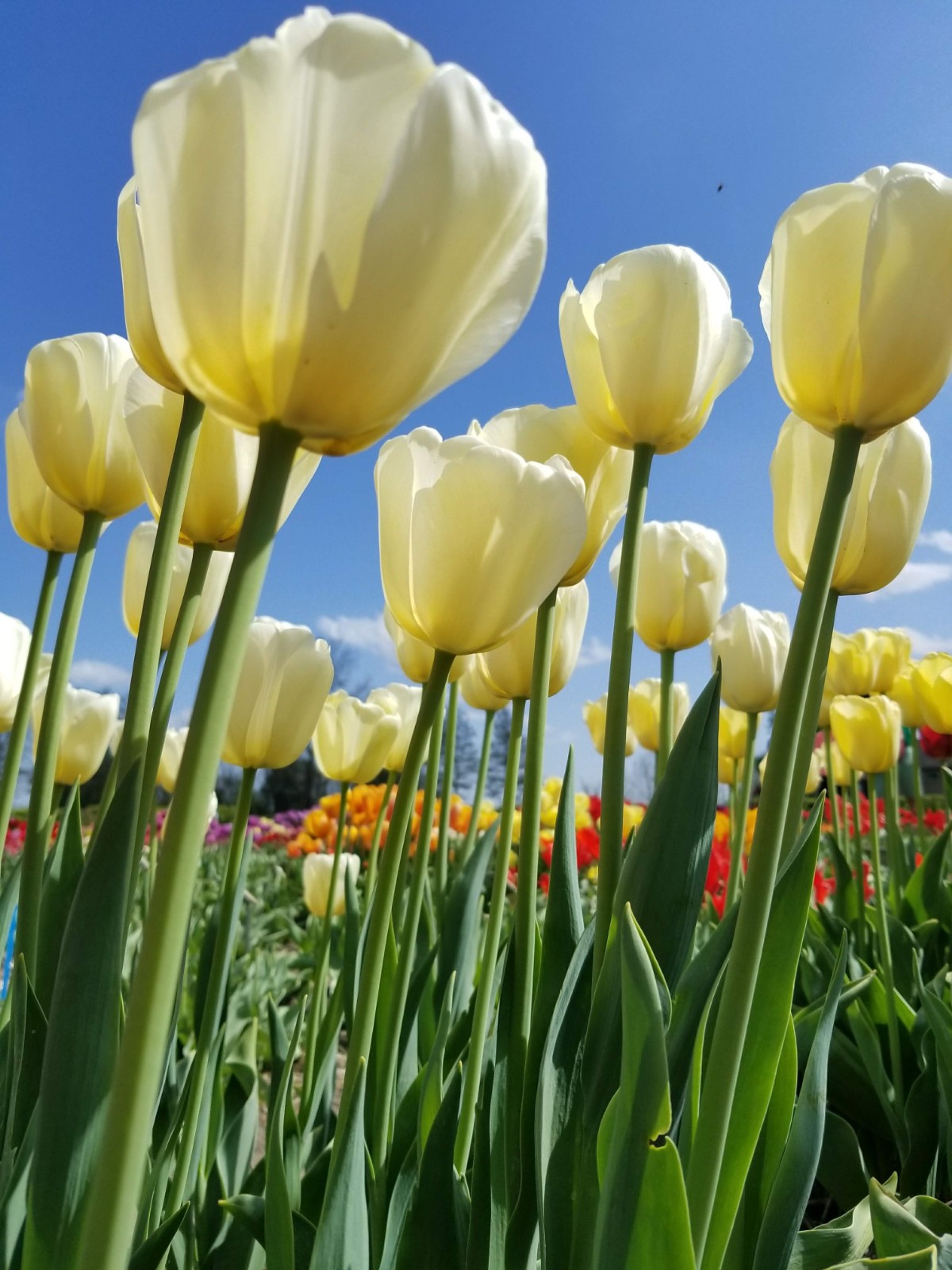 Yellow tulips. Of all the tulips pictures I took, this one is my favorite. I love the way the tulips are all lined up so straight against the blue sky. We cycled to a tulip nursery that had hundreds of different types of tulips, and you were allowed to get as close as you wanted. The tulip fields are gorgeous, but you can only admire from afar.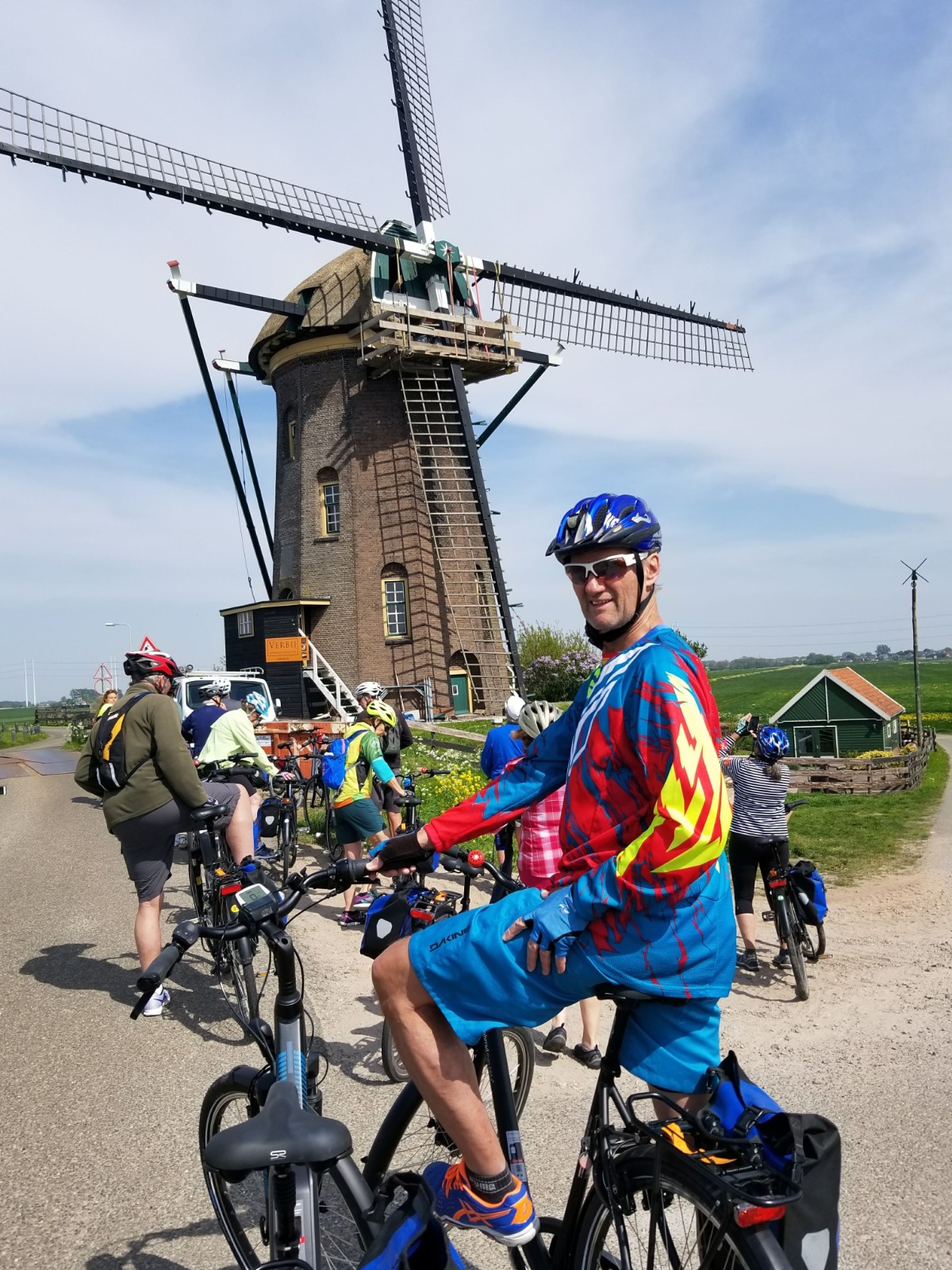 Windmill rest stop. The windmills allow cyclists to ride on the dikes. Some of the windmills are very modern, but this was one of the older ones. My hubby poses here as the group dismounts for another photo opportunity.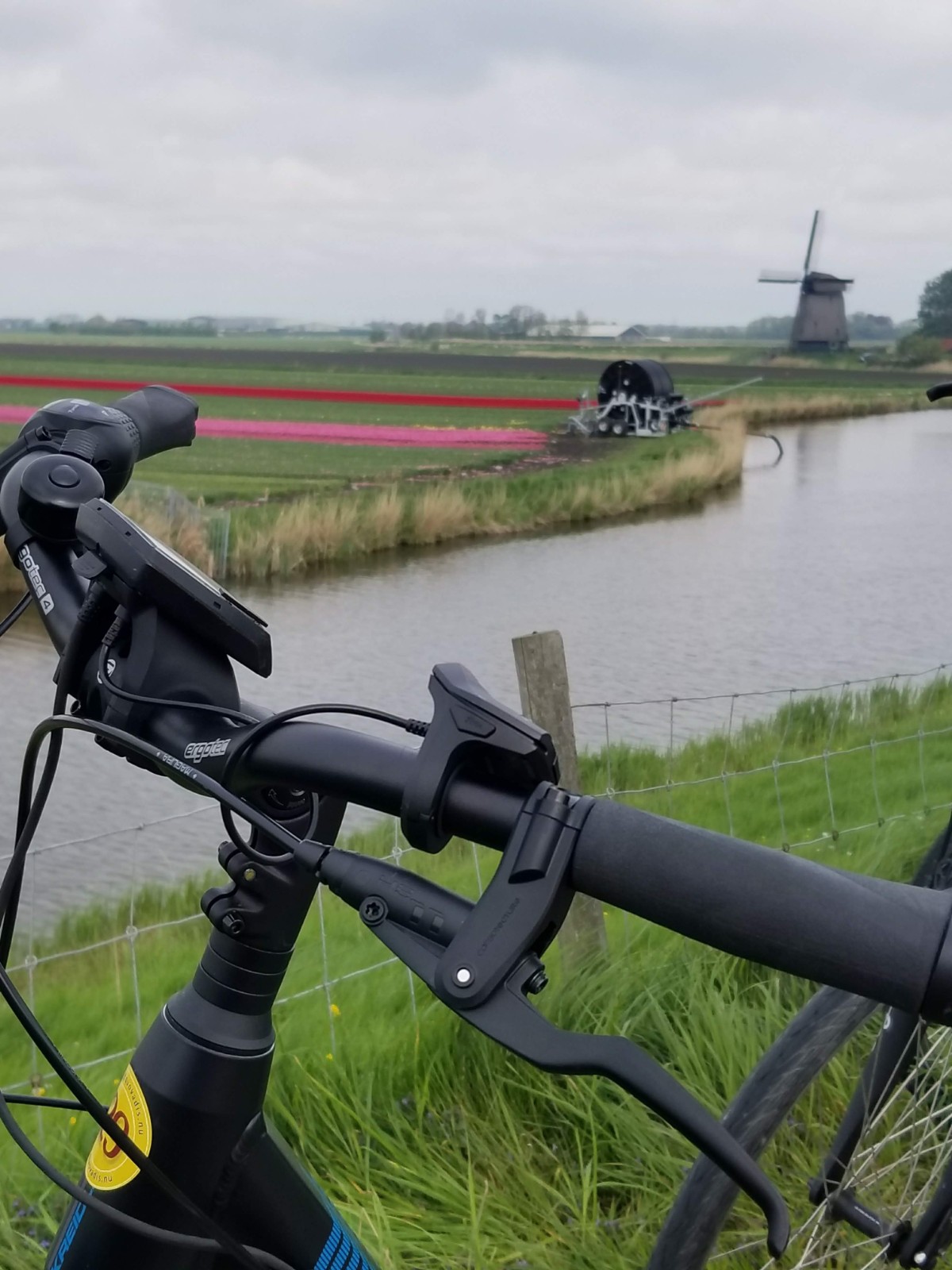 Bikes, tulips, canals, and windmills. What four things do you get on a Bike & Barge trip to The Netherlands?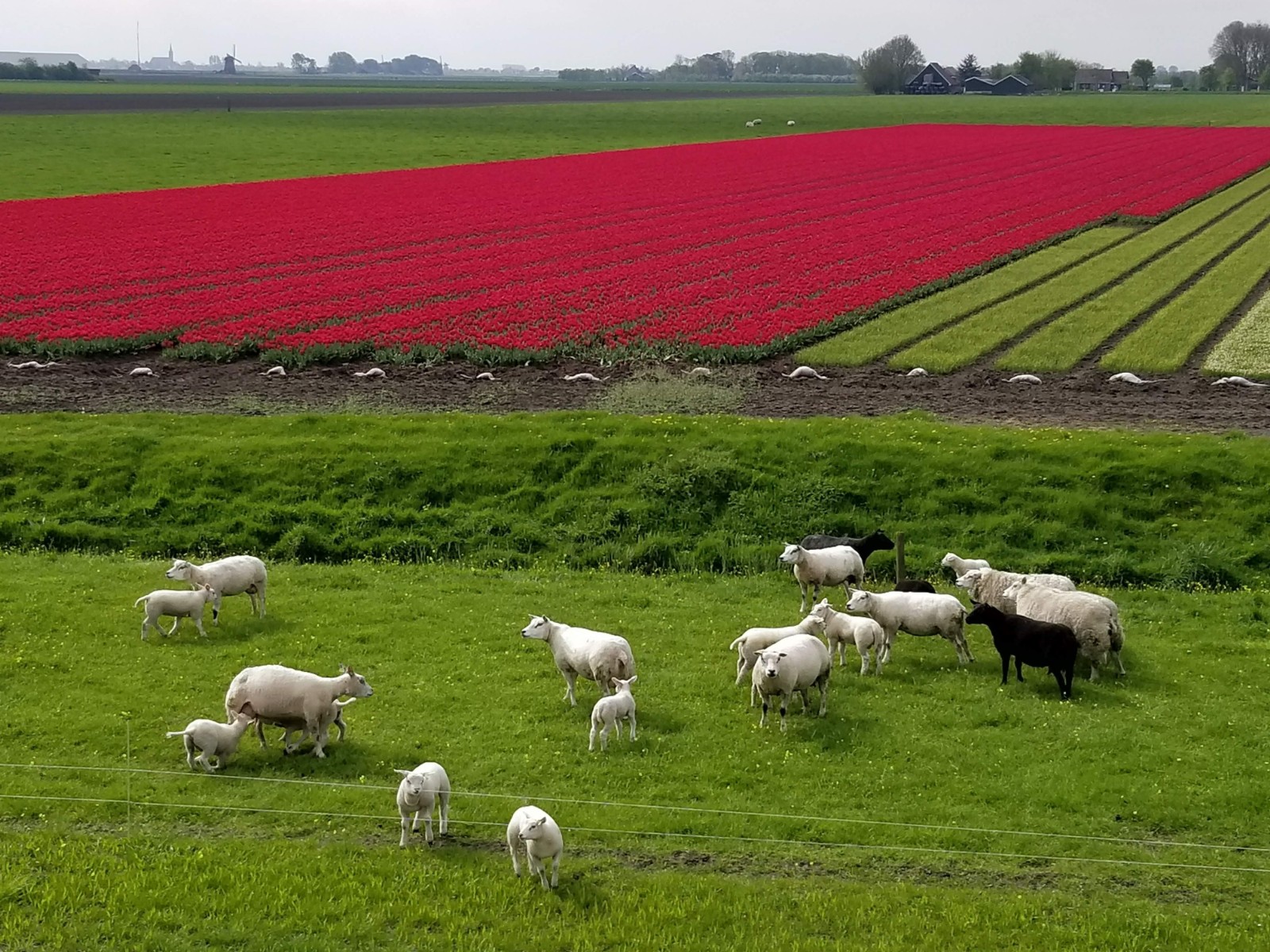 One black sheep. This solo black sheep is hard to see amongst his white comrades, but they make a great contrast to the lush green grass and the red tulip fields.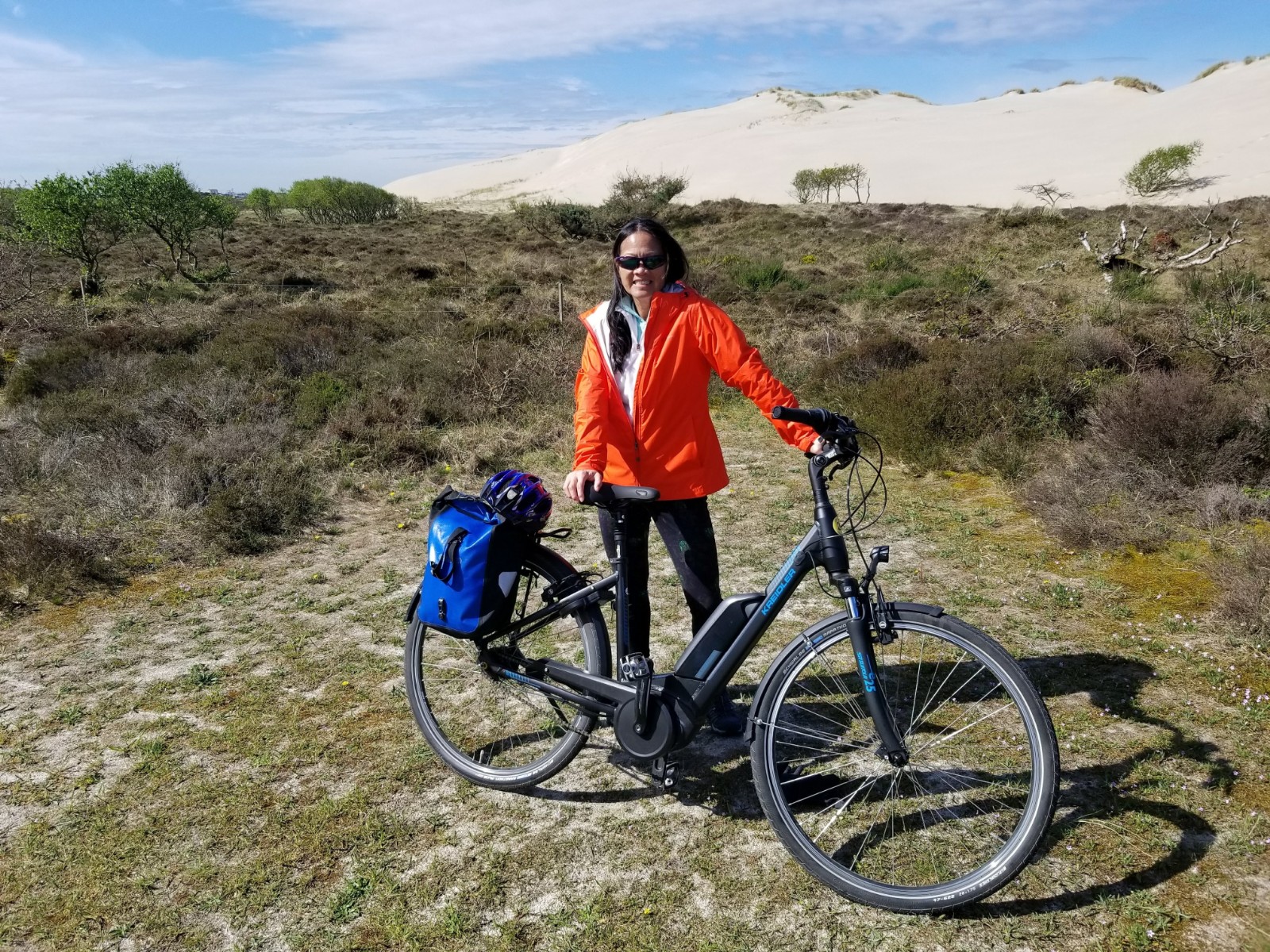 The Dunes. Cycling along The Netherland coast will surprise you with sand dunes and hills. The scenery was totally unexpected and very different from the flat fields of tulips we were used to. I was grateful for my E-bike and others wished they had one.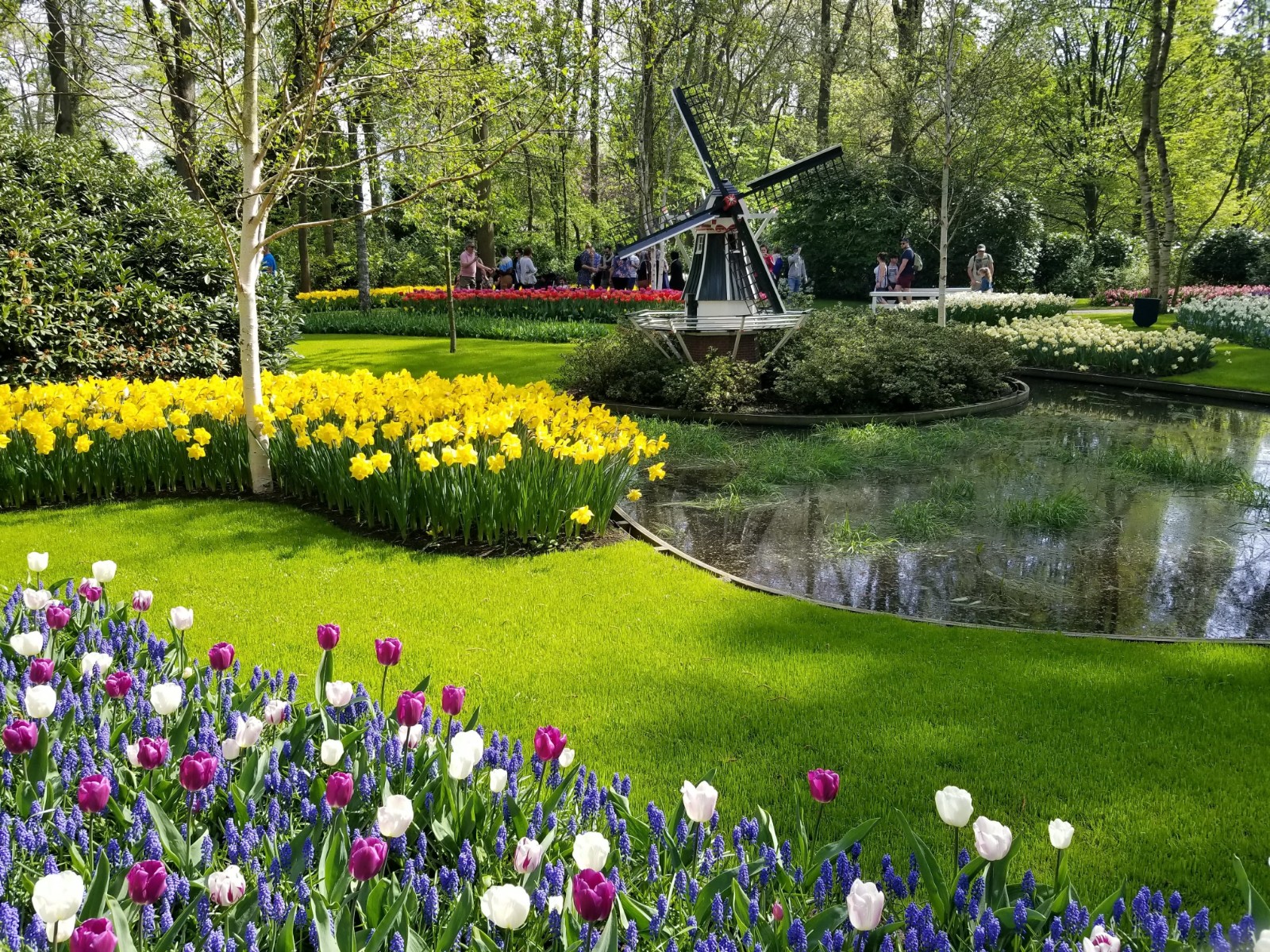 Tulips of the Keukenhof. Cycling from the Barge in the morning brought us to the spectacular flowers of the Keukenhof, definitely one of the highlights of the trip! April is a great time to go for weather and timing of the peak colours and blooms.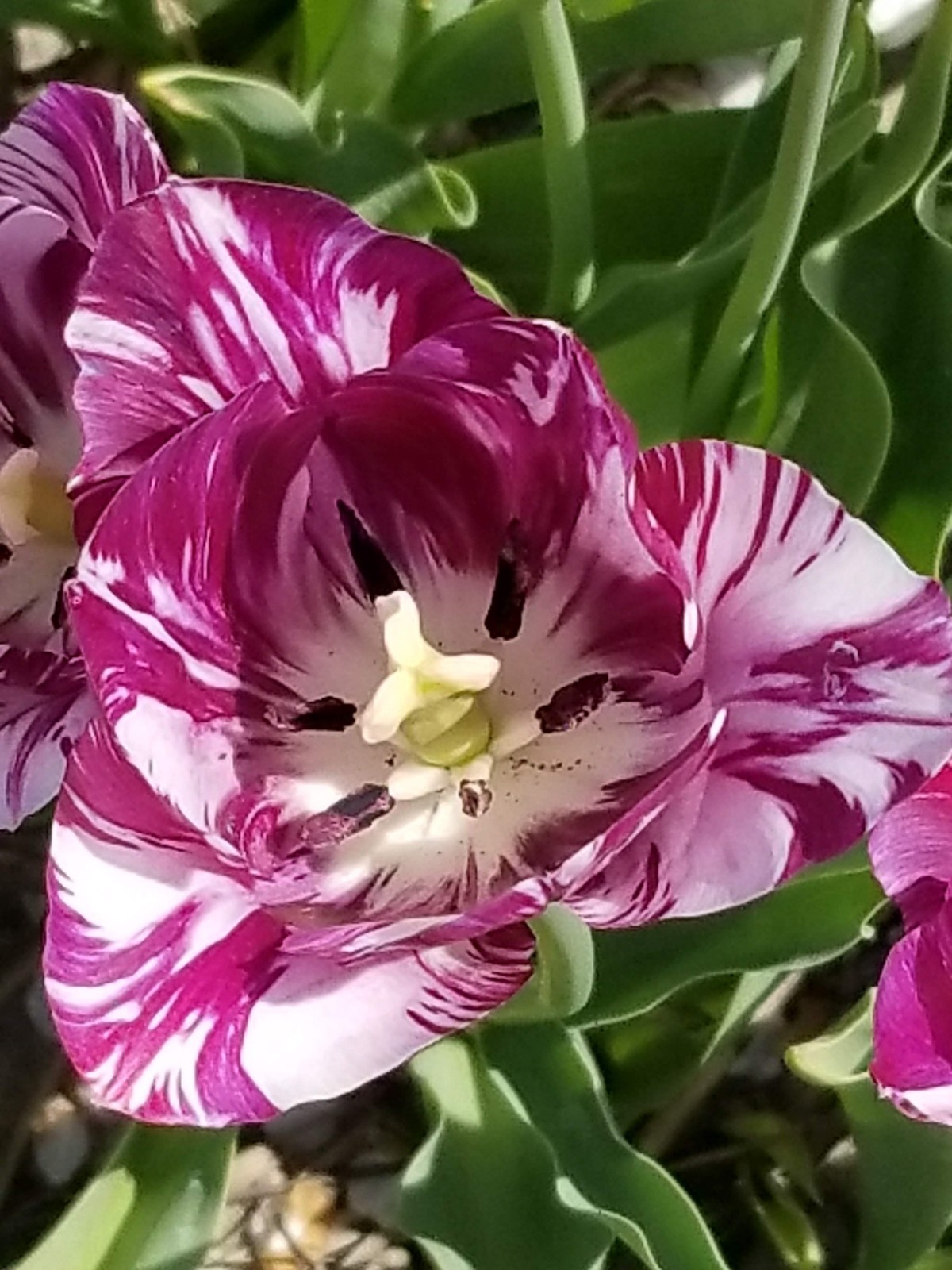 Purple swirl. Yes, this is one of the types of tulips from the Keukenhof. You can't imagine all the kinds of tulips you will see and it's a paradise for flower lovers!
Special thanks to Liz Ling for sharing her bike and boat tour experience and lovely photos with us. Be sure to explore all of our tulip bike and boat tours.
---
Comments
Post Comment