Travel Tips: Extra Nights | Where to Crash
Congratulations! You've booked your cycling adventure! And thanks to good planning (or maybe a good deal on flights), you also have a few nights before and after to enjoy a new city and culture. So now the hard part… how do you go about deciding on accommodations? And most importantly, how do you find accommodations that won't break the bank?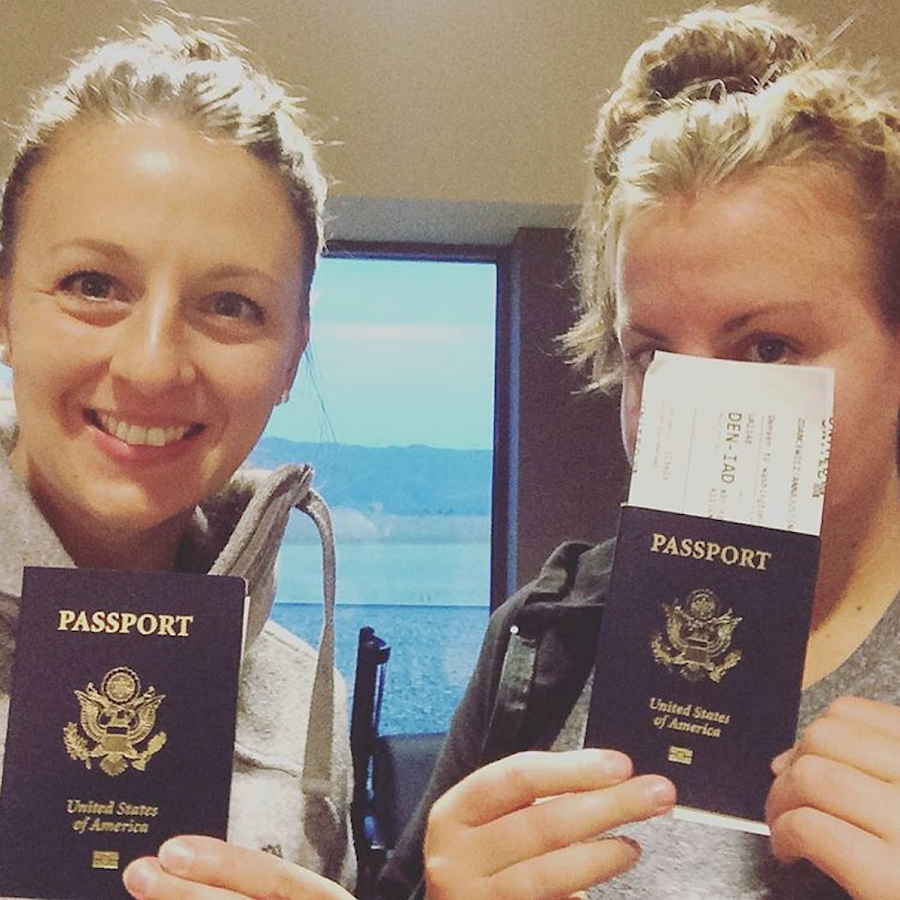 Jess and Anna take a selfie in the airport before their big adventure!
These were the questions I was asking myself before my sister and I set off on our tour in October. We were so stoked to start our boat and bike trip from Mainz to Basel, but had a few days to kill in Frankfurt before we started. One thing we knew for sure: we wanted to get to know the city on a deeper level, beyond what the typical tourist would see. That meant when deciding on accommodations, hotels were definitely out. Why? Hotels give you zero opportunity to meet and interact with new people. Plus they're pricey. Luckily, the alternative is way cooler and cheaper; we chose a hostel.
Before I go on, let me say that there are other options besides hostels. We recommend sites like booking.com to price local hotels. Airbnb.com is also a great way to find private rooms or whole houses for rent (prices vary), managed by the homeowners themselves. This is a great way to meet local people and stay in an authentic and homely setting. Alright, so back to hostels...
Hostels are low-budget accommodations used by students, business folks, wayward travelers, professional nomads, and everyone in between. When making a reservation in a traditional hostel, you are typically renting a bed only – not a room. I've seen guest rooms with as little as 4 people, but in some cases, it can be as many as 20. Bathroom facilities are, of course, shared. Hostels offer a female room/male room only option, as well as mixed dorms. For those too timid to consider a shared dorm, most hostels now advertise private rooms for singles, couples, or small groups.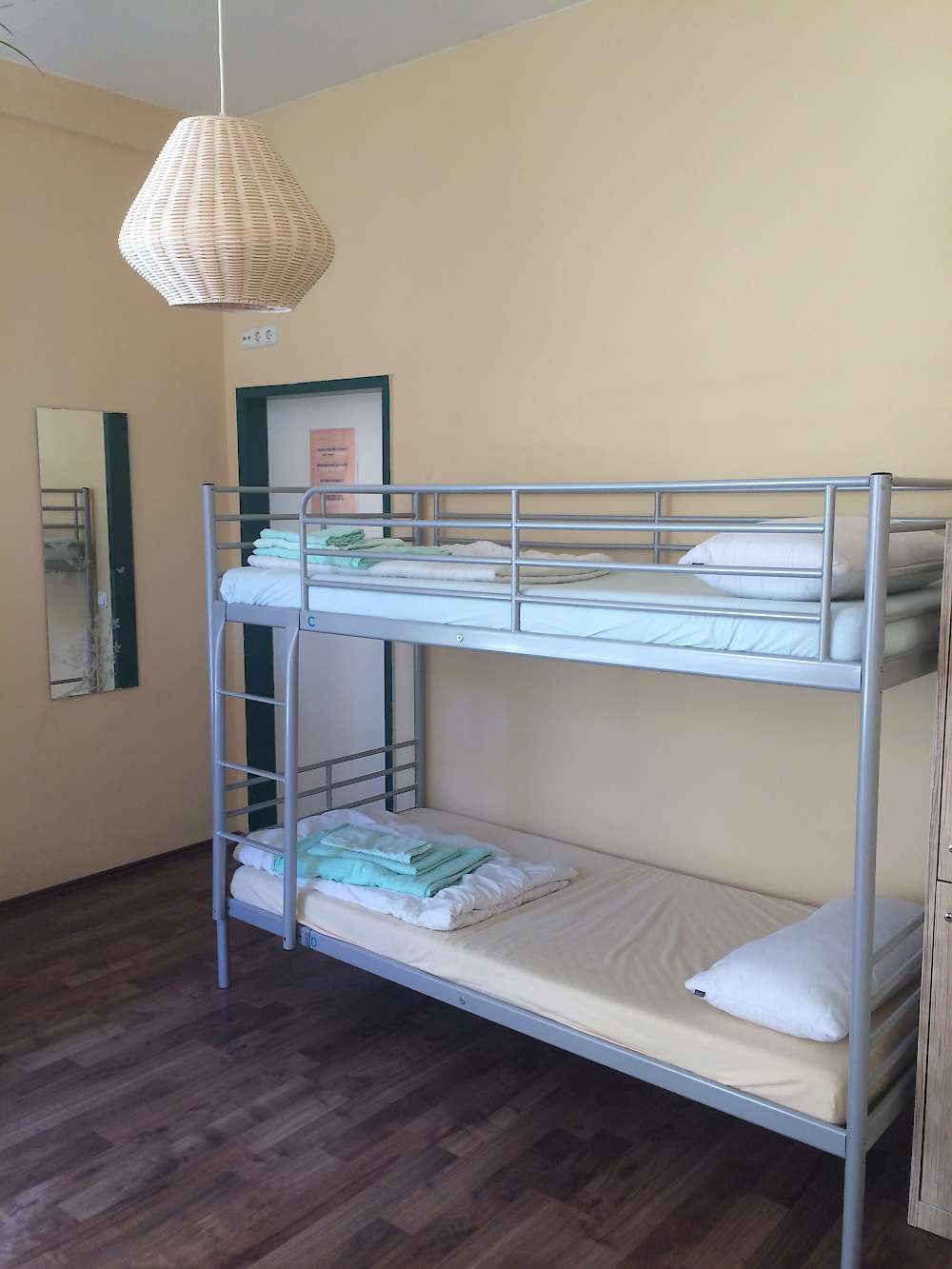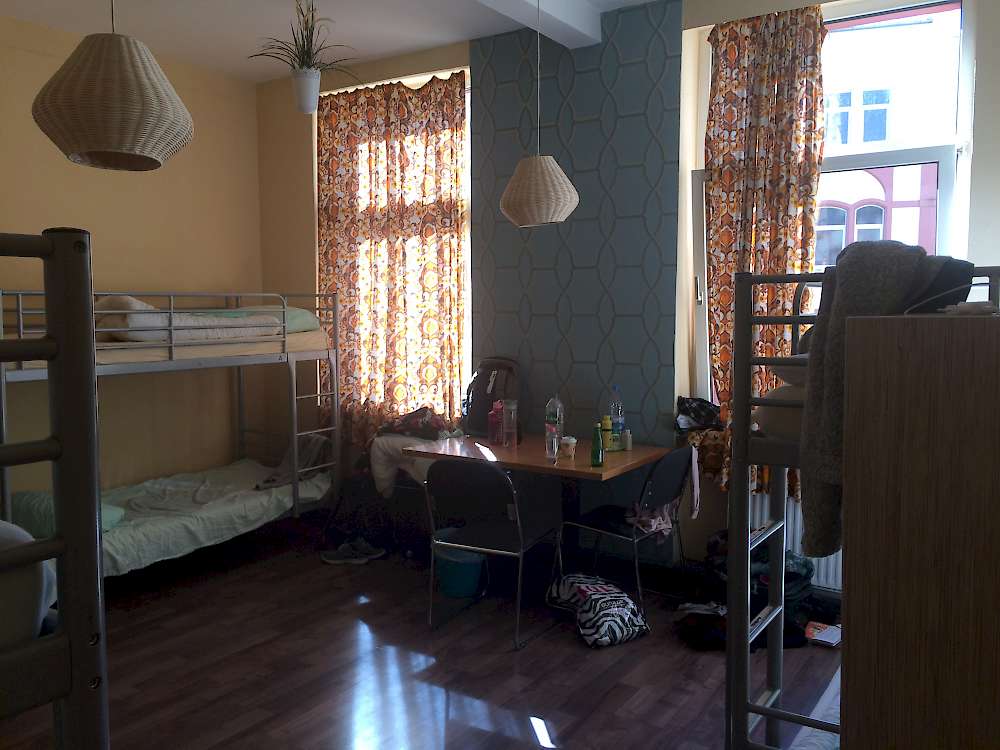 We ended up staying in Frankfurt Hostel, a really hip place located directly across from the main train station. For a female only dorm holding 6 people, my sister and I paid €25 a piece. The price included our comfortable bunk beds with bedding (pillow, sheets, blanket), wifi, breakfast buffet (typical in all hostels), dinner (not typical in all hostels, a big plus for this one), luggage storage, and other small things such as free city maps, laundry facilities, towels, adaptors for phones/computers, lockers, and coffee and tea all day.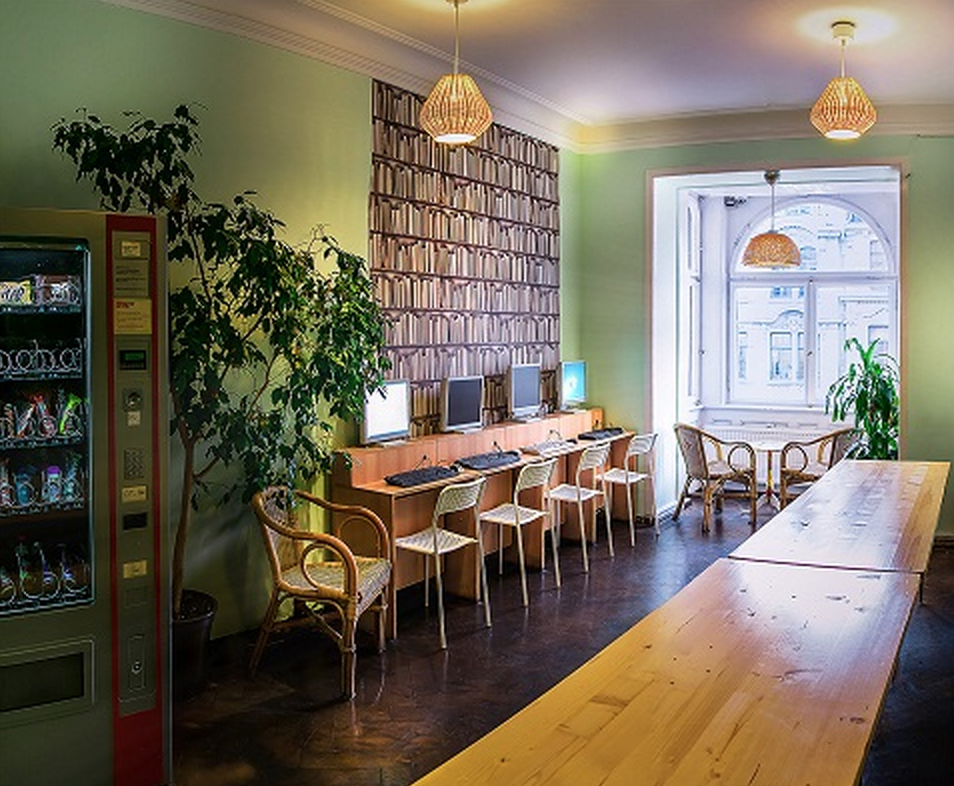 A staple for every hostel is a fully equipped kitchen, and Frankfurt Hostel really hooked us up. We were able to save even more money by cooking our own food. Utensils, pots, pans, and plates were all free to use. Another staple is a well stocked bar – in our case the bar doubled as the reception desk. My sister and I enjoyed a local brew that cost us a few Euros apiece, the cheapest beer of the whole trip.

A good hostel will organize activities to help you get to know the culture and surroundings. From excursions to parties on any given day, it is really hard to be bored staying in a hostel. FH offered a free walking tour of the city every day. Lasting 3 hours, a local guide took us through the most famous parts and hidden gems. I recommend it to anyone visiting Frankfurt.
The staff at FH were extremely nice and had a lot of recommendations on what to do and see in the city. When staying in a hostel, take advantage of the staff's knowledge – you'll discover things you never would have otherwise. After traveling all day and night, my sister and I were looking forward to a delicious German meal. Thinking we would just head into the Altstadt (Old Town) to find something, the reception clerk quickly told us to steer clear. Any meal in the Altstadt would cost double what it should. He directed us to a place not far away, in an alley that we surely wouldn't have found by ourselves. I had the best schnitzel of my life, and tried apple wine for the first time (I didn't like it but my sister did).
| | |
| --- | --- |
| | |
The highlight of our stay and the best part of any hostel was the people! Our roommates were fun and energetic gals from the United States, Asia, and Germany (there may have been some other nationalities but I forget). In the community dining room, we met guys from United Arab Emirates, New Zealand, India, Jordan (again, there were probably others). The conversations we had were passionate and educational – for example, the Kiwis thoroughly enlightened me on rugby and the All Blacks… I was pretty clueless. Everyone had something to share and contribute and were ready to listen as well to our stories and experiences. Perhaps there would be world peace if everyone could stay in a hostel for a few nights? I digress…


We ended up having a great time in Frankfurt. We met tons of new people, saw some of the iconic parts of town, had amazing schnitzel (I thought it deserved a second mention), and were well refreshed for the start of the bike tour. I do want to offer a few pieces of advice to anyone looking to book a hostel.
1. Read the reviews.
This is a no-brainer but I thought I'd mention it anyway. Read read read read read read read read read read read the reviews. All of them. Take all negative reviews with a grain of salt unless there are numerous ones, in that case, go with your gut.
2. Bring a small lock.
All hostels will have lockers, but not all will provide locks. You are sharing a room with a bunch of strangers remember. Bring a lock.
3. Bring flip-flops.
For the community bathrooms.
As always, enjoy the journey and happy cycling!!!
For more, be sure to check out the Travel Tips section of our blog!
---
Comments
Post Comment