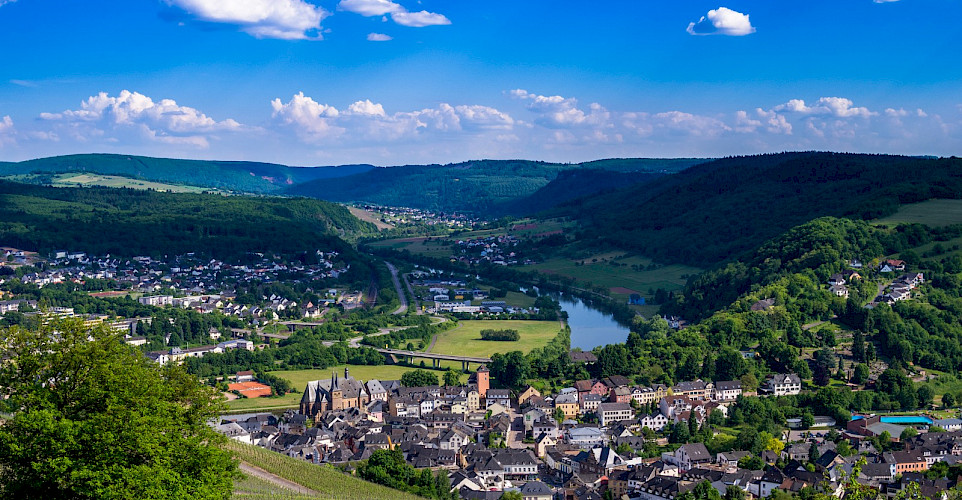 Cologne to Saarburg
Rhine, Moselle & Saar - three river tour in Germany!
Overview

As you navigate the ancient waterways on this bike and boat tour in Germany, you will explore the landscape of three rivers, the mighty Rhine, the romantic Moselle, and the beautiful Saar.

You bike an enchanting landscape steeped in a rich and diverse history, from the Romans who settled here and left Porta Nigra in Trier, to medieval villages with gingerbread houses. Castles perch as hilltop lookouts and vineyards climb the mountains.

You will enjoy a unique, small group experience aboard the Deluxe class vessel, the Merlijn, one of our favorites!

Highlights

Cologne
Koblenz, gateway to the UNESCO World Heritage "Oberes Mittelrheintal" (Upper Middle Rhine Valley)
Cochem, scenic and historic
The wine village of Zell
Trier, the oldest city in Germany
River path cycling
Wine tasting at the well-known winery, Storck

Be sure to check out all of our bike and barge tours in Germany.

Itinerary

Day 1: Cologne
Day 2: Cologne - Bonn - Andernach, 28 mi. (45 km)
Day 3: Andernach - Koblenz, 19 mi. (30 km)
Day 4: Koblenz - Alken - Cochem, 25 mi. (40 km)
Day 5: Cochem - Zell - Traben Trarbach, 25 mi. (40 km)
Day 6: Traben-Trarbach - Bernkastel Kues - Mehring - Trier, 28 mi. (45 km)
Day 7: Trier - Saarburg, 16 or 34 mi. (25 or 55 km)
Day 8: Saarburg

All distances are approximate. The itinerary is subject to change sometimes without prior notice.  Some waterways may be subject to occasional closures due to drought, storms, floods, canal or lock repairs, or other unforeseen circumstances that make navigation unsafe or impossible. The captain reserves the right to make any changes deemed necessary.

Day 1: Cologne
Check is between 3:30 and 4 pm when you will be welcomed on board with a complimentary drink. Unpack, unwind, meet the crew and your fellow passengers and learn about the boat, the tour, and safety.

Day 2: Cologne - Bonn - Andernach, 28 mi. (45 km)
You start sailing early this morning, and as you enjoy your breakfast, you can also enjoy the upstream journey on the Rhine River. Your bike tour will start in Bonn, the city of Beethoven. After a short visit here, you will cycle along the Siebengebirge, a German range of hills to the East of the Rhine, consisting of more than 40 mountains and hills. Your bike tour will end in Andernach where the Merlijn will moor for the. night. After dinner, you can enjoy a city walk with your guide. 

Day 3: Andernach - Koblenz, 19 mi. (30 km)
Your bike tour will start from Andernach and leads you to Koblenz. You will be early enough in Koblenz to explore the city or to take the cable car up to Ehrenbreitenstein Castle on the other side of the Rhine river. Your crew can organize tickets as well as a local guide.

Day 4: Koblenz - Alken - Cochem, 25 mi. (40 km)
You will sail to Alken and pass the first two locks from the Moselle. Here you will start biking into the Eltztal and after a hike of approx. 40 minutes you will visit the beautiful castle of Eltz. Located in a romantic setting atop a cliff, the castle is one of the very few that has never been destroyed during its long history. The route then leads to Cochem, a lovely little town with historical half-timbered houses and a picturesque Old Town. You may want to pay a visit to the famous Reichsburg or stroll the medieval streets. 

Day 5: Cochem - Zell - Traben Trarbach, 25 mi. (40 km)
You begin to bike directly from Cochem with the first stop in Beilstein, a tiny medieval village known as the Sleeping Beauty of the Moselle. Until about 1900, this village was only accessible by boat. Along the meandering Moselle River, you will bike to Zell famous for its vineyard 'Zeller Schwarze Katz'. Here in Zell you will board the Merlijn and then navigate to Traben Trarbach, the city of the art nouveau. Tonight you will be offered a wine tasting at the Winery of Storck.

Day 6: Traben-Trarbach - Bernkastel Kues - Mehring - Trier, 28 mi. (45 km)
During breakfast, the Merlijn motors to Bernkastel Kues. First, you will have some time for a tour of the city and a visit to the oldest marketplace of Germany. Your cycling itinerary then leads to the holiday resort of Mehring, passing Neumagen-Drohn. This is the spot where the Romans first set foot, traveling from the Rhine to the Moselle river. The Romans fell in love with this landscape more than 2000 years ago and built splendid country-villas here. In Mehring, you will board the Merlijn again to cruise to Trier. This is the perfect place to enjoy the local German cuisine, eating dinner out in one of the many local restaurants in Trier.

Day 7: Trier - Saarburg, 16 or 34 mi. (25 or 55 km)
In the morning, you can explore Trier a bit more. The crew can arrange a local city guide to teach you everything about Trier. Trier was the capital of the Western Roman Empire, a Roman government seat, and is well-known for its Porta Nigra, a gigantic city gate. In the afternoon you will bike to Saarburg. The cityscape of Saarburg is crisscrossed with narrow alleys, framework houses, Baroque constructions as well as colorful fishermen and sailor-houses. The master architect of Berlin, Karl Friedrich Schinkel already named the ensemble of romantic houses and small bridges on the Buttermarkt 'Little Venice' in the 19th century.

Day 8: Departure

Boats & Bikes

---

Deluxe

4.7 out of 5 (10 Reviews)

"The Divine Miss M" as we lovingly call the Merlijn is a diva, for sure. What can we say? Is it the luxurious cabins with most comfortable beds you have ever slept in? Is it the lovely dining area with the large windows and skylight that let the air, light, and sun pour in? Or perhaps it is the sun deck, where you can relax with newfound friends, sharing good wine and good conversation. We think you will find it is the entire divine package! Step onboard and discover for yourself! Read More

Inclusions

What's Included

Accommodation for 7 nights in a climate-controlled cabin on the deluxe class vessel, the Merlijn
Complimentary welcome drink
Daily cleaning of your cabin
7 breakfast buffets, 6 packed lunches, & 6 three-course dinners
Complimentary coffee, tea, & ice water
Daily cabin cleaning
Tour guide
Daily tour briefing
27-speed hybrid bike (Sensa). Bikes come equipped with hydraulic disc brakes, waterproof pannier, water bottle, towel, and universal helmet
Canal, bridge & harbor fees
GPS tracks for most tours
Entrance to Eltz Castle
Wine tasting in Traben-Trarbach at Storck
†Wifi
†Important to note, due to the steel construction of the ship, cruising locations, and other factors, Wifi signal speed and strength may not be what you are accustomed to and may not meet your expectations. If you are dependent on a constant, strong, fast, and reliable signal at all times, please consider a personal hot spot. See our FAQ page.

What's Not Included

One dinner
Drinks other than those mentioned as included
Excursions other than those mentioned
City maps
Tour maps
Gratuities
Bike protection

Dates & Pricing

Dates

2022

Saturday to Saturday
July 16, 2022 - Cologne to Saarburg

2023

Saturday to Saturday
July 8, 2023 - Cologne to Saarburg

Please Note

Rates are based on double occupancy
Rates are based on the fuel costs as of Spring 2021. Additional fees may apply for fuel increases.

Pricing

2022

Cabin Pricing
 
Twin/Double

$

2713

£

1439

$

2,449

€

1695

₪

6155

NZ$

2886

kr

17843

$

1,961

Twin for Single-Use
On Request

2023

Cabin Pricing
 
Twin/Double

$

2785

£

1478

$

2,514

€

1740

₪

6318

NZ$

2963

kr

18317

$

2,013

Twin for Single-Use
On Request

 

Extra Options

Electric bike, per day, advanced reservations required: $ 48 £ 25 $ 43 € 30 ₪ 109 NZ$ 51 kr 316 $ 35

Extra Info

Skill Level — Easy

This is an easy guided bike and boat tour that follows river paths and rural country roads.

Airport Info

The closest international airport to both the tour start in Cologne and your tour end in Saarburg is Frankfurt International Airport (FRA).

Local Travel

Frankfurt Airport is well connected by public transportation. Frankfurt Airport Train Station, located next to Terminal 1, offers connections to popular German cities via Deutsche Bahn, the national railway company of Germany. There are local S-Bahn lines (lines S8 and S9) that take travelers into central Frankfurt in about 10-15 minutes. From the main train station in the city, it is just a short taxi ride to the boat. From Saarburg back to Frankfurt airport by train is approximately 3.5 hrs, cost approximately €35/person. You will transfer in Koblenz. The German rail site bahn.de is a good resource when researching train travel in Germany.

Climate

Please check local conditions before your arrival. The Mosel wine region has a northernly continental climate.

Recommended

We recommend that you make copies of your important documents and papers (insurance cards, etc.). Leave a copy at home and have a copy with you. In the unfortunate situation that you lose your original documents, having copies facilitates the replacement process.

Remarks

High-quality bike helmets are available on board free to use.

Important to know

Travel Documents

It is each traveler's responsibility to ensure that you are in compliance with the country or countries you plan to visit.  This includes and is not limited to passport validity, visa requirements and acquisition, blank passport pages required for your destination (s), etc.

US citizens:  A good website to research the requirements of the Schengen Agreement and entry into other countries is travel.state.gov.
Non-EU and EU residents: Please research the requirements of your country of residence for international travel and your destination country or countries.

*Important note: Please check on the  European Travel Information and Authorization System (ETIAS) status as once implemented, this will be required to visit any of the 26 Schengen-member countries for tourism, business, medical, or transit. This is an additional check on security rather than a visa.

Covid-19 Info

Country Entry Requirements

Due to the changing requirements for entry, it is imperative that you stay up to date on requirements set by the country/countries that you are visiting. Please visit our Travel Restrictions Tool page and the country/countries government webpage for this information.

---

Photos
Have you been on this tour?
Please leave your feedback