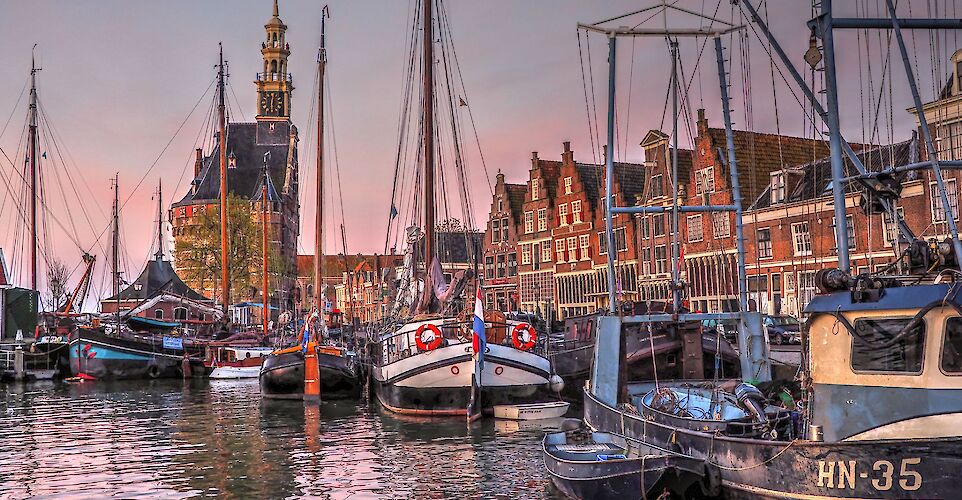 Dutch Villages of Friesland
Bike & boat Holland's historic & picturesque towns of Sloten, Leeuwarden & Hoorn.
Overview

On this bike and boat tour in Holland, you will explore the IJsselmeer (which was once the Zuiderzee or South Sea) and the Frisian region of Holland. The many former fishing villages that dot the shores all tell the story of the Golden Age when Holland was one of the most powerful seafaring trading countries in the known world.

After crossing the IJsselmeer, you arrive in the peaceful and isolated province of Friesland, where many people still make their living from farming and fishing. This beautiful and sparsely populated region reveals a different side of Holland, a people, and culture, that still cling to a very traditional way of living.

Your itinerary begins and ends in Amsterdam, quite a contrast to rural Holland. It is an international and cosmopolitan city, chock full of art, architecture, canals, boutique shops, and infused with energy and ambiance.

Highlights

Frisian cites like Sloten, Sneek and Stavoren
Sailing on the IJsselmeer
Lakes and waterways Friesland
Zuiderzee Museum, a unique piece of Dutch history
Vibrant Amsterdam

Be sure to check out all of our bike & boat tours in Holland.

Itinerary

Day 1: Amsterdam - Lelystad, 9 mi. (15 km)
Day 2: Lelystad - Sneek, 28 mi. (45 km)
Day 3: Sneek - Leeuwarden, 25 mi. (40 km)
Day 4: Leeuwarden - Makkum, 28 mi. (45 km)
Day 5: Makkum - Stavoren, 25 mi. (40 km)
Day 6: Stavoren - Hoorn, 19 mi. (30 km)
Day 7: Hoorn - Amsterdam, 28 mi. (45 km)
Day 8: Amsterdam, end of tour

All distances are approximate. The planned itinerary is subject to change, even on very short notice, due to changing wind and weather conditions and other unforeseen circumstances having to do with mooring requirements, docking location changes, lock repairs,  etc.

Day 1: Amsterdam - Lelystad, 9 mi. (15 km)
Your boat will be moored and waiting in Amsterdam. Boarding takes place before 2 pm. In the afternoon, you sail to the new town of Lelystad, and after the short bike ride there, the program for the next day and the rest of the week will be explained to you at dinner time.

Day 2: Lelystad - Sneek, 28 mi. (45 km)
From Lelystad, the barge sails across the IJsselmeer to Lemmer and the group continues by bike to Sneek. You ride via the wooded Gaasterland region featuring the old village of Balk. Later on, you pass through IJlst, an idyllic little town with a narrow town canal, quaint houses, and a ribbon of linden trees. The banks of the connecting waterway between IJlst and Sneek are covered with a fringe of reeds and the occasional willow and alder. Riding through this green landscape you can enjoy the abundant flora and fauna special to this region. You will stay the night in the lively town of Sneek which is especially popular among water sports enthusiasts. Everybody loves the canals that adorn the center. Waterpoort (1613) is the town's pride and joy. Way back when the town was surrounded by a defensive wall, this was one of the town gates through which boats were permitted to enter and leave town. In the local museum, you can get an impression of the Frisian history of seagoing and inland shipping as well as of shipbuilding and the ice-skating sport.

Day 3: Sneek - Leeuwarden, 25 mi. (40 km)
Riding out of Sneek you first pass through Boazum, featuring the wonderful example of Romanesque architecture, St. Maartenskerk Church. The centuries-old cultivated landscape in the northern provinces of the Netherlands came into being in the time before dikes existed. Artificial hillocks (terps) represented a safe haven when the surrounding lower land was flooded. Your route will entail passing through several of the terp villages.  Your route will feature a portion of the Slachtedijk, an impressive feat of engineering that reminds us of the daily fight the Dutch are engaged in to maintain control over water. Today's destination is Leeuwarden, the vibrant capital of Friesland province. If the spoken language sounds different to you here, you are absolutely right. The Frisian language differs from Dutch and is an important aspect of local culture. 

Day 4: Leeuwarden - Makkum, 28 mi. (45 km)
You ride out of the provincial capital Leeuwarden and enter the flat land with meadows again. After about an hour of cycling, you reach the old university town of Franeker. It is a lovely town to walk around in. Here you can visit the world-famous 17th-century planetarium of Eise Eisinga. Via lovely villages with age-old churches, you will reach Makkum, a town famous for its pottery. If you want you can make a short detour to the interesting harbor of Harlingen, yet another of the famous Frisian Eleven Cities.

Day 5: Makkum - Stavoren, 25 mi. (40 km)
From Makkum you continue riding through the meadows to Workum, a town that flourished around 1300 when other towns lost their connection to the open sea. Next comes Hindeloopen, a town with its own dialect, traditional costume, and painting style. In earlier times Hindeloopen did not have its own harbor, only anchorage. The fleet was in Amsterdam while the captains spent the winters in their 'commandeurswoning' (captain's residences) in Hindeloopen. At Nieuwstad in the town center, you can admire these well-preserved houses. Today's destination is the historic harbor town Stavoren. The city was granted city rights between 1060 and 1067, making it the oldest city in Friesland

 Day 6: Stavoren - Hoorn, 19 mi. (30 km)
In the morning you sail to Enkhuizen crossing the IJssel lake, since 1932 the largest freshwater lake in the Netherlands. Enkhuizen is a nice old harbor town to explore, and after arrival in Enkhuizen, you can visit the Zuiderzeemuseum. This museum shows you the history of everyday life around the Zuiderzee until the middle of the 20th century. Today's cycling stage will take you to Hoorn along the IJsselmeer dike, on your left the IJsselmeer and on your right, the lower-lying land. Hoorn was a major harbor in the 17th century with departures daily sailing for the Dutch East Indies (now Indonesia), America, Scandinavia, and the Mediterranean.

Day 7: Hoorn - Amsterdam, 28 mi. (45 km)
You start your day navigating to Volendam, originally a small fishing community, now a tourist attraction. Here your last cycling stage starts. You cycle to Monnickendam where you can see the town's many old gables, plaques, chur­ches, and towers. Then on to Marken, a former island with many green painted wooden houses and its own particular character. Near the lighthouse, there is a nice little beach where you can enjoy your lunch and perhaps take a swim in the freshwater of the IJsselmeer. The last part of the stage takes you through Waterland. You will understand why it is called that when you see that the houses and other buil­dings are almost at water level and that the ground is soggy. At the end of the afternoon, you will reach Amsterdam. Once you are back at the boat in Amsterdam it is time to take leave of your bikes. In the afternoon there still is some time to go into town and after dinner, you may want to finish off your trip by going on a city walk or taking a trip on one of Amsterdam's canal boats. Did you know that Amsterdam boasts the largest historical inner city in Europe?

Day 8: Amsterdam, end of tour
End of the tour after breakfast, before 10 AM. If you have an early flight, ask the tour leader to arrange a taxi to the Airport.

 

If you're looking for a different flavor, check out our full list of tours & trips including hiking, birding, and cruising.

Map

Boats & Bikes

---

Comfort

4.8 out of 5 (10 Reviews)

The Liza Marleen is a lovely motor passenger barge that was built in 1998 and the cabins were completely renovated in 2016. This "robust" lady is ideally suited for trips on the wider waterways. It has a beautiful salon area and a spacious deck. Read More

Comfort

3.9 out of 5 (10 Reviews)

Once a cargo boat, the Zwaan (Swan) was completely renovated and converted into a comfortable passenger barge. On board you will find seven comfortable cabins allowing a total capacity of 16 passengers. Read More

Inclusions

What's Included

Accommodation for 7 nights
7 breakfasts, 6 self-made picnic lunches, & 7 three-course dinners
Coffee & tea on board
24-speed city touring bike with helmet, water bottle, rear panniers, lock, & repair kit (on request)
Cycling tour guide
Minimum of 3 city walks with the guide
Roadbook (one per cabin)
Ferry fares on the route
Free WiFi is limited available in the lounge & on deck

What's Not Included

Beverages
Entrance fees to museums; approx. €25 per tour
Gratuities
Bike protection

Dates & Pricing

Dates & Pricing

2023

Comfort Class

Saturday departures

Low season:

July 1, July 8, July 15, July 22, July 29, & August 12, 2023

Standard season:

June 24, August 19 & August 26, 2023

 
Low season
Standard season
Twin/double 

$

2098

£

1126

$

1,891

€

1290

₪

5077

¥

197168

NZ$

2311

NOK

15213

kr

15313

$

1,414

$

2318

£

1243

$

2,089

€

1425

₪

5608

¥

217802

NZ$

2553

NOK

16805

kr

16916

$

1,562

Superior twin/double

$

2456

£

1318

$

2,213

€

1510

₪

5943

¥

230794

NZ$

2705

NOK

17807

kr

17925

$

1,656

$

2708

£

1453

$

2,440

€

1665

₪

6553

¥

254484

NZ$

2983

NOK

19635

kr

19765

$

1,826

Twin for single-use

$

2960

£

1588

$

2,668

€

1820

₪

7163

¥

278175

NZ$

3261

NOK

21463

kr

21605

$

1,995

$

3261

£

1750

$

2,939

€

2005

₪

7891

¥

306451

NZ$

3592

NOK

23645

kr

23801

$

2,198

Superior twin for triple use

$

1952

£

1047

$

1,759

€

1200

₪

4723

¥

183412

NZ$

2150

NOK

14152

kr

14245

$

1,316

$

2139

£

1147

$

1,927

€

1315

₪

5175

¥

200989

NZ$

2356

NOK

15508

kr

15610

$

1,442

Standard season:

May 13, 2023

 
Standard season
Twin/double

$

2635

£

1414

$

2,375

€

1620

₪

6375

¥

247606

NZ$

2902

NOK

19105

kr

19231

$

1,776

Larger double

$

2960

£

1588

$

2,668

€

1820

₪

7163

¥

278175

NZ$

3261

NOK

21463

kr

21605

$

1,995

Smaller/double (front)

$

2277

£

1222

$

2,052

€

1400

₪

5510

¥

213981

NZ$

2508

NOK

16510

kr

16619

$

1,535

Single-use (front)

$

3359

£

1802

$

3,027

€

2065

₪

8127

¥

315622

NZ$

3699

NOK

24352

kr

24513

$

2,264

Extra Options

Electric bike: $ 155 £ 83 $ 139 € 95 ₪ 374 ¥ 14520 NZ$ 170 NOK 1120 kr 1128 $ 104 Gluten-Free, Lactose-free, or Vegan Diet: $ 81 £ 44 $ 73 € 50 ₪ 197 ¥ 7642 NZ$ 90 NOK 590 kr 594 $ 55

*Please request at time of booking. If requested upon arrival, the additional charge is $ 163 £ 87 $ 147 € 100 ₪ 394 ¥ 15284 NZ$ 179 NOK 1179 kr 1187 $ 110 per diet per week, to be paid on location.

Please Note

Rates are per person, based on double occupancy
Tour prices are based on the fuel costs at time prices are set, often months or years in advance. In rare cases, additional fees may apply for fuel cost increases.

Extra Info

Skill Level — Easy

This guided bike and boat tour is rated easy. The average daily distance is 45 km. You will cycle on flat terrain utilizing as much as possible the network of cycling routes (fietsroutenetwerken) that makes Holland a cycling paradise! This cycling infrastructure consists of 30,000 km of cycle routes, cycle bridges, cycle tunnels, cycle ferries, and special signposting. Most participants prefer riding in a group with the cycling guide, but you can also ride individually. A roadbook is included (one per cabin). Gps-tracks can be provided by e-mail.

Airport Info

Fly to Amsterdam International Airport (Amsterdam Schiphol, AMS).

Local Travel

The Amsterdam Schiphol train station is located on the lower level of the airport. Customer service desks are situated close to the red and white checkered cube at Schiphol Plaza. Staff at the desk will be able to provide you with train departure information and general information on traveling by train in Holland. Train travel from Amsterdam airport to the main train station in Amsterdam takes about 20 minutes. Your barge will be moored quite close to the train station, many times within walking distance. However, with you luggage, you may want to grab a taxi in the front of the train station.

Climate

Please check local conditions before your arrival. There are many good websites available to research average high/low temperatures, average rainfall, and other weather-related facts. The Netherlands has a temperate maritime climate influenced by the North Sea and the Atlantic Ocean. Please see below for Monthly Weather Averages.

Important to know

Travel Documents

It is each traveler's responsibility to ensure that you are in compliance with the country or countries you plan to visit.  This includes and is not limited to passport validity, visa requirements and acquisition, blank passport pages required for your destination (s), etc.

US citizens:  A good website to research the requirements of the Schengen Agreement and entry into other countries is travel.state.gov.
Non-EU and EU residents: Please research the requirements of your country of residence for international travel and your destination country or countries.

*Important note: Please check on the  European Travel Information and Authorization System (ETIAS) status as once implemented, this will be required to visit any of the 26 Schengen-member countries for tourism, business, medical, or transit. This is an additional check on security rather than a visa.

Covid-19 Info

Country Entry Requirements

Due to the changing requirements for entry, it is imperative that you stay up to date on requirements set by the country/countries that you are visiting. Please visit our Travel Restrictions Tool page and the country/countries government webpage for this information.

---

Photos
Have you been on this tour?
Please leave your feedback