Thailand Adventure
Thailand Bike + Barge Tours
Bike and boat from the River Kwai to Koh Yao Island
This is an exotic bike and boat tour in Southeast Asia that combines boating on the River Kwai with cycling and multi-activity exploration of the land plus a beach getaway to finish off your vacation in style. Pedal and cruise from lush jungles to pristine beaches. Once on the paradise island of Koh Yao, enjoy kayaking and snorkeling to top off your adventures. Not only will your exploration provide you with scenic vistas and cultural sites, but it will allow for historical immersion as well.

Highlights:

Fascinating Bangkok (in-depth stay available as optional pre-tour extension)
Thai Burma Railway Center
Allied War Cemetary
13th century Muang Sing ruins
Hellfire Pass Memorial
Tropical life and sparkling beaches around Koh Yao
Kayaking in the clear waters of Koh Yao or taking a walk through the jungle
Local guide(s) who are passionate and well informed on history and culture
Thai cuisine

Discover the history and culture of Thailand, combined with physical exploration and relaxing beach vacation on this seven-day multi-activity tour.

Take a look at all of our tours in Thailand.

7-day tour:

Twin cabin on boat and twin/double at the resort: $ 4550 £ 2252 $ 3,934 € 2512 $ 4644 kr 27757 $ 2,750 Single supplement: $ 1522 £ 753 $ 1,316 € 840 $ 1554 kr 9286 $ 920

Pre-tour extension:

4-star package:

Twin/double: $ 976 £ 483 $ 844 € 539 $ 996 kr 5955 $ 590 Single: $ 1469 £ 727 $ 1,270 € 811 $ 1500 kr 8963 $ 888

5-star package:

Twin/double:  $ 1274 £ 631 $ 1,101 € 703 $ 1300 kr 7772 $ 770 Single: $ 1898 £ 939 $ 1,641 € 1048 $ 1937 kr 11577 $ 1,147

4-star accommodation: Mode Sathorn Hotel (based on availability)
5-star accommodation: Eastin Grand Sathorn Hotel (based on availability)

extra

options

Electric bike*: $ 232 £ 115 $ 200 € 128 $ 236 kr 1413 $ 140 * 10-speed Cannondale Trail Neo, featuring front suspension, a power pack and drive unit from Bosch, hydraulic disc brakes, and all accessories included with regular mountain bike

please

note

Rates are per person based on double occupancy.

A non-refundable admin fee of 20 Euros per person is included in the deposit amount.

Information to read before you book.

We recommend purchasing bike trip insurance.

† Currency exchange rate set 90 days before travel.

Travel

Fly to Bangkok International Airport also known as Suvarnabhumi (BKK)

Local Travel

Bangkok Airport is located 25 kilometers (16 miles) east from Bangkok's city center.
Bus: There are frequent public buses between Bangkok Airport and the city center.
Taxi: Get within 30 minutes to Bangkok Airport by taxi.
Train: Bangkok Airport Rail Link provides rail transportation to the city center.

Climate

Please check local conditions prior to your arrival. Most regions of Thailand have a humid tropical climate for the majority of the year. The area of Thailand north of Bangkok has a climate determined by three seasons while the southern peninsular region of Thailand has only two seasons - the wet and the dry. These seasons run at opposite times on the east and west side of the peninsula, with the west coast receiving heavy rains and sometimes storms from April to October, while on the east coast the most rain falls between September and December. Generally speaking, the best time to visit Thailand is from November through February or July and August when the northeast monsoon is blowing cool, dry air that serves as a respite from the heat. The driest time is from December to March.

Recommended

The official start of this tour is Day 1 as described in the day to day itinerary and will begin with a 7:30 am transfer. It will be necessary for you to book an extra day (s) in Bangkok so that you can recover from your long flight but also so that you can explore this fascinating city. We offer a pre-tour extension the includes 2 overnights. See the day to day details and also pricing.

Remarks

Travel insurance that includes comprehensive medical treatment and evacuation in the case of an emergency is mandatory and you will be asked to provide proof of such.

Documents

Before you travel, please check the passport and visa requirements of the country/countries you plan to visit. For US citizens, the US Department of State website is a good source of information. The Country Information tab in the International Travel section provides details about passport validity, blank passport pages required, and more.

For our other international clients, please be sure that you research your own country's travel requirements as it is each traveler's responsibility to ensure proper documentation.

Citizens of 42 countries including Australia, New Zealand, USA, Canada, most of Western Europe, UK and Ireland, Israel and many countries in the Middle East, Brazil, Peru, and most of Asia do not need to obtain a visa in advance of traveling to Thailand. You will receive a 30-day entry visa on arrival at any international airport or 15 days if arriving via a land border. Twenty other nationalities can apply for a 15-day visa on arrival in Thailand. Everyone else needs to apply in advance.

 

---
Tour
Dates
2020
June 22, October 12, and November 9, 2020
2021
January 11, February 22, August 9, October 11, and November 8, 2021
Minimum of 6 travelers to confirm a departure. Dates will close out at 18 participants.
Please note that tours commencing from December 23 through January 3, and Apr 13-16 have a peak season surcharge of 15%.                
Skill
Level
This tour does feature some hills, but they are more of the undulating, rolling nature than the sustained climbing nature. You are on a mixture of well-paved roads and some hard-packed, gravel/dirt roads that make up about 20% of the total riding. You will cover a total distance of 125 or 151 km, your choice. A fun itinerary is also provided for non-riding partners, family or friends of cyclists.
Where
You'll Stay
For your first three nights, you will stay on the RV River Kwai vessel. The boat was newly built as a colonial-style river cruiser based on designs used by the original Irrawaddy Flotilla which was founded in Burma in 1865 and by the 1920s was the largest privately-owned fleet of ships in the world. With just ten beautifully teak enhanced cabins, this cozy, small and intimate vessel is perfect to cruise on the scenic and historic River Kwai. The remainder of your tour will be spent at the Paradise Koh Yao, a luxury beachfront resort that encourages harmonizing with nature. Nestled on a private and remote beach, the resort has a shaded swimming pool and is also only a few steps from the ocean, the ultimate R&R for your body and mind. You can take a Thai cooking class, enjoy a paddle on the water, or explore secret lagoons among tall limestone karsts in this private paradise.
What's
Included
3 nights accommodations on the RV River Kwai including breakfast
3 nights accommodations at the Paradise Koh Yao including breakfast
Day 1 Pickup transfer from any hotel in Bangkok
Day 7 Transfer to any hotel in Phuket or Phuket airport
Domestic flight from Bangkok to Phuket
Other meals as indicated in day to day details: 6 lunches & 4 dinners
Water is included with every meal
Experienced English speaking tour guide (for tours of 7+, an assistant guide will accompany the group to ensure attention to service & detail
Speed boat transfer to Koh Yao
Support van
Cannondale Quick 1 disc mountain bike equipped with standard flat pedals, handlebar bag, helmet, and water bottle
Energy bars, local snacks, clean water, and electrolyte drinks provided during the day
Complimentary cycling jersey
What's
Not Included
Any other beverages except for water with meals
Personal expenses
Gratuities for guide(s) and support crew
Travel Insurance (mandatory)
Day-To-Day
Itinerary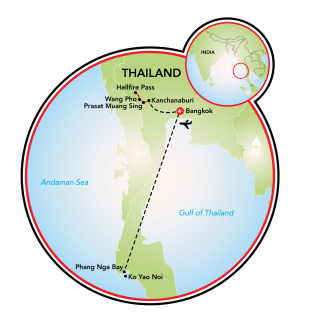 It is advised to book extra time in Bangkok before your tour since the official Day 1 of this tour begins early in the morning with hotel pick up and transfer. You can request an extra night or two in Bangkok or you can book a pre-tour extension with guided activities.  You will find details at the end of this day to day section.
Day 1: Kanchanaburi  City- Thai Burma Railway Museum & countryside, 11 mi. (18 km)
Day 2: Ruins of the Khmer Empire, 28 or 44 mi. (44 or 70 km)
Day 3: Hellfire Pass,  22 mi. (35 km)
Day 4: Flight to Koh Yao Noi
Day 5: Explore the island, 18 mi. (28 km)
Day 6: Koh Yao Noi - Phanga Bay (kayaking)
Day 7: End of tour
Day 1: Kanchanaburi  City- Thai Burma Railway Museum & countryside, 11 mi. (18 km)
You will have time for breakfast at your Bangkok hotel before you are picked up at 7:30 am. The drive to Kanchanaburi City is about 3.5 hours and the first stop of the day is one of the most educated on the topic of the Thai-Burma Railway. The Thai-Burma Railway Center is a privately funded museum, curated by Rod Beattie, an Australian who has dedicated years to researching the railway, the POW camps, and the stories of the prisoners. The museum provides a comprehensive overview of what occurred on the railway and the conditions under which the prisoners toiled and many perished. Opposite the museum is the allied war cemetery where the remains of 6,982 Allied POW have been laid to rest.
After that somber start to the day, you will convene on the grounds of a temple, to conduct a bike fitting and safety meeting conducted by your tour leader. It is then off by bike to visit the "Bridge Over the River Kwai". From there, you ride out into the countryside through sugar cane fields and rice paddies where farmers tend to their buffalo. Lunch is enjoyed in a family-owned restaurant and with that fuel in your stomachs, you ride the last little bit to reach the embarkation point for our river ship. (L, D)
Overnight: Onboard the RV River Kwai at Ban Kao
Day 2: Ruins of the Khmer Empire, 28 or 44 mi. (44 or 70 km)
Today you have a short ride option and a long ride option and you can make the decision on the day. You will enjoy riding on almost deserted roads in the countryside, through farmland where corn, rice, and various other crops are grown and where the pace of life slows even more. Along the way, you pass remnants of the civilizations that have since been swept away with the passage of time. At one point, the Khmer Empire in what is now Cambodia occupied this land and built structures including Prasat Muang Sing where you will stop for lunch.
For those who opt to ride on after lunch, you will have a loop through even more remote countryside passing workers busily tending to orchards and a few modern-day temples where monks will be meditating after their final meal for the day.
Back on board the ship, you will cruise upstream at a leisurely pace and time your passage as such that it's likely you'll see elephants from the nearby sanctuary come down with their Mahouts for an afternoon bath in the river. This is a special sight and makes for some excellent pictures as the elephants often swim up quite close to the ship. (B, L, D)
Overnight: Onboard the RV River Kwai near Resotel Kanchanaburi
Day 3: Hellfire Pass, 22 mi. (35 km)
This is the biggest day of activity on the trip. We leave the ship quite early and take a short walk to board our train. This train runs on the remaining sections of track from the original Thai-Burma Railway and a short way into the journey passes over the exciting Wang Pho Viaduct. The train is mostly empty but for a few locals getting to market and to school at this time of the morning.
After our train ride, it's back onto the bikes for arguably the most varied ride of the tour. We start out along the river where the road is mostly flat and paved. We stop at a temple where an informative mural forms the backdrop to a lovely viewpoint over the river, then we continue along and enter a forestry area. Here the government is cultivating Teak and other indigenous timber for future use and this allows for some nice shade as we leave the tarmac.
Riding gravel roads through the forest is quite a different experience to the last few days and a few hills make this section even more interesting. We conclude at a pedestrian, suspension bridge over the river and here we load into the vans for the short drive to the Hellfire Pass Memorial. We walk down to the cutting that was hand chiseled by the prisoners, then time permitting we can walk a section of the now removed track that traversed a particularly difficult piece of engineering, but today is being reclaimed by the bamboo forest.
Back at the ship, we have an evening talk by Rod Beattie (schedule permitting). By now you will know quite a bit of the story of the Thai Burma Railway and Rod's part in this is to tie it all together for you into the greater narrative, something that he does superbly, drawing on his significant understanding of the events of the time. (B, L, D)
Overnight: Onboard the RV River Kwai near Daowadueng Bridge
Day 4: Flight to Koh Yao Noi
You depart the ship after breakfast and bid farewell the delightful crew. Then it's a 3-hour drive to the airport and a 1-hour flight down to the south of Thailand where you board a speedboat for a scenic trip out to Koh Yao Noi, arriving on this lovely little island just in time for sundowners on the beach. (B, L)
Overnight: Koh Yao
Day 5: Explore the island, 18 mi. (28 km)
The resort is in a secluded part of the island with a choice of a rugged trail or pleasant boat ride to reach the rest of the island. You take the boat option and after just a short zip in the boat, will find your bikes and go for a ride of the southern area of the island which is mostly flat and with quiet paved roads. You will get a feel for the geography of the island, stop to see how rubber is grown and harvested, and stop in on an aquaculture farm. From here, you will ride over to the western side of the island where the landscape is a little different and sit down to lunch at a local restaurant on a pier. You return to the resort by boat and an afternoon free for you to enjoy as you see fit. (B, L)
Overnight: Koh Yao
Day 6: Koh Yao Noi - Phanga Bay (kayaking)
Departure time will depend on the tide because, after a short boat ride, you will be getting into kayaks and paddling through a natural tunnel in the limestone to reach an enclosed lagoon. In fact, you will visit two of these lagoons in which it feels as though you are in a different dimension. The noise of passing boats is not heard and the sunlight filtering through the leaves and onto the faces of the small colony of monkeys that live here, give it a surreal feel. As the tide shifts, you paddle out and then continue to explore these small, limestone islands that are dotted throughout the bay. On one island with a nice beach, you can enjoy a swim and lunch before returning to the resort for another free afternoon before the final group dinner.  (B, L, D)
Overnight: Koh Yao
Day 7: End of tour
The morning is free for you to enjoy Paradise. Then, depending on your exit arrangements from Thailand, you will have the necessary transfer to take you to either Phuket International Airport or to a hotel on Phuket Island.
Optional 2-Night Pre-Tour Extension

Take two extra nights before your tour for a guided exploration of the sights, food, and culture of the fascinating Bangkok metropolis, by boat, bike, foot, and tuk-tuk! Bangkok, more so than any other city in the world, is a diverse, often baffling mix of the super-wealthy, the wealthy, the middle classes and those who are eking out a living in the only way they know how. All of these people intermingle in the tangle of modern buildings and world-class urban transport, which provides an intriguing contrast to the backdrop of heritage architecture, temples and maddening traffic. For many, two days will not be enough, but for most of us, this two-day introduction to Bangkok gives you a taste of the city that you would need to live here for years to find for yourself.
Day 1: Bangkok by Night, 8 mi. (13 km)
On arrival at Bangkok Airport, you need only wander over to the transfer counter and present your Grasshopper Bangkok Pass as you exit to be assigned a car for the journey into the city.
At mid-afternoon, your host for the evening and any fellow travelers will convene in the hotel lobby. From there it is a short metro ride to the riverboat to visit Wat Arun and Wat Pho. These are two of the most important and well-recognized temples in the city and are a must-visit for all. Your guide will take you on a brief walk through the grounds of each to provide an overview of the temple's purpose and its history, followed by some time to wander and enjoy the late afternoon ambiance.
You will enjoy sunset drinks at a casual riverside bar. Then once the city lights up, you will jump into tuk tuks for the short trip to an emerging evening area. This is on the edge of Chinatown, so it's home to some interesting heritage buildings and experimental businesses that make the area vibrant. You will work your way through a few different venues where you can sample signature cocktails and craft beer, paired with some truly unique bites, along with a few of the delicacies on offer from the street-side vendors.
Sufficiently imbibed, you will move via local transport to the swankier end of town, to one of  Bangkok's most authentic, yet refined restaurants. Here you will enjoy very traditional cuisine, presented beautifully and with commentary from the chef. The food here includes some Isaan influenced dishes that borrow from Laotian cuisine. This means lots of light, tangy flavors, combined with complex spices and refreshing herbs and greenery. For those who wish to continue on, you make a stop at our final late-night venue where the lights are dimmed down and the cocktails come in the full color and strength spectrum. Your host will part ways with you here or back at the hotel if you prefer to turn in. (D)
Overnight: Bangkok
Day 2: Canal by Tour, 9 mi. (14 km)
Bangkok originally functioned around water transport, the Chao Phraya River was the arterial with dozens of main canals leading off it, connecting to a radiating network of circular canals. As the city grew many were filled, but there is still plenty intact, and a journey down these offers an insight into old Bangkok and how those living along the canals existed since the city's founding in 1768.
You combine bikes and boats today, starting on two wheels, riding the canal paths and weaving through small communities where cottage industries that can trace their history to the beginning of the city are still intact. Then you will switch to what is known locally as a "longtail boat" which will have you humming through the canals, out to where the greenery is more prolific and there is a community organization centered around the arts. If you are lucky, there may be a performance happening, although this is not a daily event. It's back on the boat for some more canal cruising before returning to the city and your hotel. You can expect to be back by 1 pm following lunch along the way.
Once you have rested, we can point you in the direction of an excellent day spa where a relaxing massage might help you prepare for the next step (or pedal) of your adventure. (B, L)
Overnight: Bangkok
Day 3: Official start of your 7-day tour
Breakfast is included today so you can start your bike tour sufficiently fueled up for a great adventure. Our Tour Coordinator will confirm the hotel pickup time for your tour.
Includes:
Airport transfer on arrival and  boat transfer on Day 1 of regular tour
Entry fees to temples and where applicable
Bike, helmet & water bottle
Accommodation of choice (4 or 5 Star options)
All meals stated in Itinerary
Snacks
First drink at each bar 
Host & Guide
Not included:
Items of personal nature 
Extra meals & drinks
Spa treatment
Early hotel check-in or late check-out
Gratuities
Travel insurance
Be sure to check out all of our featured bike and boat tours, or our full list of bicycle tours.
Email or Call 800-951-4384 +1 570-965-2064
---
Thailand Adventure
Boats + Barges
RV River Kwai Thailand Premium Class Boat This unique vessel is a river cruiser built in the colonial style based on designs used by the original Irrawaddy Flotilla. The RV River Kwai carries a maximum of 20 passengers lodged in 10 teakwood twin bed cabins all located on the main deck. This is a perfect way to see parts of Thailand that are otherwise inaccessible.