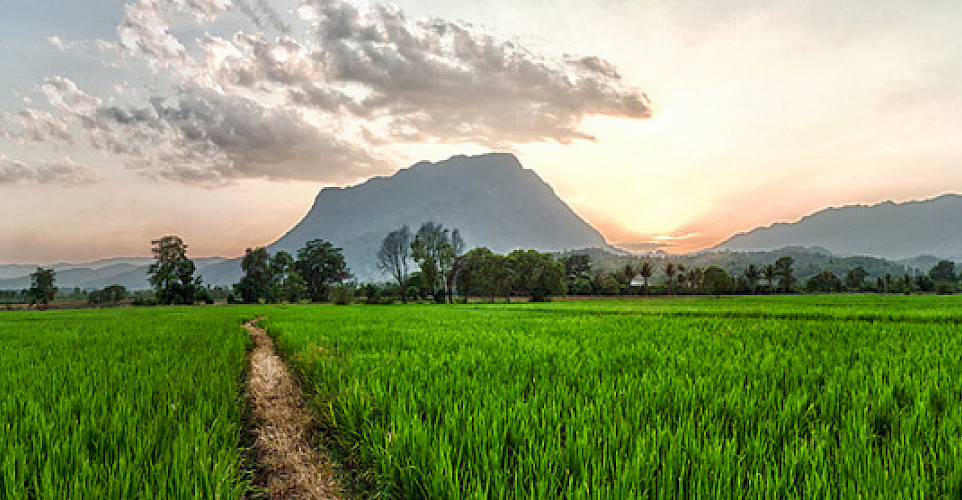 Northern Thailand
A bike tour in the land of a million rice fields!
Overview

This exotic bicycle tour in Northern Thailand is as diverse as the landscape. You will cycle, hike, and boat your way through spectacular scenery, following wonderful trails and back roads with little traffic and fantastic scenery.

The accommodations are varied as well. You will overnight at the charming The Rim Resort, the beautiful Phu Chaisai Resort, the comfortable Imperial Golden Triangle Resort, and also lodges that are in tune with Northern Thailand and its traditions.

Your adventure will include visits to two former capital cities of the former Lanna Kingdom, Chiang Rai and Chiang Mai. Translated, Lanna means "a million rice fields" which is a fitting name as you will encounter rice fields at every turn! You will also discover why Thailand is called the "land of smiles"; known for its warm, friendly people.

Highlights

Spectacular limestone mountains of Chiang Dao
Scenic village of Mae Salak
Doi Mae Salong, a unique Chinese village
Burmese markets in Mae Sai
Regional cuisine
Authentic and luxury accommodations

Check out all of our bike tours in Thailand.

Itinerary

Day 1: Arrival Chiang Mai, ride to Ban Tawai and return, 25 mi. (40 km)
Day 2: Teak Forest Ride, 37 mi. (60 km)
Day 3: Chiang Dao Tribal Trails, 47 mi. (75 km)
Day 4: Backroads - Thaton, 51 mi. (82 km)
Day 5: Bike and Boat to Chiang Rai, 30 mi. (48 km)
Day 6: Doi Mae Salong Ascent, 20 mi. (32 km) 
Day 7: Doi Mae Salong Descent, 30 mi. (48 km)
Day 8: Ride to the Golden Triangle, 61 mi. (98 km) 
Day 9: Mekong River Ride, 18 mi. (28 km) 
Day 10: Doi Suthep Downhill, 26 mi. (42 km)
  
This cycling adventure goes beyond the beaten track and the rides are not always predictable. Due to these reasons, it is occasionally necessary to reroute or update itineraries. The tour will not be changed unless for safety or to improve it.

Day 1: Arrival Chiang Mai, 40 km
The group meets in the afternoon for a briefing and bike fitting, after which, there will be a short transfer out of town. As an introduction to cycling in Thailand, there will be a  nice, easy ride along the Ping River to Ban Tawai, the "handicraft village". Once famous for teak carvings and wood, it now offers a wide range of handicrafts and artisanal creations now on offer here, ranging from rough country-style furnishings to meticulously crafted objets d'art, and from dusty antiques to modern designer products. All kinds of wood are now employed including bamboo and rattan for furniture as well as ceramics, silk, hemp, silver, cotton, plastic and glass. You will have time to browse the stalls before heading back to Chiang Mai. (D)

Accommodation:  Aruntara Riverside Boutique Hotel
Elevation gain/loss: +155 m/-155 m

Day 2: Teak Forest Ride - Chiang Dao, 37 mi. (60 km)
Once again, riders are transferred out of the city to a nearby reservoir and a boat ride to the cycling route. Consisting of dirt tracks, the trail leads through a scenic teak forest to end at a waterfall where the support truck awaits to replenish water supplies and provide a snack. More biking ensures to a great little restaurant overlooking a reservoir for a lunch stop. After lunch, the cycling involves both country roads and off-road trails, including an elephant trail through the forest to the overnight destination, to the Royal Ping Resort, near Chiang Dao. There will be time for a refreshing swim before dinner. (B,L,D)

Accommodation: Royal Ping Resort
Elevation gain/loss: +731 m/-755 m

Day 3: Chiang Dao Tribal Trails, 47 mi. (75 km)
Today's ride is a real treat for mountain bikers! First, there will be a morning transfer from the resort to Chiang Dao Caves for the start of the ride which leads through rice fields and among soaring limestone cliffs before hitting the dirt path. This trail has been cut by the hill tribes of the Akha, Lisu, Lau, and Palaung people. The colorful Palaung are recent migrants and you will see their women adorned with heavy brass waist-bands working the fields. Lunch today will be at a Forestry Camp, followed by a memorable afternoon ride on outstanding mountain trails. The support vehicle will be waiting at trail end for transfer to the Saimoonburi Resort, a comfortable Thai-style inn. (B,L,D)

Accommodation: Saimoonburi Resort
Elevation gain/loss: +855 m/-819 m

Day 4: Backroads - Thaton, 51 mi. (82 km)
After an early breakfast, you ride to the Tub Tao Caves and temple retreat. Cycling on backroads through many small villages to Fang, you stop for lunch. In contrast to the previous day, much of the ride is flat, and you will make the distance quite quickly. The ride is scenic, passing farmlands and orchards. You end at Thaton along the banks of the Mae Kok River where your resort with a swimming pool awaits. (B,L,D)

Accommodation: Maekok River Village Resort
Elevation gain/loss: +374 m/-522 m 

Day 5: Bike and Boat to Chiang Rai, 30 mi. (48 km)
Lahu Village is just a short transfer away and from here you hitch a ride on a long-tail boat with your bikes  to a scenic riverside area. You have a brief stop at a forestry reserve before heading off for another 20 km off-road ride and then enjoy a break at a local coffee shop. It's just about 20 km more to the provincial capital of Chiang Rai. You can relax at the hotel or go out in the city to see the famous night market. (B,L,D)  

Accommodation: La Luna Hotel
Elevation gain/loss: +609 m/-645 m

Day 6: Doi Mae Salong Ascent, 20 mi. (32 km)
After breakfast, you cycle 14 km along dirt roads flanked by ride paddies to Chiang Rai's spectacular white temple, Wat Rong Khun. Be sure to have your sunglasses on as you will take in the splendor of one of Thailand's most famous edifices. Following lunch, there is a transfer to the foot of Doi Mae Salong to conquer the first big mountain climb in the late afternoon. It is 18 km up and down through magnificent scenery to Mae Salong. Almost entirely populated by descendants of Chiang Kai Chek's Chinese Nationalist Kuomintang Army, the village has the look and feel of China's Yunnan province rather than Thailand. The night is spent at the simple resort, Mae Salong Flower Hills, with a swimming pool that has outstanding views across the tea plantations. (B,L,D)

Accommodation: Mae Salong Flower Hills
Elevation gain/loss: +915 m/-703 m 

Day 7: Doi Mae Salong Descent, 30 mi. (48 km)
First on the agenda today is a visit to the temple at the very top of the hill and then, the trail! A 30-km (14 km) off-road descent through the forest along some glorious trails. will eventually spill out onto the road and a short ride to Phu Chaisai Resor resort, one of north Thailand's best kept secrets. Built by a well-known architect this charming resort fuses western comforts with Lanna design to provide a delightful refuge for weary cyclists. The afternoon is free to enjoy the resort's facilities, laze by the pool or explore the surrounding countryside. (B,L,D)

Accommodation: Phu Chaisai Resort
Elevation gain/loss: +1,240 m/-1,903 m

Day 8: Mae Salong - Golden Triangle, 61 mi. (98 km)
Get ready for the longest ride of the tour and also the most spectacular. First, you will enjoy an off-road ride through lychee orchards and have a chance to visit the only horse temple in Thailand. Then you tackle Doi Tung, where the Thai royal family has a palace. The climb is on the good tarmac and the rewards are amazing views and lunch on top of the mountain. The temple here is said to contain the Buddha's clavicle. An amazing ridgeback road comprises the afternoon cycling. Finally, there is a fast downhill ride into Mae Sai and then a nice flat ride alongside the Sai River to Sop Ruak, the site of the Golden Triangle, and the Imperial Golden Triangle Hotel. (B,L,D)

Accommodation: Imperial Golden Triangle
Elevation gain/loss: +1,914 m/-1,969 m 

Day 9: Mekong River Ride, 18 mi. (28 km)
After breakfast, you ride on a very scenic loop deep into the heart of the countryside surrounding the Golden Triangle. You will return to the hotel to refresh before heading to Chiang Saen and have lunch. There will be an opportunity for sightseeing in this ancient town, one of the first Thai Kingdoms, and then a transfer back to Chiang Mai (approx. 3 hours). Once checked into the hotel, there will be a farewell dinner at a great riverside restaurant. (B,L,D)

Accommodation: The Rim Resort
Elevation gain/loss: +228 m/-230 m

Day 10: Doi Suthep Downhill, 26 mi. (42 km)
Saving the best for last, today you will experience an outstanding off-road ride for your last day. You can begin with a climb (or transfer) to Chiang Mai's most impressive temple, Wat Doi Suthep, which is perched on a hilltop overlooking the city. Then, you embark on Thailand's most exciting mountain bike trail. Winding for 30 kilometers through spectacular mountain scenery, this ride is a fitting finale to an amazing cycling adventure. The support vehicle awaits at a picturesque reservoir to transfer you back to a hotel or to the airport for your onward travels. (B,L)

Elevation gain/loss: +1,699 m/-1,652 m

This tour ends in Chiang Mai. Perhaps you would like to extend your stay in Thailand or the region. Chiang Mai Airport is an international airport with regular flights to Singapore, Hong Kong, Mandalay, Luang Prabang, and many other regional destinations. 

You can view all of our bike tours in Europe or look at our featured tours, trips, specials, & news.

Accommodation

You will stay in carefully chosen accommodations that are the best available for the location and offer a good mix, from home stays to luxurious lodges. On each day's itinerary, you will find the preferred accommodation listed. If for any reason, a change is necessary due to availability or other circumstance, the alternative will always be of the same standard or better.

Inclusions

What's Included

Accommodations for 9 nights
Meals as per the itinerary (B-Breakfast, L-Lunch, D-Dinner)
Snacks, local fruits, & water provided throughout the day when cycling
Mountain bike rental
English speaking guide (two guides if group is larger than 9)
Air-conditioned vehicle for transfer & support
Sightseeing tickets where mentioned in the itinerary
Boat fee
Complimentary water bottle & bike jersey

What's Not Included

Transport to/from the start/finish
Meals not mentioned as included
Alcoholic drinks
Visa fees
Gratuities
Bike protection

Dates & Pricing

Dates

June 11, October 8, & November 26, 2023

Group size: 2-16 riders

Please Note

Rates are per person, based on double occupancy
Tour prices are based on the fuel costs at time prices are set, often months or years in advance. In rare cases, additional fees may apply for fuel cost increases.

Pricing

2023

Twin/double: $ 3756 £ 1983 $ 3,333 € 2281 ₪ 9121 ¥ 344323 NZ$ 4049 NOK 27144 kr 26470 $ 2,400

Single supplement: $ 720 £ 380 $ 639 € 437 ₪ 1748 ¥ 65995 NZ$ 776 NOK 5203 kr 5073 $ 460

---

*You can avoid the single surcharge if you are willing to share accommodation with another traveler of the same gender. If a roommate is not found, you will enjoy a single room at no extra charge. If you prefer not to share a room, a single supplement will be incurred.

Extra Info

Skill Level — Difficult

You will ride a total of 553 km during 10 cycling days (30% off-road). Please see each day's details regarding distance and elevation. The route was designed to provide a variety of riding, including first-class single-track trails to gentle back roads. Northern Thailand is a mountainous region, and there are very few flat rides, however, most of the big climbs are optional and on tarmac. Many roads and trails traverse the mountains, and the route winds up and down hillsides. There are some outstanding descents and stunning views across rolling hillsides and valleys at almost every turn! A very good level of cycling fitness is required for this tour. Although the escort vehicle is always close by and the guides have powerful two-way radios, some rides are not supported due to the remoteness of the trails

Airport Info

Fly in/out of Chiang Mai International Airport (CNX).

Local Travel

Airport transfers are not included. You are advised to take a taxi to your first hotel and from your last hotel.

Climate

Northern and Central Thailand has a tropical climate with fairly high humidity. There are three seasons: from March to June it is hot and dry, with temperatures between 27 and 40 C, with night temperatures in the 20s. The rainy season is from July to October, but temperatures are slightly lower, because of the effect of the rain. During this time it will not rain continuously, but in sharp bursts, and the sun can come out quickly. The cooler season is from October to February, with average temperatures between 20 and 30 C.

Remarks

Arrangements can be made for a shared room with another solo traveler (of the same sex) at no extra cost. If there is no roommate available, no single supplement will be incurred.

Wearing a helmet is required on all our biking adventures and is non-negotiable. If you do not wear a helmet you will not be allowed to cycle. Your tour leader is trained in first aid and emergency rescue, but to a large degree, you must be responsible for your own safety while riding. It is therefore compulsory that you take out travel insurance that will cover you for a mountain biking tour.

Important to know

Travel documents

Before you travel, please check your country's passport and visa requirements and the passport and visa requirements of the country/countries you plan to visit. All nationalities require a passport for entry into Thailand. Please ensure your passport is valid for at least 6 months beyond the duration of your stay in the country. For US citizens, the US Department of State website is a good source of information. The Country Information tab in the International Travel section provides details about passport validity, blank passport pages required, etc. For our other international clients, please be sure that you research your own country's travel requirements. It is each traveler's responsibility to ensure proper documentation.

If staying less than 30 days then a visa in advance is not required by European, North American, Australian, and many other nationalities. You will need to show proof of an onward flight out of Thailand to be eligible for the visa on arrival. This is strictly enforced.

Covid-19 Info

Country Entry Requirements

Due to the changing requirements for entry, it is imperative that you stay up to date on requirements set by the country/countries that you are visiting. Please visit our Travel Restrictions Tool page and the country/countries government webpage for this information.

---

Photos
Have you been on this tour?
Please leave your feedback