4

/

5

(

1

rating)
Costa Brava - Dali's Country
Spain Bike Tours
A Girona bike tour unlike any other!
Costa Brava, where the mountains meet the sea, is the setting of this exciting bike tour in the Spanish province of Girona, deep in Catalonia along the Pyrenees mountain range. Its landscapes, climate and history combine to let you cycle Spain through a haunting beauty. Craggy cliffs, sandy coves, pristine beaches and inland, the fascinating, ancient history all awaits to be explored and experienced. Not too mention, it is also the home and setting for the surreal world of Salvadore Dali.

This is the region in which the renowned artist was born, lived and worked. His birth city, Figueres, is home to the Teatre-Museu Dali, which you will have the opportunity to visit. In his own words: "The two most fortunate things that could happen to a person are, first, to be Spanish, and second, to be named Salvador Dalí. These two things have happened to me," from "Diary of a Genius". Modest, Dali was not, bold and extravagant he was, as you will experience. His museum is in itself the largest surrealistic object in the world.

If you love surrealism, you will love the Dali touches of this tour and the opportunity to personally visit his home and museum.

If you love wild coasts and pristine beaches, you will love the Costa Brava and is varied Spanish cycling routes.

If you love wine and experiencing the regional cuisine, you will love this Emporda region of Spain. Wine has been made here since the 5th century BC when Phoenicians first colonized the coast. The gastronomy is based on a Mediterranean diet, rich in seafood, rice, and fresh vegetables. The combination of seascape and rural countryside provide the freshest ingredients and makes Costa Brava one of the loveliest wine regions in the country.

This is a bicycle tour in Spain that offers something for just about everyone, it blends the mystical surreal consisting of the fantastical Dali interpretations of reality with the breathtaking real, encompassing the wild Costa Brava.

Want to see more of our bike tours in Spain?

SELF GUIDED: 

4 star hotel: £ 1153 $ 1,817 € 1211 NOK 12110 kr 11178 $ 1,453

Supplements: 

High season (June 1 to September 12): £ 111 $ 176 € 117 NOK 1170 kr 1080 $ 140

Single room: £ 167 $ 263 € 175 NOK 1750 kr 1615 $ 210

Single traveler: on request

3 star hotel: £ 1044 $ 1,644 € 1096 NOK 10960 kr 10117 $ 1,315

Supplements: 

High Season (June 1 to September 12): £ 111 $ 176 € 117 NOK 1170 kr 1080 $ 140

Single room: £ 190 $ 300 € 200 NOK 2000 kr 1846 $ 240

Single traveler: on request

GUIDED SUPPLEMENT (to be split among a maximum of 8 participants): £ 1429 $ 2,250 € 1500 NOK 15000 kr 13846 $ 1,800

extra

options

3 dinners included: £ 95 $ 150 € 100 NOK 1000 kr 923 $ 120

Road bike rental: £ 48 $ 75 € 50 NOK 500 kr 462 $ 60

Airport transfers:

From Barcelona: £ 210 $ 330 € 220 NOK 2200 kr 2031 $ 264

From Girona: £ 33 $ 53 € 35 NOK 350 kr 323 $ 42

please

note

Rates are based on double occupancy.

Information to read before you book.

We recommend purchasing bike trip insurance.

† Currency exchange rate set 90 days before travel.
Where
You'll Stay
Luxury hotels and elegant farmhouses.
What's
Included
Accommodations for 7 nights in luxury hotels or farm houses
Breakfasts
Catalan dinner at the farmhouse in Bordils
Lunch in Figueres
Entrance ticket to Dali museum
Luggage transfer
Detailed route books including maps
Welcome meeting
Cycling jersey and water bottle
21 speed Cannondale Hybrid bicycle
GPS rental
What's
Not Included
Lunches and dinners not mentioned
Bicycle protection
Trip insurance
Extra
Stay
Extra nights are possible in Girona.
Tour
Dates
Daily arrival possible in 2017
Skill
Level
Moderate self guided hotel tour with daily distances ranging from 22 mi (35 km) to 31 mi (50 km) for the hybrid bike tour. Guided option available, if preferred. (minimum of two people)
Day-To-Day
Itinerary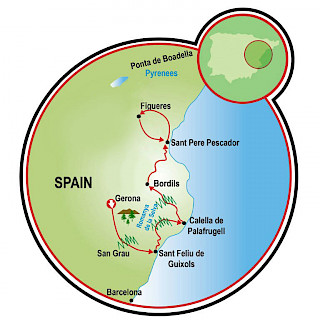 Day 1: Arrival in Girona
Day 2: Girona - Sant Feliu de Guixols via "Greenways", 24 mi (40 km)
Day 3: Sant Feliu de Guixols - Calella de Palafrugell, 16 mi (27 km)
Day 4: Calella de Palafrugell - Bordils, 28 mi (47 km)
Day 5: Bordils - Sant Pere Pescador, 22 mi. (36 km)
Day 6: Rountrip, Sant Pere Pescador via Figueres, 30 mi. (50 km)
Day 7: Sant Pere Pescador - Girona, 17 mi. (29 km)
Day 8: Departure from Girona
All distance are approximate.
DAY 1: Arrival in Girona
Girona is a city in the northeast of Spain on the Costa Brava, near the French border. It is a beautiful city where you get a real feeling for its history just by walking through its ancient streets. A walled city, dating back to the Roman period, it has a fascinating old quarter. You will be able to explore the entire city on foot since it is not very large
DAY 2: Girona - Sant Feliu de Guixols via "Greenways", 24 mi. (40 km)
Bike pick up and information meeting at Girona Cycle Center. The first day of biking Girona you will spend part of your time on the "Greenways" or Vias Verdes. Vías Verdes are the result of converting disused railway lines into cycling and walking routes. Easy, accessible, far removed from motorized traffic and with hardly any steep slopes, they are especially recommended for nature lovers and people who enjoy outdoor exercise. There are already 1,500 kilometers of Greenways throughout Spain (more than 58 greenways), all of which have been carefully restored to allow you to discover the most hidden corners of the countryside. This first day is a relatively easy day, finishing by the beach in the old fishing village of Sant Feliu de Guixols. Located on the Mediterranean, Sant Feliu de Guíxols has idyllic weather almost all year long. The coastline of the town spreads over ten kilometers. It also includes many little bays with coves surrounded by pine covered mountains and with rocky or fine sand beaches. If you get a chance in the morning be sure to visit the Plaça del Mercat before beginning your cycling day. The marketplace serves as the heart of public and economic life in the town. It takes place every morning on the "Plaça" where you can do some shopping before you head out for your second cycling day.
DAY 3: Sant Feliu de Guixols - Calella de Palafrugell, 16 mi. (27 km)
The route winds north along the Costa Brava passing into the northern part of the Empordá county, rich with famous medieval hilltop villages and secluded coves and bays. Calella de Palafrugell is the destination today, well known for the traditional architecture of its Voltes (archways). The Costa Brava bike tour now takes you along the coastline of Palafrugell has 12 km of beaches and coves which are all awarded the European Blue flag each year. The Blue Flag is an award that is given to beaches and marinas that have met very stringent standards. The main beaches are Aigua Xelida, Tamariu, Llafranc and Calella de Palafrugell. The archipelago of the Formigues isles (the isles of the Ants) is off the coastline. This is an area where many ships wrecked in ancient times. In front of the Saint Sebastian lighthouse is the Ullastres, popular with snorkelers because of the abundant marine life.
DAY 4: Calella de Palafrugell - Bordils, 28 mi. (47 km)
The route continues north cutting inland and passing one of the most unique and incredible landscapes in all of Europe. The countryside is dotted with ancient stone houses and castles, one of which was bought by Salvadore Dali for his beloved wife Gala to be their home. The castle has the appearance of a small Gothic Renaissance palace. The lovely gardens outside the castle, with a few of Dali's spindly elephant sculptures keeping company with lush greenery and trees, stand in stark contrast to the madness of Dali's world. Gala lived here in the castle until her death in 1982. She is actually buried in the castle. Dali moved back to his sea house at Port Lligat after her death. Walking through the rooms of Castle Pubol is something special. With every step, you cannot help but be aware of Dali and his artistic influence in the surroundings. It is now maintained as a museum. The castle home has to be viewed as a great work of Dali in and of itself, for everything in it was conceived and designed by the artist and offers us a glimpse inside his captivating and unique world. Accommodations this evening are only a few miles from this castle museum. You will love Bordils, a tiny romantic village that time has forgotten. The Placa Major (main square) still has the ancient clothes washing area surrounded by buildings of the Gothic/Renaissance period.
DAY 5: Bordils - Sant Pere Pescador, 22 mi. (36 km)
Continuing north, the route leads deep into the wine and olive groves of the Alt Empordá, or wine growing region of Spain. The day ends with a ride along a beach road past the Greco-Roman city that gives the region its name, Emporion, where the Romans introduced wine to the peninsula. Sant Pere Pescador is a village with very special personality. It is in the middle of the Bay of Roses, one of the most attractive bays of the western Mediterranean. It boasts a 7 km stretch of pristine sandy beach. The first historical reference to the town dates back to the year 974.
DAY 6: Roundtrip, Sant Pere Pescador via Figueres, 30 mi. (50 km)
This day is a short and easy route passing through the village of Figueres, home to the Salvador Dali theater museum. This museum was actually designed by Dali, himself. The entire renovated theater is a surrealistic work of art. Dali himself said "Where, if not in my own town, should the most extravagant and solid of my work endure, where if not here?" You will have ample time to explore this and also the Dali Jewels Gallery. You can enjoy a lunch on the Rambla, the main pedestrian street of the town.
DAY 7: Sant Pere Pescador - Girona, 17 mi. (29 km)
This final day on the cycle returns you to the capital city of the region, Girona. It is another stunning route through the rolling hills and vineyards of Emporda providing the perfect ending to a perfect week.
DAY 8:  Departure from Girona
Be sure to check out all of our bike tours in Europe or look at our featured bike trips, specials, and news.
Email or Call 800-951-4384 +1 570-965-2064
---