5

/

5

(

1

review)
Catalonian Flavors of the Mediterranean Bike Tour
Spain Bike Tours
Cycle Girona and taste the best of the region!
Cycling in Catalonia is an incredible experience! It is a diverse area with a proud history going back many thousands of years to Roman times and before and beyond. The culinary traditions are especially strong; unique dishes, blended with cultural and historical elements, and recipes are passed down through generations. Empordà and Girona counties are excellent examples, borrowing from the Mediterranean sea and fertile lands of Catalonia, for a remarkable range of produce and crops.

During this bicycle tour in Spain, riders will stay in one of the best 4-star hotels in Girona, and then, in contrast, enjoy two nights in a luxury family-run farmhouse.

Each day and evening, you will have the opportunity to enjoy some of the local specialties, prepared by some of the best chefs, all in the unforgettable Mediterranean surroundings.

Highlights:

Handpicked accommodations chosen for their unique appeal
Sampling of traditional cuisine
Cooking class
Tastings of wine, olive oil, and Ratafia
Landscape of La Fageda
Gorges of Moli dels Murris
Cycling the Greenways cycle path
Medieval village route
Cycling Vall de Llèmena cycle path

Cycling in Girona is certain to make your Spain bike tour unforgettable. Be sure to check out our other bike tours in Spain.

2020

Twin/double: $ 2382 £ 1166 $ 2,042 € 1306 $ 2443 kr 14604 $ 1,445

Single room:  $ 474 £ 232 $ 406 € 260 $ 486 kr 2907 $ 288

Solo traveler: $ 684 £ 335 $ 586 € 375 $ 701 kr 4193 $ 415

Supplement for guided option (cost to be split among a maximum of 8 participants): $ 2736 £ 1339 $ 2,345 € 1500 $ 2806 kr 16773 $ 1,659

extra

options

Transfers:

From Barcelona Airport: $ 401 £ 196 $ 344 € 220 $ 411 kr 2460 $ 243

From Girona Airport: $ 64 £ 31 $ 55 € 35 $ 65 kr 391 $ 39

Electric Bike: $ 219 £ 107 $ 188 € 120 $ 224 kr 1342 $ 133

please

note

Rates are per person based on double occupancy.

A non-refundable admin fee of 20 Euros per person is included in the deposit amount.

Information to read before you book.

We recommend purchasing bike trip insurance.

† Currency exchange rate set 90 days before travel.

Travel

Fly to Barcelona International Airport (BCN) or to Girona International Airport (GRO)

Local Travel

There are two options for transfer from the airport in Barcelona to Girona:


-From Barcelona airport you can take the shuttle train to Barcelona Sants main station. The shuttle train leaves from Terminal 2. If your flight arrives at Terminal 1 there is a bus that leaves every 7 minutes and takes 10 minutes to get to Terminal 2. The train from Terminal 2 departs every 30 minutes at .. :08 and .. :38. and takes 19 minutes to get to Sants station. A taxi from Barcelona airport to Sants train station usually costs about €25 and the trip takes about 25 minutes.


-From Sants station you can take the slow train (1:46), fast train (1:30) or the high speed train (37min). For train times, please see this website. It is recommended to pre-book the high-speed train tickets as it gets very busy. This can be done on the same website.


-It is also possible to arrange pick-up from Barcelona airport. Our driver will take you straight to your hotel in about 1 hour and 15 minutes. This costs €220 per trip.


From Girona-Costa Brava Airport:

-You can use the Barcelona Bus Service (part of the Sagales Company). Busses leave for the city center every hour. You can find complete timetables on the Sagales website.


-You can also arrange a private transfer for a maximum of 7 people. The cost is €35 per person.


Climate

Please check local conditions prior to arrival. Climate in Girona is categorized as humid and subtropical. Winter months boast some cold days and July temperatures can soar. Best time to visit this region for cycling is April through June and then toward the end of August through even November. A good website to use to research regional weather is weatherbase.com.

Average high/low temperatures in degrees Fahrenheit: Jan 55º/34º, Feb 57º/36º, March 62º/39º, Apr 64º/43º, May 71º/50º, Jun 78º/57º, July 85º/62º, Jul 85º/62º, Aug 84º/62º, Sep 78º/58º, Oct 70º/50º, Nov 61º/41º, and Dec 56º/36º.

Recommended

Extra nights in Girona!

Remarks

Bike shop is closed on Sundays. If tour start day is on a Saturday, arrival should be timed so that there is ample opportunity to go to the bike shop for bike fitting and welcome meeting. If tour start day is Sunday, bike fitting, intro meeting, and transfer will occur on Monday.

DOCUMENTS

Before you travel, please check your country's passport and visa requirements and the passport and visa requirements of the country/countries you plan to visit. For US citizens, the US Department of State website is a good source of information. The Country Information tab in the International Travel section provides details about passport validity, blank passport pages required, etc. For our other international clients, please be sure that you research your own country's travel requirements. It is each traveler's responsibility to ensure proper documentation.

*Important note: Beginning July 1, 2021, additional documentation from the European Travel Information and Authorization System (ETIAS) will be required to visit any of the 26 Schengen-member countries for tourism, business, medical, or transit. This is an additional check on security rather than a visa.

---
Where
You'll Stay
During this tour, guests will stay in a variety of handpicked accommodations, chosen for their unique appeal and location as well as the authentic Catalan atmosphere. Also included in the accommodation list is a authentic farmhouse that features a culinary experience. Here you will enjoy a cooking class and Ratafia tasting!
What's
Included
4 nights in a 4* Hotel with breakfast in Girona
2 nights in luxury farmhouse with breakfast
Cannondale Quick hybrid touring bike rental
Welcome meeting
GPS rental
Jersey and water bottle
Transfer to Olot
Luggage transfers
Typical Catalan evening meal at a mountain restaurant
Wine tasting and olive tasting at a local Market
Cooking class at the farmhouse
Ratafia tasting
Train tickets to medieval villages
Lunch in medieval village
Meal at restaurant in Girona
Picnic basket with local produce
What's
Not Included
Lunches and dinners other than those mentioned
Support vehicle
Sports massage
Transfers
Tour
Dates
2020
Arrival possible any day!
Skill
Level
This is a moderate level tour with an average daily distance of 25 miles
Day-To-Day
Itinerary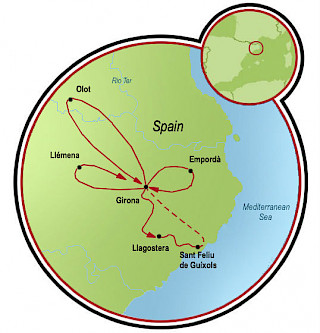 Day 1: Arrival in Girona
Day 2: Olot - Sant Miquel de Pineda, 14 mi. (22 km)
Day 3: Cicular route around Sant Miquel de Pineda, 16 mi. (25 km)
Day 4: Sant Miquel de Pineda - Girona, 27 mi. (43 km)
Day 5: Circular route around Girona /Medieval Villages, 16 mi. (25 km)
Day 6: Circular route around Girona/Vall de Llémena, 18 mi. (29 km)
Day 7: Departure from Girona
Due to organizational reasons, weather conditions or provisions issued by local authorities, the itinerary may be subject to some changes before and/or during your holiday. For example, along the way you may find temporary deviations caused by roadworks, which cannot be foreseen.

Day 1: Arrival in Girona
Arrival in Girona.
Day 2: Olot - Sant Miquel de Pineda, 14 mi. (22 km)
Your first day on the bike starts after a transfer by road to the town of Olot which is the start point of your ride and the capital town of the Garrotxa volcanic region. On day one an easy relatively short ride to acclimatise. A stunning ride through the prehistoric volcanoes into the low hills and farmland known as La Fageda. This area is a world heritage SSSI, a highly unusual landscape formed by ancient volcanic activity now covered in a dwarf oak and beech tree forest. Total climb: 368 m.
Day 3: Circular route around Sant Miquel de Pineda, 16 mi. (25 km) 
Your ride today is in La Garrotxa region into the mountains surrounding the Rectoria. First a visit to the mountain hotel/restaurant of Vento, nestled in the hills behind Olot. Then later descending back to the valley and a short spin along the cycle path that extends along the valley floor you will visit the Gorges Moli dels Murris. A secret paradise where the river has created a natural lake hidden in the forest, if it's warm enough the ideal place for a dip. Total climb: 647 m.
Day 4: Sant Miquel de Pineda - Girona, 27 mi. (43 km) 
Today you will continue on the Greenways cycle path, a railway line converted into a dedicated cycle path which runs all the way from the mountains to the sea. A stunning and mostly downhill ride through the prehistoric volcanoes into the low hills and farmland around Girona. The day is completed by enjoying a meal in one of Girona's best restaurants, a local gem, and institution amongst cyclists famous for its atmosphere as well as its home-cooked Catalan specialties. Total climb: 194 m
Day 5: Circular route around Girona /Medieval Villages, 16 mi. (25 km):
This ride will lead through southern Empordà county,  known as a wine and olive oil-producing area and for its unspoiled tiny hilltop stone villages that dot the landscape. The route is a "village hopping" route passing through six typical pueblos. 300 m.
 Day 6: Circular route around Girona/Vall de Llémena, 18 mi. (29 km)
​Cycle into the valley Northwest of Girona called Vall de Llemenà. This is a quiet rural area untouched by tourism. The ride takes you through the valley around the extinct prehistoric volcano and into the tiny village of Canet d'Adri, which is a recommendation for lunch.  Return to Girona along the Vall de Llemena cycle path which delivers you straight into Girona. To top off the week, enjoy a meal in one of Girona's best restaurants, where you'll be served traditional Catalan food and local produce but in a modern setting.
Day 7: Departure from Girona
Services end after breakfast.

If you're looking for a different flavor, check out our full list of bike tours in Europe or view all our featured bicycle tours, specials, and news.
Email or Call 800-951-4384 +1 570-965-2064
---