5

/

5

(

1

rating)
Halkidiki Peninsula
Explore Greece by bike!
On this bicycle tour in Greece you will experience the lush green forests, secluded beaches, and serene turquoise waters of the Aegean Sea that make up the mythic region of Central Macedonia. You will be challenged as well in the inland mountains, as you pedal amid the towering coniferous woodlands, herds of goats, and panoramic views from the rugged cliffs overlooking the beaches.This supported tour encompasses the unique archaeological sites and provides opportunities to discover the gastronomic and cultural heritage of the three peninsulas of Halkidiki: Kassandra, Sithonia, and Athos.

In antiquity, this region was known as "Flegra" (the place of fire) due to an epic mythological battle that took place between the Olympian Gods and the Giants in their quest for fire. In the heat of the battle, one of the Giants threw a mountain at Zeus that landed in the sea. Today, this "mountain" is the peninsula of Athos.

Observing local life and customs, cycling through the quaint mountain and fishing villages, there will be ample opportunity to taste the freshest and most delectable cuisine the Mediterranean has to offer!

Tour Highlights:

Kassandra- is one the most visited region of Halkidiki. It is known for its bustling nightlife, charming beaches, and verdant coniferous forests. Kassandra offers many places to dine and have a drink along the coastline as well as a spectacular panoramic view, especially at sunset.
Sithonia- is located in the middle prong of the Halkidiki peninsula and offers picturesque beaches, beautifully varied landscapes, and abundant nature. It is a perfect place to taste the best of Greek cuisine as well as bask in the sun on one of the many secluded beaches.
Athos- Is the most eastern and mountainous region of the peninsula. Athos is home to Mt. Athos or "Holy Mountain", which reaches a sprawling altitude of 2000 meters and is covered with dense forests. Athos is a UNESCO World Heritage site and is famous for the many monasteries that populate the region.

2018
Price £ 593 $ 1,214 € 680 NOK 6573 kr 6068 $ 789 Single supplement: £ 96 $ 196 € 110 NOK 1063 kr 982 $ 128 2019: 
Pending

extra

options

Pannier (one): £ 4 $ 9 € 5 NOK 48 kr 45 $ 6 Helmet rental: £ 4 $ 9 € 5 NOK 48 kr 45 $ 6 E bike rental: £ 35 $ 71 € 40 NOK 387 kr 357 $ 46 Extra night in Ouranoupoulis: £ 58 $ 118 € 66 NOK 638 kr 589 $ 77 Return airport transfer, per vehicle (3 people): £ 61 $ 125 € 70 NOK 677 kr 625 $ 81 Return airport transfer, per vehicle (8 people): £ 78 $ 161 € 90 NOK 870 kr 803 $ 104

please

note

Rates are per person based on double occupancy.

Information to read before you book.

We recommend purchasing bike trip insurance.

† Currency exchange rate set 90 days before travel.

Travel

Fly to Thessaloniki Airport Makedonia

Local Travel

Arrival transfer is included in the tour price.

Climate

Check local conditions prior to arrival. Average high/low temperatures, as well as other weather related facts for the area, can be found here: Weatherbase.com

Recommended

Visit to the sulfur springs in Agia Paraskevi
Athos Monasteries

Remarks

This is a supported tour in which the guide drives the support vehicle, transfers luggage, and stops at interesting sites along the way. It is required that all riders wear a helmet. (Helmets are available to rent.)

---
Skill
Level
This is a "supported tour" in which there will be a van transferring luggage and stopping at certain points throughout the route. To fully enjoy this tour, you should be in good physical condition. You will have to cope with a few steep ascents! Daily mileage ranges from 19 to 43 miles.
Where
You'll Stay
Family run hotels and guest houses unique to this area. No chain hotels!
What's
Included
Accommodations for 7 nights
Airport transfer on the day of arrival
Luggage transfer
Breakfast and packed lunches
English speaking guide that drives the support vehicle
Hybrid bike rental equipped with water bottle cages, handlebar bag with map holder, rear rack on request, and repair kit. (Pannier available for rental.)
What's
Not Included
Transfer to the airport on the day of departure
Dinners
Entrance fees
Gratuities
Personal expenses
Boat trips
Tour
Dates
Daily departures from May 1 through October 15, 2019
Minimum number of people: 4
(Can be booked for 2 people with supplement)
Maximum: 12
Recommended period of Travel: April - June and September - October
Day-To-Day
Itinerary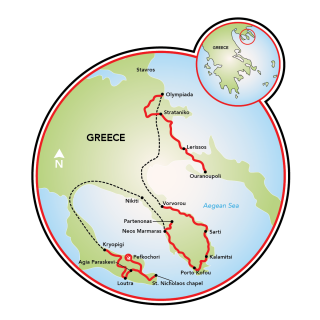 Day 1: Thessaloniki - Kassandra peninsula  
Day 2:  St. Nicholaos Chapel - Loutra Spa Village 19.3 mi. (31 km)
Day 3: Agia Paraskevi - Sithonia - Neos Marmaras 22 mi. (35 km)
Day 4:  Partenonas Architectural Reserve - Coastal Roads - Porto Kofou 22 mi. (35 km)
Day 5:  Kalamitsi - Sarti - Olympiada 37 mi. (60 km)
Day 6:  Strataniko Mountains - Athos Peninsula - Ouranoupoli 43 mi. (70 km)
Day 7:  Free day in Ouranoupoli - Boat to Athos Monasteries
Day 8:  Departure 
Day 1: Thessaloniki - Kassandra peninsula  
Individual arrival  in Thessaloniki and included transfer (62 mi/100 km) to Pefkochori located on the Northern coast of the Kassandra peninsula. 

Day 2:  St. Nicholaos Chapel - Loutra Spa Village 19.3 mi (31 km)
The cycle tour starts along the coast but then veers off on a village road leading to the chapel of St. Nicholas. The ride backtracks a few kilometers and continues with an uphill ride in the hinterland of the peninsula, ending in the village of Loutra, renowned for its healing thermal waters. Ascent/Descent: 600/600M

Day 3: Agia Paraskevi - Sithonia - Neos Marmaras 22 mi (35 km)
Your day begins with a climb towards the backcountry of the peninsula to the village of Agia Paraskevi, famous for its sulfur springs. Continuing on, the route leads along a mountain ridge that transitions into asphalt and descends to the Northern coast and the resort village of Hanioti. Continuing on then, you follow along a coastal road that leads to Kriopigi, the day's destination.   Here you will transfer to the lively harbor, Neos Marmaras situated in the Sithonia peninsula.  There is an option for honey tasting in Niki on the way.  Ascent/Descent: 400/400m

Day 4:  Partenonas Architectural Reserve - Coastal Roads - Porto Kofou 22 mi (35 km)
Following a quick transfer to the mountain village of Parthenonas, an architectural reserve with marvelous stone houses, a scenic ride follows along the Western coast of Sithonia.  From here there is a downhill mountain road, followed by coastal road overlooking secluded small bays. The sparkling blue waters and golden sand beaches will beckon and tempt. The ride continues along the stunning rocky bay to Porto Kofou, a fishing village.  Ascent/Descent: 400/400m
Day 5:  Kalamitsi - Sarti - Olympiada 37 mi (60 km)
As you continue to explore Sithonia, the morning begins with a gorgeous ascent on a mountain road followed by a downhill ride to the Eastern coast to the village of Kalamitsi. The route continues on a coastal road with a series of ascents and descents through forests of Mediterranean Pines and the through the lively town of Santi, finishing in the Vourvourou region with spectacular views of Diaporos Island.  The day ends with a transfer to Olympiada.  Ascent/Descent: 800/900m   

Day 6:  Strataniko Mountains - Athos Peninsula - Ouranoupoli 43 mi (70 km)
Day six is all about the Strataniko mountainous area.  The area is famous for its ancient ruins and lush forests.  The route starts with a mountainous climb on an asphalt road that reaches an altitude of 700m.  After an incredible descent to a main road,  a flat coastal road follows that leads to the charming tourist town of Ouranoupoli on the Athos peninsula.  Ascent/Descent: 1000/1200m

Day 7:  Free Day in Ouranoupoli - Boat to Athos Monasteries
This is the perfect place for a day of rest. Oranoupoli is a fairytale place whose name translates as the "city of the heavens." Soak up sun on one of the prisitne beaches with the backsplach of rolling green hills and the deepest blue sea as the forefont! Recommended is a boat ride to the amazing Athos Holy Land and Monasteries perched high on the cliffs. This is the oldest surviving monastic community dating back more than a thousand years, to Byzantine times.  
Day 8:  Departure
Departure is on your own.
Take time to peruse our full list of bike tours in Europe or view all our featured bicycle tours, specials, and news.
Email or Call 800-951-4384 +1 570-965-2064
---