Holland Polderland Bike Tour
A stunning Dutch road bike tour
Finally, we bring to you a bicycle tour in Holland with longer daily distances. This tour features 60 plus miles a day (100 km) during 6 days of cycling through five provinces. For those who do not want to miss a single thing in this cycling paradise, this is the road bike tour for you. Cycle through a variety of scenery, culture and traditions; vast polders, beautiful beaches, historical towns, authentic fishing villages, impressive museums and last but not least, cheese markets! There will be waterscapes and endless pastures. The harbor towns on Lake Ijsselmeer will take you back to the glory days of Dutch shipping and trade. Dreamy dunes stretch all the way down the North Sea coastline. Come and experience everything for which Holland is renowned.

Interested in seeing all of our bike tours in the Netherlands?

Price $ 1485 £ 735 $ 1,277 € 822 $ 1524 kr 9171 $ 905

Single supplement: $ 379 £ 188 $ 326 € 210 $ 389 kr 2343 $ 231

extra

options

Surcharge for overnight in Amsterdam on Saturdays, double/twin:   $ 27 £ 13 $ 23 € 15 $ 28 kr 167 $ 17

Single:   $ 54 £ 27 $ 47 € 30 $ 56 kr 335 $ 33

Surcharge overnight in Amsterdam during the periods of April 18 - 23, May 15 - 17,  June 24 - 27, September 14 -19, double/twin:  $ 90 £ 45 $ 78 € 50 $ 93 kr 558 $ 55

Single: $ 181 £ 89 $ 155 € 100 $ 185 kr 1116 $ 110

Dinner included: $ 349 £ 173 $ 300 € 193 $ 358 kr 2153 $ 213

Supplement, road bike rental: $ 38 £ 19 $ 33 € 21 $ 39 kr 234 $ 23

Supplement, electric bike rental: $ 164 £ 81 $ 141 € 91 $ 169 kr 1015 $ 100

Extra night: $ 126 £ 63 $ 109 € 70 $ 130 kr 781 $ 77  

Helmet: $ 18 £ 9 $ 16 € 10 $ 19 kr 112 $ 11

please

note

Rates are per person based on double occupancy.

A non-refundable admin fee of 20 Euros per person is included in the deposit amount.

Information to read before you book.

We recommend purchasing bike trip insurance.

† Currency exchange rate set 90 days before travel.

Travel

Fly to Amsterdam International Airport (Schipol)

Local Travel

Train to Bunnik. Train ride is about 1 hour with a transfer in Utrecht Centraal.

Climate

Please check local conditions before your arrival. Average high/low temperatures in degrees Fahrenheit for the area are: April, 53/40°; May, 61/46°; June, 66/52°; July, 69/55°; August, 70/55°; September, 64/51° and October, 57/46°

---
Where
You'll Stay
3  and 4  hotels
What's
Included
Accommodations for 7 nights in 3 and 4 star hotels
Breakfast
Luggage transfer
Detailed route descriptions
Tourist information
Service hotline
GPS
Emergency break down service
What's
Not Included
Lunches and dinners
Bike rental
Tour
Dates
Arrival any day from April 1 to September 23, 2017
Skill
Level
This is an easy to moderate bike tour with average daily distances between 50 and 67 miles (80 and 108 km). The route is flat on well marked bike paths.
Day-To-Day
Itinerary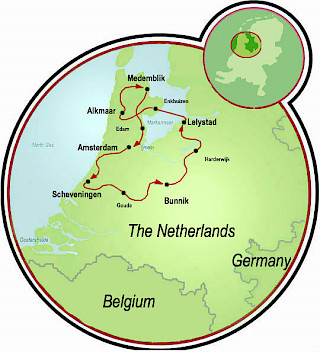 Day 1: Arrival in Bunnik
Day 2: Bunnik - Lelystad, 59 mi. (95 km)
Day 3: Lelystad - Alkmaar, 56 mi. (90 km)
Day 4: Alkmaar - Medemblik, 67 mi. (108 km)
Day 5: Medemblik - Amsterdam, 63 mi. (101 km)
Day 6: Amsterdam - Scheveningen, 50 mi. (80 km)
Day 7: Scheveningen - Bunnik, 63 mi. (101 km)
Day 8: Departure
*All distances are approximate.
DAY 1: Arrival in Bunnik
Bunnik can be easily reached by train from Amsterdam Airport. 
DAY 2: Bunnik - Lelystad, 59 mi. (95 km)
As you progress through this bicycle tour in Holland, you'll love the charming scenery of forest, water and polder. Along the shores of the Randmeren Lakes,  you will reach the old Hansa town of Harderwijk. Imagine that at one time this town used to be a thriving fishing port by the sea, but now it's on a lake overlooking a polder. Leaving the mainland, you will ride through Flevopolder to Lelystad, the town named after Cornelis Lely, the engineer of the Zuiderzee Works. This is the term for the project which initially cut off the Zuiderzee from the North Sea (the 32 km long Closure Dike was completed in 1932); and subsequently drained part of the newly created lake to make land for growing crops and building houses. Museum Nieuwland is dedicated to the Zuiderzee Works. You'll find out why, when and how this bold plan was achieved. Shoppers might be interested to stop off at Batavia Stad outlet shopping precinct.    
DAY 3: Lelystad - Alkmaar, 56 mi. (90 km)
With water all around, pedal atop the 30 km Houtribdijk dike that separates Lake Markermeer from Lake IJsselmeer and connects Lelystad to Enkhuizen. This dike, finished in 1975, was intended, as part of the Zuiderzee Works, for the third polder, Markerwaard. Environmentalists and water sports enthusiasts lobbied to block this plan so Markermeer is now still a lake. In Enkhuizen, note the beautiful 17th Century houses built in the days when the Dutch East India Company made a fortune trading in spices and bulbs. The Dutch dominated world trade (ruthlessly, it must be said...) and rich merchants sponsored arts and sciences, which flourished. In the excellent Zuiderzee Museum, you will have the opportunity to learn more about this fascinating history and can also visit a recreated Zuiderzee village of old. Typical dutch villages, tranquility, vast horizons, impressive cloudscapes, local style "cheese cover" farmhouses, orchards, bulb fields and windmills await...everything one expects to see and experience in Holland. Like Enkhuizen, Hoorn also made its fortune in the Golden Age. Cycle Holland coast-to-coast from Lake IJsselmeer to the North Sea, via "cheese town" Alkmaar. You'll visit a "museum windmill" and pass through the oldest polder in Holland, drained by windmills in 1612!  
DAY 4: Alkmaar - Medemblik, 67 mi. (108 km)
The area just south of Den Helder has developed into one of the largest flower bulb growing areas in the world. Most of the bulbs are for export. In spring, when tulips, hyacinths and daffodils come into bloom, the place is a sea of color. The route continues through Wieringermeer, a polder drained and desalinated between 1927 and 1934 to create new arable land of which there was a great shortage. The ancient town of Medemblik is on splendid Lake IJsselmeer. It has a marina and a steam engine museum.
DAY 5: Medemblik - Amsterdam, 63 mi. (101 km)
This region, also called West-Friesland, offers space and quiet as well as pretty villages, cheese cover style farmhouses, windmills, orchards, bulb flower fields and crop fields. You will cycle atop the old sea dike with continuous views of Lake IJsselmeer. This lovely trip takes you along the shores of Lake Hoornsche Hop and Lake Markermeer past and through pretty towns and villages such as Edam, Volendam and Monnickendam. The beautiful stone houses in the distinctive heart of this catholic fishing village, Volendam seem to have been drawn up without an organized street plan. "De Dijk", overlooking the harbor, attracts many tourists who browse the souvenir shops and have a break at a pavement café or restaurant. From here, make your way to Amsterdam. The capital city will welcome you with romantic canals, bridges and... more than 800,000 bicycles! Amsterdam is for exploring. There is so much to see and do. Whether you like, art, culture, an evening out or just looking around the canal area, you'll have a great time. A canal boat trip is a great way to get a better look at the canal houses.    
DAY 6: Amsterdam - Scheveningen, 50 mi. (80 km)
You'll love the elegant city of Haarlem, voted best city for shopping. Remember to look up at the façades of historical buildings and see if you can spot the pretty stepped gables. The bike route then continues, through Zuid-Kennemerland, a colorful area rich in natural beauty, to Zandvoort by the sea. Pedaling south, you'll cycle through the Dune and Bulb Region. The windswept dunes not only protect the hinterland from the sea, but also harbor many species of dune flora and fauna. April is the best time for visiting colorful bulb fields (daffodils, hyacinths and tulips) just behind the dunes. On the coast, check out the resorts and beaches. Once you reach Scheveningen, the choices of what to see and do are plentiful! 
DAY 7: Scheveningen – Bunnik, 63 mi. (101 km)
First you will cycle to The Hague, home to the government and the Queen. The city is brimming with things to do and see. You might like to take the opportunity to see Vermeer's famous painting "The Girl with the Pearl Earring" in Mauritshuis Museum. Another favorite is Mesdag's cylindrical Panorama of Scheveningen in 1881. After looking around The Hague, ride through open grassland to pretty "cheese town" Gouda, also known for its syrup waffles and candles. If possible, plan your holiday so you can see the Thursday morning traditional cheese market. Woods, stately homes, parks, rivers, polders, lakes and marshy fens make today's scenery. Opt to stop off at a cheese dairy or visit De Haar Castle. At the end of the day, explore the heart of the lively city of Utrecht. Discover the pretty Museum Quarter and admire beautiful Oude Gracht canal. Its wharves are unique to Utrecht and make a pleasant setting for waterside cafés.  
Day 8: Departure
Individual departure after breakfast.
Looking for more?  View all our featured bike trips, specials, and news or look at our full list of bike tours in Europe.
Email or Call 800-951-4384 +1 570-965-2064
---