Lake Balaton Family Bike Tour
This bicycle tour in Hungary was designed with the whole family in mind. Balaton offers everything for a cycling vacation suitable for both children and adults. The cycling road offers a mostly flat and safe ride and the daily distances are appropriate for a child's pace and fitness level. Every accommodation along the route is close to the beach. This tour provides you independence and flexibility to set your own pace.

Looking for more bike tours in Hungary?
Where
You'll Stay
Overnight accommodations in high quality, 3-4 star hotels
What's
Included
Accommodations for 7 nights in family friendly 3-4-star hotels
7 x breakfasts and 7 x three-course dinners
One soft drink, beer wine, juice, or water included per person with dinner
24 speed hybrid bikes equipped with water bottles, front bags, mudguards, rear packs, panniers, and lights
Child trailer if necessary
Helmets
Maps
Detailed road book in English which includes tips on sights, cultural highlights, scenic stops and recommended restaurants
GPS navigation
Free WiFi and internet in 90% of hotels
Luggage transfer
Emergency service hotline
What's
Not Included
Lunches
Airport transfer (Days 1 and 8)
Fees for museums and other excursions
Bicycle protection
Trip insurance
Tour
Dates
Arrivals possible daily from April 1 to September 30, 2017
Skill
Level
An easy, self-guided bike tour on well-established bike paths that are mostly flat with occasional hills. Average daily distance is 13 miles.
Day-To-Day
Itinerary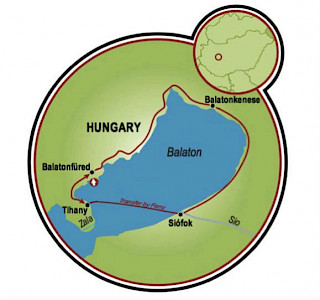 Day 1: Balatonfüred
Day 2: Balatonfüred - Tihany - Balatonfüred, 9 mi. (15 km)
Day 3: Balatonfüred - Balatonkenese, 17 mi. (29 km)
Day 4: Balatonkenese
Day 5: Balatonkenese - Siófok, 13 mi. (22 km)
Day 6: Siófok
Day 7: Siófok - Balatonfüred, 14 mi. (23 km)
Day 8: Balatonfüred
*All distances are approximate. 
Day 1: Balatonfüred
This city, the capital of Balaton, is full of many sights and programs that welcome visitors. It is known for its rich history, culture, wine, fun and hospitality. Lake Balaton is the largest freshwater lake in Central Europe.
 Day 2: Balatonfüred - Tihany - Balatonfüred, 9 mi. (15 km)
Today, a visit to the Tihany peninsula and the Benedict Abbey is highly recommended. The Abbey was established in 1055 by King Andrew the first. One of it's distinct features is its two bell towers that stand side by side. Adjacent to the Abbey is a museum which tells more about the rich history of this ancient church, which is part of UNESCO World Heritage. Following a visit to the museum, you may also stop for a relaxing swim at the free beach in Tihany.
 Day 3: Balatonfüred - Balatonkenese, 17 mi. (29 km)
After breakfast, you will leave Balatonfüred and cycle towards Csopak. Today will lead you along the shoreline on a well-maintained bicycle path. Your ride will take you through charming villages and small towns which have existed since roman times. During today's ride, you will really witness the beauty of Balaton. The beautiful beaches in Alsóőrs and Balatonalmádi are the perfect place to stop and relax. You can also stop at the biggest summer bob-track and adventure park in Balatonfűzfő for a thrilling ride. From here, your destination for the evening, Balatonkenese, is not far away.
 Day 4: Balatonkenese 
Today is a day to rest and enjoy the hotel beach or go for a sailing excursion on the lake. 
 Day 5: Balatonkenese - Siófok, 13 mi. (22 km)    
You will leave behind Balatonakarattya and Balatonkenese and cycle a bike path that leads around the lake. The highlight of today's bike ride is the top of the lake. This is the so-called high coast sits 200 m above the sea level and is simply beautiful. As you continue our journey, you ride  along the lake through Balatonvilágos towards the exciting city of Siófok. This city is the location of the most famous beach around the lake where there are always programs and events for the whole family.
 Day 6: Siófok
Today is another day to rest and enjoy the beach and sights of Siófok. You will find many opportunities in this city to experience Hungarian culture. There are countless shops, museums, beaches, and restaurants that will provide plenty of entertainment for the whole family. 
 Day 7: Siófok - Balatonfüred, 14 mi. (23 km)  
This cycling day will be an easy one. If you would like to further explore Tihany, you may take the ferry from Siófok back to Tihany. From the peninsula, Balatonfüred is just 3 miles (5 km) away. Upon your arrival at your accommodation for the evening, you may choose to stay and relax or visit the exciting Annagora aquapark. This park is the largest water park around the lake and is equipped with 15 slides, several tempered pools, wave pools, and a wellness center. It is the perfect place for the whole family to enjoy a fun-filled afternoon.
Day 8: Balatonfüred
End of tour after breakfast.
Email or Call 800-951-4384 +1 570-965-2064
---